ARCHITECTURAL MASONRY: Meister Masonry liberates stone
Throughout the premises of Meister Masonry are signs saying 'liberating stone'. Here owner Richard Heather and his team talk about how they are doing that.
Meister Masonry has just added two GMM Zeda 1600 CNC monoblocs to its already impressively equipped purpose-designed factory in the old Catbrain Quarry in Painswick, Gloucestershire, which the company has rented on a long-term lease since 1999.
Painswick limestone (as it was known) from the quarry was used for local churches and even went to London, some of it being used for fireplaces in the Houses of Parliament. Meister has supplied stone from some of the blocks that were left in the quarry for repairs at Parliament, but the last blocks were extracted in 1958.
Meister's 1,900m2 factory was formerly a Territorial Army storage unit. The company obtained planning permission to erect it in the quarry in 2011 and the first saws went in a year later. Before the building was erected, three water tanks were put underground capable of carrying 108,000L of water collected from the roofs of the building and off the concrete. An OMEC water recycling system supplied by New Stone Age delivers 1,200L of clean water a minute through the factory, as reported previously in NSS.
Meister Operations Director Martyn Cuff says until the factory was built and the saws were installed Meister had been buying the majority of its stone sawn six sides from UK and European suppliers. With demand outweighing the supply. Meister decided to bring the sawn six sides operation in-house.
It was always intended to be part of the company's development to add more saws, although the latest 1600 Zedas were slightly delayed one way or another by Covid. The '1600' refers to the rise and fall (Z axis), which is more than is available on the standard Zedas. The new saws join the previously installed GMM Zeda and Litox, Marchetti Axco and three primary saws – a 3.5m Van Voorden, a Benetti Fast belt saw and a GMM Diama with a 2m blade.
Buying the old TA storage unit kept the price of the new factory down, although it has been double clad to insulate it, both to reduce the noise and to stop water for the machines from freezing.
The quarry is surrounded by sites of special scientific interest (SSSIs) and a golf course, which has sterilised the reserves of stone, at least for the foreseeable future, and brings its own hazards of random stray golf balls dropping in – which encourages those working there to wear hard hats around the site when they are outside.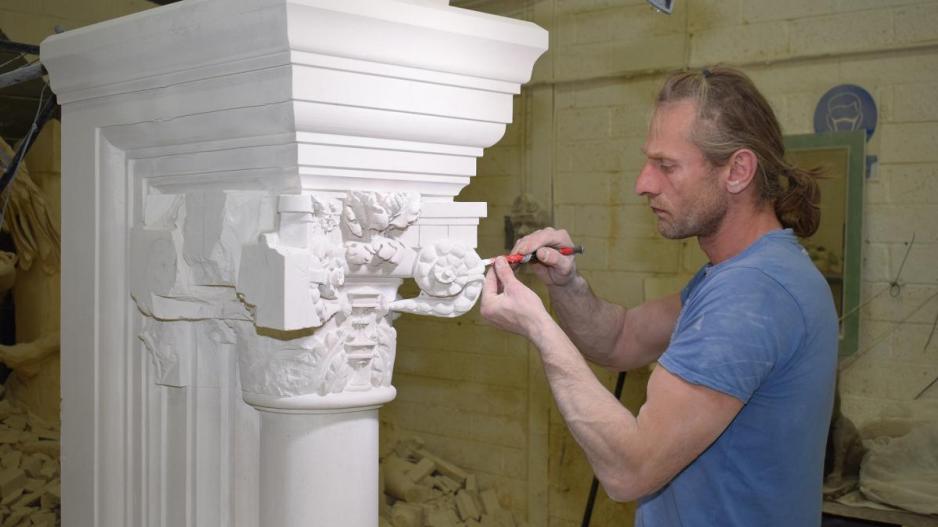 Because the factory was laid out from scratch in a big empty space, the workflow follows a natural progression from primary sawing to finished stone. Some of the stone has to go to the banker masons' workshops – like the huge new fireplace that was being made from a 17.3 tonne block of Portland limestone when NSS visited.
It is for a private residence in Windsor which was originally built by Meister in 2017/18. The fireplace was inspired by a similar one seen in a French château. Martyn Cuff describes it as a "massive statement", especially when the frieze that goes above it is completed next year.
The original fireplace was marble and made from five pieces. Meister has produced its version from the single block of "really clean" Portland Broadcroft stone, supplied by Portland Stone Firms. It started off at 5m long, from which has been produced a 3.5m long head and two jambs. The intricate carving has been carried out by hand, with the moulding produced on the five axes CNCs.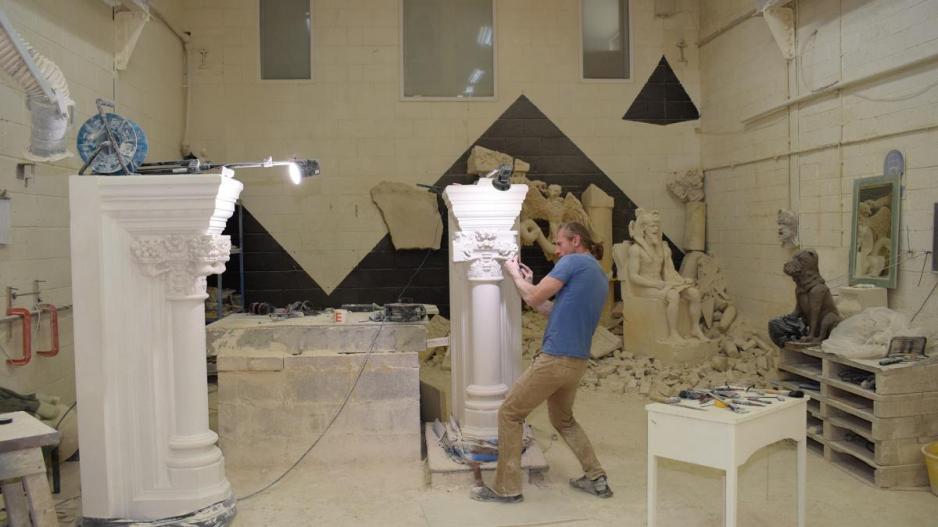 Richard Heather, the founder and owner of Meister, says the company's Catbrain Quarry site is still not quite finished because he wants to lay some more concrete where the blocks are kept outside the factory ready for primary sawing. The blocks currently sit on the old limestone quarry floor, which is dusty when it's dry and muddy when it's wet. There are also plans to build a completely new banker shop and next year or the year after Meister would like to install a complete ashlar line. Richard says he is currently talking to Breton about a line that could produce 180m2 of ashlar per shift.
A timely investment
If the expected move towards a greater use of indigenous stone as the result of environmental concerns takes place, it could be a timely investment.
Richard: "We have just tendered for a private residence. The spec is Mocca Crème from Portugal. We have costed it in Bath and Portland stone and, surprisingly enough, it's less expensive."
Richard's interest in stone started at an early age. "I was cutting my teeth on stone at the age of 11," he says. His father was the head verger of Gloucester Cathedral and Richard liked to visit the masons working at the cathedral. Eventually he joined them, starting a stonemasonry apprenticeship in the masons shop and attending Bath College in 1987.
In 1991 he branched out on his own as a jobbing mason, staying on the tools until 1997 and working from small premises in the centre of Gloucester.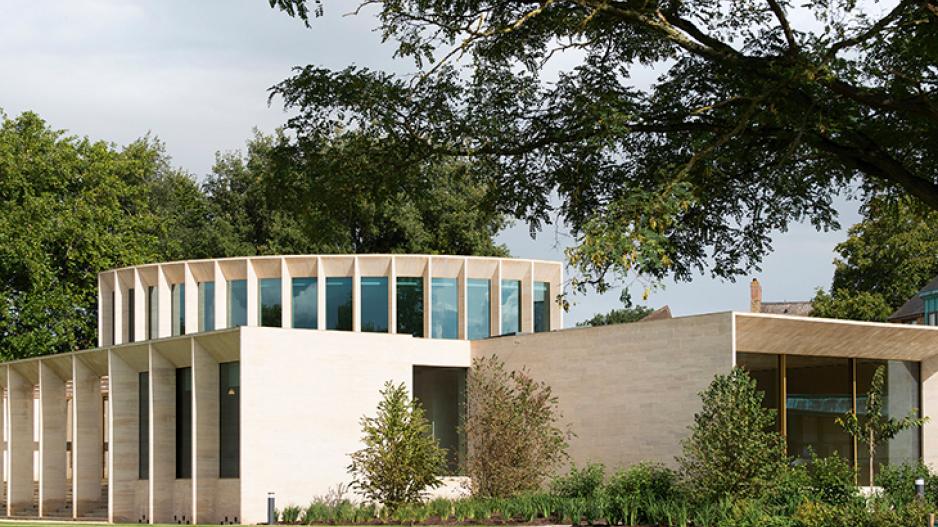 In 1999 Catbrain Quarry became available and Richard snapped it up. It was a mess and took until 2001 to get it habitable. It had previously been used by a salvage company and 2,300 tonnes of waste stone, metal and plastic had to be removed from the site before Meister could move in. Nevertheless, it was an ideal site for a developing stonemasonry business and by 2013 the former TA store had been erected in the quarry and the first saws installed.
Richard incorporated Meister Masonry in 2005. He chose the name because he had reached the status of 'meister' as conceived by medieval stonemasons, who saw a progression from apprentice to 'geselle' (someone who had skills) to 'parlirer' (who had skills and knowledge) and finally to 'meister' (having mastered skills, knowledge and creativity).
The investment in machinery was eased by measures the government put in place after the credit crunch of 2008, which meant 20% of the cost of the investment was met by the Regional Growth Fund. "The downturn came just as we finished a successful project, so we were cash rich and in a strong position. Putting the machines in probably would have cost 30% more if it had not been for the recession," says Richard.
"I decided to invest in the factory because I felt the growth we had achieved up to 2012 wasn't sustainable without further investment. We had to do something."
The Meister philosophy is to offer a complete turn-key solution to any stone project, including stone selection, design, manufacture and, if required, installation, although the company is just as happy supplying masonry to other contractors, who it says have confidence in the company because it produces masonry for its own projects and knows what is required on site.
As Martyn Cuff says: "We produce everything to a 3mm joint – our tolerances are pretty much zero. We have a good reputation for supplying stone that can be used straight from the pallet. You start losing money out of a job if what you supply isn't right."
Geographical expansion
As Meister's processing capacity has increased so has its geographical spread. "It evolved," says Richard. "There wasn't a conscious decision to expand geographically."
But having done so has given Meister a good spread of masonry supply only and contracting. As Mike Thomson, the Financial Controller, says: "We hope it gives us an advantage."
Meister's contracts vary from residential to commercial and the company has worked with developers such as the Size Group in London, which specialises in high quality residences, and Walter Lilly in Windsor.
Projects have included such prestigious developments as those pictured above – the award-winning Sultan Nazrin Shah Centre at Worcester College, Cambridge, where Meister supplied the Clipsham limestone to Szerelmey, and Hope House in Bath, where Hartham Park Bath Stone and Purbeck were used. And Meister is currently supplying Portland stone for a large redevelopment project in Bayswater, London.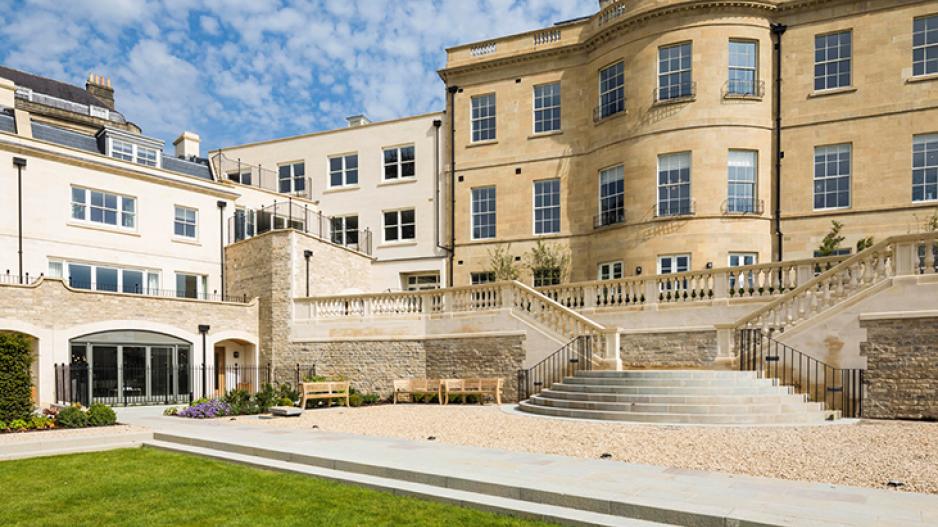 A project just starting at Meister involves the supply of 200m3 of Portland limestone from Stone Firms' Broadcroft Quarry for a Vetter project. It will be supplied at a rate of 10m3 a week because that matches the rate at which it can be fixed.
Most of the stone Meister works is limestone and 60-70% of that is Portland. However, the company is happy enough to work in sandstone, as it did for PMJ Masonry when it supplied Cove Red from Block Stone for a mosque in Birmingham this year.
The stone originally specified had been Indian, but the Indian factory was quarantined and the stone could not be shipped. At the 11th hour Meister was asked to step in. Cove Red was available from Block Stone's Block Store and PMJ Masonry asked Meister to turn it round ASAP, which it did.
The Covid pandemic has once again helped Meister with its investment in its latest two Zedas through the Coronavirus Business Interruption Loan Scheme (CBILS) and the Super-deduction on capital allowances. "We perceived the opportunity to invest and hopefully growth will come from that. We are well positioned to take on pretty much anything, manufacturing or contracting wise," says Richard.
He says business was not interrupted too much by the pandemic. "Enquiries diminished, but the contracts we were working on continued, apart from the brief initial shut-down. The difficult thing was that what would ordinarily be easy, like ordering materials, seemed to take 10 times longer. And if it's taking longer it's costing more and margins are hit."
This year Meister has been back up to full steam and is now looking for two more people to work in the saw shop and three more on the banker to join the 16 people currently employed in the factory and workshops. It would also like to find more fixers, but so would a lot of companies.
The company does its bit to add to the skills pool by always having an apprentice, who is currently Richard's 21-year-old son, Max. "I would be thrilled if he keeps the business in the family," says Richard.
As well as Covid making life more difficult, so has Brexit. This year Meister was supplying Caen limestone for one project. Because of the difficulty with transport it considered using its own lorries to collect the stone from the French quarries, but gave up in the end because "the paperwork was ridiculous", says Martyn Cuff. Eventually a company that was in and out of Europe on a daily basis was able to deliver the stone, albeit at a cost of £2,500 rather than the £1,400 it used to cost.
Nevertheless, Richard Heather believes that whatever difficulties have to be overcome, in general the future is rosy. "I have been in this industry for more than 30 years. It's got easier. The stone industry has matured. I'm optimistic for the future. It would be great if some of these projects really gave the UK stones a fair crack of the whip. That's one thing that Brexit and the increase in transportation costs might help.
"I'm not saying we shouldn't bring in any foreign materials – after all, all our machinery comes from abroad because we don't make it here – but where a UK stone can be used it should be considered, even if it doesn't quite fit the budget. Perhaps other aspects should be considered, not just finance."
The pictures below show Meister Masonry's factory and workshops in Catbrain Quarry, which is surrounded by SSSIs and a golf course. In the pictures are one of the two new GMM Zeda 1600s; the Benetti Fast belt primary saw; the lathe of the Marchetti Axco cutting balustrade bottles; and some of Meister's 30 employees in the factory at the headquarters near Gloucester with large chimney caps they have just produced.