Clipsham stone used in £80million refurbishment of Regency-style hotel
Stamford Stone quarried the Clipsham limestone that was worked by Meister Masonry for specialist contractor Szerelmey in this major refurbishment of a landmark Cambridge hotel.
The historic University Arms first opened its doors in 1834 and has just relaunched following a major £80million refurbishment. The refurbishment is the result of a design collaboration between Martin Brudnizki, one of Europe's foremost commercial interior architects, and John Simpson Architects, whose equally impressive CV includes Buckingham and Kensington palaces. Unsurprisingly, the work at the University Arms is simply stunning.
The University Arms spent the first 130 years of its existence as a solid, Regency-style hotel. Late 19th and early 20th century additions gave it impressive scale, including its towers, although muted extensions added in the 1960s and 1970s did not exactly enhance it.
Fifty years on, the building has been restored to its original styling with a little help from three of the UK's most respected architectural masonry specialists – Stamford Stone, Meister Masonry and Szerelmey. Stamford quarried the stone and Meister fabricated it for the project.
The extensions from the 1960s and '70s have been removed. In their place sits a delightful neoclassical exterior, complete with creamy stone pillars and soaring copper-clad turrets.
Meet Stamford Stone at the Natural Stone Show in London at ExCeL, 30 April-2 May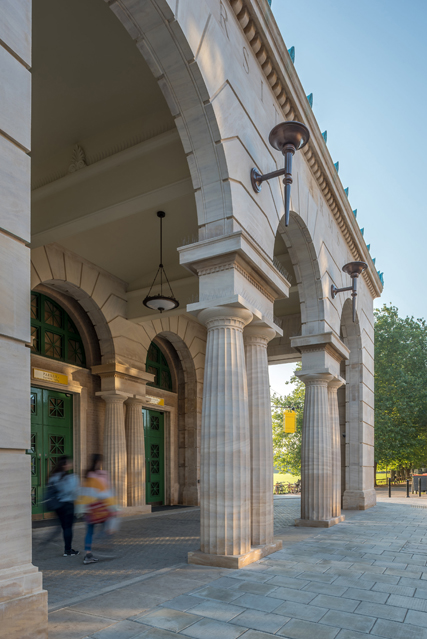 The original architect's specification for the University Arms project called for Bath stone. However, supply issues and budget constraints led to an alternative stone being sought. This in turn led to Stamford Stone, which has been quarrying and processing architectural limestone from its base just outside the stone town of Stamford in Lincolnshire since 1997.
Stamford Stone operates three quarries: the 100-year-old Clipsham Medwells Quarry, which offers stone of a uniform colour and composition; the 30-acre Greetham site; and the recently acquired Clipsham Bidwells quarry.
From these quarries, Stamford Stone has provided limestone for a host of prestigious projects, including Peterborough Cathedral, the Grade I listed Rushton Hall, the Houses of Parliament and Buckingham Palace.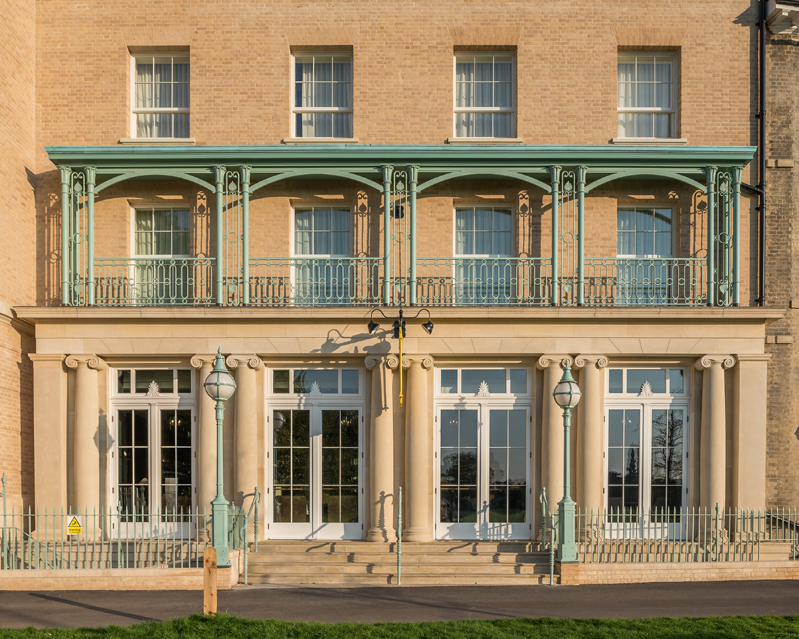 Thanks to the purchase of Clipsham Bidwells in March last year, the company is now the exclusive supplier of Clipsham limestone, with reserves that, at the current rate of extraction, should last for about 1,000 years.
Working under principal stone contractor Szerelmey, Meister Masonry undertook the contract to manufacture and deliver to site the various elements as designed by John Simpson Architects. As part of the overall contract, Meister Masonry prepared the working drawings from the architects' plans, then progressed with the cutting, dressing and manufacture of all the stone units for the project.
There were 500 tonnes of the stone carefully selected and extracted before being supplied by Stamford Stone to Meister Masonry in blocks of between five and 10 tonnes. Meister cut and dressed them into the various architectural masonry required.
Part of the large package of works included the construction of an impressive solid stone Porte Cochère, a coach gate or carriage porch-like structure at the main entrance. Originally, these structures were intended as a cover for customers disembarking from their horse-drawn carriages, offering guests protection from the elements.
It was this technical design element that made the choice of Clipsham limestone perfect for the ambitious project.
The masonry includes four impressive load-bearing Clipsham limestone at the front of the structure, each comprising three sections that were assembled on site.
Each of the columns is 3.5m high x 800mm diameter, built up in vertical segments and fabricated as tightly as possible. This resulted in few and thin joints, giving a more pleasing architectural look. The Porte Cochère was completed by structural arches, tied together by a poured concrete ring beam.
"The Clipsham stone was ideal for this type of fabrication," explains Dan Wilson, director of Stamford Stone.
"Our Clipsham Medwells quarry, where Clipsham limestone is extracted, has a very tall bed height, meaning the stone is of a sufficient depth to provide the column lengths dictated by the working drawings. That reduces the number of segments required for each column.
"When columns are cut in this fashion, the bed depth of the stone is crucial. When the stone is quarried it must be dressed and installed in the same plane as it comes out of the ground, eliminating the risk of failure."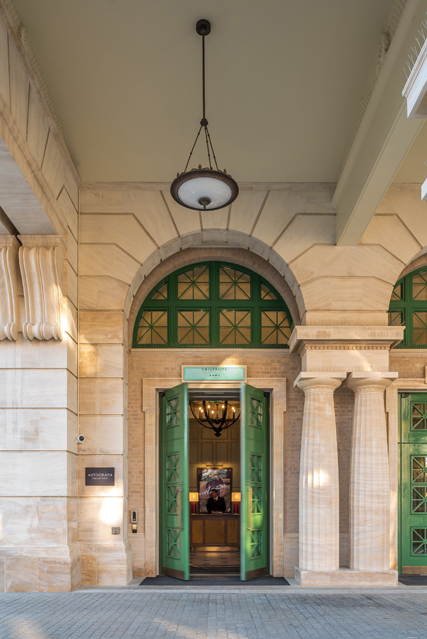 The University Arms project required technical accuracy for traditional load bearing masonry project, with many large units to contend with.
The level of detail required in Meister Masonry's fabrication of the stone, in addition to the sheer size of many of the individual units, made this project intensely physical in terms of handling the stone.
The masonry element of the project lasted nearly two years, with the first stone being delivered to site on 24 March 2016, and the last block being delivered on 12 March 2018.
Richard Heather, MD of Meister Masonry says: "We have collaborated with Stamford Stone on many occasions and they are a fantastic organisation to work with. Being a family owned and run business makes them nice people to work with as they have a friendly, while professional, disposition. They really understand our needs and excel at delivering the highest quality stone, when and where we need it. We truly hope to have an ongoing relationship with Stamford Stone for many years to come."
Dan Wilson says: "One of our strengths is that we have a 900-year supply of Clipsham limestone to draw upon. We are proud to continually invest in the latest equipment and technology with which to extract and cut stone.
"On a refurbishment project like this we have the luxury of selecting the exact stone we require from our vast stock for the item we are carving or dressing. This ensures quality is of the highest standard, the structural integrity of the stone is maintained and, importantly, the stone will last a lifetime – several, in fact!"
About Stamford Stone
Stamford Stone is one of the British stone producers exhibiting at the Natural Stone Show taking place this year in London at the ExCeL exhibition centre from 30 April to 2 May (see the following pages). In fact, there is more British stone being exhibited at the Stone Show this time than ever before, as more architects, builders and developers discover the benefits of using indigenous stones supplied by British companies.
Natural stones like those extracted in Lincolnshire by Stamford Stone lend themselves to a rich diversity of building projects that shape the landscape where we live, work and come together. These locally quarried limestones are just as popular in new developments for the next generation of homeowners as they are for restoring quintessentially British buildings. And Stamford Stone's commitment to managing this precious resource means specifiers can include it in projects with the confidence of knowing it will be available for the build and for many years afterwards for any matching extensions, repairs or alterations. By seeing so many historic buildings that used it still standing also provides confidence that the stone will stand the test of time in a British climate. 
From its base in Helpston, Stamford Stone processes the cut stone into masonry for prestigious architectural projects, cantilevered staircases, fireplaces, lintels, decorative features and natural stone flooring. As an environmentally responsible enterprise, Stamford Stone also ensures nothing is wasted, with every scrap of the quarried material being used. Stone not making it into finished masonry is used as walling stone or hard landscaping. Even the fine dust from the saws is used as agricultural lime, important for neutralising acidic soil.