Each year, Cosentino celebrates the Elite among its studios in the UK and Ireland. This year the 18 winners along with their guests were treated to Champagne and canapés and a lavish dinner at Raymond Blanc's exclusive two Michelin star restaurant and hotel, Le Manoir aux Quat'Saisons in Great Milton, Oxfordshire. The awards were presented by TV personality and interior designer Lynne Lambourne, who shared anecdotes from her most memorable design projects. Host for the event was Cosentino's UK Area Director, Paul Gidley.
The annual event provides Cosentino with an opportunity to recognise and honour studios that embrace the spirit of its Elite Premium programme. This includes loyalty to the brand, unique installations and projects using Silestone and Dekton, promotions, sales and warranties, along with genuine enthusiasm and commitment to Cosentino products.
In hs opening remarks, Paul Gidley said: "We owe so much of our success to our loyal network of studios and each year we look forward to recognising their commitment and hard work with this event. Our Elite Honours List is now in its fourth year and it reinforces our dedication to our supportive customers. Devoting an evening to them is just one of the many ways we show our appreciation.  As we gear up for our biggest launch of 2018, we're excited to have the support of such a fantastic group."
The Cosentino Elite Honours List 2018
Arlington Interiors (Farsley, Yorkshire) - https://www.arlington-interiors.co.uk/
Bon Accord Glass (Aberdeen) - https://www.bonaccordglass.co.uk/
Counter Interiors (York) - https://www.counterinteriors.co.uk/
Contour Kitchens (Cheltenham) - https://www.contourkitchens.co.uk/
Daden Interiors (Fleet, Hampshire) - http://www.dadeninteriors.co.uk/
Eclipse Kitchens (Wigan) - http://www.eclipsekitchens.co.uk/
Elmore Kitchens (Bath) - http://elmorekitchens.com/
Gainsborough Kitchens (Gainsborough) - http://www.gainsboroughkitchens.co.uk/
Haus12 (Newcastle) - https://www.haus12.co.uk/
Kitchens International (Aberdeen) - https://kitchensinternational.co.uk/
Maranatha Kitchens and Bathrooms (Deeside) - www.maranathakb.com
Mulberry Kitchens (Norwich/ Beccles) - http://www.mulberrykitchens.uk.com/
Expression Interiors (Chalfont St Peter, Buckinghamshire) – http://www.expressioninteriors.co.uk/
Oxted Kitchens (Oxted) - https://oxtedkb.co.uk/
Ruach Design (Westerham, Kent) - https://ruachdesigns.co.uk/
Daia Kitchens (London) - http://www.daia.uk/
Town and Country Interiors (Carlisle, Cumbria) - https://www.townandcountryinteriors.com/
Vanstone Kitchens (Barnstaple, North Devon) - https://www.vanstonekitchens.co.uk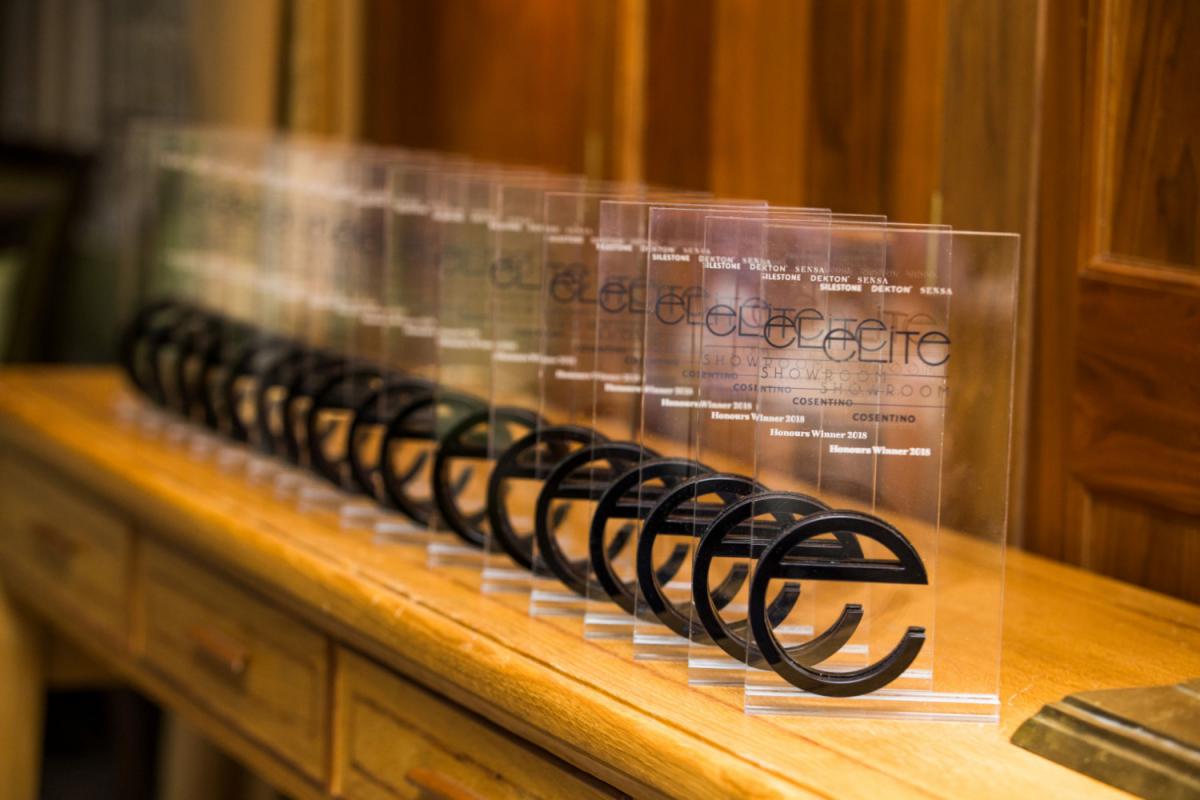 The Elite Honours recognise the efforts and dedication of studios who have supported Cosentino and its brands over the past 25 years. The aim of Elite Premium is to provide studios with support, raise awareness and increase demand. Becoming a member of the Elite Premium programme will provide kitchen and bathroom studios with a wide range of benefits, including:
Presence on the UK and Ireland websites for greater exposure
Priority support from a personal Cosentino promoter
Exclusive promotions for new product launches
Traditional and online marketing tools to help increase the visibility of the studio
Priority for new product training
A personalised local advertising branded package
Promotional materials throughout the year when new products are launched.
When a studio becomes 'Elite' they receive a complete welcome pack, which includes an accreditation plaque and a USB stick with Cosentino resources, including the Silestone advertising campaign and advert.
The Cosentino Group is a global, family-owned company that produces and distributes high value innovative surfaces for architecture and design. The group bases its development on international expansion and an innovative research and development program.
The Cosentino Group distributes its products and brands in more than 110 countries, from its headquarters in Almeria (Spain). Currently Cosentino is present in 40 countries, with its own assets in 29 of them. The group has eight factories (seven in Almeria, Spain and one in Brazil), one intelligent logistic platform in Spain, and more than 120 commercial and business units throughout the world. More than 90% of Cosentino Group's financial turnover comes from international markets.