Engineered stone: CRL Stone ready for the future as it shows 14 new designs
At KBB last month (March) CRL Stone showed the 14 designs it has added this year to the CRL Quartz and Ceralsio porcelain ranges it launched just over a year ago. Simon Boocock, MD, talks about the ranges.
The look of stone, especially marble, is popular and the latest additions to CRL Stone's quartz and ceramics have been led by that look, although there's also a nod to the urbane hipster in an industrial steel-look quartz called Ossido.
There is a subtle return to the sparkle that makes quartz just that touch livelier in Grey Reflection, with its fine mirror chips, and Arctic Shimmer, with a dusty twinkle reminiscent of crystals catching the light in white marble.
The 14 new colours being shown on the company's 110m2 stand at KBB bring the total number of products in CRL Quartz and Ceralsio ranges up to more than seventy – 39 quartz and 34 Ceralsio – nearly all of them in jumbo sizes of 3.3m x 1.65m for quartz and 3.2m x 1.6m for ceramic.
The new colours, which were introduced in February and exhibited at KBB (most of them pictured on these pages) were intended to be the total of this year's extension of the range, but since then Simon Boocock, the Managing Director of C.R. Laurence Europe, of which CRL Stone is a part, has seen a couple of others he is finding hard to resist.
One is a quartz Calacatta. CRL had been reluctant to include a quartz Calacatta because it had not been impressed by those it had seen. This one was different. It is not in the range yet, but...
Whatever CRL Stone introduces, says Simon: "Our aims are to have good products, good relationships with our customers and good growth."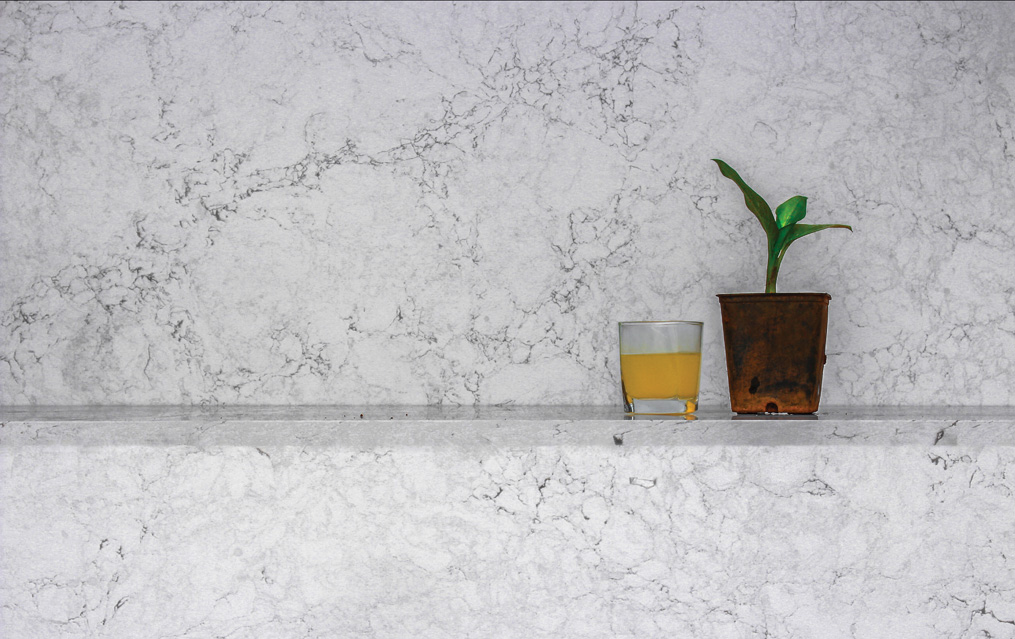 CRL Stone sells its products exclusively to processors, but it creates a pull through of demand from the marketplace by putting the products in front of customers in displays and on merchandisers in kitchen studios.
It also advertises and includes case studies (it has produced more than 30 of them) in popular lifestyle and interest magazines for consumers and trade publications for studios and designers.
It has produced a video and supports its studios and processors with collaborative marketing efforts.
Awards are always a good way to gain publicity and establish a company's products and services as the best available, so CRL Stone was proud to gain the 'Best Kitchen' Award for Ceralsio from House Beautiful magazine in November.
CRL Stone already has displays of its products in many showrooms and has commitments from hundreds more. The material is all supplied free, including worktops for room displays. "The Group has said: do what you've got to do," says Simon.
And the result of all the effort? "I have got exactly what I wished for and more than I expected," says Simon. "There's no looking back for us."
CRL Stone decided to own-brand its ranges both so that it could control those brands and because it did not feel any one manufacturer had all the best products. By collecting together what it considers to be the best products from various producers it has been able to create a unique range unconstrained by the limitations of any one manufacturer.
Plant for making engineered quartz was developed by Italian machinery company Breton. As the popularity of quartz has grown over the years, the number of people making it has grown significantly all over the world – and they are not even all using the Breton plant any more. CRL Stone took that as an opportunity to create and market its own, distinctive ranges.
Simon Boocock, with David Beckett, Director of CRL Stone Division, and David Inwood, the Division's National Sales Manager (and the faces of CRL Stone for many of its customers) travelled the world in the fourth quarter of 2016 to source the products for CRL Stone's new ranges.
Meanwhile, back at headquarters in Rochdale, near Manchester, Lisa Zebiche, European Marketing Manager, did what Simon describes as "an incredible job" creating an identity for the new brands by developing websites, marketing material and merchandisers, the aim of which is to emphasise the high quality of the products.
The company had identified the growth of large format ceramics in the worktop market and could see they were opening up other areas of interior (and sometimes also exterior) design. So its first move into own-branding was with its Ceralsio ceramic range.
And in case you don't yet know, the name Ceralsio was derived from the chemical symbols for the aluminium silicates from which porcelain (a particularly tough ceramic) is produced (Al, Si, O) with 'cer' for 'ceramic' in front of them to produce the distinctive and easily remembered name of Ceralsio.
After 11 years of selling branded quartz to stone processors (and before that, as Ebor, selling machinery to the industry) the company understandably has good connections with the stone processing industry and a strong customer base.
Simon Boocock says: "These relationships over the years are stronger than you realise. We've had immense support from the processors. We have a very down-to-earth team here and the great reaction of customers has given them the drive and motivation to move forward."
Simon praises David Beckett and David Inwood, who, he says, have established the new brands quickly. "They really understand the market," says Simon.
They have just been joined by a new sales person in London and the South East of England, Donovan Sandford, whose background is in stone and quartz. He will work alongside the two sales merchandisers who are permanently based in London.
And some of the new additions to the CRL Quartz and Ceralsio ranges shown at KBB last month can already be seen in the up-market studios of London's Wigmore Street.
London is difficult to ignore as a market, even if you wanted to, which CRL Stone does not. It wants to get closer to that market by having a permanent presence in London, perhaps in the Building Centre or the Building Design Centre.
Through the main (glass) side of its business it already deals with major construction contracts and it wants to develop that on the stone side by reaching more of the international architectural and design elite in the capital.
Simon: "People in the South of the UK tend to think of Manchester as the Far North. The Rochdale depot is only a few minutes drive from the UK's motorway network that puts most of the country, especially London, no more than a few hours away. Orders placed up to about 3pm will be delivered next day to most places."
Ireland has a similar service through its warehouse in Dublin, where stocks of the whole range of CRL Quartz and Ceralsio are stored. If extra stock is needed, Ireland is not so far from Manchester.
In this way, stock holding is optimised and can be supplied when it is needed, which is often the next day. The company aims to answer its phones straight away and provide quotes without keeping customers waiting.
It's all part of the service that CRL Stone hopes makes it a company fabricators and studios like to make their first point of call.