Engineered stone: Opportunities from an ever expanding product palette
The Surface Design Show in London or KBB in Birmingham this year left the visitor in no doubt that porcelain manufacturers have adopted the stone look with large format slabs. That is certainly expanding the product palette for the stone sector.
In the fast-evolving world of large format porcelain slabs, Atlas Concorde, among the major players in the tile industry, staked its claim to prominence in the sector with the introduction of its Atlas Plan brand in 2017.
Atlas Plan is distributed to fabricators in the UK by The Thomas Group, which has more than 70 years' experience in stone wholesaling and an established reputation.
Stefano Chiavaroli, head of Atlas Concorde's Atlas Plan department, says: "Atlas Concorde has been one of the major players in the traditional porcelain and ceramic tiles business for the past 50 years. Traditionally we've been recognized as leaders in the high-end segment of the tiles market and felt the time was right to invest our know-how and resources in the production of large sized slabs for the kitchen and furniture industry."
Sean Kennard, UK Business Development Manager for Atlas Plan, adds: "We knew that the approach to a relatively new sector as the worktop and furniture market would be a challenge, however we've been confident that people would see in the quality of our product and the solidity and reputation of our company excellent elements to work with."
Atlas Plan offers a range of slabs in 6, 9, 12 and 20mm thicknesses, seven finishes (Polished, Silk, Satin, Hammered, Flamed and Matte), and embodies some of the latest technologies available for porcelain slabs, such as through-body veining (trade-marked as Natura-Vein Tech) and full body technology (Natura-Body Tech), which are exclusive to the Concorde Group.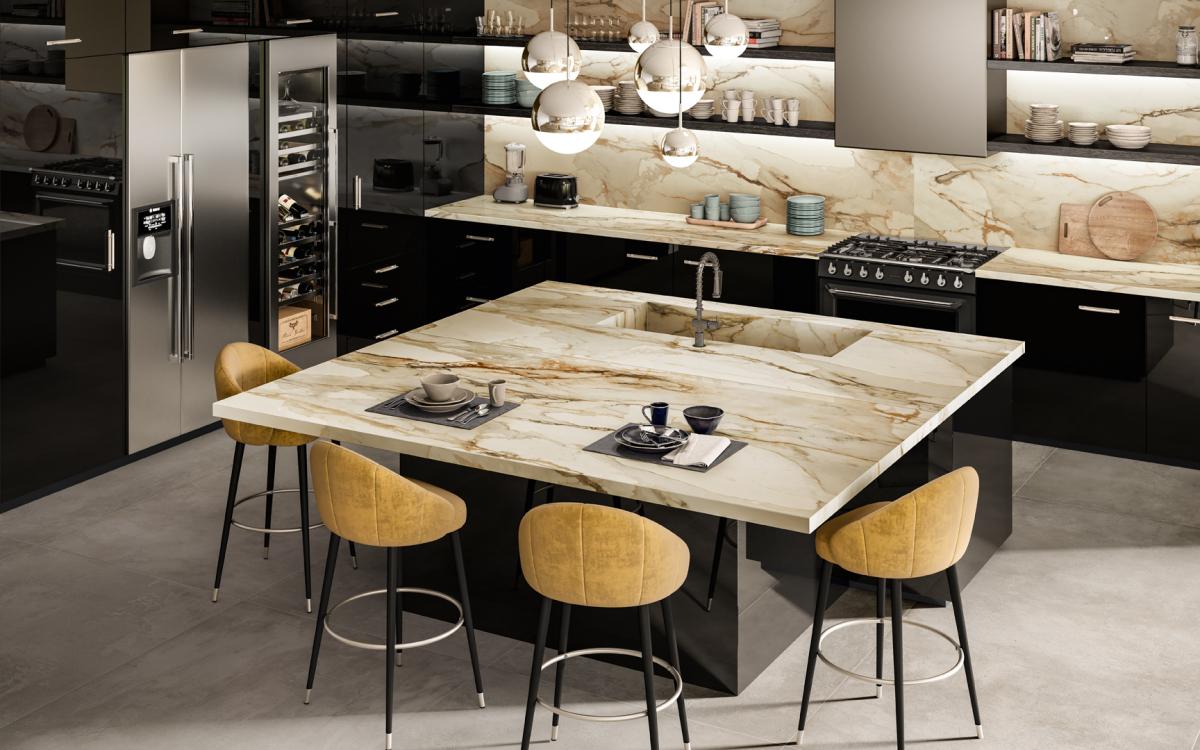 Thanks to its technical and aesthetic qualities, and the fact it has matching floor and wall tiles, Atlas Plan is already recognized as a preferred finishing product by fabricators, architects and interior designers.
Jamie Thomas, managing director of The Thomas Group, says: "In looking at suppliers for a porcelain range we were very conscious that any future partner should have a similar approach and work ethic to ourselves.
"We felt that in launching a new porcelain product not only did we need to focus on design and specification to win business but, crucially, we needed to support the existing supply chain.
"Particularly we needed to offer support to the fabricators so they were confident cutting and working the material.
"We are aware that in the stone industry not everything always goes right. So we have felt a huge benefit in having the whole team – manufacturing, distribution and fabrication – working hard to ensure those 'issues' which can come up from time to time are resolved quickly and effectively.
"Most importantly we have found Atlas Plan listening to what is being said and trying to adapt accordingly.
"Couple this grounded approach with an excellent technical product, an active specification team from their tiling business and effective pricing policy, and the response has been encouraging."
Atlas Plan was exhibiting with The Thomas Group at KBB in the NEC, Birmingham, last month and Jamie Thomas said: "We've already been active in the UK for a couple of years now, so we had big expectations from the show. However, we had no idea it would turn out being so successful. The feedback was terrific."
Sean Kennard says: "After a relatively short time on the market, Atlas Plan is being specified and installed on various kinds of projects, from private residential to large developments, and we're even making our way into some of the most exclusive showrooms in the country – such as the new cooking school at Sculleries of Stockbridge, supplied through our Scottish fabricator partner Marlborough Granite.
Next from Atlas Plan and about to be launched are new colours and finishes, further developments of the latest technologies, and a brand new Official Fabricator program that will give its partners access to discounts with its approved tool suppliers. Sean says: "We're sure all of this will help us establish ourselves as one of the reference points in the UK worktop business."
Caesarstone UK enjoyed another strong outing at KBB in March  following its success the first time it exhibited at the biennial event in the NEC two years ago.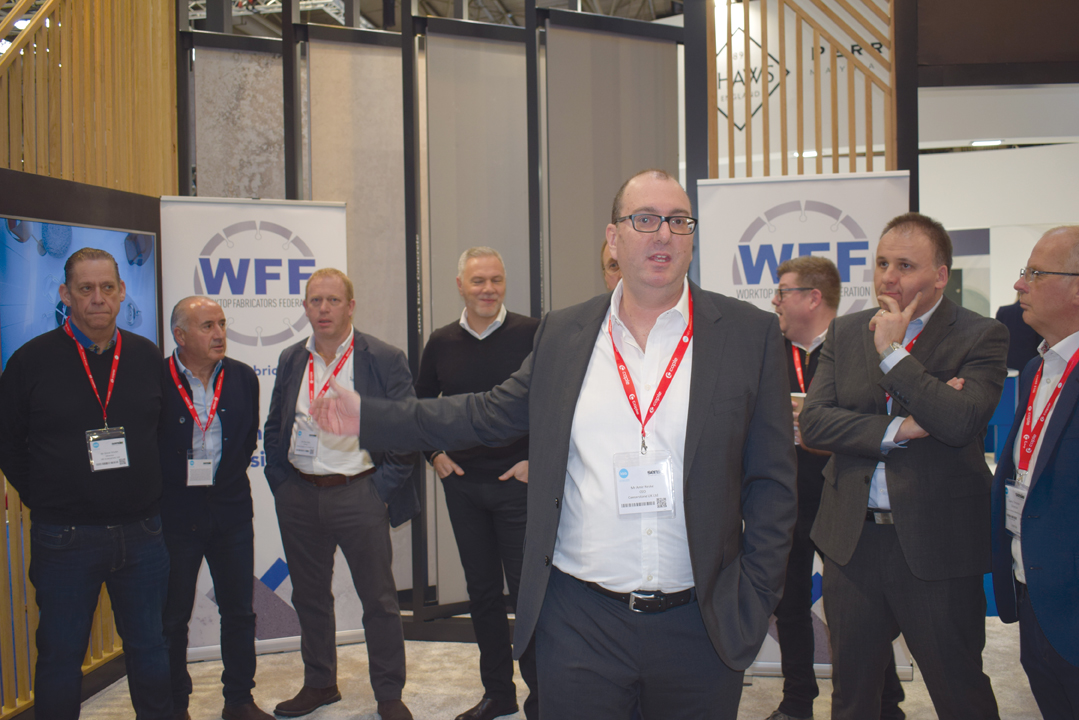 The launch of the new Worktop Fabricators Federation that took place on sponsor Caesarstone's stand at KBB in March. Amir Riske, CEO of Caesarstone UK, is pictured here congratulating the founders of the organisation on their initiative. Behind him are the founders of WFF and other sponsors of the new Federation.
In a more central position this time and with a 50% bigger stand, the 25-strong Caesarstone team hosted around 1,500 guests on the stand during the course of the event.
Caesarstone UK Managing Director, Amir Reske, said: "We would like to personally thank everyone that took the time to come and join us during KBB2020 and for the positive comments that we received about our products, stand and team.
"Caesarstone is in a far stronger position from where we were two years ago and the meaningful conversations we had with many industry partners, new and old, truly reflect this.
"We now look forward to following up with everyone that we met and strengthening our relationships within the kitchen and bathroom industry."
 "We would also like to thank the directors of the Worktop Fabricators Federation for giving Caesarstone the honour of launching this important initiative from our stand. We look forward to playing a key role alongside the other sponsors in supporting the team as their membership grows."
Caesarstone displayed 32 large format slabs on its stand along with bespoke furniture that showcased some of the company's latest surfaces, such as 4043 Primordia.
The growing trend for darker materials was reflected in a coffee bar finished in 5100 Vanilla Noir. Key accounts were invited into the private viewing room on the stand for a preview of the new colours that will be added in the spring launch.
There were new launches and previews of  launches yet to come on the Cosentino stand at KBB, with members of Cosentino's digital loyalty scheme being given the VIP treatment.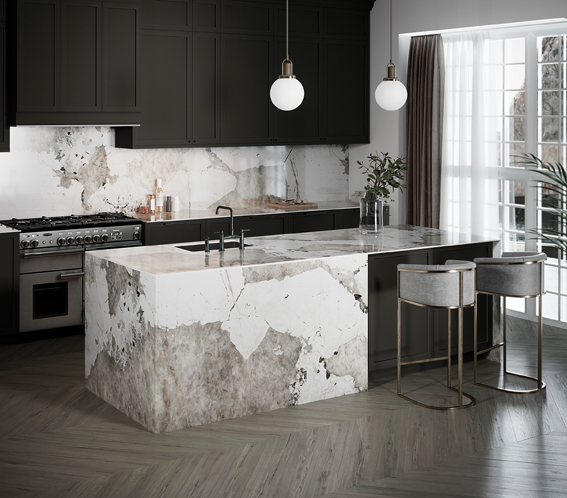 Khalo in the Avant Garde range of high gloss Dekton launched at KBB.
The digital loyalty scheme supports retailers, fabricators, architects and designers to help them build their businesses and reward them for their loyalty with a points system for goods or charity donations. KBB saw the launch of a new platform for Premium (and soon also Elite) studios to help them reach the consumer.
Cosentino's main engineered stone brands are Silestone quartz and Dekton ultra-compact surfaces.
In Dekton, KBB saw the first showing of designer surfaces Liquid, conceived by Patternity, and Chromica, from architect Daniel Germani, which are available exclusively through Elite and Premium studios.
The three Liquid designs – Sky, Shell and Ember – created by London duo Anna Murray and Grace Winteringham of Patternity, have swirling, rippling, fluid patterns. Feroe and Baltic, which form Chromica, have a dark base and matte finish.
Also on show for the first time were the three Dekton Avant Garde surfaces – Laurent, Helena and Khalo – with a high shine for luxury spaces and brave designs, and Dekton's first solid white, Uyuni.
Completing the Dekton launch line-up were five new surfaces in the Portfolio range with its industrial twist. Joining the existing Bromo and Milar are Aeris, Eter, Rem, Sasea and Kovik. They extend the colour span of the Portfolio range from cream tones through to dark blues and from whites to shades of grey.
New surfaces being previewed in the Silestone range to give visitors a taste for what's to come were Miami Vena, a white marble-effect with a natural-looking subtle vein, and three new designs in the Concrete range – Camden, Calido and Anders.
CRL Stone showed its ceramic Ceralsio and CRL Quartz surfaces at KBB, with several new designs making their debut.
CRL displayed its entire range of surfaces at the exhibition in Birmingham so visitors could see it all. A must-see highlight of the stand was Ceralsio Umbria, launched in response to the trend for darker materials in interior design. The neutral grey tones of Umbria are designed to complement other nature-inspired materials such as wood, while the marble-effect pattern running throughout the surface adds interest.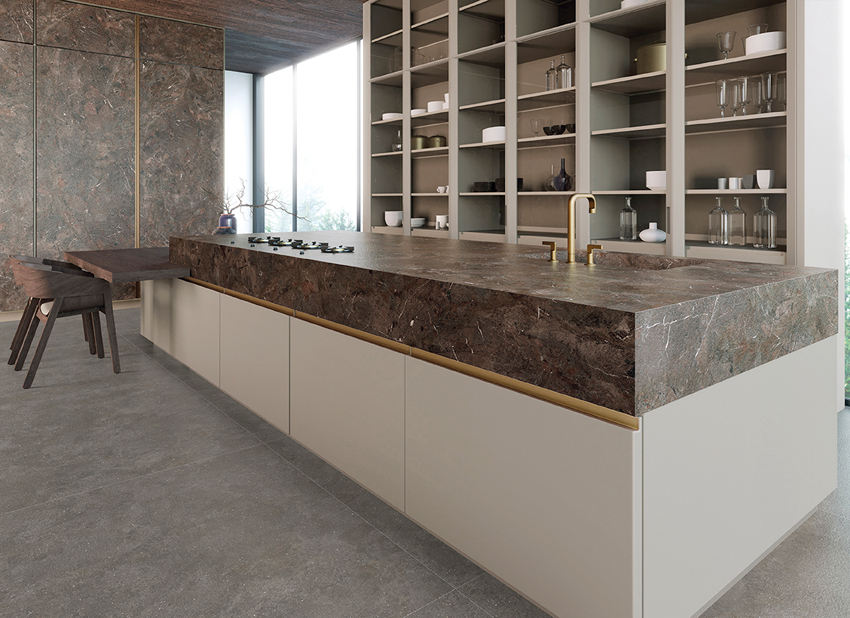 With a growing trend for darker materials, CRL Stone's Ceralsio Umbria surface has rich, dark tones offset by a lighter fleck running throughout and a tactile textured finish.
The 12mm thick, textured finish Ceralsio Umbria is ideal for the minimal look of a modern kitchen as well as having the easy care advantages of ceramics.
Other new Ceralsio surfaces were also introduced at KBB, each tapping into the ongoing trend for grey and nature-inspired materials in interior design.
And the CRL Quartz collection now boasts six new colours, all shown at KBB, making it easier for designers to add depth and interest to their kitchen and bathroom projects with the ease of maintenance and durability of quartz.
Lapitec, sold in the UK by stone wholesaler The Marble & Granite Centre in Rickmansworth, Hertfordshire, is a sintered surface that is a bit different to the porcelain products.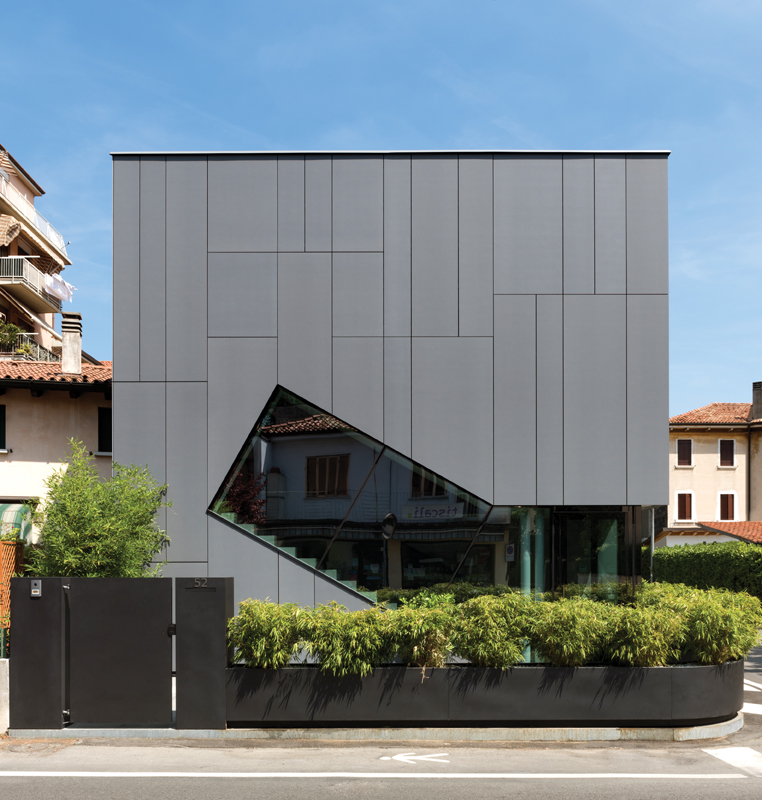 Lapitec is not only used for worktops. Here it has been used for cladding.
It claims a provenance going back to Veneto in Italy in 1989, when it was conceived by entrepreneur Marcello Toncelli, although it was only launched as a marketable product in 2012. It is now sold in more than 70 countries and is still 100% made in Italy.
The technological partnership with parent company Breton, the Italian stone machinery manufacturer that developed the equipment for making engineered quartz, has helped create a product that the company says has unique qualities.
Its slabs of 12, 20 and 30mm thick, are made of a mixture of natural minerals which, when baked at high temperatures, produce 'full body' slabs – that is, the material is the same throughout. Porcelains have their designs applied to them (usually printed) so if the surface is removed, so is the design. Being full body slabs allows Lapitec to be machined across its full thickness without losing the consistent appearance and performance, as well as avoiding the use of resins, inks, and other petroleum derivatives.
Protected by 25 patents, Lapitec large format slabs (3365mm long) come in three collections, 17 colours and a variety of seven surface textures. They can also be customised. They have been used not only as worktops (indoors and out) but also for rooftops, yachts, swimming pools and products such as  tables through to consoles. Zero porosity makes Lapitec hygienic and easy to maintain.
Thirty years on from the inception of Lapitec, the company – now run by Marcello Toncelli's grandson, also named Marcello – is still expanding its product range with more innovations.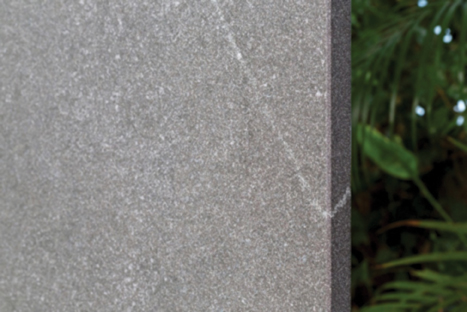 Neolith says it is taking hyper-realism to the next level this year by introducing full body veining. It says it is a game-changing innovation that allows a degree of detailing the industry has struggled with for a decade.
Since Neolith first arrived on the market in 2009, the brand has strived to manufacture surfaces as true to the original source material as possible but with the enhanced strength and performance of sintered stone.
From high definition digital design to continually improved composition, Neolith has reproduced the look of materials found in nature such as marble, limestone, metals and wood.
Now Neolith says it has achieved full body veining through the thickness of the entire slab and not just on the surface, replicating the 3D veining found in genuine marble. This means the veining is visible on the slab's edges when the material has been sawn and shaped. This is available in slabs of 12 and 20mm thicknesses.
Neolith says the achievement is the result of seven years of intense research and development. Two prototypes of the result were showcased by Neolith in Verona, Italy, last year. The Marmo+Mac exhibition has banned porcelains and sintered stone from being shown, but Neolith held its own 10th anniversary celebrations in a neighbouring hotel to show its latest developments.
Carlos García, Head of Product Design at Neolith, says: "Neolith's introduction of its new full body veining technology is a significant step in the brand's design evolution and means a new generation of Neolith models will soon be released. Where before the veining stopped at the edges of the slabs, they now continue throughout the material, giving a more authentic appearance." This years sees the products launched.
Casalgrande Padana in Italy has introduced Bios Antibacterial porcelain stoneware that it says can kill just about all the germs from the four main bacterial strains present in the atmosphere (it probably does kill them all but disinfectants only ever claim to kill 99.9% of germs just in case anyone ever finds one that survives).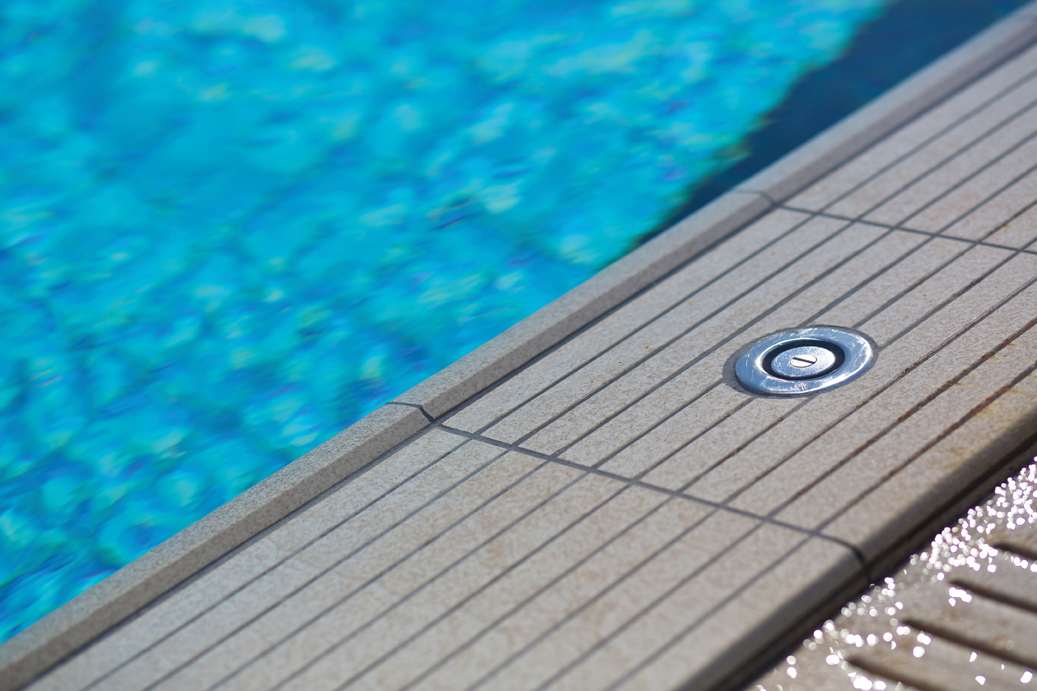 While other hard surfaces make use of the antibacterial properties of silver, Casalgrande Padana is using titanium dioxide. The company says it releases no VOCs and significantly reduces the amount of potentially harmful substances in the air in both indoor and outdoor spaces, thus removing odours as well as germs.
Moisture only improves its performance, making this porcelain, available in large format slabs, ideal for pool areas as well as kitchen and bathroom worktops and floors, and to clad cabinets.  
Casalgrande Padana has been producing cutting-edge ceramic materials for nearly 60 years. It says its environmentally friendly solutions for cladding, flooring and façades are capable of meeting any creative or technological requirements in the world of architecture and design.
And especially for engineered stone...
With engineered stone becoming ever more prominent, new products have been developed to help with their use. Here are two new kits to help with engineered products, one from LTP and one from Norcros Adhesives.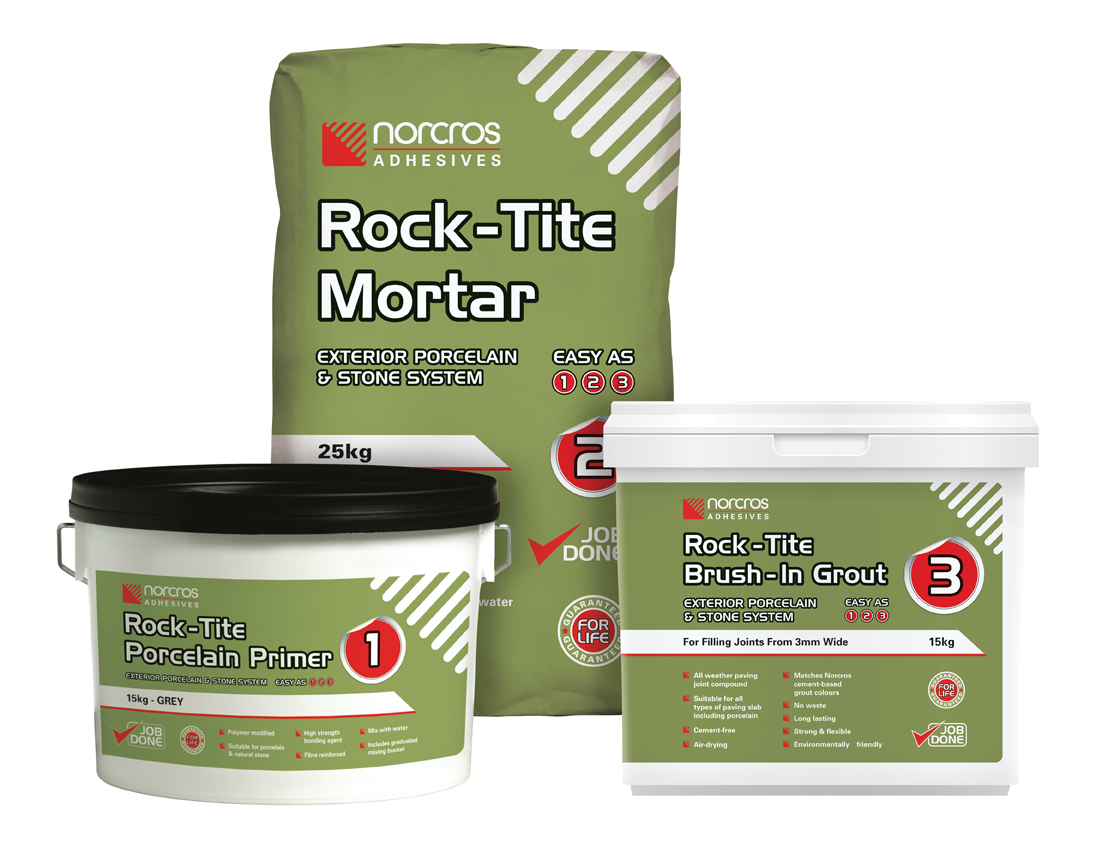 From Norcros comes the Rock-Tite system with a primer, mortar and brush-in grout for use by landscapers and garden designers as well as tile fixers.
It is ideal for use where an internal tiled space is being extended to a terrace or patio area outside, which is part of a long-term lifestyle trend to enhance living areas by making best use of outdoor space.
Problems can arise when the latest 20mm porcelain or stone tiles are installed by builders or landscapers with limited experience of using them. The Norcros Adhesives' system has the answer.
It is simple to use. It comprises Norcros Rock-Tite fibre-reinforced, polymer-modified, cement-based Porcelain Primer in three 5kg bags in a 15kg mixing bucket. With it is a 25kg bag of high strength fibre-reinforced Norcros Rock-Tite Mortar that simply requires the addition of water. And to finish off there are three 5kg bags of ready-to-use Brush-In Grout in a 15kg mixing bucket. There is a choice of three colours of the grout, Blanched Almond, Steel Grey and Tropical Ebony.
Richard Wallis, Managing Director of Norcros Adhesives, says it's as easy as 1-2-3. "So we expect Norcros Rock-Tite to be popular with tile fixers who are doing this sort of work and also builders and landscapers, who may not be as familiar with the detailed requirements of laying tiles."
Meanwhile, LTP has a new all-in-one Quartz Care Kit for all types of unpolished and polished quartz surfaces that is ideal for worktops, fireplaces and vanity units. It includes Quartz Clean, Quartz Care and a microfibre buffing cloth.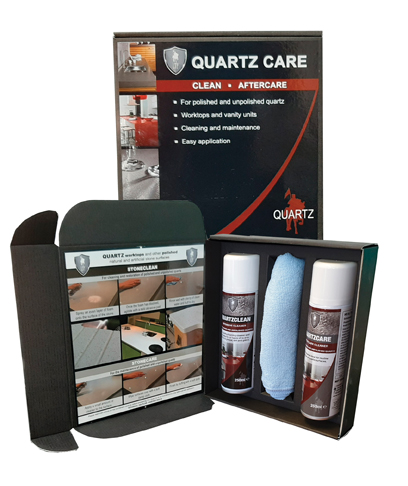 Quartz Clean is an intensive foaming cleaner that lifts grease and stubborn dirt and Quartz Care is a low foaming pH-neutral cleaner for routine maintenance.
While quartz is stain resistant, it is not stain-proof. The white marble look is particularly vulnerable to staining, and cleaning products that contain bleach or chlorine can discolour it and dull polished surfaces. The Quartz Care kit is an ideal resolution to the issues.