English natural stone company Lovell launches Belvedere Stone to import stone
Simon and James Hart of Lovell Stone Group, operating five quarries in the South of England, have started a new company called Belvedere Stone to sell imported stones as flooring and paving.
Managing the new business is Simon Willmott, who joined Lovell Stone Group as Technical Sales Manager from Devon Stone, based in Exmouth, in July last year.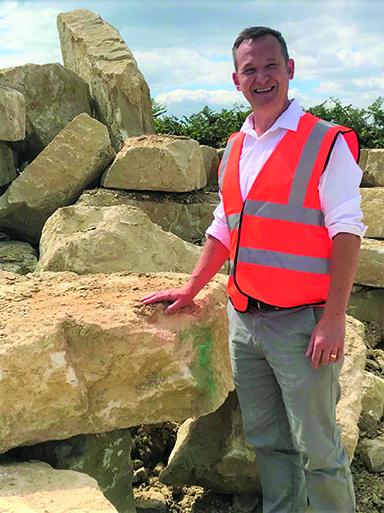 Belvedere Stone company is managed by Simon Willmott.
Simon was Sales Director at Devon Stone. He had spoken to Simon and James Hart about developing a business in imported stone before he joined them. "There was a matching of minds, really," he says.
The aim was to have the business up and running in four or five months. In fact it took seven and was launched last month (February). The new website (www.belvederestone.com) went live on 12 February.
By the end of this year it is intended to have a showroom at Downs Quarry in Langton Matravers, the Purbeck quarry site where Lovell Stone is headquartered. It will display Lovell's stones and the imported stones of Belvedere Stone. It will be in a new extension that will double the size of Lovell's current office building. It will be open to the public and for use for appointments with architects and clients.
The Belvedere launch has involved nine stones, although some have a choice of finishes, so there is a range of 14 products. The stones come from as far away as Vietnam and China and the closest is Italy. The stones will be kept in warehouses in Northern Europe before delivery.
The aim is that the Belvedere stones are of high quality and hard wearing in order to complement Lovell's British stones. They will be suitable for use indoors and out in commercial and domestic settings. The same stones can be used in bathrooms, on the ground floor and out on to the terrace. "They are very robust," says Simon Willmott.
Most of them are limestones, although Portuguese limestones, already available from plenty of suppliers in the UK, have been avoided. There is one granite (from Taishan, China) with a waterjet textured finish (similar to flame textured but gentler).
Sourcing the right stones of the right quality was essential before Belvedere Stone could be launched and Simon Willmott's experience of importing stone over a number of years played an important part in achieving that. "We have been very thorough. Everything is being produced to Lovell standards," he says.
As well as the stone, Belvedere is offering a complete NBS fixing, sealing and maintenance specification for all of its stones. The aim is to ensure the stones are installed according to British Standards and that all tenders for installation will be like-for-like, including screeds if the company is approached at an early enough stage of a development. It should help avoid cut price tenders from fixers hoping to sneak in a C1 adhesive instead of a C2, for example. A maintenance regime will be included.
Belvedere was as careful with the selection of these products as it was with the stone. It approached all the suppliers and chose what it considered to be the most professional, which included having the confidence to offer comprehensive warranties.
Although it is including a number of products, it has partnered particularly with BAL for high quality adhesives, grouts, sealants and so on. BAL offers technical support and RIBA-approved CPD seminars, NBS specifications and on-site project consultancy.
Simon Willmott says: "With decades of experience in the tile and stone industry, both as an installer and latterly a specifier, I became disheartened with the influx of stone products on the market in the UK which did not comply with Building Regulations, British Standards and European regulations.
"I had visited too many projects in the UK where low quality stone, poor installation and maintenance systems had resulted in disappointment for the end user, creating a misconception that stone was a problematic and difficult material to work with.
"Over the past year, countless samples of stone have been sourced, tested and dismissed from all over the globe, leaving us with a very robust and unique collection of stones.
"We have applied the same rigorous testing methods to fixing and sealing materials, which allows us to offer a complete, warranted specification for stone installation."
About BAL he says: "Being able to provide one specification for complete installation eliminates any incompatibility between products, and by being involved in projects at the design and specification stage, we offer warranted systems alongside reduced build ups, reduced build programmes and reduced budgets.
"Architects will benefit from our free NBS specification writing service, contractors will benefit by ensuring that specialist subcontractors are quoting on a like-for-like basis, and homeowners will benefit from BAL's 25-year materials warranty."
Allan Garland, Specification Manager at BAL said: "We are delighted to have entered into this partnership with Belvedere Stone to provide a one-stop solution for their natural stone tiling products."