Fyfe Glenrock calls for Scottish granite to be used for Scottish memorials
Scots continue campaign for more indigenous stone to be used
Scottish stone companies are continuing their call for more local stone to be used.
Following the formation of the Scottish Stone Group by three Scottish quarry operators (Tradstocks, Hutton Stone and Denfind) and the group's meeting with Scottish Parliament Ministers and SMPs to put the case for using more Scottish stone, now Fyfe Memorials, part of Fyfe Glenrock, has issued a rallying call for more Scottish granite to be used in memorial headstones.
Like the rest of the UK, most memorials (95%, according to a report) put up in Scotland are made of imported granite, most of it from India or China. That includes memorials from Fyfe, which, it admits, is why it has not joined the Scottish Stone Group.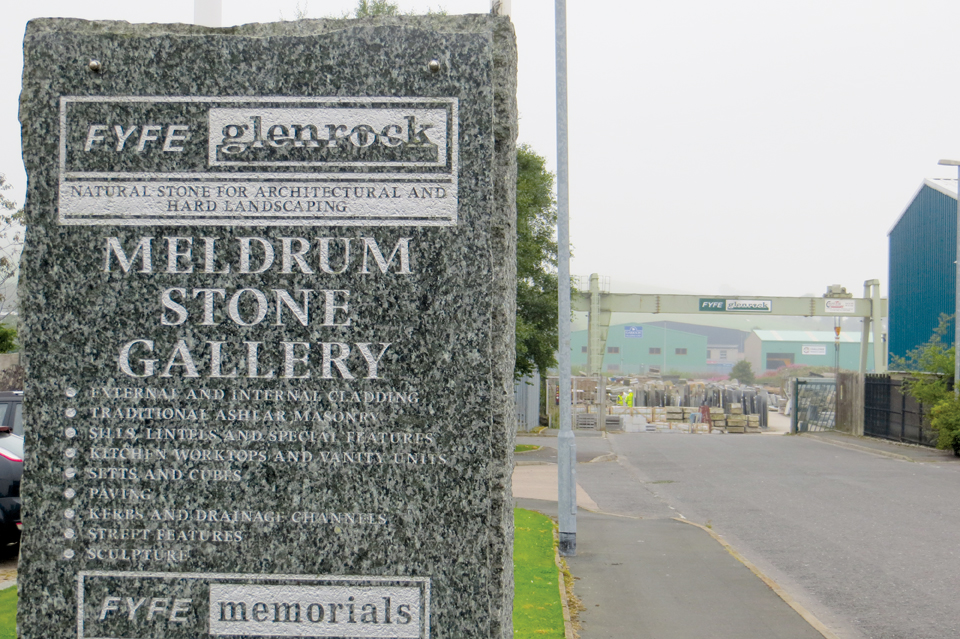 But Fyfe Memorials, previously owned by Pisani and bought by major aggregates and construction company Leiths (Scotland) in 2017 when Pisani went into Administration, is one of the last remaining companies designing and supplying indigenous Scottish granite headstones.
 Based in Aberdeen, 'The Granite City', Fyfe Glenrock has a 170-year history of crafting natural stone products from local materials.
Norman Marr, memorials manager, says: "Granite embodies Scottish qualities. It is resilient and permanent and available in a range of natural colours, which show the incredible diversity of our country.
"Scottish granite is sometimes used for memorials; however, many families don't realise that most of the stone used for memorials today is imported from Indian and China. Nonetheless, indigenous Scottish stone is available from Scottish quarries."
Some of the stones used by Fyfe come from the quarries Leiths operate for the extraction of aggregate. Fyfe selects the blocks it wants as it needs them. The stones from other Scottish quarries are also used, such as Breedon's Corrennie pink granite and Craigenlow grey and pink granite, and Tradstocks' Whin stone. Blackhills granite and Kishorn hard sandstone, among others, are also used.
"Imported stone may be cheaper, but there are significant environmental costs associated with it," says Norman Marr. "The carbon footprint of imported stone over indigenous stone is much higher due to the production and transportation methods used.
"It is estimated that this can be six times the embodied carbon of Scottish stone. At the same time, the procurement of stone from outside Europe remains a grey area, with less focus on health and safety of workers as well as on ethical issues."
Granite is not only hard and heavy, it also contains a lot of silica that can cause potentially deadly silicosis. In the UK, people working the stone are protected from the dangers. In India, it has been widely recorded that sometimes whole families, including children, work in quarries without anything to protect them from the dust or crush injuries from falling rock. Sometimes they are bonded labour, working to repay family debts. In the UK that is known as modern slavery.
Fyfe Memorials' indigenous granite memorials are made by craftspeople. Inscriptions are usually sandblasted and gilded or painted, and traditional lead letters are also available.
Known as The Granite Masters, Fyfe Glenrock and Fyfe Memorials have provided indigenous Scottish granite to high profile projects across the UK, including The Scottish Parliament (Kemnay grey granite), Cairngorm National Park signage (Aberdeenshire granite), the Suffragist Memorial in Parliament Square, London (Peterhead pink granite), and the Stephen Hawking memorial in Westminster Abbey (Caithness stone). Fyfe is currently working on a cairn style of memorial to mark the centenary of the Peterloo Massacre, commemorated in Percy Bysshe Shelley's poem The Masque of Anarchy. More of that in the future.
Fyfe Glenrock / Fyfe Memorials, is based in Oldmeldrum, Aberdeenshire. It has a modern stone processing and production unit providing stone for uses such as building, landscaping and memorials.