Interiors: Lympstone Manor
Renowned chef Michael Caines says Lympstone Manor, which he opened last year as a 21 bedroom hotel with three dining rooms, is 'the realisation of a dream'. 
Michael Caines, one of Britain's most celebrated chefs with two Michelin Stars, took a year off to realise a dream. The setting for that dream is Lympstone Manor, a Grade II listed Georgian mansion set in 28 acres with spectacular views over the Exe estuary,  a Site of Special Scientific Interest (SSSI) due to the wildlife it supports.
Michael Caines converted what had been a private house into a hotel with 21 bedrooms and three dining rooms, each  with its own decor and identity. The dining rooms are named after local bird-watching beauty spots – Haldon, Mamhead, and Powderham. The bedrooms are named after the species of birds that live in and around the estuary – bullfinch, nuthatch, gannet, woodpecker and the like.
The hotel is about the cuisine but the rooms reflect the distinctive quality befitting the food. They are individually created by the dynamic London-based design duo of Maria Constantinou and Eris Koutsoudakis, whose practice is called Meraki Design – Meraki being a Greek word for good taste.
They have a lot of experience in hotels and restaurants, saying they "add that extra bit of soul" to a project.
The en suite bathroom of each of the guest rooms has natural stone installed by Devon Stone in Exmouth on various forms of the multi-functional Schlüter-Kerdi-Board, which levelled the floors and walls and satisfied Devon Stone's requirement for a full tanking solution for the bathrooms.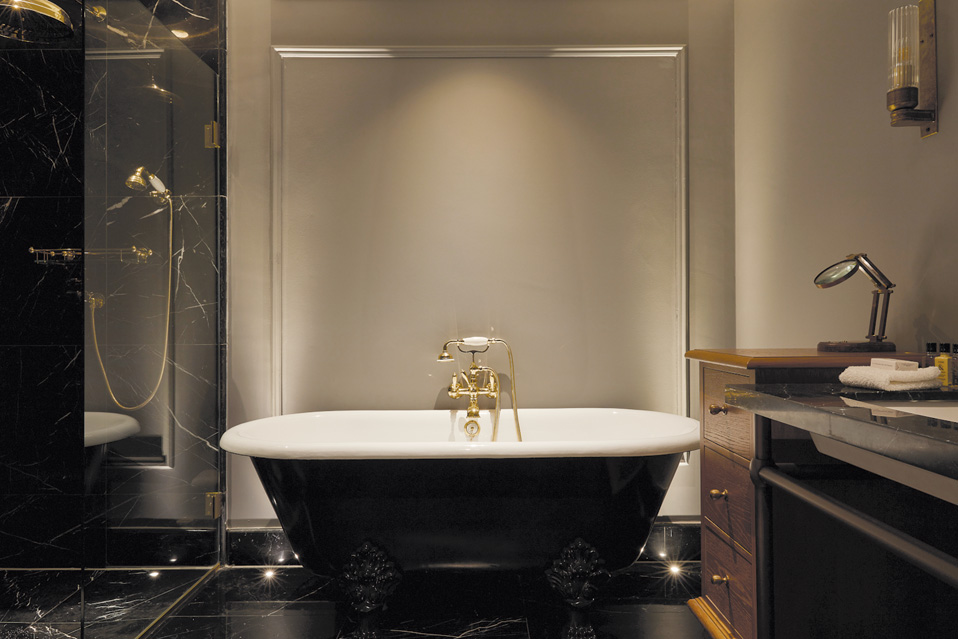 The stones used are Portuguese Estremoz, Crema Marfil, Silver Grey travertine from Italy, and Nero Marquina.
The original specification was for 18mm ply with cement backer board, but given the age of the building, Devon Stone suggested the lighter weight alternative of Schlüter-Kerdi-Board, which would also speed up installation, reduce the cost and lose a little less floor space in each bathroom. Schlüter assisted Devon Stone with the specification to ensure the correct boards were used in each application.
Simon Willmott, Sales Director of Devon Stone (which is part of Jose and Matt Jam's Jam Interiors Group) says: "Bringing an old building up to modern standards is never straightforward, but we finished on time and to budget." And he admits that Schlüter-Kerdi-Board certainly played its part in achieving that.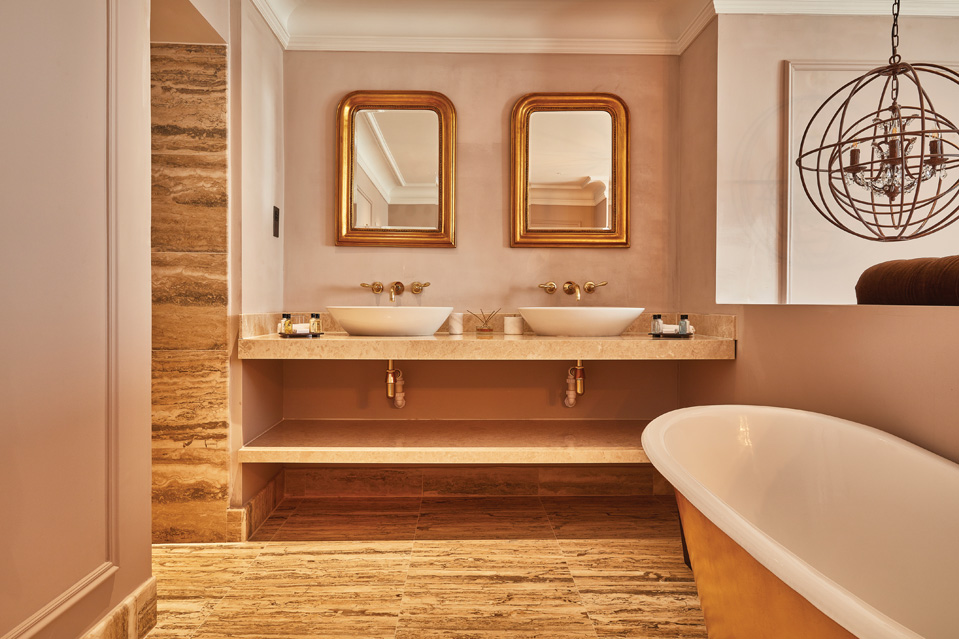 Another contributing factor might have been that there was no main contractor on the job. Michael Caines employed a quantity surveyor but at the start of the job called all the various specialist contractors in and gave them what Simon describes as a "rallying speech", after which they got on with it, working together efficiently and accommodating each other's requirements.
Devon Stone usually supplies stone for others to fit, but as this was a special job and only 10 miles down the road from the company's factory, this time it also carried out the installation.
The company had expected to put as many as eight people on to it, but when the job started Devon Stone's deadline was extended by six months and the company's installation work was completed by just three people.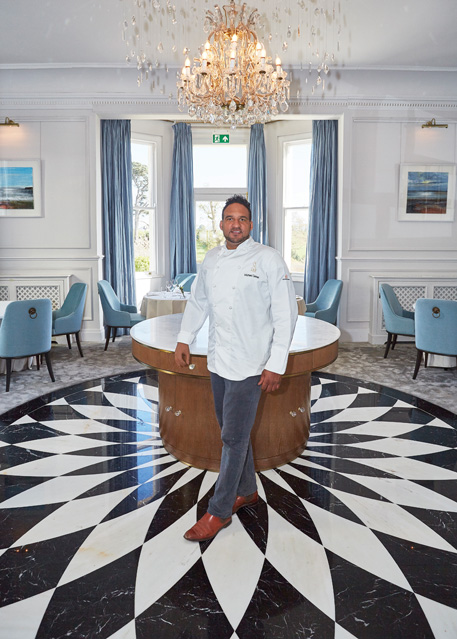 As well as the bathrooms, which had electrical underfloor heating fitted by the electricians, Devon Stone produced the 17m2 medallion black and white floor in the dining rooms (pictured here with Michael Cains), with its waterjet cut Estremoz and Nero Marquina, also on Kerdi-Board.
But it is the beautifully furnished en suites accompanying each guest room that contribute so much to the hotel. They not only required complete waterproofing but also a not-inconsiderable degree of levelling and smoothing of the floors and walls due to the age of the building.
"Given the nature of the project, if water had managed to cause an issue, it would have cost a considerable amount to put right," says Simon Willmott. "We needed a reliable solution and in our eyes there was no other option better for the job than Schlüter. Their product knowledge and expertise is unrivalled in the UK.
"In converting a Grade II listed house built in 1760 into a luxury hotel, the main challenges were in straightening and strengthening the walls and floors without changing levels. Schlüter-Kerdi-Board was a great help in allowing us to achieve this."
The walls were lined with 12.5mm Kerdi-Board and the floors with a mix of 5mm and 12.5mm Kerdi-Board, depending on floor heights. The boards were sealed with Kerdi-Keba and Kerdi-Coll-L to form a waterproof base for the stones.
Devon Stone also made use of the Kerdi-Board variant, Schlüter-Kerdi-Board-V, to waterproof the curved shower walls that were a feature in some of the bathrooms.
Kerdi-Board-V is tongued and grooved for the quick creation of a smooth, curved surface ready for tiles to be fixed to.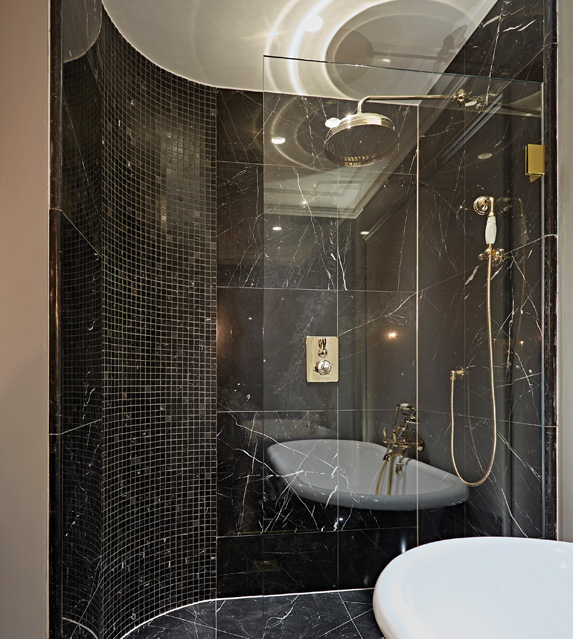 The 5mm and 12.5mm boards are just two of the seven thicknesses that Kerdi-Board is available in. The range has boards of 9, 19, 28, 38 and 50mm thicknesses besides.
While the boards at the thinner end of the spectrum are designed for use over existing substrates, the thicker boards can be used as construction panels to create features such as shelves, partition walls and seats, aiding the freedom of design.
In the case of Lympstone Manor, Kerdi-Board aided the creation of bathrooms that will support and protect an exquisite and highly personal accomplishment.
For Michael Caines MBE, Lympstone Manor is a milestone in his career to date. "Everything that I have achieved in my long career has brought me to this point, where I can fully express my vision of contemporary country house hospitality for the 21st century. I can't wait to welcome old and new friends to my new home!"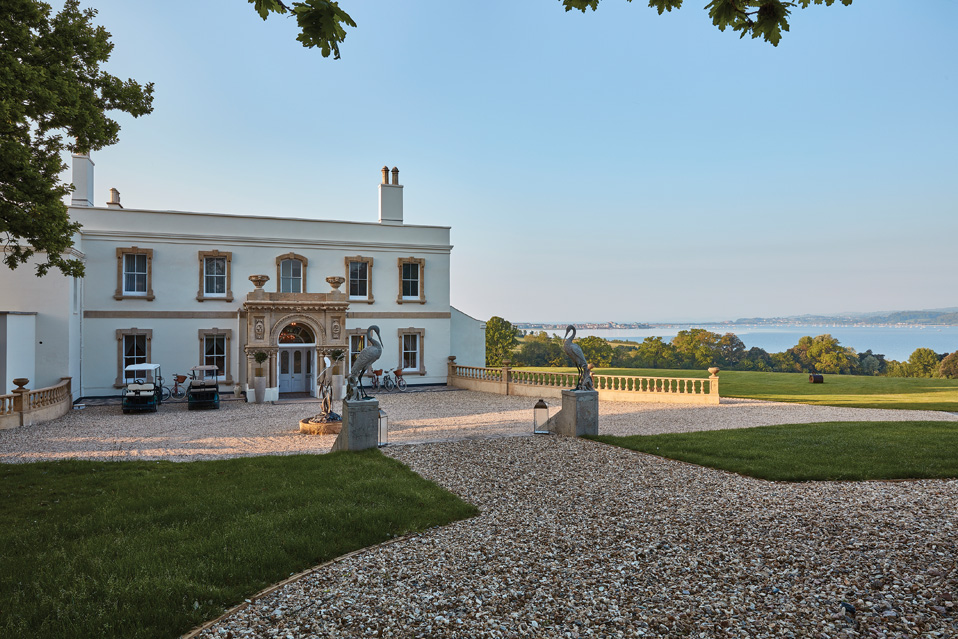 And he praises the contribution made by Devon Stone, saying "every detail has been exceptionally crafted". He adds: "Devon Stone has played a key part in this with their technical knowledge, design and installation craftsmanship."
If you want to stay at Lympstone Manor, rooms start at about £300 a night and go up to £1,500 or more for a Heron superior estuary suite.