Interiors: Underscar Manor
Penrith Tile Centre finds Tilemaster Setaflex and Grout 3000 answer all the questions for natural stone and ceramics.
There was a mixture of natural stones and ceramic used for the interiors in the refurbishment of the Italianate, Grade II listed Underscar Manor set in 40 acres of ancient woods and parkland on the Lake District's Southern slopes.
The new owners were keen to return the building designed by Charles Reed for William Oxley, a Liverpool textile merchant, to something like its original condition when it was first finished in 1863. That included the use of Cumbrian High Tarn green slate from Coniston Quarry, a small enterprise run by a father and son team.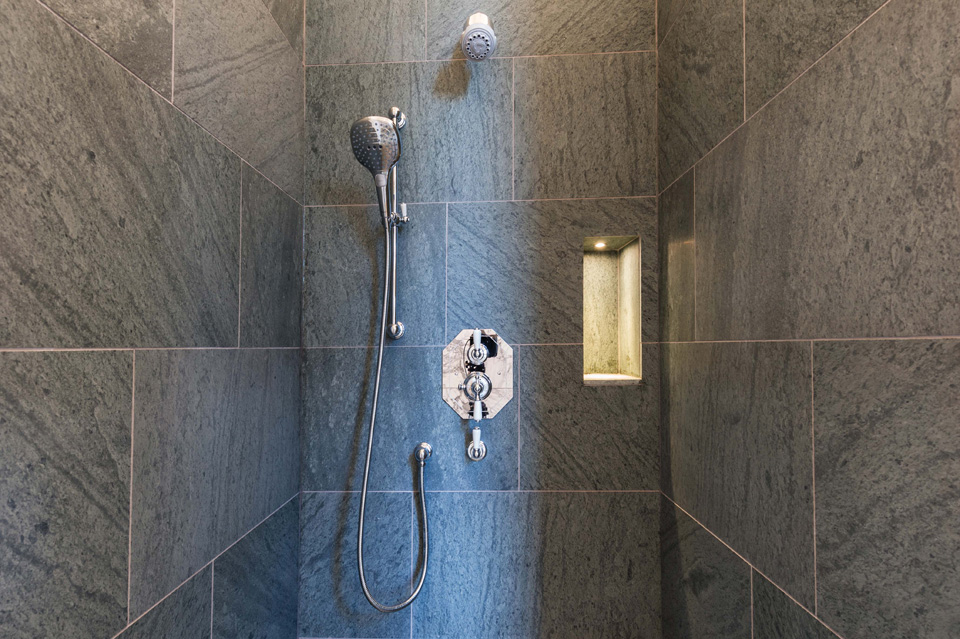 It was used in conjunction with Arabescato marble, Brazilian Slate, Benjamin Grey limestone and glossy white ceramics from Stokes Tiles.
All the materials were  carefully selected to complement the building's heritage and create a uniform colour aesthetic in chic grey and white. They were supplied and fixed by Penrith Tile Centre using Tilemaster adhesive and grout. Tilemaster helped with the specification of its materials, recommending Standard Set Setaflex adhesive and Grout 3000 in light and mid grey shades.
Penrith Tile Centre is particularly proud of its Cumbrian High Tarn slate. It believes it is the best that money can buy but it sells it at a competitive price of around £90/m2. It features in 400mm widths and random lengths on all eight of the bathroom floors in the refurbishment, including shower enclosures. It was also used for cills and steps, blending the new work with the original.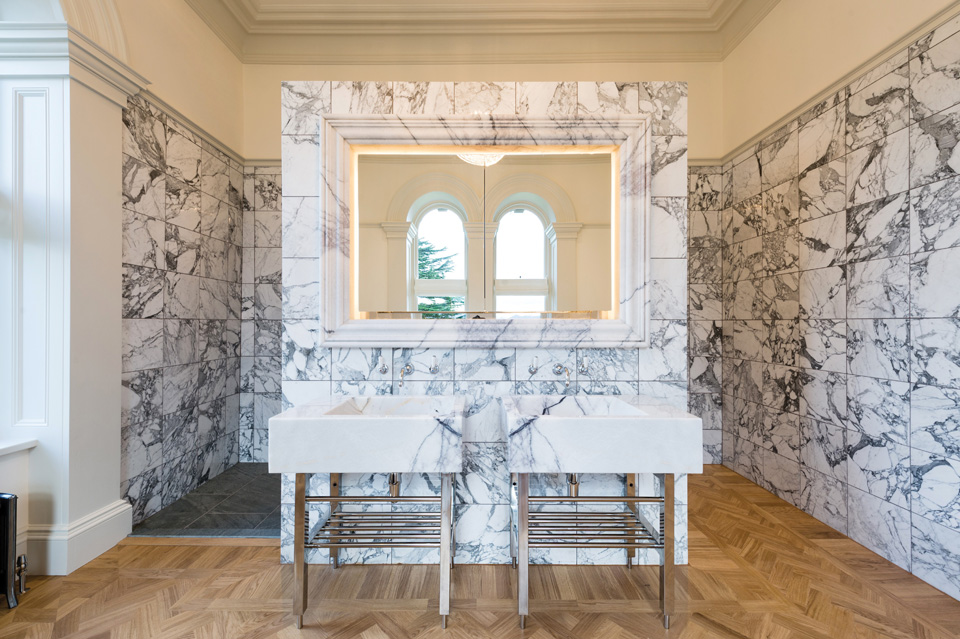 The gym and the rest of the floor in the cellar are tiled with one of Penrith Tile Centre's 900mm x 400mm Brazilian slates and Benjamin Grey limestones.
The interiors were part of an extensive, two-year renovation of the property that started in January 2016.
Penrith Tile Centre was already familiar with the building as it had been involved with supply of tiles on a previous refurbishment in 2007. John Williams of Penrith Tile Centre says: "It was really good to see that the new owners wanted to return the building to something akin to its original build."
The house was converted to a hotel in the 1970s but reverted to a private residence when it was bought by a Russian oligarch in 2010, who was murdered four years later in Moscow.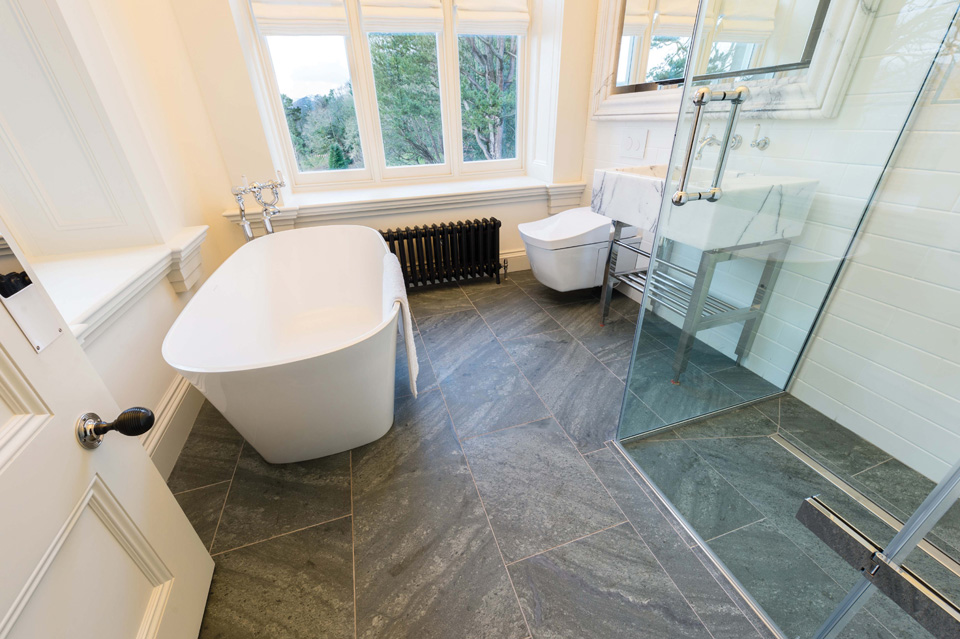 The decision about which materials to use for the current refurbishment was only cemented after a number of site meetings and a visit by the building team and architect to Coniston Quarry, which is on land owned by the National Trust. They were accompanied by John Williams.
Access to the quarry is only possible in a 4x4. Production volumes are small and extraction is carried out to order using equipment that John describes as "fantastic – some looks as if it has been there for ever". The slate is hand-finished on site before starting its journey down the almost inaccessible mountain road. But the quality of the stone makes the wait to get it worthwhile.
The Underscar Manor team, like so many others, found it encouraging and enhancing to see from which face of the quarry their slate would be won.
During the specification process, Penrith Tile Centre carried out concrete moisture readings, stone sealant compatibility tests and weight capacity testing. The company tanked all the wet areas and supplied and used all ancillary products, including Tilemaster adhesives and grouts, trims, waterproof membranes, decoupling membranes, stone sealants and maintenance products.
The Tilemaster Standard Set Setaflex used is a flexible adhesive with an extended pot-life. It was used to fix all the slate, stone and ceramic surfaces. The installation was then finished with Grout 3000, which has a flexible and fast-setting formulation and particularly low water permeability, making it ideal for Underscar Manor's bath and shower areas.
Tilemaster's Setaflex and Grout 3000 are the ideal combination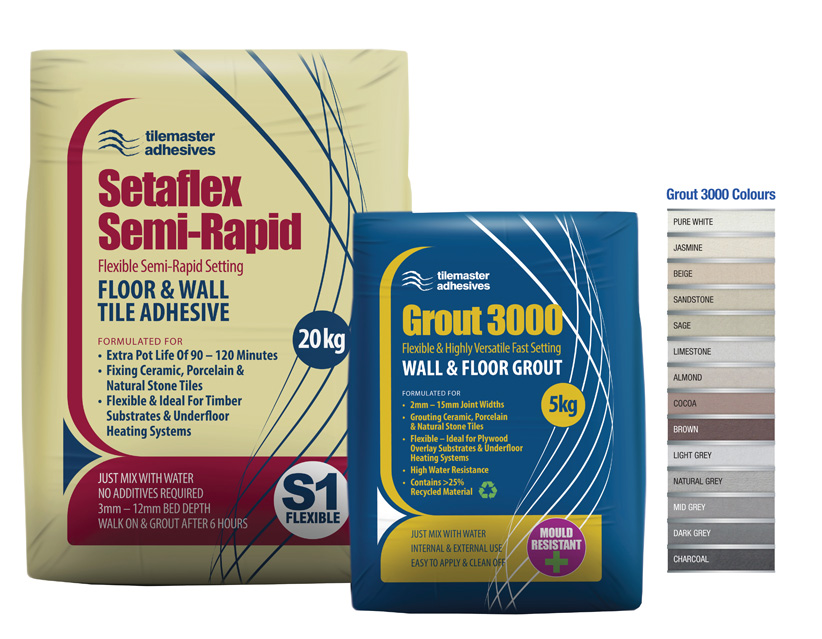 Tilemaster's Setaflex Semi-Rapid and its Grout 3000 are, like all Tilemaster's products, manufactured in Lancashire. Setaflex Semi-Rapid is a rapid setting, polymer-modified S1 adhesive suitable for all tile types. It is slip-resistant and its 90-120 minute pot life make it ideal for fixing large slabs and intricate mosaics. It can be applied up to a bed depth of 12mm and can be walked-on and grouted after six hours. It avoids staining and is both moisture and frost resistant, making it suitable for wet rooms, swimming pools, patios and external cladding. Setaflex Semi-Rapid can be used on substrates subject to some movement, including timber and underfloor heating.
And for a colour-matched finish, Tilemaster Grout 3000 comes in 14 colour tones, including new almond, cocoa, sage, natural grey and dark grey. It can be used for joint widths from 2mm to15mm and is mould-resistant. It has a working time of approximately 45-60 minutes and can accept foot traffic after approximately three hours (at 20°C).  Heavy traffic time is 24 hours.