IP Surfaces: Making the impossible, possible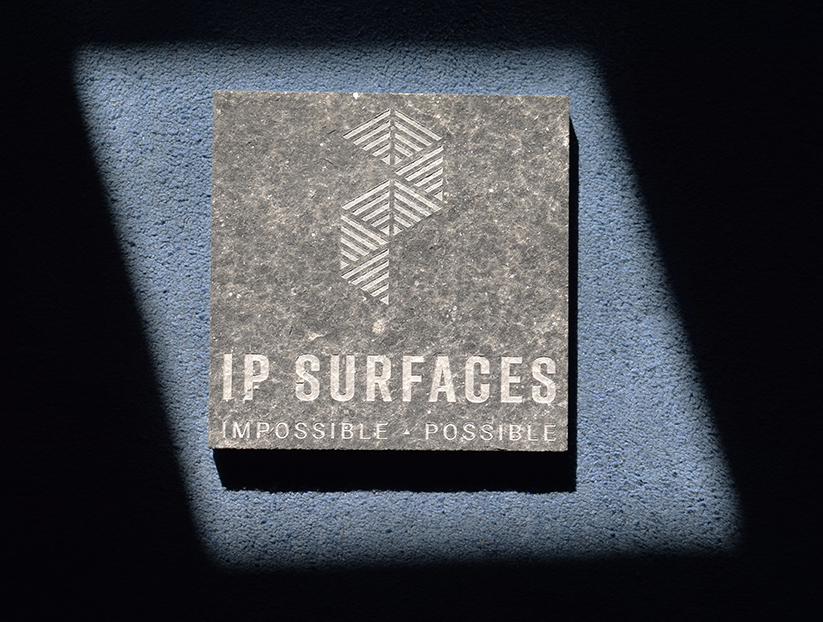 Mathew Haslam studied geology to gain his BSc from Hull University in 1981. "I was into the beauty of this rock and what it could create," he says. "I came back to stone and realised how I could make a difference with it 26-plus years ago."
Mathew Haslam, the Managing Director of natural stone landscaping company Hardscape, stands 6ft 5in tall, but he likes to keep his head down. Or he has done. Now he has decided he wants to stick his head above the parapet to encourage landscape architects, planners and designers to incorporate a bit more art into the landscapes they create.
Mathew established Hardscape in 1994, although it was only three years ago that he let it be known he owns the company because he knew the team of 70 he had spent 23 years nurturing was ready and formed and it was 'their time'.
The aim was to supply natural stone hard landscaping products as an alternative to concrete and clay, which were predominant at that time. It has been successful. Today, the Hardscape Group has six outlets to give it national coverage and consistently sells about £25million-worth of UK and international ethically sourced stone a year (Hardscape is proud to be part of the Ethical Trading Initiative, with which it has 'Leader' status).
It was in 2020 that Hardscape restructured with a newly named holding company, Hardscape Group Ltd, and two businesses at its core, namely the well known Hardscape Products Ltd and IP Surfaces Ltd (and with eyes on more new diversified expansion in the future).
IP Surfaces provides bespoke products with inserts, lettering, etchings, or other artwork for uses that are not restricted exclusively to hard landscaping, although a lot of them go into hard landscaping.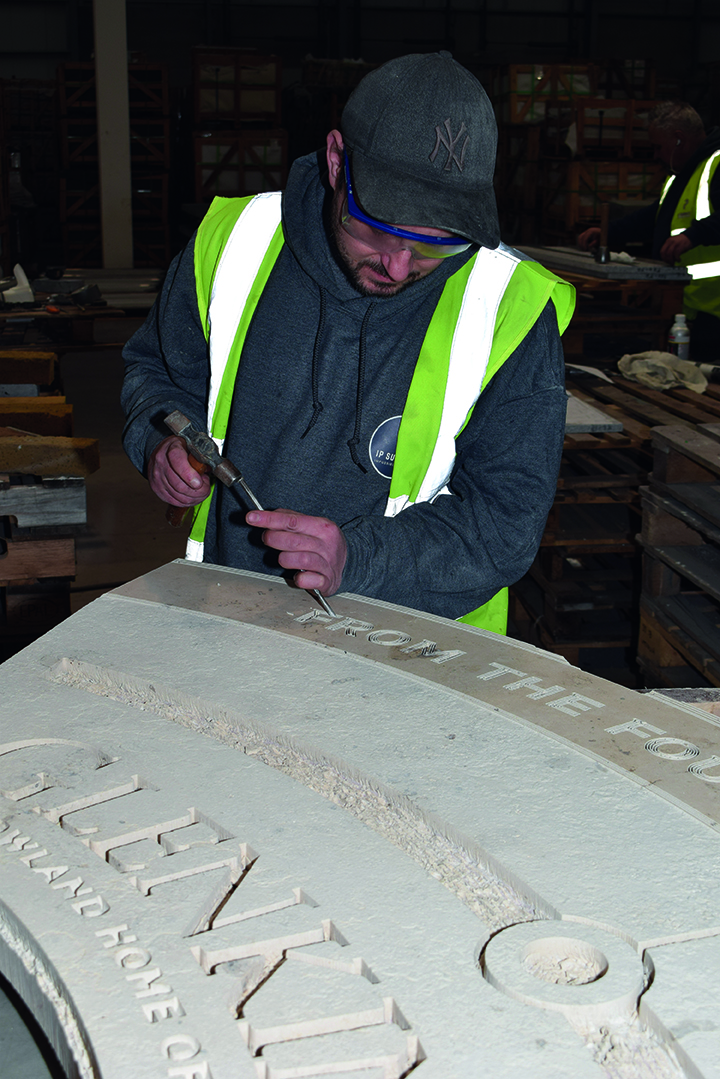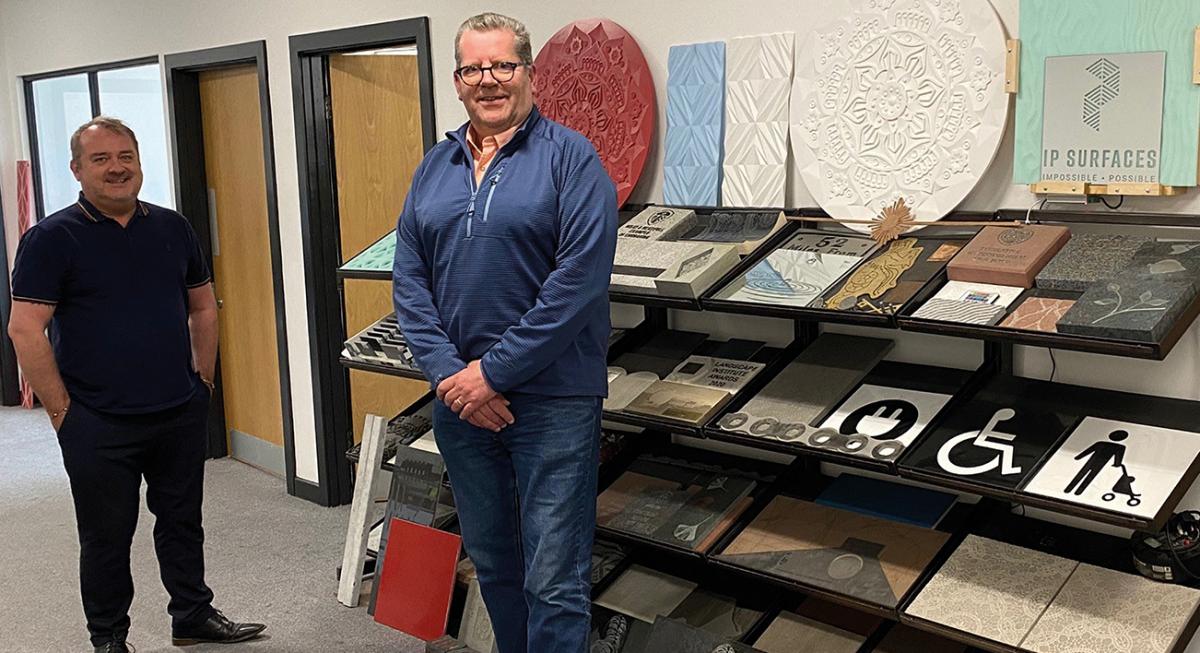 Mathew Haslam (on the right) with Marketing Manager David Butler and a display of work by IP Surfaces.
Hardscape has been offering this bespoke service for 13 years, but it is a speciality Mathew has also kept his head down about. It is there as a resource to make life easier for public and private sector clients, including contractors and landscapers who are laying the surfaces, giving them more options without having to find more suppliers. But some of them have not known the service exists. Now Mathew Haslam and his Marketing Manager, David Butler, intend to spread that message.
With the CNC saws, waterjet cutters, laser etchers and gritblasting equipment IP Surfaces has invested in, almost any kind of inlay or etching is not only possible but also a lot more affordable than it would once have been.
There are still some jobs that are best carried out by hand for a perfect finish – and when that's required IP Surfaces has the skills to do it – but machines have replaced many of the hand skills and machines work quickly. The IP Surfaces logo deeply etched into a 195mm square of granite pictured on the right was cut by a laser in a couple of minutes.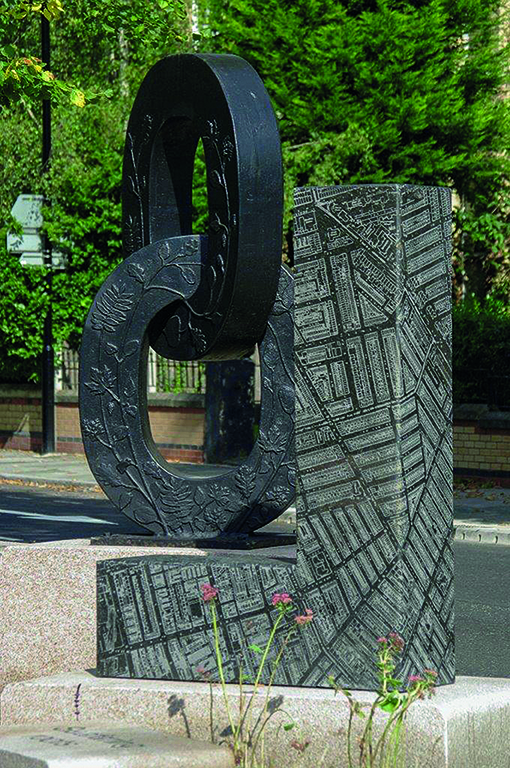 In the March issue of NSS we had a report on the transformation of Princes Avenue in Toxteth, Liverpool 8, where Hardscape supplied hard landscaping that included a Crystal Black natural stone 'L' to go with an '8' installed previously (pictured on the right). The 'L' included a map of the area going round the various faces of the stone. It was worked by IP Surfaces at the 6,000m2 workshop and warehouse in Bolton, Lancashire, the company moved into two years ago. 
Waterjets and lasers are used to cut and etch the stone, which means a plethora of other  materials can be used – for example, wood, glass, metals, solid sheets composed of aluminum trihydrate, calc-silicate, porcelains and ceramics, to name just a few.
People inevitably ask what the 'IP' in IP Surfaces stands for. In the marketing it stands for 'impossible possible'. If it ever stood for anything else it goes unrecorded, although the initials can stand for a lot of positive ideas, such as 'interesting projects', 'imagination and passion', 'investors in people'...
It was an agency employed by Mathew that came up with the IP Surfaces branding. Mathew says: "We knew the branding was going to be key to establishing the company and bringing it to the surface quickly."
The company works with people who are creating their dream, often with unique designs on which they own the intellectual property (another 'IP') and will never be copied.
Designers often go to IP Surfaces with ideas they say they doubt can actually be produced. "We usually seem to come up with a way of making their ideas reality," says Mathew. "But we work in collaboration with them. If it can't be done, we will say how about this as an alternative."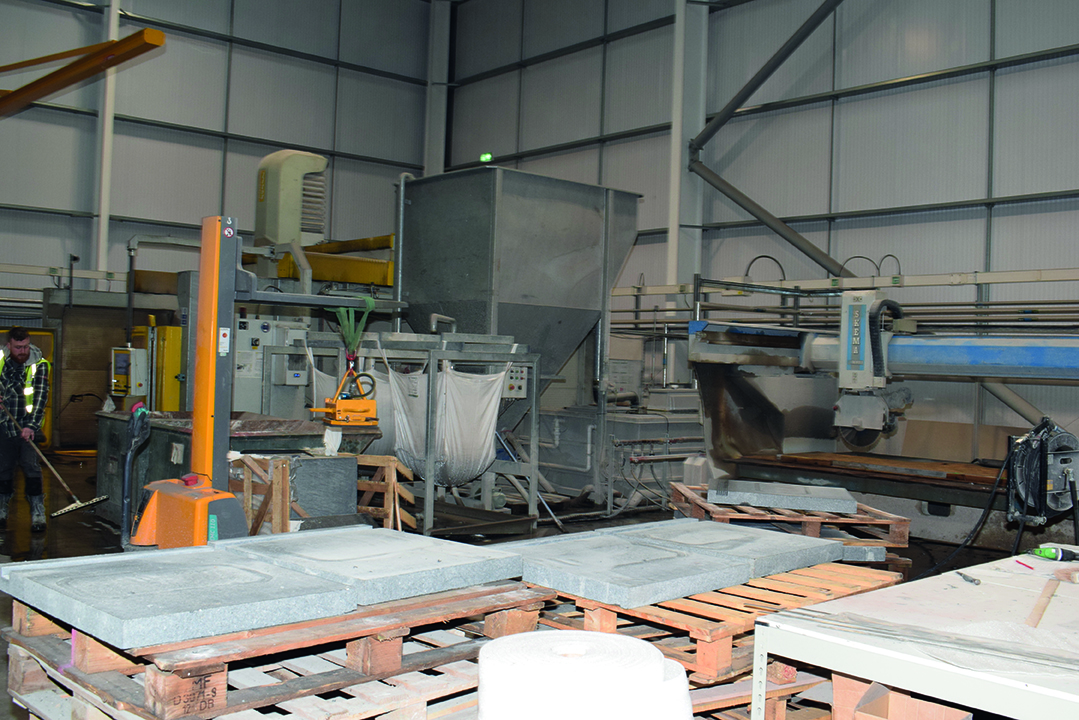 That requires in-house designers and a drawing team, which IP has. It regularly uses Rhinoceros 3D and other parametric modelling software. Mathew puts it like this: "Designers are creative people. We have linked up with that design process and meet them on an intellectual level." Dave Butler says the stone industry can be quite "furrow-focussed" but IP has a wider view – "our attitude is: if we can do this, why can't we do that".
The reason IP Surfaces and Hardscape are separate companies – and will remain separate – is because they seek to solve the problems of different customer bases. Hardscape is focused on supplying stone predominantly for town and city regeneration projects and major commercial development landscaping. IP Surfaces is about supplying innovative products for impressive projects (a couple more 'IP's) of whatever size they might be. They might even involve interiors as well as exteriors in domestic as well as public spaces or commercial environments.
Collaboration
And the solutions might not always be in stone, but a mixture of products, perhaps adding metal, wood or glass, even water and lighting. The world, from Mathew's experience, is optimised when people collaborate. Lighting is an example of working with other specialists to introduce that into the IP offer. Mathew: "We are taking the risk away from the client. In Hull, we supplied a date opening plaque in enamelled steel. We just said yes, of course we can make it. We don't do enamelling here at Logistics North but we know specialists that can and we work with them to widen both our horizons."
IP Surfaces even makes products that tend to be taken for granted but have to be made individually – such as steps with metal (or other) inserts to provide slip resistant nosings.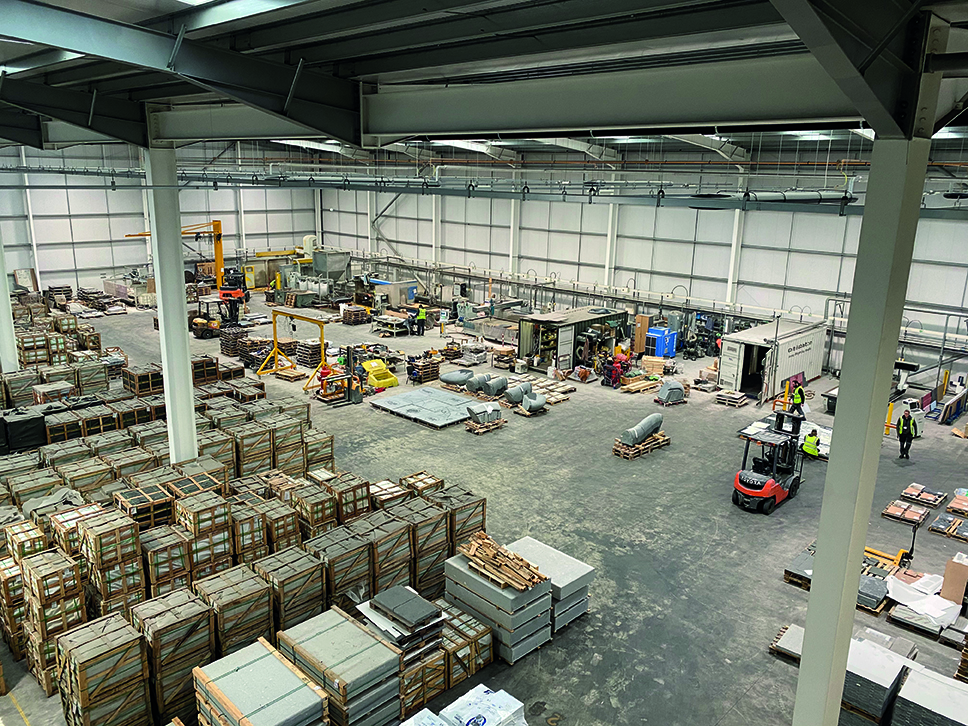 "It's bespoke and awkward to do, but we are asked to manufacture so many different variants for different design solutions," says Mathew. "That's what we're good at. Other companies don't want to do it because they want to produce volume."
He believes this is the right time to promote IP Surfaces because the design industry is having to be far more creative, not least to satisfy Section 106 requirements in planning approvals. Such requirements are unlikely to go away, especially with the government having set the agenda for the way forward by giving the commission that looked into how to increase the use of high-quality design in construction the name of the 'Building Better Building Beautiful Commission'.
The right time
Timing is important. The launch of Hardscape in 1994 was the right time to introduce stone for hard landscaping because it was when the government had decided to prioritise urban regeneration. This was to raise the status of what were often derelict, previously industrial quarters of cities and towns, many of them next to waterways, which added to their attraction once they had been improved.
Grey concrete paving offered little in the way of enhancement, whereas granite, porphyry and sandstone created the pump-priming setting to attract the retail outlets of café society, leading to the gentrification of an area. With that comes rising property prices that attract further development. And Hardscape was there to supply the hard landscaping.
Now IP Surfaces is also there to supply the decoration and bespoke solutions that many projects today are crying out for. "The whole thing has been set up around the challenge," says Mathew. "And the more success you achieve, the more experience you have to call on and demonstrate."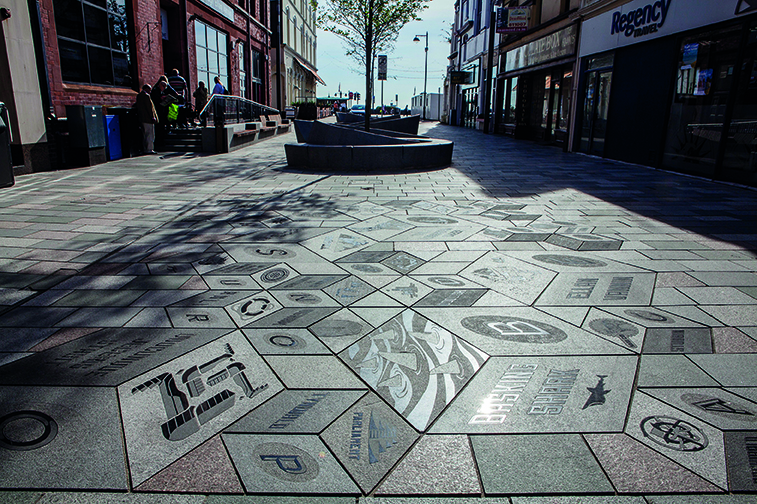 An award-winning project on Douglas, Isle of Man, where Hardscape supplied the paving.
Mathew has been involved in supplying products to the construction industry since he left college in 1984. He went to work for a timber company first, then a brick company, some of whose products were used for hard landscaping. At that time bricks were often used to replace tarmac for the pedestrianisation of streets.
Some of the bricks were exported to Holland and Germany, and when Mathew was involved in projects there he picked up ideas that he thought could be used in the UK. He suggested to the company he worked for some ideas for different designs of bricks, but the company had no enthusiasm for making them, preferring to stick with its traditional products.
Eventually Mathew left to start Hardscape, making the conscious decision to start specialising in artistic elements for hard landscaping 13 years ago. The section doing the work was then in Long Marston, near Stratford-upon-Avon, Warwickshire. As time has gone on, a combination of increasingly versatile computer-controlled technology, demand from designers and planners, and becoming known as a supplier of these artistic solutions has increased the workload on this side of the Hardscape business.
The move to the larger premises in Bolton, where 14 of the 65 people employed by the Hardscape Group now work, reflected that.
And the Covid-19 shutdown provided time for reflection to think about where IP Surfaces and Hardscape were going next.
Covid reflections
Mathew says: "Covid has made our organisation have a good look at who and what we are. We have looked at what we have been delivering for the past 26 years and collaborative spaces is at the top of the list, using function based alongside aesthetically delightful materials."
His reflections have focused on carbon reduction and better environments. "It's not the government that's thought of this, it's a public upswell of people saying we need this!"
Dave Butler adds: "It's not just a fad; it's an underlying sense of change."
Mathew believes people tend to have a "change the wallpaper" attitude to problems,  coming up with superficial ameliorations rather than fundamental changes. But, he says: "We can't just keep digging new holes in the ground; just re-designing cars."
The natural stone industry has been keen to emphasise Environmental Product Declarations (EPDs) that demonstrate the low level life cycle carbon impact of using stone, and Mathew is determined to ensure that Hardscape and IP Surfaces is associated with that stand. One immediate plan is to install solar panels on the IP Surfaces roof this year, and in January IP achieved BES 6002, the environmental and sustainability standard.
But stone does not exist in isolation. A hard landscaping project probably also uses concrete, and concrete makes one of the largest contributions to human-produced CO2. A lower carbon alternative is geopolymer concrete, made by mixing sand and aggregate with fly ash or slag and then activating it with an alkali such as sodium hydroxide. IP Surfaces has this year gained a contract that will use geopolymer concrete because the client insists on it.
Mathew: "The panacea would be to be able to offer everything. It's immature to think you can do that, but we know enough about the performance of materials to know how they're going to work and that springboards you into another world."
Covid has provided the lens for Mathew to respond positively to the need for environmental improvement and reaching zero carbon. His organisation has just appointed a Sustainability Manager to develop this even further. "As an industry, construction – and it's true of other industries – is not taking it seriously enough," he says.
The projects pictured below are three of the more spectacular award-winning landscapes that Hardscape has contributed to with bespoke products now being produced by a separate company within the group called IP Surfaces. Top is 'The Voyage' for Liverpool City Council (architect BCA Landscape Liverpool; contractor Amey, Kings Construction). Running the full length of the famous Cunard building, the stunning art installation features unique bronze illustrations and typography. Under that is the restored Georgian Piece Hall in Halifax, in the West Riding of Yorkshire, with Portuguese granite steps and Irish Blue limestone features supplied by Hardscape working alongside landscape architect Gillespies and Graham Construction. And the final picture is a public realm project in Hull carried out in 2017 as part of Hull's year as the City of Culture. It includes 30,000m2 of natural stone with water features and 15,000m2 of concrete paving, all from Hardscape.