Johnston Quarry Group: Championing the British stone industry
Investment has continued at Johnston Quarry Group, which promises a spectacular stand at the Natural Stone Show this year when it exhibits alongside the Bath Stone Group it acquired in 2017.
It is an indication of the expansion of Johnston Quarry Group that its stand at the Natural Stone Show in ExCeL London this year (30 April-2 May) is twice the size it was at the previous exhibition in 2017.
And it will not just be bigger, promises Nicholas Johnston, who has developed the group since 2007, but also spectacular. "We have a real treat in store for visitors to the Natural Stone Show."
Johnston Quarry Group will share the stand with the Bath Stone Group, which it bought in the summer of 2017 at the same time as it took over the Bath Stone quarries of Hanson Bath & Portland. It amalgamated the two operations into Bath Stone Group.
 A lot has happened since then, including the opening of a new sawing shed with five GraniRoc wire saws (pictured above) at the Great Tew Estate that is home to the Johnston Quarry Group headquarters and from where Great Tew ironstone, with 30 acres of consented reserves, is extracted.
Wire saws were chosen for the new processing shed because they are efficient and quiet. You can stand in the new purpose-built sawing shed with all five saws working and converse at a perfectly normal volume. It means the saws can work all night without disturbing anyone. And so that there are enough blocks for them to cut all night, they each have 18m rails to travel along. Once they are set up, they just keep working until all the blocks are sawn.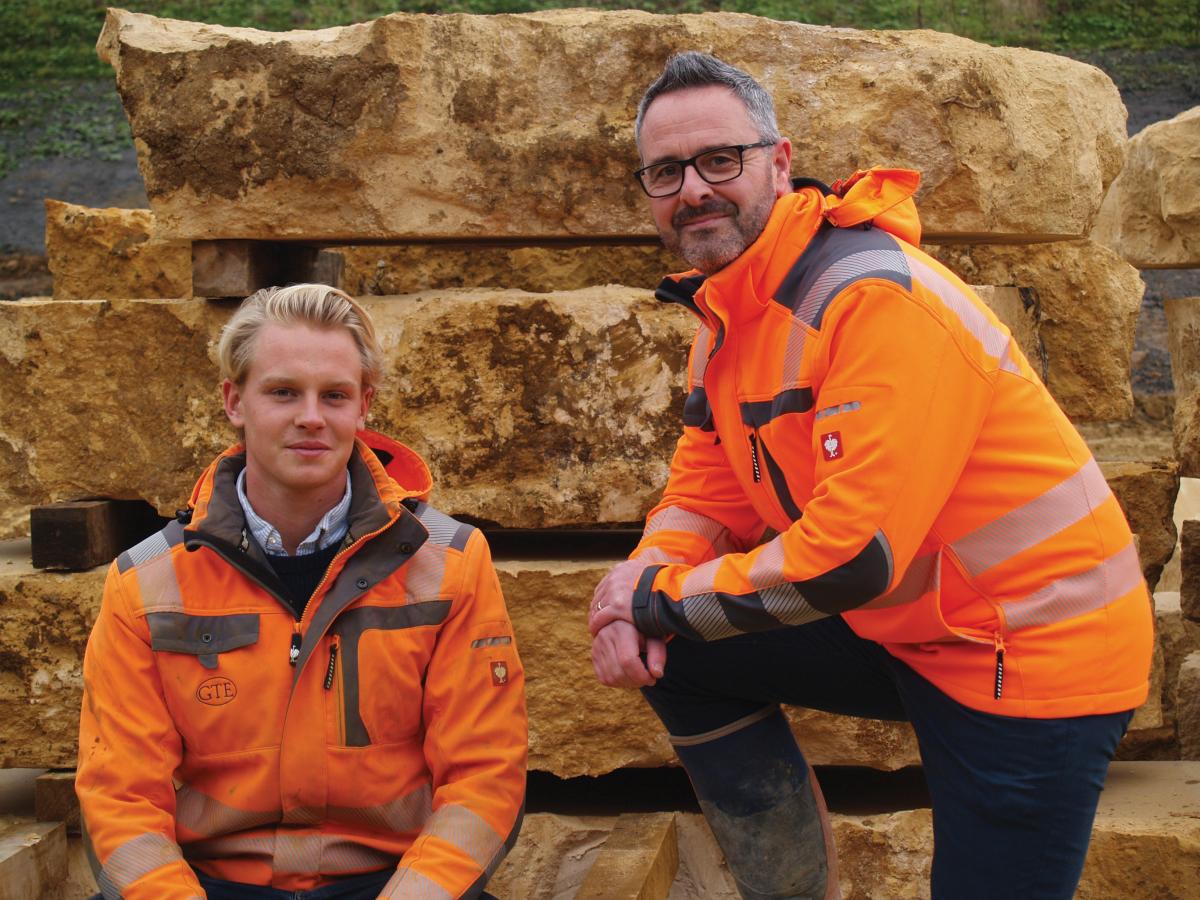 Freddie Frithz (left), who has overseen the construction of the new shed and the installation of the machinery, with Paul Keyte, the newly promoted Director of Operations of the Cotswold limestone and ironstone quarries who also takes on responsibility for group sales, marketing and PR activities.
The saws are feeding Wells Wellcut automatic walling lines that have also been newly installed to replace manually operated croppers as Johnston Quarry Group prepares to satisfy the demand for walling anticipated from the Government's target of building 300,000 houses a year. Freddie Frithz, who has overseen the construction of the new shed and the installation of the machinery, says: "Wells worked closely with us and have done a wonderful job." The walling lines are currently producing about 750m2 of walling a week.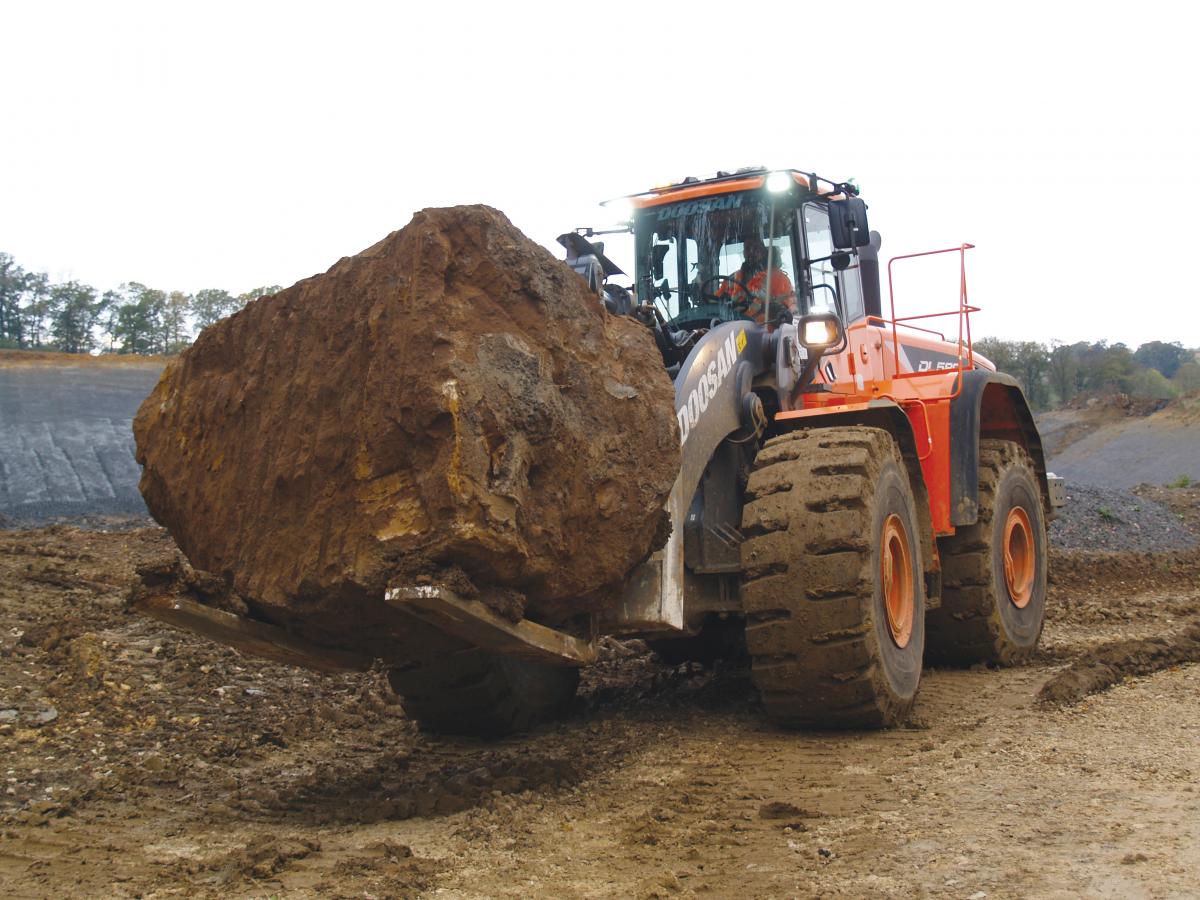 The UK's first top-of-the-range Doosan DL580-5 wheel loader at work at Great Tew. 
The saws naturally need a good supply of water to lubricate and cool the wires and outside the 1,707m2 shed that houses them and the walling lines is a water recycling unit that has been made specifically for the project by the people on Great Tew Estate. It includes rainwater capture from the roofs and flocculent addition to remove the solids suspended in the recycled water. Sludge presses are also currently being assessed.
Bringing blocks to the saws is the first top-of-the-range Doosan DL580-5 wheel loader sold in the UK. It can lift blocks weighing up to 19tonnes.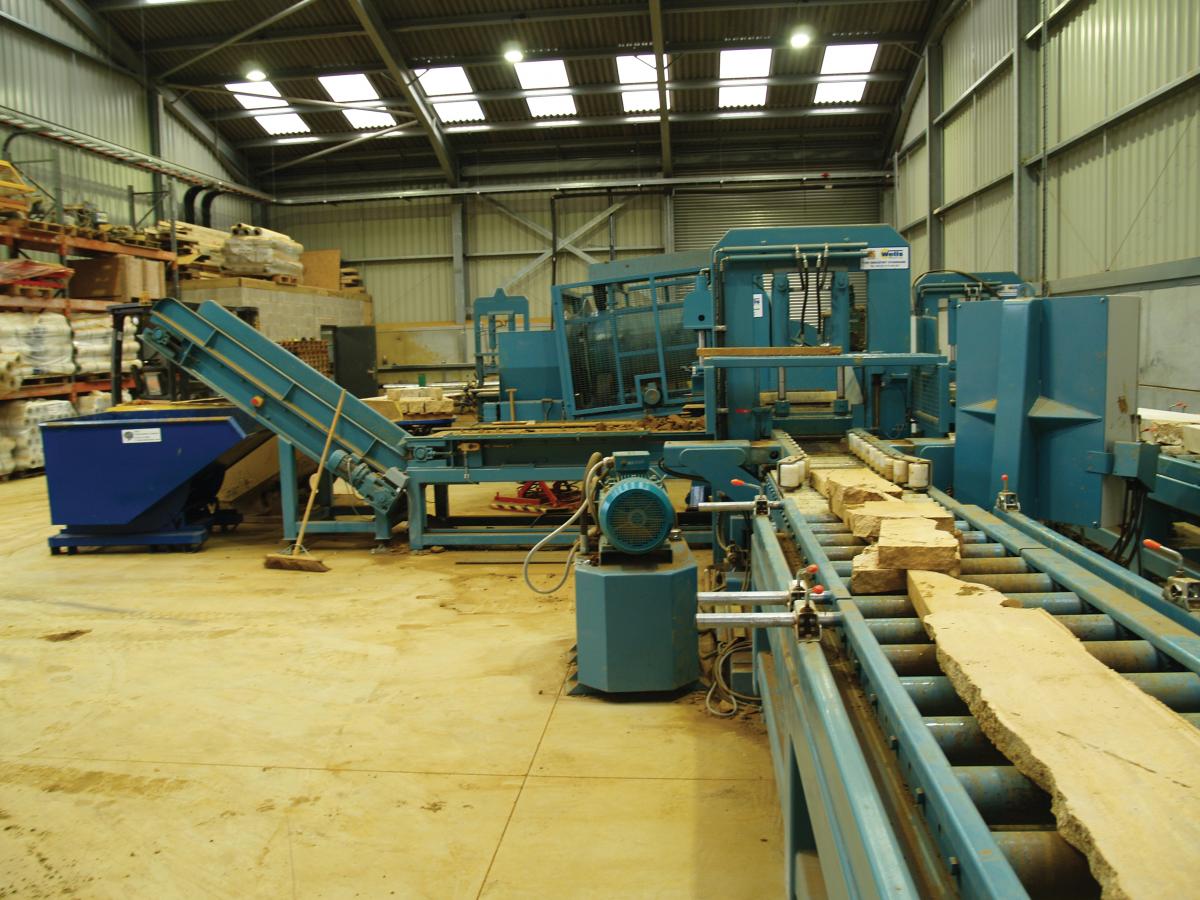 The newly installed Wells walling lines producing walling stone for the construction industry housing market hot-spot.
Significant though it is, this latest investment is just part of the major changes that have taken place at the Johnston Quarry Group in the two years since the previous Natural Stone Show.
The Group now consists of five limestone quarries and the ironstone quarry, all but one of which are owned freehold, and the three underground quarries (or mines) of Bath Stone Group, which include the renowned Stoke Ground Bath Stone and reserves at the no less highly regarded Hartham Park, formerly operated by Bath & Portland, where there are plans to open a new two-lane adit to enable trucks to drive in and out. In due course the intention is to have a small sawing shed and ashlar line on the surface at Hartham Park.
The operational areas and reserves of the surface and underground quarries now extend over 620 acres. Turnover from the natural stone activities has topped £12million, producing earnings before interest, tax, depreciation and amortisation (EBITDA) of £4million.
Nicholas Johnston is understandably encouraged by progress so far but is not finished yet. In order to manage the expansion, management and leadership roles in the Groups have been developed. Steve Johnson has been elevated to Director of Operations of the Lincolnshire limestone quarries. Paul Keyte is now Director of Operations of the Cotswold limestone and ironstone quarries and takes on responsibility for sales, marketing and PR activities. Matthew Hawker, who remained at Bath Stone Group when it was bought, now becomes Director of all mining operations, and Maurice O'Donoghue, who runs the Johnson Quarry Group's Building Stone processing facility at Wroxton, near Bambury, is promoted to Director of Processing & Masonry Operations.
Planning permission has already been secured to open two more processing plants associated with quarries in the Group and in their new positions, Steve Johnson is now concluding the remaining planning matters to re-open the former Aggregate Industries Ropsley Quarry in Lincolnshire while Paul Keyte is working on the re-opening of Flick Quarry in the Cotswolds, source of a highly prized walling and building stone. Matthew Hawker, meanwhile, is leading the planning application for the new adit at Hartham Park.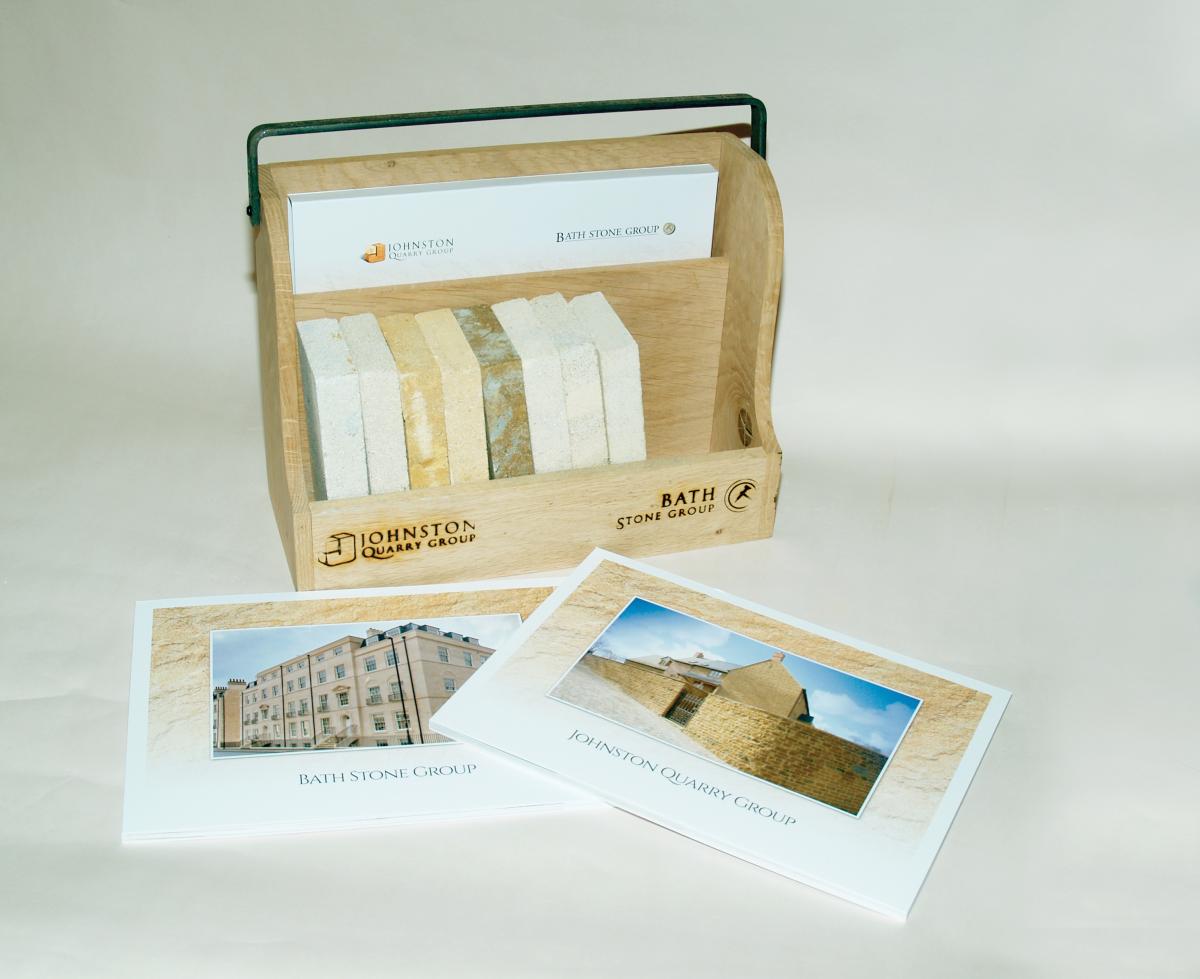 Johnston has beefed up its image with new literature, new product display units and new websites.
Nicholas told Natural Stone Specialist: "Johnston Quarry Group and Bath Stone Group continue to invest in the growth of the UK domestic natural stone market. We believe that planners, specifiers and architects can do more and should do more to promote sustainable and local British stone over alternative imported or high energy products. We should have more natural stone going into housing and less energy inefficient brick, which is not even that much cheaper and the houses don't sell as well. It's important that we keep telling and selling the stone industry story. A stone house, designed and built sensibly, should be the norm in towns and villages where stone is the traditional building material.
"With the current uncertainty surrounding Brexit, we continue to believe that the UK is significantly behind on its new housing delivery and that further opportunities for natural stone use present themselves in wider residential, commercial, civic and restoration applications.
"We are working hard across both Johnston Quarry Group and Bath Stone Group to ensure we meet the aspirations of our clients and we are organising ourselves now for the growth in the UK economy in the future."
Nicholas is confident that Parliament will get a deal with Europe one way or another and that there will be a lot more optimism in six months' time, even though "everyone is going to have a long, cold winter until this is dealt with".
The appointment of Paul Keyte to the sales, marketing and PR role will be significant in spreading the British stone message. Nicholas: "Paul's lifelong involvement with all aspects of the stone industry leaves him uniquely suited to knowledgeably discuss and advise on product requirements, from major housing  schemes to individual one-off new homes; from conservation works to new contemporary design projects.
"In the first instance he will be looking to engage with the architectural practices specifying natural stone, district and county councils approving such schemes and builders and developers implementing this kaleidoscope of construction projects.
"We look forward to working with architects, builders and developers on the next generation of natural stone projects."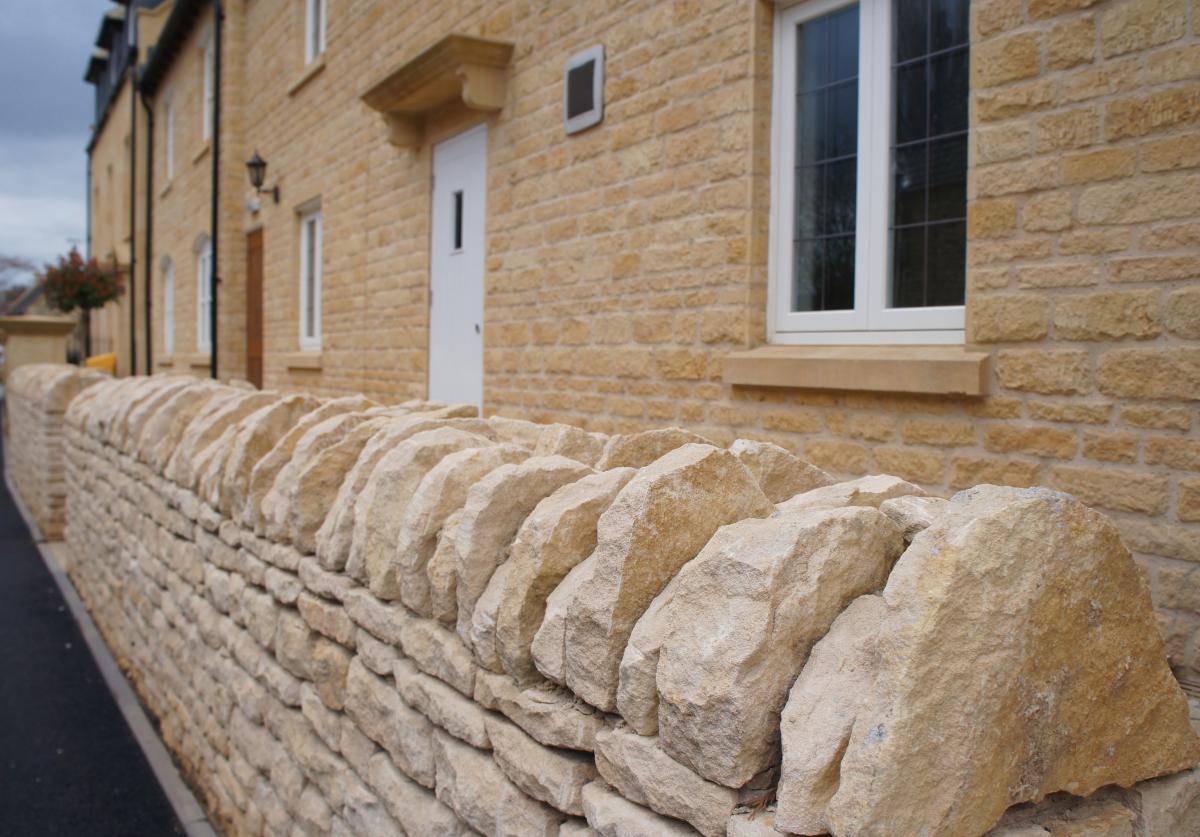 Nothing looks better than a geographically appropriate design and use of British stone. Johnston Quarry Group and Bath Stone Group see a lot of potential in domestic and commercial developments.