Lettering Arts Trust celebrates the genius of John Skelton
The Lettering Arts Trust, the champion of the lettering arts in stone and other media, sees an exhibition of the work of John Skelton open on 13 March at its gallery in Snape Maltings, Suffolk. The exhibition will continue until 28 June, open from 11am until 5pm daily with free admission.
Called Innovative Forms – The Lettering of John Skelton, this is a celebration of the life, career and art of John Skelton (1923-1999), one of the UK's foremost sculptors and letter carvers, whose work in media including stone, wood and metal covers heraldry, calligraphy and sculpture.
The exhibition is curated by John Skelton's daughter, Helen-Mary Skelton, herself a carver who now heads the Skelton Workshop. The exhibition is supported by a grant from Arts Council England. It is also supported by The Artworkers Guild.
Works on show will demonstrate Skelton's boundless innovations that resulted in an extensive catalogue of significant public and royal commissions, which included the celebrated font at Chichester Cathedral, carved timber for Shakespeare's Birthplace Trust in Stratford-on-Avon, a plaque marking the resting place of Sir Winston Churchill's catafalque in St Paul's Cathedral, a tablet commemorating George Elliot in Poet's Corner in Westminster Abbey, and the famous Ditchling Cat.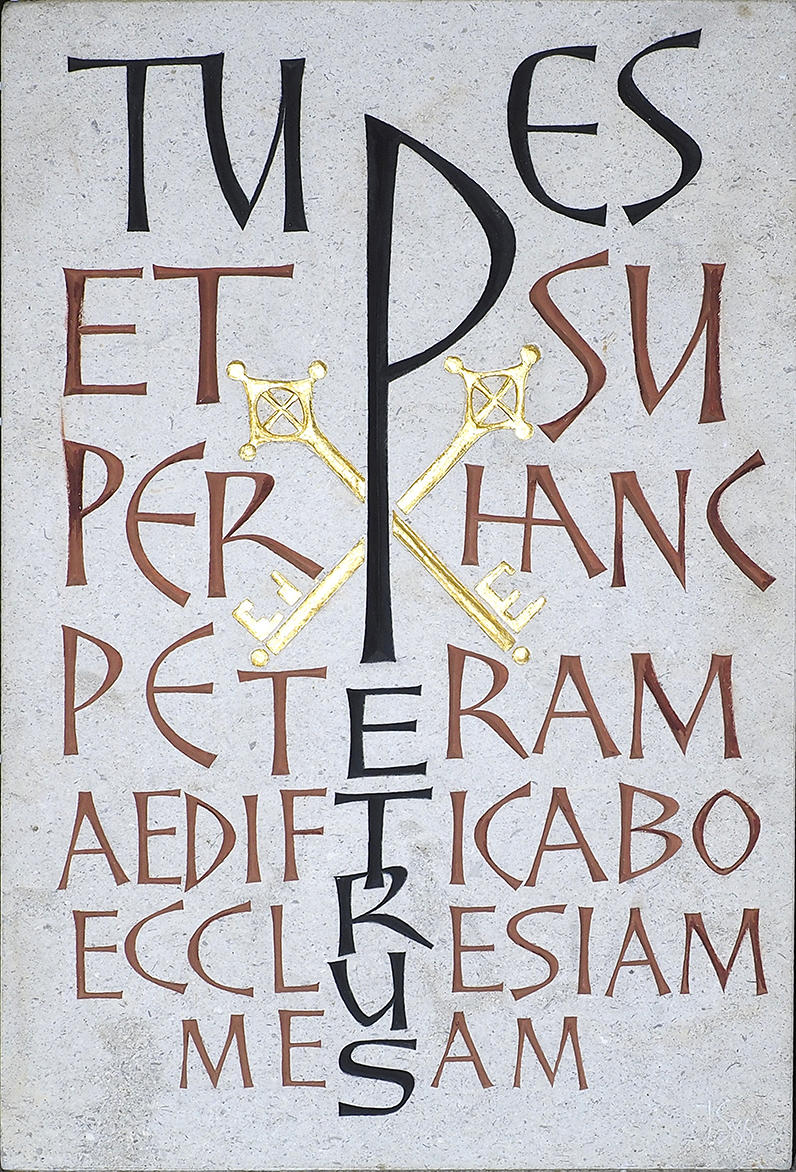 Tu Es Petrus (1986) cut into Hopton Wood stone by John Skelton and painted.
The exhibition features original drawings, rubbings and sketches and is supported by maps, posters and workshop photographs.
John Skelton was influenced by Eric Gill and Joseph Cribb, but developed his own distinct style derived from a complete understanding of three dimensional art.
While he was experimenting with 3D forms in sculpture, including modern abstraction, he was also experimenting with letterforms, deeply incising or raising the letters above the surface, casting, painting, drawing and writing with a pen.

'The Ditchling Cat' carved by John Skelton in Rosewood in the 1970s. It is 11cm high.
The letters he produced became innovative forms that have had a marked influence on subsequent lettering artists.
The catalogue that accompanies the exhibition includes introductions by Jonathan G Skelton (John's son) and Helen-Mary Skelton, with essays and observations from Paul Wehrle, Ewan Clayton, Tom Perkins, Tom Sargeant and Sarah McCleod-More.
Helen-Mary Skelton and Jonathan G Skelton will give talks, Helen-Mary on 18 June, entitled 'Life With John Skelton' and Jonathan on 25 June entitled 'Drawing with chisel and mallet – the lettering of John Skelton'. Helen-Mary's talk is free, Jonathan's is £10 (but free to the Friends of the Lettering Arts Trust).