Neolith promises 2019 price freeze
Neolith sintered stone, which opened a UK warehouse in Harlow, Essex, last year and took over a showroom in the Business Design Centre in Islington, London, says it will not be increasing any of its prices this year.
This is the second consecutive year that Neolith has frozen its prices across its entre range of patterns, thicknesses and finishes.
It is a move that might put some confidence into the market in the face of uncertainty about any currency exchange rate movements resulting from Brexit (or anything else), while the UK warehouse means supplies of the sintered stone and the natural granites sold under the name of Granith are secure.
There are also five new designs introduced to the range for this year (Mar Del Plata, New York–New York, Mont Blanc, Sofia Cuprum and Just White). Six more designs have been added to those available in 20mm thicknesses (Pietra Di Piombo, New York–New York, Sofia Cuprum, Estatuario E01 Decòr Polished, Calacatta Decòr Polished and Just White) and four more are now available also in 3mm thickness (Aspen Grey, Concrete Taupe, Blanco Carrara 02, Calatorao).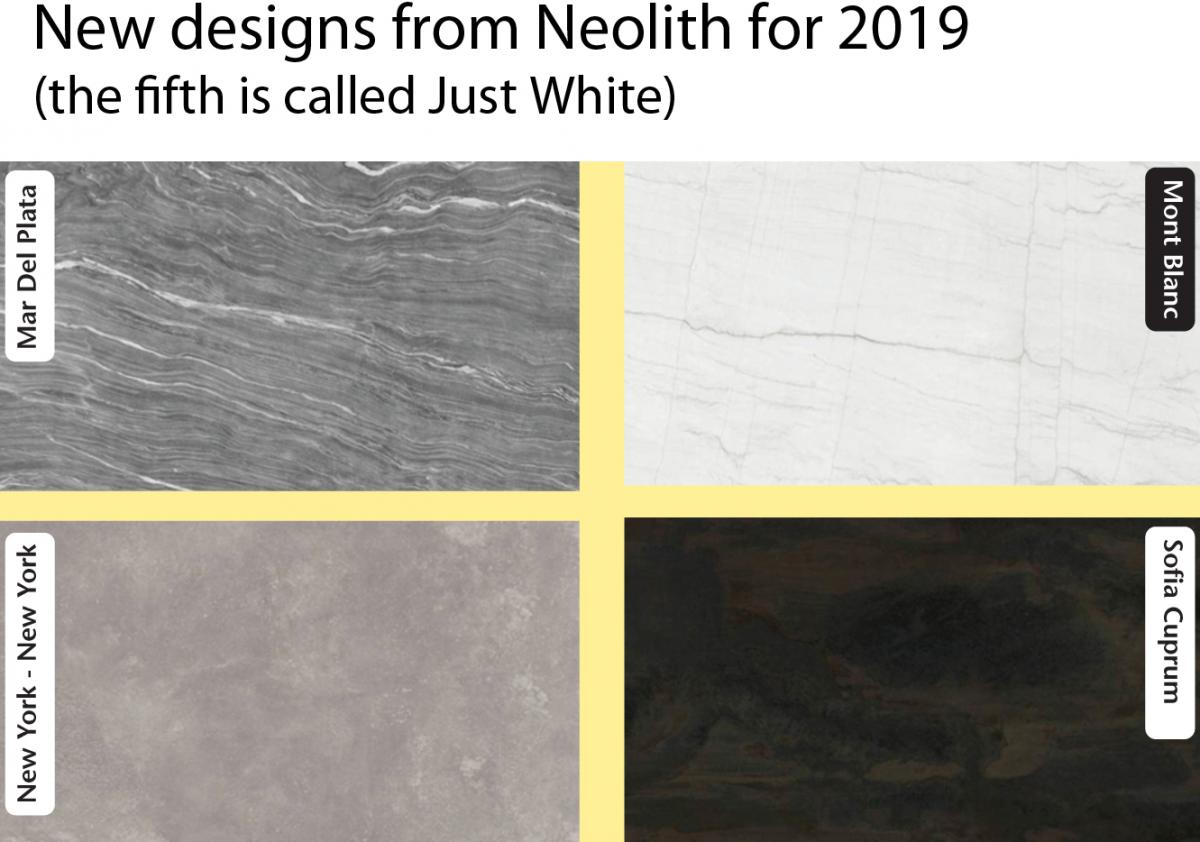 The five new designs are all decorated using a new eco-friendly printing process called Hydro NDD-2.0. This proprietary design tool uses water-based ink rather than solvent-based ink to reduce emissions. It's a sustainable solution at no extra cost.
Commenting on the decision to maintain 2017 prices, Marco De Grazia, Business Development Manager at Neolith UK, says: "The UK is one of our most important markets and we have spent the last couple of years strengthening our infrastructure and logistics in order to support this territory. Although Brexit increases uncertainty in the construction sector, we have established a strong foothold from which to operate effectively and have a robust, secure supply chain supported by a skilled sales team.
"This forward planning and initial groundwork, from establishing direct distribution to recruiting a team of industry experts, has meant that we have been able to grow business in the UK. Strong sales performance over the last year and positive projections mean we are well positioned to freeze prices for 2019. The appetite for Neolith in the UK is growing at a fast pace and we feel this gesture demonstrates our commitment to existing and future clients.
"We are looking forward to working with our partners across Great Britain and Northern Ireland over the coming year, showcasing the latest introductions to our portfolio and innovations to our manufacturing process."
Below. The showroom Neolith has taken over in the Business Design Centre in London.