New company Pierre Heritage is dedicated to French limestone
Steve Turner's Amarestone has been a major supplier of French limestone for a long time. But not exclusively. Now Steve has created that exclusivity for French stones as Pierre Heritage Great Britain. And it's going global.
It started with a meeting at the Natural Stone Show and has led to the new company called Pierre Heritage Great Britain being formed to sell French limestones exclusively. "I was sort of doing it anyway," says Steve Turner, who owns Amarestone near Reading, in Berkshire, and is the man behind Pierre Heritage.
But although Steve describes himself as a "French limestone anorak", Amarestone will supply whatever stone is specified, especially when it is for interiors, whereas Pierre Heritage will supply French limestone only.
The quarries supplying Pierre Heritage have been around for a long time and because quite a lot of French limestone has been used in the UK ever since the Norman conquest of 1066, an increasing amount was coming to the UK as the economy picked up again after the crash of 2008/'09.
As the UK market started growing, especially with French company Rocamat having gone into Administration, the French quarries were receiving enough enquiries from Great Britain to make it worth their while to look for someone in the UK to represent them.
Steve's Amarestone business was already dealing with French quarries, as well as others in Europe, notably those in Spain and Portugal. For some time Steve had been unhappy about the environmental impact of stone transported to Europe from the Far East and was also concerned about the lack of verified test results or a provenance to provide some degree of comfort to using stones from the far corners of the world.
Stone from other parts of Europe is subject to the same testing regimes for CE marking as British stones, which makes Steve comfortable about recommending it for projects for which it is suitable. It also means he can say which uses it is suitable for, which has earned him a reputation as something of an expert on European limestone.
Chamesson Coquillé limestone sculpted cladding on the outside of the Ecole des Beaux Arts in Versailles near Paris.
It is because he cares about the appropriate use of stone that he has been involved with Stone Federation Great Britain's CPD presentations to architects about CE Marking.
And because it is a lot easier to visit quarries in Europe than it is even to identify the quarry stone from some other parts of the world comes from, he was keen to promote the verifiably ethical and ecological sources of the European limestones he sells. He did that by becoming one of the first companies to sign up to Stone Federation's Ethical Stone Register that was launched earlier this year.

This is one of two 5ft high heraldic greyhounds in Pierre Heritage Lavoux (also known as Lépine) limestone carved by top stone sculptor Tim Crawley for a private chapel. 
The Register is Stone Federation's response to the Modern Slavery Act, which requires larger companies to include a slavery statement in their annual report. In order to do that, they need to have assurance from their suppliers that there is no modern slavery in their supply chain, which can be hard to ascertain when the stone comes from countries that are known to use practices such as bonded and child labour and other enforced domestic and factory work.
Steve's background is not in stone but information technology (computers). He was working with Hewlett Packard on project management contracts until 2000. He then started making and managing websites for local businesses – he did about 40 of them. One was for a company importing travertine from Turkey. Steve was invited to join that business and as he was starting to find website design repetitive and liked the idea of an exciting new venture, he accepted the offer.
In 2003, he and his wife Denise launched their own stone company – Amarestone.
His original idea was to supply stone to the trade but over time he discovered a better model was to supply stone for projects, acting more like a project manager or project director. He has taken the same approach with Pierre Heritage. He does not stock stone, but arranges for it to be supplied by the quarries.
"As a business, Amarestone has had it's ups and downs along with the economy but it's been great fun," says Steve. "I have met so many interesting and pleasant people. And you go places you wouldn't normally get to – like going up the scaffolding on Canterbury Cathedral."
Why Canterbury Cathedral? Because it is built largely of French limestone, like so many of the Norman cathedrals and castles in the UK.
It was because Steve expected a large part of demand for the French stone to come from the heritage sector that he included 'Heritage' in the title of his company. Although that might not turn out to be his main area of operation as there is a lot of interest coming from new build.
Steve works with several different quarry companies in France and has developed very close working relationships with the quarries that produce Ampilly, Avy, Beauval, Bois Doré, Buxy, Chamesson, Chanceaux, Chauvigny, Chitré, Lanvignes, Lavoux (aka Lépine), Rocheville and Tercé. And Pierre Heritage also sources stones from most other quarries in France including: Anstrude, St Croix Mareuil, Beaunotte, Bellemont, Caen, Champagny amongst others as well as the marbles of Henri IV,  Bleu de Savoie and the Sarancolin range of Opera Fantastico and Opera Versailles.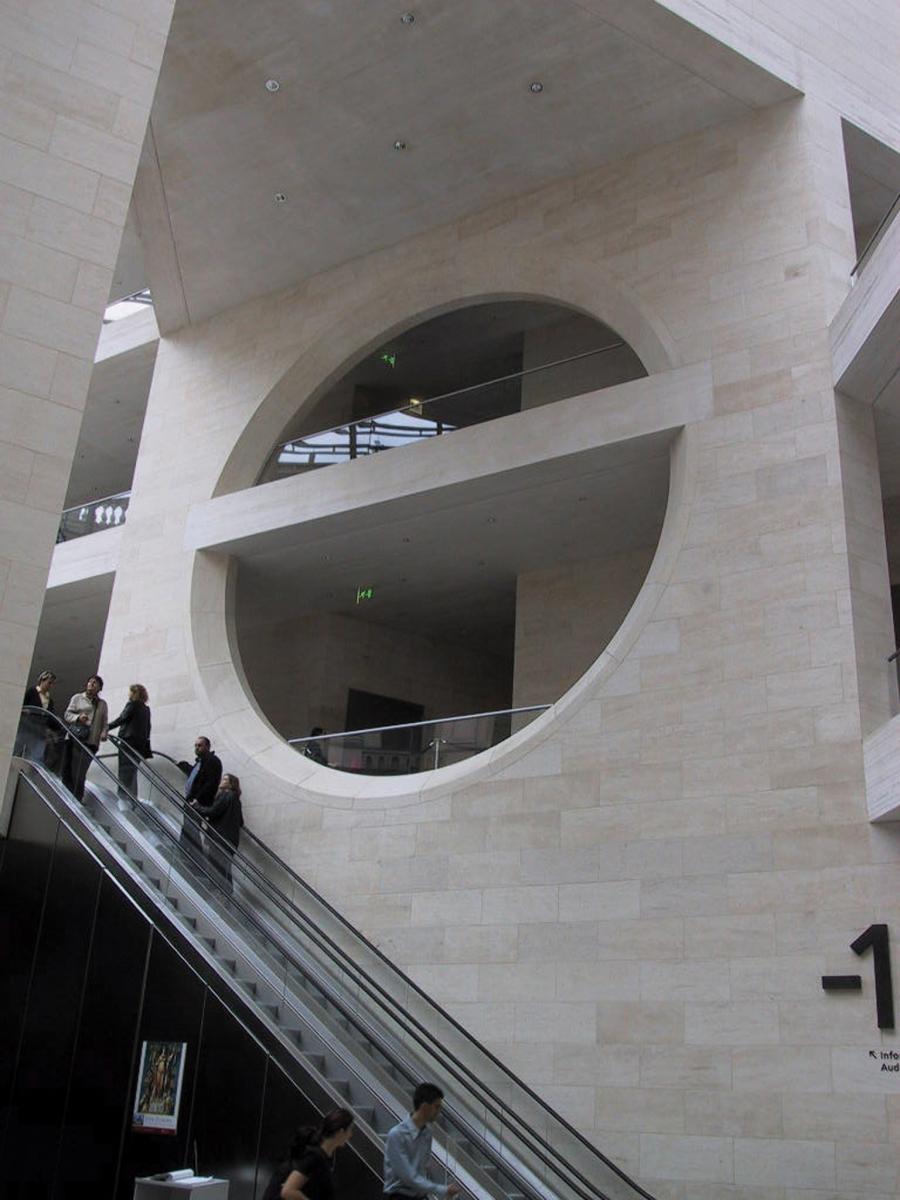 Magny French limestone in the new Ieoh Ming Pei building of the Deutsches Historisches Museum (German Historical Museum) in Berlin. The stone is now supplied by Pierre Heritage in the UK.
Many of these stones will also be familiar enough in the UK. And they are also well known across the world because French stone is much more internationally traded than most of the UK's indigenous stone.
A big advantage for Steve and the French quarries he represents is being in England and speaking English, like the international design elite that works in London. He is even picking up projects in France – and three of the four he is currently supplying involve London designers. The fourth has an English-speaking Polish architect.
Pierre Heritage is also working quietly to put French limestone in front of those involved in heritage. For example, it provided Lavoux limestone for the City & Guilds of London Art School open day carving competition that was part of this year's London Craft Week. Two of the tutors at the college, Nina Bilbey and Tim Crawley, both renowned sculptors, were already fans of Lavoux and the competition gave students first hand experience of it. There are pictures and a report by Tim Crawley at bit.ly/carvingstone.
Currently, enquiries received by Pierre Heritage tend to come through Amarestone's website, which appears on the first page of Google for French limestone searches. But the newly launched Pierre Heritage website is working its way up the rankings thanks to Steve's computing background and a bit of help from his two adult daughters, who wrote some of the content. He is also using social media to spread the message with the help of software called Hubspot, which Steve describes as an "inbound marketing system".
He admits that the Brexit vote raised some eyebrows among his French suppliers and however it pans out he does not believe it will make life easier for a company like Pierre Heritage that aims to trade internationally.
On the other hand, he is glad to be developing that international trade as a hedge against what he fears might be a chaotic transition as the UK leaves the European Union, at least in the short term.
Thanks to the geology and economies of large scale production, French limestone can be half the price of British stones. A tariff, if it comes to that, would clearly reduce that advantage. And if the stone is going to be sold overseas, there would clearly be an advantage to invoicing it from outside the UK to avoid tariffs being added. 
Steve fears for the UK economy after the country leaves the European Union and is glad to be developing sales overseas as a hedge against any UK economic downturn. And, who knows, all those alternative international trade deals promised by Brexit might eventually benefit Pierre Heritage.
But however that turns out, Steve is confident French limestone will continue to be an attractive proposition, both in the UK and in the world in general.