Porcelain superstar goes back to his marble roots for a bust of David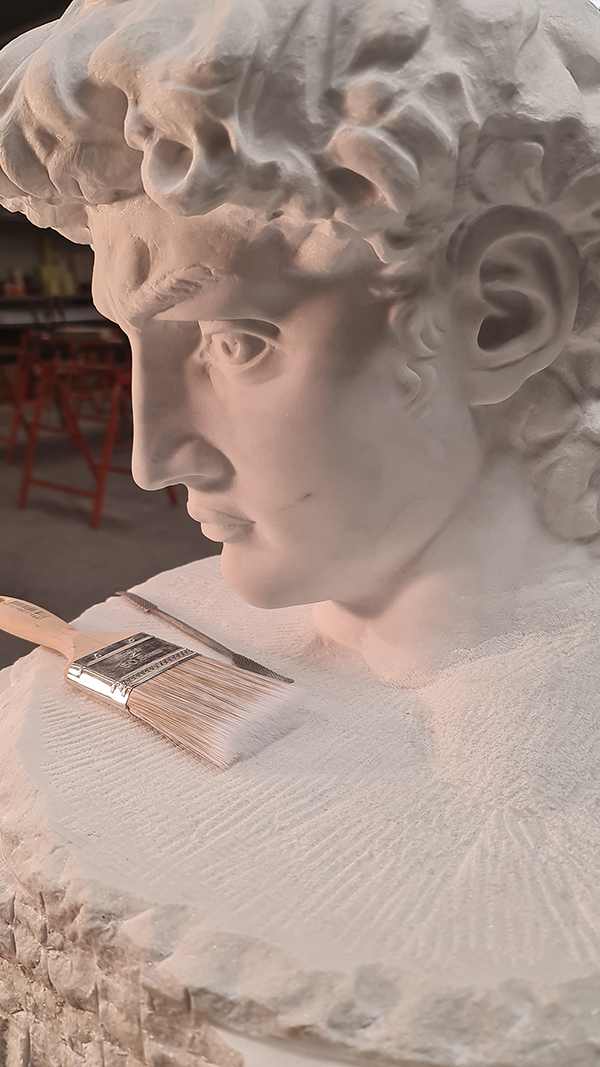 Roberto Colonetti is a porcelain superstar, but his roots are in marble, as he demonstrated with a bust of David that was on show on the CMS Brembana stand at Marmo+Mac in Verona in September.
His love for the hard work of carving stone came from his father. Roberto grew up with the scent of marble in his nostrils in his family firm and he says stone is in his DNA.
Roberto is also fascinated by machines. One of his favourite machines is the tagliablocchi (stone saw) that cuts slabs from marble blocks. His first job at the family factory before he branched out into ceramics involved using this machinery.
If you want to find out about Roberto Colonetti's techniques for working porcelain, you can buy a technical manual he has produced, called Colonetti System, from his website.
But he has proven himself as a marble carver by confronting the greatest of them all, Michelangelo, and carving a bust from Michelangelo's 'David'.
No doubt Italy's geology makes it the natural place for stonemasons. It has many beautiful marbles and granites, not least the white Carrara marble that has been the inspiration for so many porcelain slabs and tiles of late.
Roberto says the statues you see in Italy have their roots in Ancient Greece, representing the perfection of the athletic body. Statues from the Roman Empire emulate that muscular embodiment of power.
In the Renaissance, Michelangelo's five-tonne Carrara marble statue of David standing more than 5m tall reached what many consider to be perfection. It was unveiled in Florence in 1504.
The dramatic statue is of the teenager from the biblical story of David & Goliath. It shows the concentration in David's gaze, nose flaring, lips and neck tense as he prepares for his battle with the Palestinian giant Goliath. David is armed only with a sling on his shoulder and a stone in his hand as he faces the mighty warrior. 
Michelangelo's extraction of all the drama and suspense of the moment from a piece of marble is exquisite.
Roberto says: "David is the iconic symbol of an improbable victory. His character has always been considered an underdog because he is a young Israeli shepherd against a long career warrior, but he won against the greatest fighter, Goliath. The beauty of this statue goes above and beyond everything – the time, the age, the power, the race… so it became a symbol of victory and freedom."
That was what inspired Roberto to reproduce the bust of David from Michelangelo's original. He invites you to look into the eyes of his David and deeply appreciate the work involved in liberating the statue from the raw Italian Carrara marble.