Porcelanosa: Shhhh... It's natural stone
Why would a company so famous for its porcelain sell natural stone? Luis Monfort Perelló, Porcelanosa's UK Manager of XTone, explains.
Not all customers get to see Porcelanosa's Altissima Stone. This is natural stone and it is only for the discerning – with a budget that enables them to indulge their taste.
The Altissima displays are on the top floor of Porcelanosa's showroom in Fulham, near the Thames on the north side of Wandsworth Bridge. You can't see the displays from outside, and inside it is up to the staff to direct appropriate customers to the top floor.
The displays of stone in the penthouse showroom are, perhaps, even more chic than the displays of porcelain on the two floors below, the smaller area expanded by mirrors on walls and ceilings, making the most of daylight and carefully chosen artificial illumination, including back lighting of marble and onyx, such as in a bar countertop and front.
Outside on the roof, which has become an extension of the Altissima display, there are full slabs of stones displayed on A-frames.
Even if the Bentayga Hybrid in the car park is yours, surely this display of carefully selected examples of nature's handiwork cannot fail to impress.
There are marbles, granites, limestones, quartzites, alabaster and onyx. Stone is used for floors, wall linings, furniture, vanities and counter tops.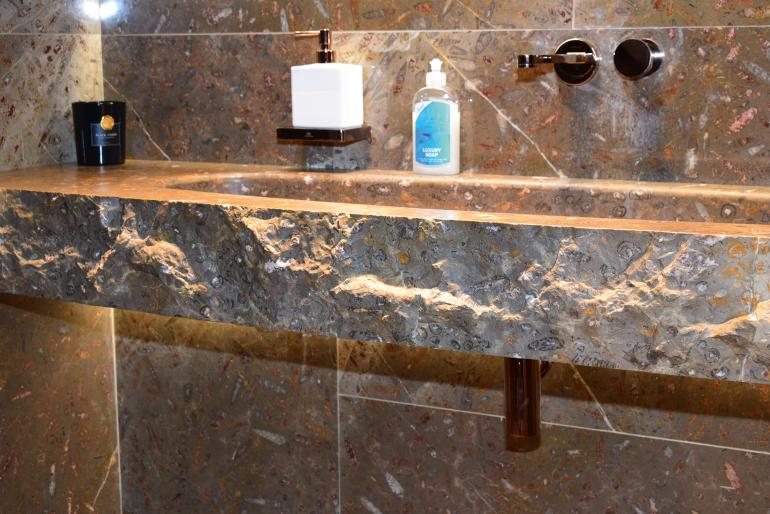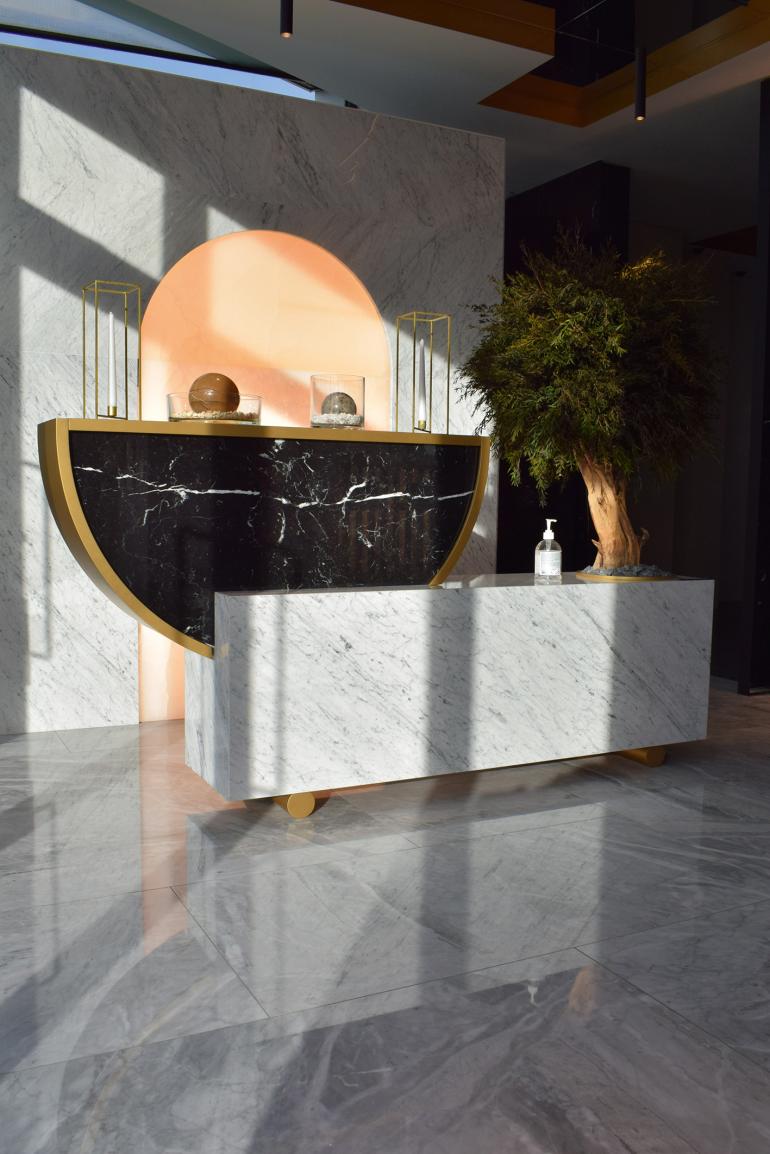 From porcelain to stone
Porcelanosa is a Spanish company with an enviable reputation as the maker of tiles, which it has been doing for almost 50 years. Then it saw other Spanish companies introducing a material they called 'sintered stone' in large format slabs.
"We realised this was no other than porcelain," says Luis Monfort Perelló, the UK Manager of XTone, the company formed by Porcelanosa to take it into the market for large format porcelain slabs. He says calling it 'sintered stone' is "just a marketing ploy", adding: "It's not wrong to call it sintered stone, but we prefer to call it porcelain.
"We thought if these guys from a stone background can do it, we can do it as well because it is just a large format tile. That was the origin of XTone."
Porcelanosa also believes it can do it better because it has been doing it for longer. For example, it says its printing process allows the ink to penetrate the surface of the porcelain so it can be mechanically polished, which gives it a better finish than the applied finishes of many slabs.
Until the launch of XTone eight years ago, Porcelanosa had been a supplier of tiles to the tile market, but the large format slabs took the company into the kitchen and bathroom sector. "That was new to us and needed a new sales channel," says Luis.
XTone had to open up new markets with fabricators, kitchen and bathroom studios and interior designers. "Porcelanosa realised these people were also demanding natural stone, which we have sold as tiles through L'Antic Colonial since we first came to the UK 30 years ago. We are now also supplying the same stones in slab format.
"Stone has an aesthetic that no other product can offer. You're quarrying a piece of history and putting it in your home. Porcelain will never be in a position to offer this.
"The characteristics of porcelain are as good as natural stone, but stone can offer this aesthetic, this history."
The stones in the Altissima brand are exclusive, high end materials. And although XTone would supply more affordable granite if a developer approached it with the right project, Luis emphasises that "whatever we supply will always achieve a certain level of quality in order to protect the brand".
He believes natural stone will always have its place in the interiors market, but he also believes there is more growth to come from large format porcelain slabs, because fabricators are becoming more familiar with machining and handling them and because the material has advantages for the end user.
Porcelain also has a larger share of the market on the European mainland than it currently enjoys in the UK, and the UK tends to follow European trends.
For now, large format porcelain is what Porcelanosa is concentrating on, with a major investment in a new factory bringing improvements in production and printing. "We are always improving our slabs," says Luis.
But he says exotic quartzites and granites from South America are also popular in mainland Europe and he sees that trend growing in the UK as well, especially with people looking for bespoke solutions for their homes, like the vanity unit pictured above with the sink cut into a thick slab of limestone containing colourful fossils (a stone which XTone sells under the name of 'Jurassic').
The combination of Brexit and the coronavirus has even stimulated demand in the UK as far as Porcelanosa is concerned. Luis says: "Since June 2020 we have seen demand in the UK has increased to levels we have never seen before."
Introducing large format slabs of first porcelain and now stone required some changes of mindset logistically for Porcelanosa, such as installing gantries in the six distribution centres it operates in the UK to give it coverage throughout England, Scotland and Wales. It also had to invest in flatbed lorries to carry the slabs.
"All of these changes have been a big challenge in the past few years, but we're now in a position where we can offer the same level of service as our main competitors," says Luis.
With 27 Porcelanosa showrooms in the UK (not all of them yet featuring Altissima), the name and reputation is established. The aim is for XTone and Altissima to be separate from Porcelanosa but of parallel status. "We're going to keep pushing, and pushing even more high end products," says Luis.
That is harder for a product being sold as a slab than it is for a tile. Luis: "The prestige of our products is in the hands of the fabricator."
It's why the company supports fabricators and studios with training, samples and point-of-sale material, and trips to Spain to see new developments and tools. "We want to make sure the fabricators are happy with the way our materials are, so they will use them with the greatest respect."
XTone has two levels of fabricator it works with. It calls them 'Genuine' and 'Advanced'. 'Genuine' fabricators have the machinery and knowledge to deal with XTone and Altissima products and 'Advanced' fabricators are those XTone considers a step up in terms of production and fitting, so they are able to offer a greater range of surface solutions.
The next step this year is including fabricators on the XTone website. As Luis says: "It will incentivise them to become our partners and help them to grow their own businesses."
XTone also wants to work with the Worktop Fabricators Federation (WFF). "We've had a meeting with the WFF and want to be part of that. We want to understand the fabricators' needs and become partners of the WFF. I think the WFF is a great idea," says Luis.
The pictures below show Porcelanosa's  showroom in Fulham and its XTone warehouse with large format porcelain and natural stone slabs at Watford. The Fulham showroom is near the Thames on the north side of Wandsworth Bridge, with the Altissima natural stone displays on the top floor.