Portland limestone: Securing the continuing supply of the stone that built London
Portland limestone is probably the building stone best known by those outside the stone industry, largely because it has built much of London for the past 350 years. And it will continue to do so, as Natural Stone Specialist magazine discovered when it visited the Portland stone quarries.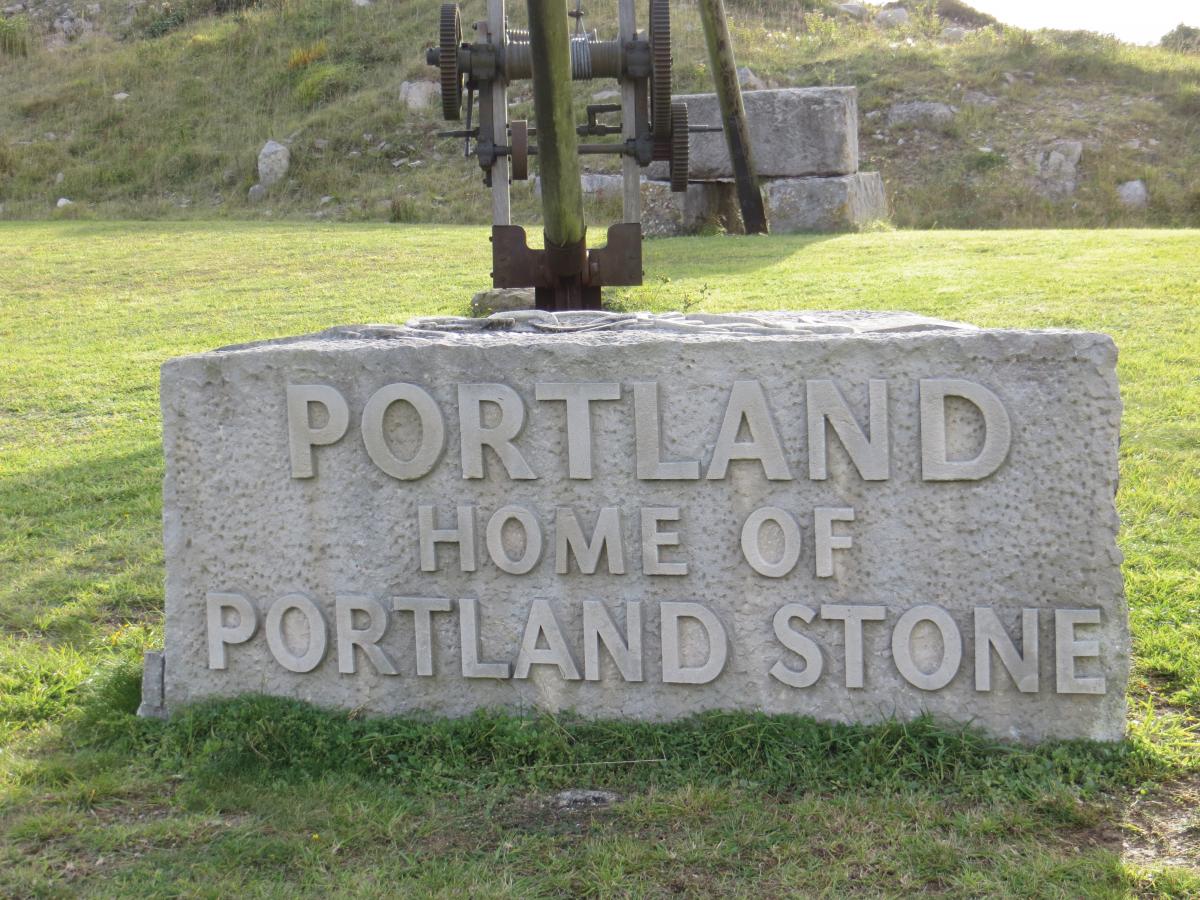 Important new buildings in London tend to have walls of Portland limestone, just as they have since Sir Christopher Wren commandeered the stone for the rebuilding of the city after The Great Fire of 1666. The stone contributes significantly to the character of the English capital and planners help ensure it continues to do so.
On the Dorset island of Portland, which is the source of the stone, planners are not always viewed as quite so friendly. Although very little of anything is built without a contribution of minerals dug out of the ground, people tend to want those minerals to come from somewhere as far away from where they live as possible. That is as true on Portland as anywhere else and is one of the reasons why more of the stone extracted from the island is now mined rather than won from open quarries.
There are two companies extracting the stone from Portland – Albion Stone PLC and Portland Stone Firms Ltd. They both now have mines. All of Albion's stone comes from underground workings while Portland Stone Firms (PSF) still operates an opencast quarry as well as a mine. It is unlikely that a planning application for a new quarry would be approved in the current climate.
Michael Poultney, the Managing Director of Albion Stone, is critical of the planning laws in the UK, which he complains are threatening the natural stone and other extractive industries by imposing unnecessary and unwarranted costs on production and standing in the way of the development of new sites.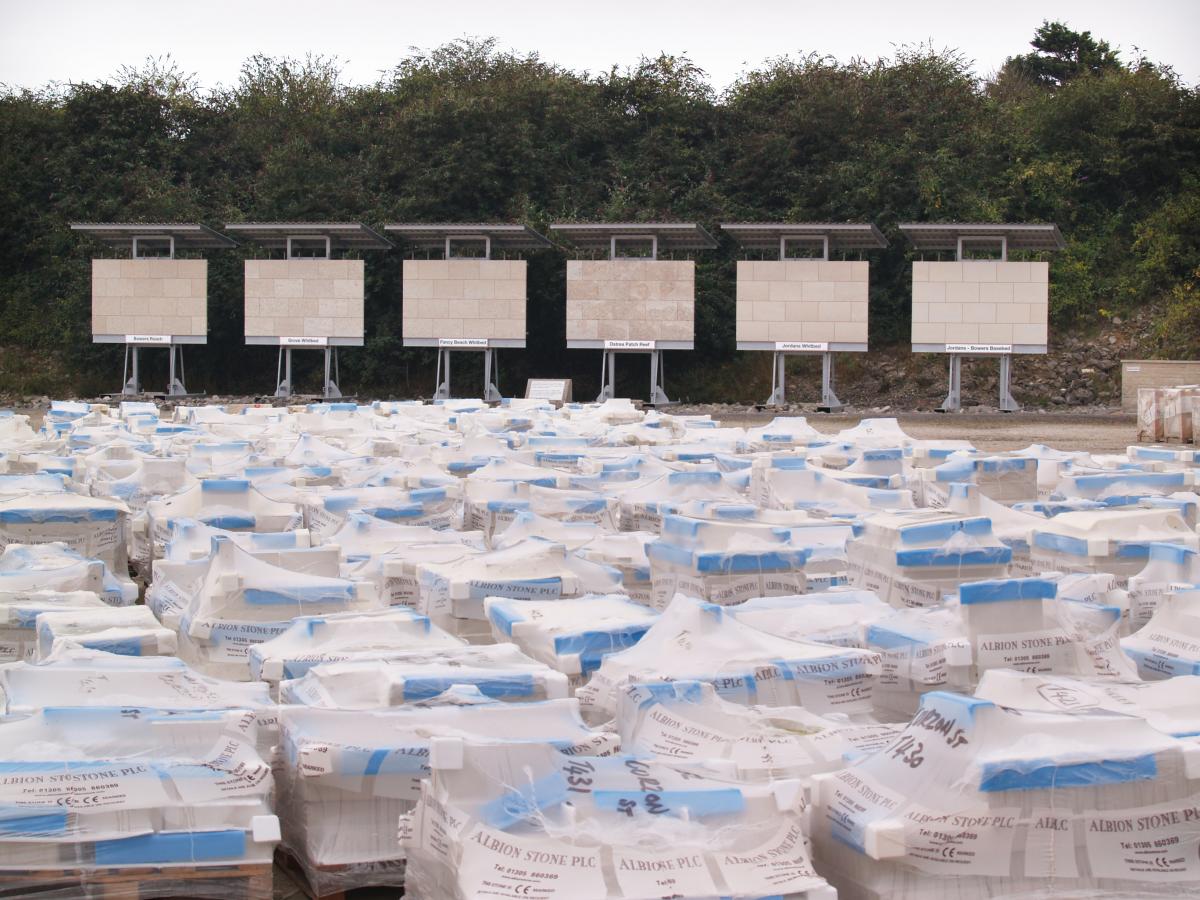 Albion stock on pallets waiting to be dispatched. In the background are the company's display panels of the different beds of Portland stone.
Albion was first to start mining, in 2002, in order to secure the supply of the stone into the future. Its current permissions should secure supplies for the next 50 years at least – longer if technology continues to improve and thinner stone and off-site manufacture remain the norm, as they presumably will.
However, that's a double edged sword, says Michael Poultney, because although it means reserves will last longer, less stone will be sold.
There are occasionally fears that Portland stone is running out – and as it is a finite resource, one day of course it will. However, Neil Fuller, General Manager at PSF, says 40 years ago when he came into the industry there were said to be 40 years' worth of accessible reserves. Today there are another 120 years worth. After 500 years of stone extraction on Portland half the island's reserves remain.
Both Portland stone producers continue to invest in the extraction and processing of the stone so it will continue to give London its distinctive architecture for many years to come. Below, the two companies talk about their businesses.
As well as buying the latest five-axes CNC Zeda from Italian manufacturer GMM this year (supplied in the UK by Roccia Machinery
), Albion Stone has replaced its water management system with new Omec plant (supplied by UK agent New Stone Age). It is part of a rolling purchasing plan of more than £1million of capital expenditure per year.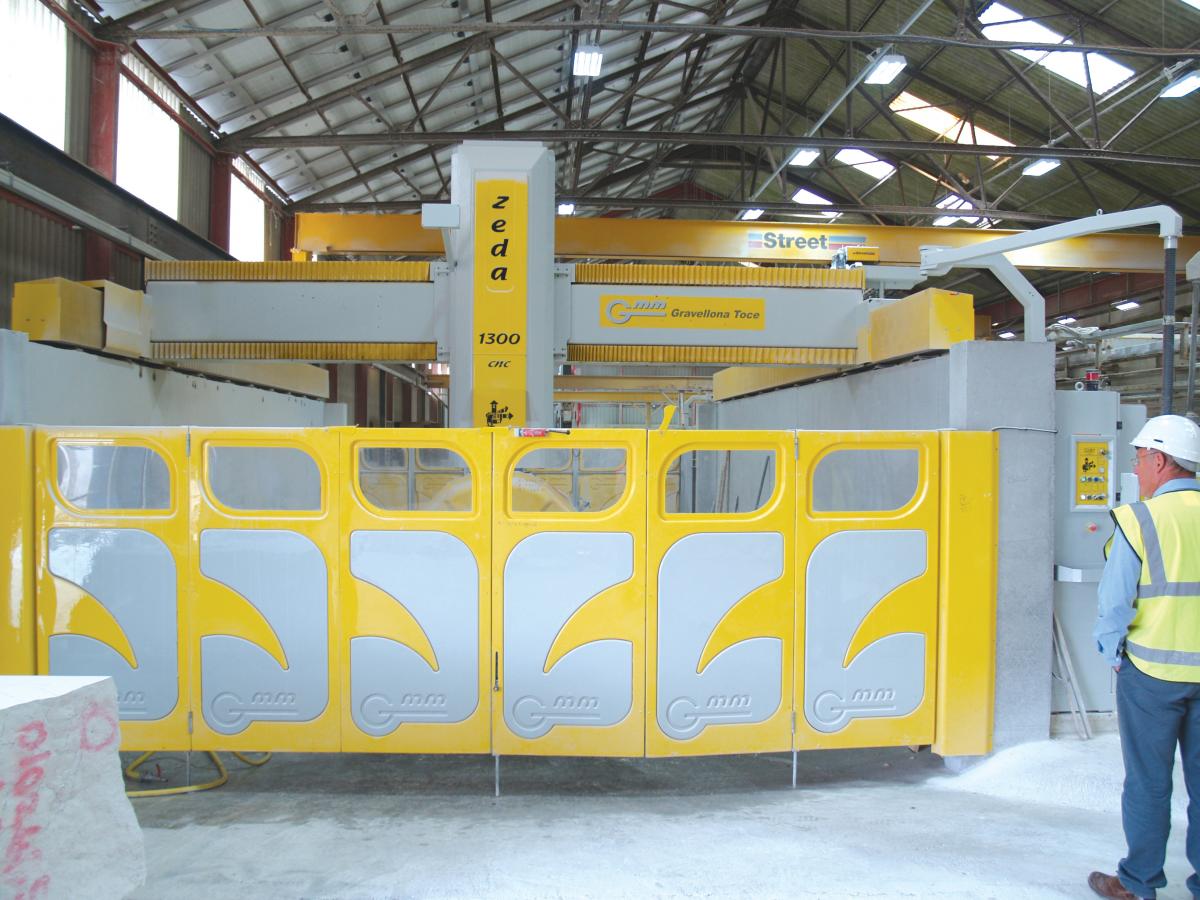 There will be more about the new water treatment plant in the next issue of this magazine, but Tony Porter, Albion's Operations Director on Portland, says it was necessary because Albion wants to be self-sufficient on water and the machinery in the company's extensive and well-equipped factory requires recycling a million cubic metres of it a year. Albion collects rainwater for its stone processing equipment, which, together with operational improvements, has halved the amount of water it uses from the mains.
Because the company could not afford to close its factory while the new Omec water teatment plant was installed, the old plant continued to work while the new was built, allowing the switchover to be seamless.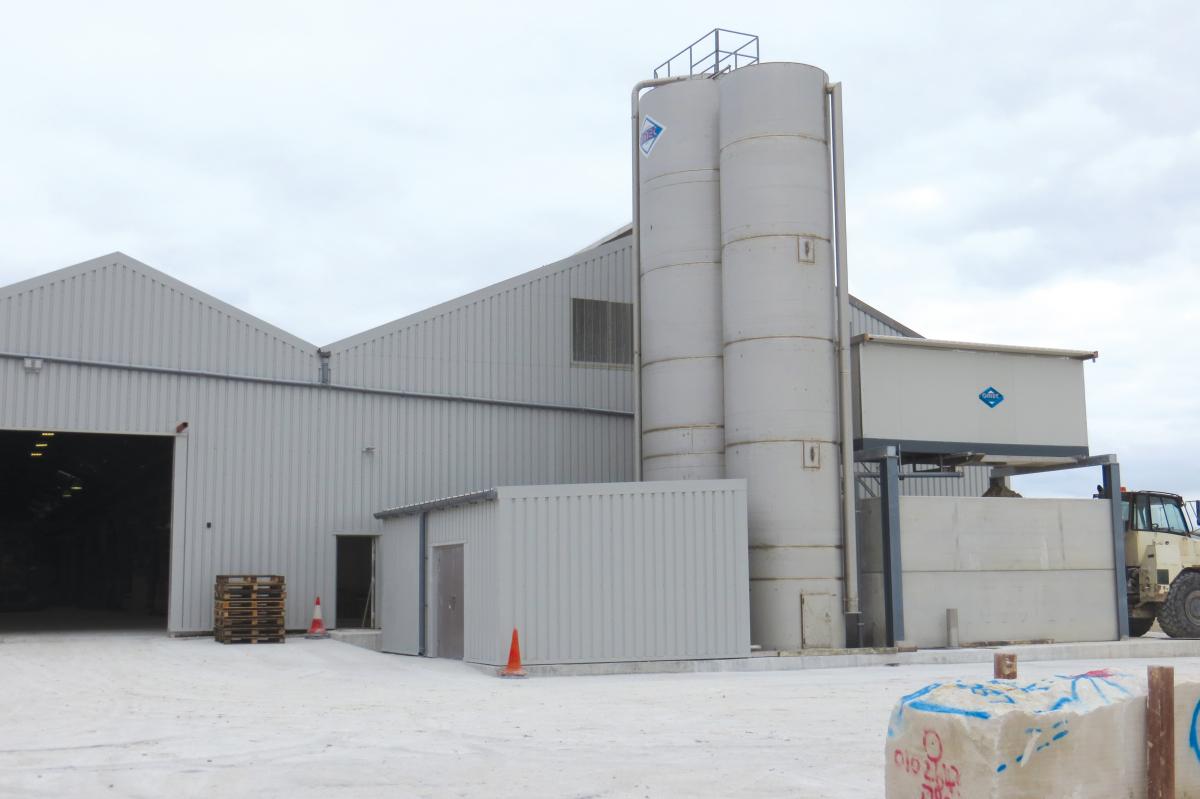 The new system delivers 99.8% of the water for the factory, and it is cleaner, as required by the latest machinery. The 10 machines it feeds are three primary and five secondary saws, a Breton ashlar line and Breton Fuego wire saw. There is also a new Wells automatic cropper for producing walling stone. That does not add to the demand for water but it does turn some of the stone that would otherwise be crushed for aggregate into a higher value product.
Not quite all the machinery incorporates the latest technology because the company is still using two, 50-year-old planers. They produce exceptionally sharp and precise mouldings quickly, so Albion finds it worthwhile keeping them going as nobody makes them anymore. But generally the machinery is becoming more computerised and sophisticated all the time, which is changing the nature of the work.
Pete Worrall, Contracts Director, says sawyers these days tend to have an engineering background rather than a stonemasonry background. Tony Porter says it is easy to teach engineers about stone. "It's a huge, all-encompassing thing to have high technology machinery. It allows us to be more competitive – you have to keep going forward or you go backwards."
Managing its water is only one of the ways Albion demonstrates it commitment to the environment and the community in which it works. It has achieved the environmental management system standard ISO 14001:2004 and this year became the first stone company to achieve an 'Excellent' rating in the BRE Green Guide, thanks to its achievement of BES 6001 for the responsible sourcing for construction products. That followed BS OHSAS 18001 for health & safety and ISO 9001 for quality management, as well as ISO 14001.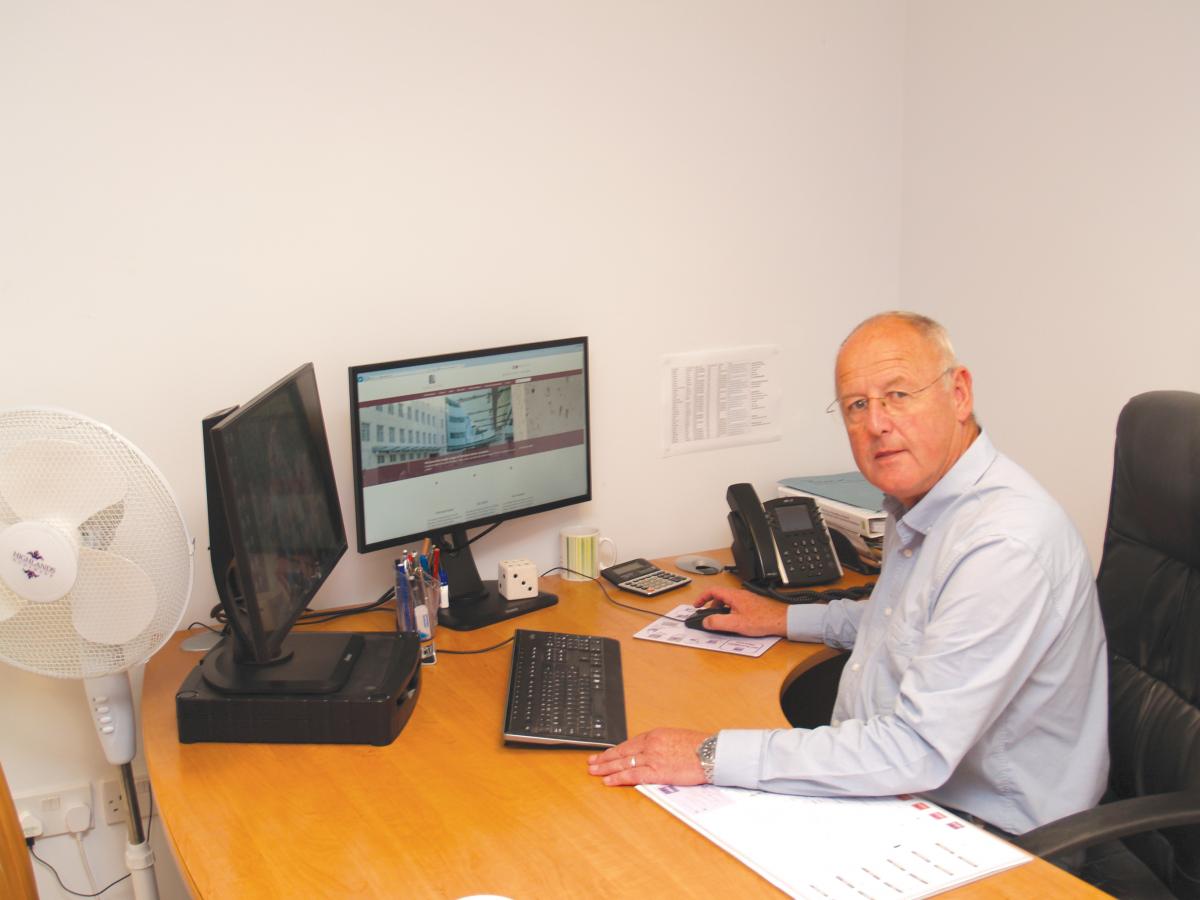 Tony Porter, Albion's Operations Director on Portland: "It's a huge, all-encompassing thing to have high technology machinery. It allows us to be more competitive – you have to keep going forward or you go backwards."
Albion Managing Director Michael Poultney believes the standards have made Albion a better company by focusing attention on where environmental impact can be reduced. And because they require on-going measuring and recording, they maintain the focus on continual improvement, which tends to benefit the company as well as the environment – by reducing the amount of stone that becomes waste, for example, and by more efficient use of water and energy.
Last year all the lighting was replaced with LEDs. There had been 400W bulbs throughout that were replaced with 175W LEDs. The number of fittings has also been reduced, although the factory is brighter, and Albion has more than halved its lighting bill.
The company publishes targets for all its environmental performances on its website, with the aim of transparently reducing its impact. Nearly 20% of its electricity comes from the solar panels on it workshop roof. Fuel oil usage has dropped by nearly half by switching to mains electricity. Altogether it has cut its CO2 footprint by 20% even though production has risen. 
Another piece of new technology is in stock control. Each block is drilled with a small hole and a microchip is embedded in it (see pictures left). The microchip records where the block came from, the volume of stone in it, when it went into stock and so on. The chip can be read using a tablet or smartphone and enables Albion to know in real time how much of which beds it has in stock.
All of Albion's stone is mined and has been for several years. The entrances to the mines are from Bowers and Jordans quarries, but the mines in each are heading towards each other and will at some time meet. The distinction between the stones from the two quarries has always been a little artificial and when the mines join up, the difference will be even less clear.
Eventually Albion will also move into a new mine at Stonehills. The expensive part of creating an entrance has been carried out, but the first blocks of Portland stone have not yet been cut. There are still about 30 years of reserves at Jordans / Bowers at the current rate of extraction of 150-200m3 of stone a week, which produces a good range of beds. In fact, the range has just increased because the miners have come across an attractively figured stone called Ostea Patch Reef Whitbed. There are only 150m3 of it, which will be sold to a client discerning enough to use it.
Sawing the stone from mines has increased the yield of finished stone from extracted blocks, which has meant mining is not as expensive as Albion had originally feared it might be. The cost of removing overburden for opencasting is high, so there is not much difference between the costs of mining and quarrying.
Albion has eight Fantini saws in its mines, with another on order. Three Volvo diesel shovels currently remove the block from the mines, but the company believes they will be replaced by electric vehicles within five years. "The weight of the batteries is not a problem," says Michael Poultney. "Within limitations, the heavier the better to counterbalance the blocks of stone." 
A new Epiroc Boltec S drilling machine is going in next month – making Albion the first dimension stone extraction company in the world to make the £500,000 investment in this highly mechanised machine for installing roof bolts. It drills the hole, inserts the resin tubes and inserts and tightens the bolt without the operator leaving the safety of the cab.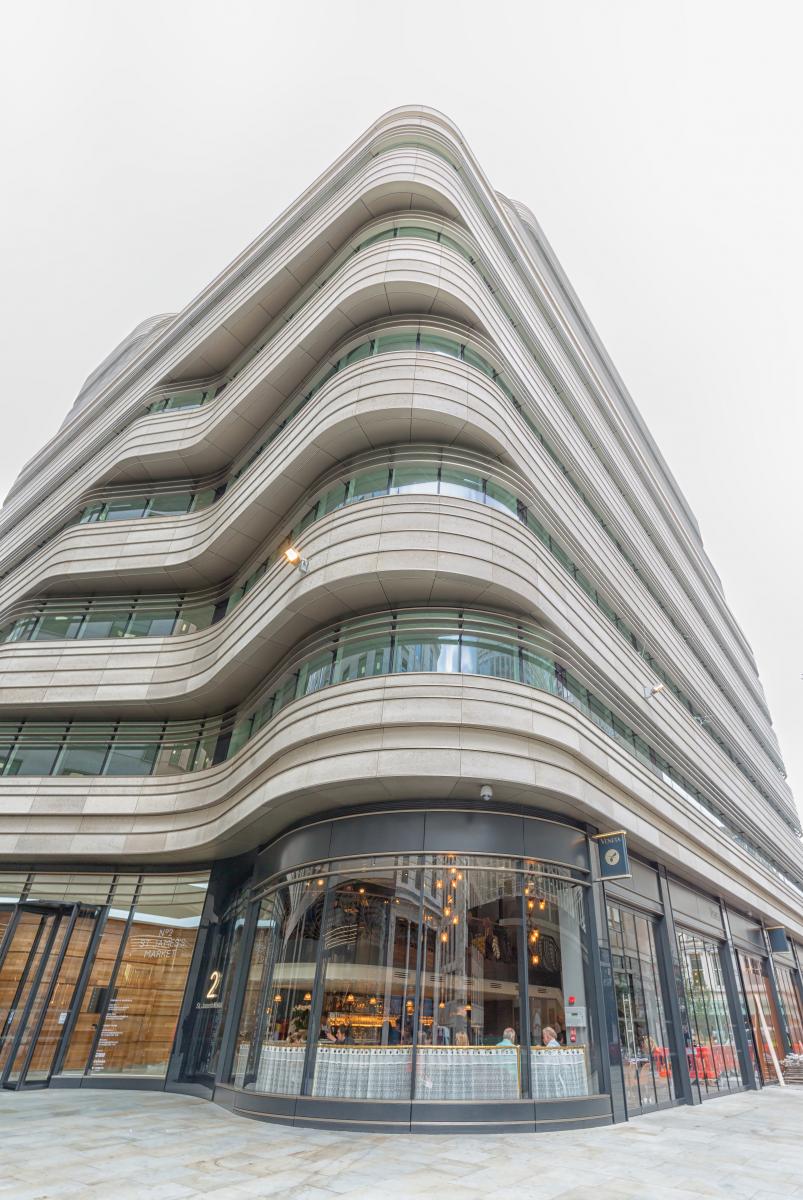 Albion Stone supplied 169m3 of Jordans Whitbed for the unitized façade on this St James Market development, part of the Crown Estate's 10-year, £500million renovation of properties in London.
The company employs 74 people on Portland, making it the biggest single employer on the island after the prisons, now that the Navy has departed.
Albion's largest project in the past few years has been Chelsea Barracks in London, for which 1,500m3 of Basebed and Roach (Roach is the shelliest bed) block were pre-purchased to provide cladding on the main façades for fixing by Gormley Marble. Albion has also supplied stone for the Peninsular Hotel, 60 Curzon Street with Grants, Farmeloe with Marble Mosaic, Scotch House in Ireland with Keystone… There are many more.
Lately, with attention in construction turning to offsite manufacture, Albion has been producing post-tensioned columns. It has made them in British sandstone,  Moleanos from Portugal and Jura from Germany, although it prefers to use its own Portland stone. Now, anticipating continued demand, it plans to build a 1,600m2 extension to its factory dedicated to offsite manufacturing. It will have substantial gantry cranes to make it easier to lift post-tension stonework, with the ceiling height being critical.
Albion does more than most British stone producers to promote the use of indigenous stone and had its own stand at Marmo+Mac in Verona last month (September), the sixth year it has exhibited there. With 15-20% of the company's turnover coming from overseas, Michael Poultney is not a fan of Brexit. He is concerned that protracted border controls… or even the fear of border controls will act as a deterrent to overseas customers. They could also affect machine part deliveries, so Albion is stocking up.
On the flip side, Michael believes clients might be more mindful of delays involved in importing stones.
Portland Stone Firms has bought seven new Terzago saws this year (from UK agent D Zambelis), which have been installed at a rate of one a month. Neil Fuller, in charge of the stone production and processing, says the company chose Terzagos because it already uses them and is happy with them.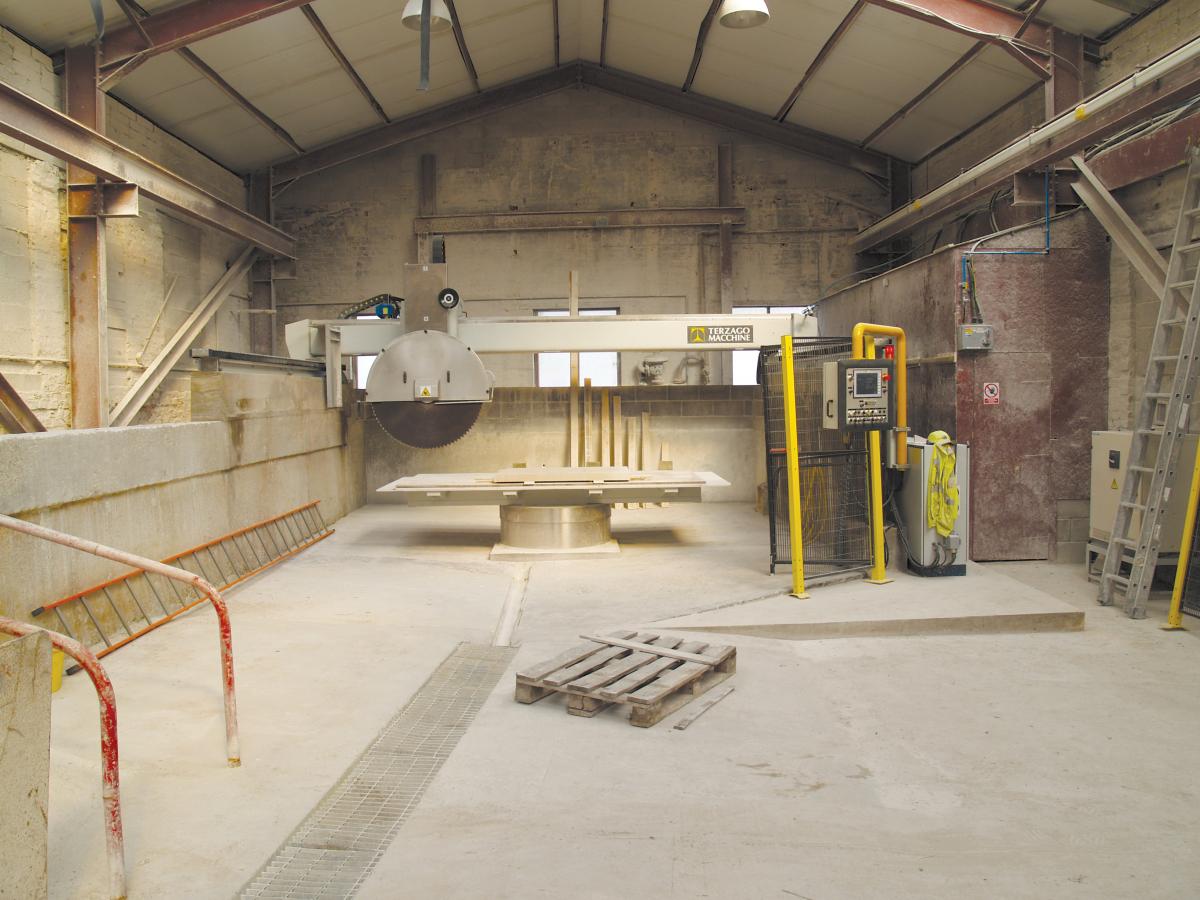 In fact, says Neil, there is nothing wrong with the existing saws except that it is becoming difficult to obtain spare parts for them. And, of course, technology moves on and newer saws are more productive. 
The biggest move at Portland Stone Firms (PSF), though, has been into mining, with an investment of £2.5million. It was a commercial decision to make the move from opencast quarrying to secure continuing reserves of the company's Portland stone.
"We only had two years' reserves left at Coombefield quarry," says Neil, "and Perryfield has houses all the way round it, so there was a lot of stone we couldn't get to."
PSF has not stopped opencast extraction of the stone and continues to operate Broadcroft quarry on that basis. Broadcroft is the company's biggest yielder and what it is yielding is currently particularly clean stone with minimum shell. It was the stone chosen for the major development at Marble Arch and for New Scotland Yard (the Curtis Green building).
But Perryfield is now being mined, giving it another 20 years in production, and a portal is just about to be opened at Coombefield, which should extend its productive life by 20 years. A new €450,000 Fantini saw, the default equipment for cutting limestone in the UK, goes into Coombefield at the end of this month.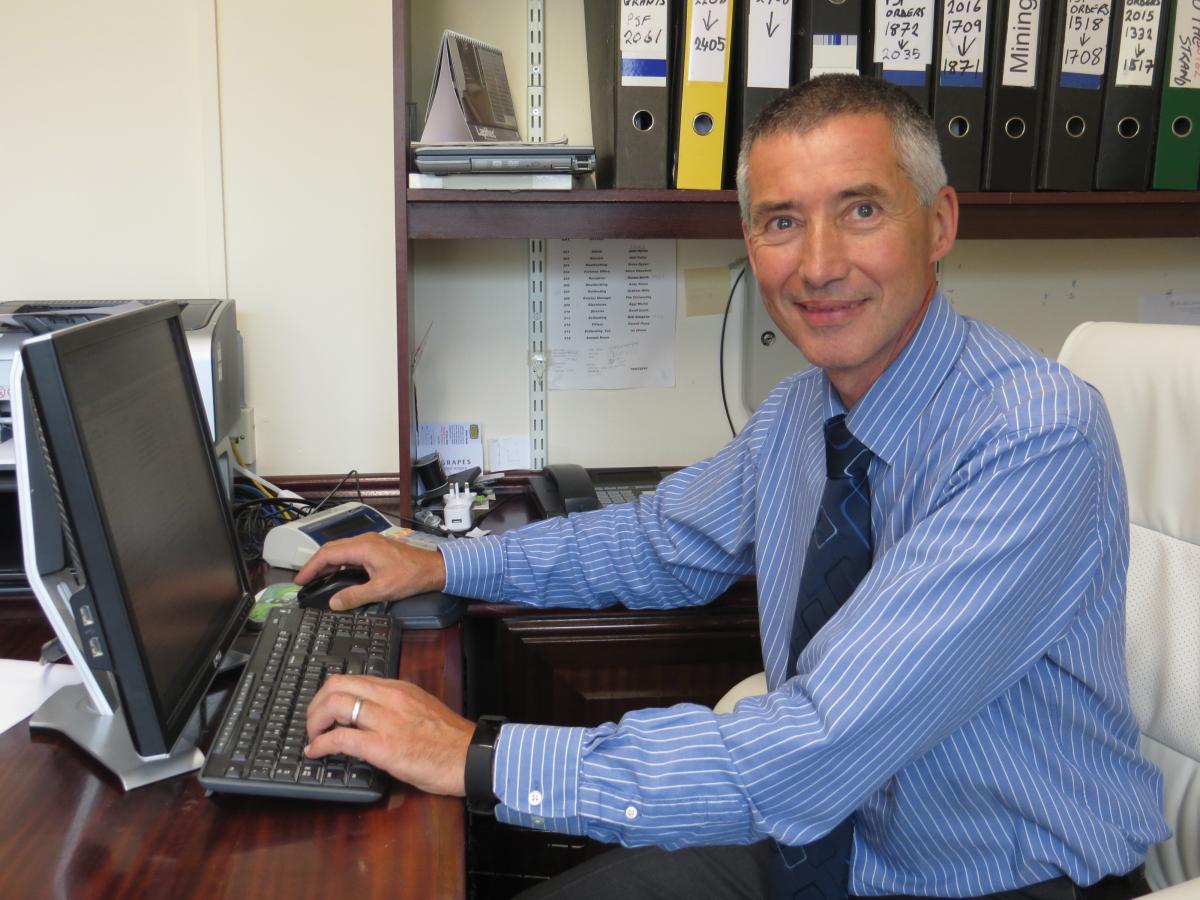 Neil Fuller, General Manager at Portland Stone Firms.
It is PSF's fourth such saw and is a bigger model (a GU 70) than commonly used in the UK. PSF's first saw was a GU50, but the company realised its mines, with as much as 7m depth of Whitbed, could accommodate the bigger model, which would improve productivity. It weighs 30 tonnes and permits were required to move it on Britain's roads. Just getting the latest saw delivered cost £10,000.
The three phase saws require 60kilovolt-amps each and connecting the power supply to Perryfield alone cost £200,000.
When PSF started mining it recruited Andy Jackson as its mine manager. Andy had worked at Albion Stone, the other Portland stone company that had already been mining  for some years, before joining PSF. The experienced miners of Bath stone also helped PSF.
On Portland, the beds of the famous building stone appear under a hard cap stone. With opencasting, that cap has to be removed to access the building stone underneath, which is expensive. With mining, the cap makes a coherent roof to the mine, although the mine has to be designed with sufficient pillars to support the roof and the roof has to be bolted. Nevertheless, not having to remove the cap helps to even out the cost of mining compared with opencasting.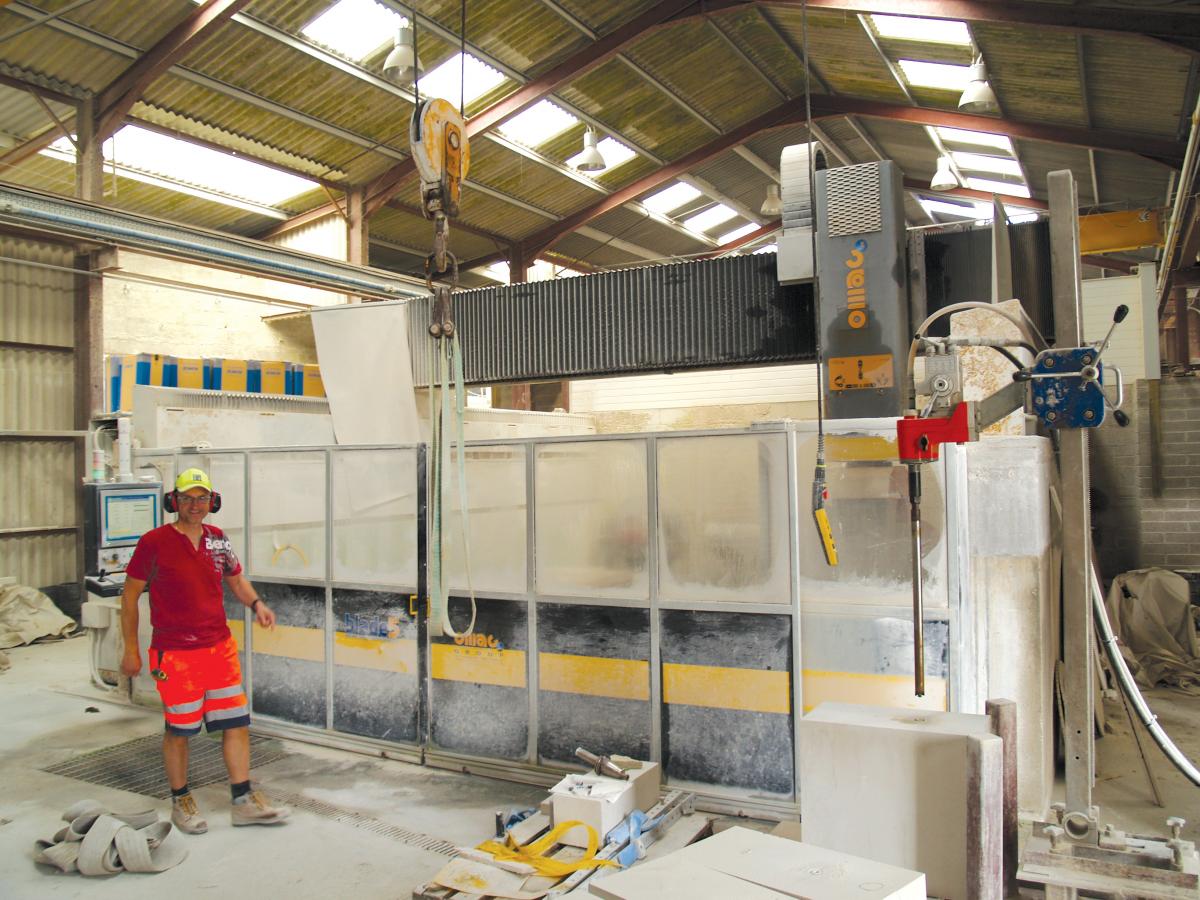 PSF have a second Omag CNC workcentre supplied by D Zambelis.
"The cost of extraction is higher than opencast quarrying," says Neil, "and there are more regulations to contend with underground." He is also finding production is slower with mining, which is a problem. "I can't remember the stone trade ever being as busy as we are at the moment. It's been like it for the past two years, starting with Chelsea Barracks."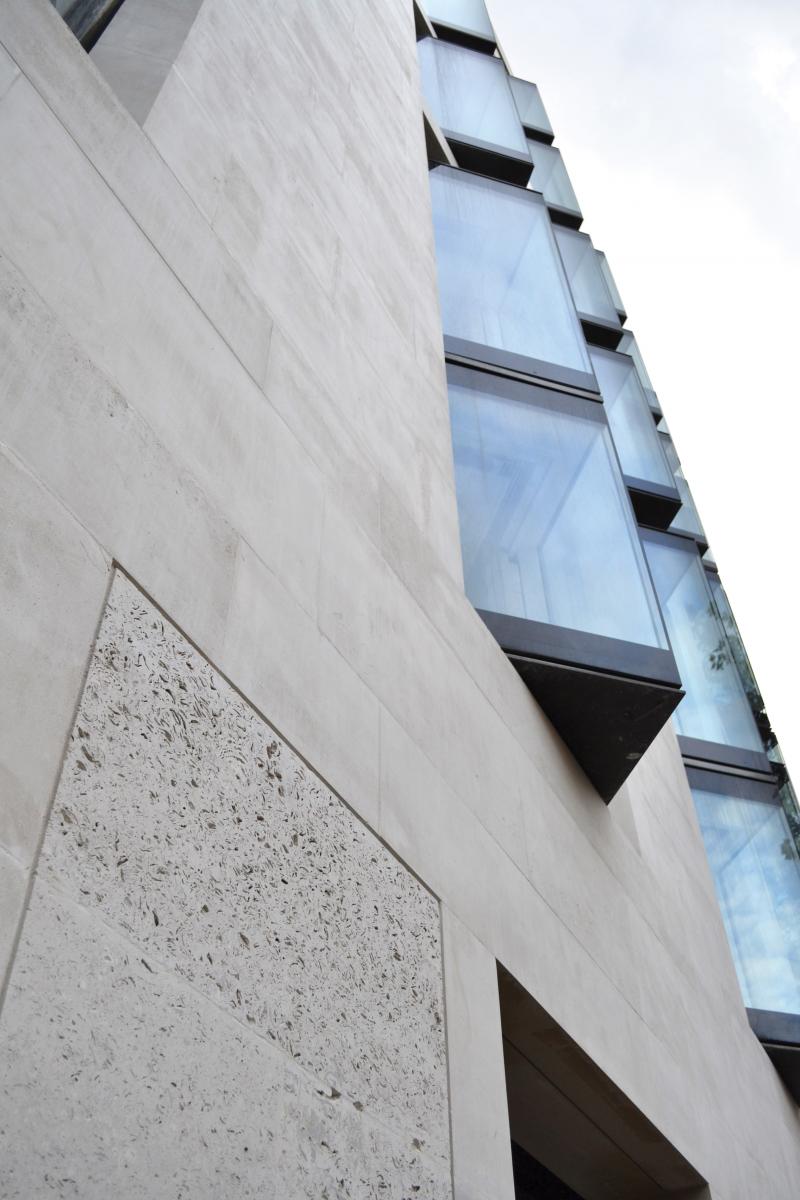 This is the ME hotel in London. The Portland stone cladding and masonry was supplied by Portland Stone Firms.
Chelsea Barracks is one of the biggest (possibly the biggest) development in London that has required stone from both the Portland suppliers. And it is only one of the projects PSF has been supplying. It has also been busy delivering the stone to Grants for another of London's major developments at Marble Arch, as well as the masonry for private mansions in Scotland and Ireland, which is work stone companies always like because of the quality of the work required. "It's like the old days when they designed the buildings to suit the stone. It's usually the other way round these days and we have to make the stone fit the design." It bemuses Neil. The requirement for large panels for stone cladding on modern buildings does not make the best use of the stone. "They want to build to BREEAM environmental standards but design it to waste a lot of stone."
PSF has been so busy it has had to ask for help from other stone companies. "We work on 12-week lead in times and we haven't had the capacity to drop anything else in. We have out-sourced a lot of work this year to meet demand," says Neil. That is in addition to the blocks it sells to other masonry companies for their own projects, which accounts for about half the stone it extracts.
For drilling the roof of the mines for the bolts, PSF has bought British-made drill rigs from a company called Garrard Jones Engineering, a new company that has evolved out of the coal industry. "People were saying good things about them at the Institute of Quarrying and Mineral Products Association meetings our quarry manager goes to," says Neil.
Because mining is risky, health & safety regulations are stringent and strictly enforced, although opening new mines means PSF is able to meet all the current requirements as the mine is developed, which is easier than trying to update existing mines as regulations evolve.
Diesel machinery is not ideal in mines, which is why the Fantini saws, which work continuously underground, are electric. However, the face shovels that carry blocks to the surface are used only intermittently as a block is freed from the face and are diesel. Electric slews could be used but they are expensive. Huge ventilation fans draw air through the mines to clear dust and diesel fumes from them.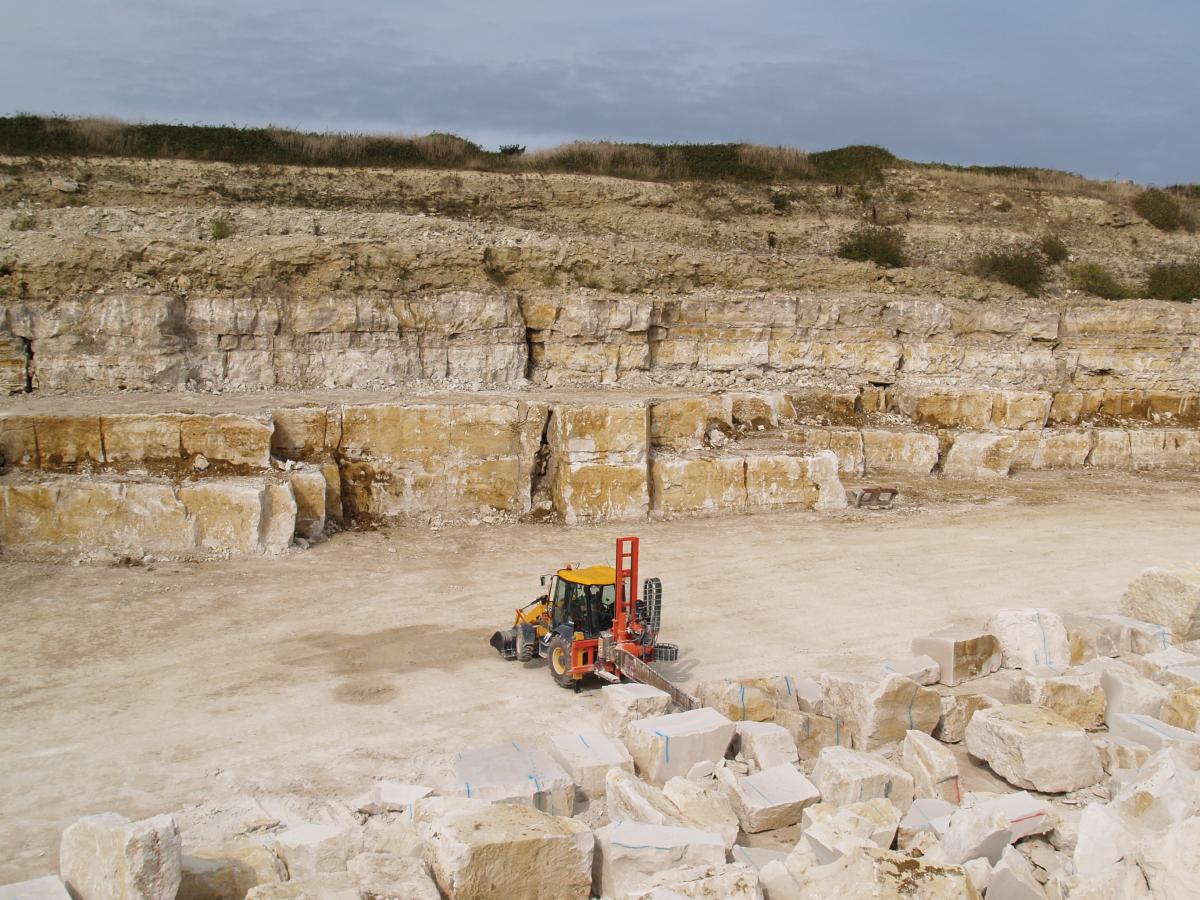 Broadcroft quarry is where most of Portland Stone Firm's stone currently comes from.
About a third of the 60 people PSF employs are involved in the extraction of the stone. The rest work in its two factories, where the seven new Terzago saws are only the latest additions to the equipment used. It ranges from decades old Butler stone planers (which are no longer made but are still the best way to create crisp mouldings) to the latest five-axes Omag CNC workcentres – another of the brands represented in the UK by D Zambelis. They have a Steinex cropper for producing walling stone for local housebuilding from offcuts and smaller blocks and anything left over gets crushed as aggregate. Not too much of what is extracted ends up as backfill.
For the future outside the European Union, PSF is feeling fairly confident. Neil Fuller does not believe the high level of demand for the firm's stone over the past couple of years is unrelated to the Brexit vote. He says the 20% fall in the value of sterling after the vote just about wiped out the price difference between Portland stone and the European stones, mostly from France and Portugal, that are its main competition. "I think that has certainly helped with demand for Portland stone over the past two years," says Neil.
On the down side, it has meant that the machinery PSF has bought, nearly all of which is Italian, is more expensive. At least PSFs labour is local, so the issue of foreign nationals has not arisen. Neil: "I think overall it's a net benefit to us."