Prodim used to template Michelin-star restaurant
The Proliner played an essential role in a countertop project for the Michelin-starred restaurant Pétrus in London.
Classico Marble in Langley, Berkshire, is a family owned stone fabricator that specialises in natural Italian stone and offers services that cover every aspect of stone, from material selection and manufacturing to installation.
In 2015 Classico Marble invested in its first Proliner Stone Package digital templater and was so impressed by the Proliner's capabilities that the company immediately decided to get another one.
It has been using them lately to template for new kitchens at Ramsay Group's Michelin-starred Pétrus restaurant in London.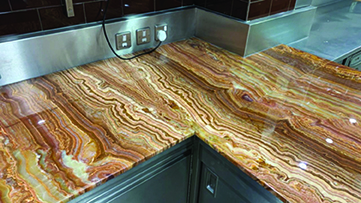 The prestigious restaurant is named after one of the world's finest red wines, so the kitchen also has a red theme and stone provided by Classico Marble also had to suit the theme of the kitchen and the wine perfectly. The stone used for the worktop is red onyx.
Scott, the Operations Manager from Classico Marble, says: "The Proliner helped massively with this project. It allowed us to measure exactly what we needed in a short time. This was perfect as it enabled us to template quickly with minimal disruption for the chefs in the kitchen.
"We are extremely satisfied with the Proliner – we have two Proliners in action every day. They minimise the time the templaters spend on-site and this allows us to template more projects in a day. It also gives us the complete project data, so if clients make a change we don't have to go on-site again, saving us money and time.''