Stone Cladding Systems Ltd: Something old, something new
Those from the stone industry who watched The Open at St Andrews in Fife in July might have had their attention momentarily distracted from the golf by the new Peakmoor sandstone extension to Rusacks Hotel in the background. The rainscreen cladding is from Stone Cladding Systems, established in 2016 by Jason Kennedy and already making quite a name for itself as a natural stone rainscreen specialist.
St Andrews describes itself as the home of golf, with the game having been played there for 600 years. This year the Old Course at St Andrews was the setting for the 150th Open Championship. It was the 30th time The Open had been played there – more times than at any other venue.
Overlooking the Old Course is Rusacks Hotel, which this year was sporting a new extension clad in Peakmoor sandstone, as the keen eyed from the stone industry might have noticed because the hotel appeared in the background time and again during the TV coverage.
Anyone privileged enough to be watching The Open from the rooftop bar (called One Under Bar) will have had a closer view of the stone cladding, supplied as part of the Aztec rainscreen cladding from Stone Cladding Systems based in Ashbourne, Derbyshire.
It is an indication of how Stone Cladding Systems' reputation is spreading out from its home turf that it was chosen for the hotel at St Andrews in Fife, Scotland – although since Jason Kennedy formed the company in 2016 it has always been happy to take on projects anywhere in the UK, as can clearly be seen on the new website it launched in April (scs-stone.co.uk).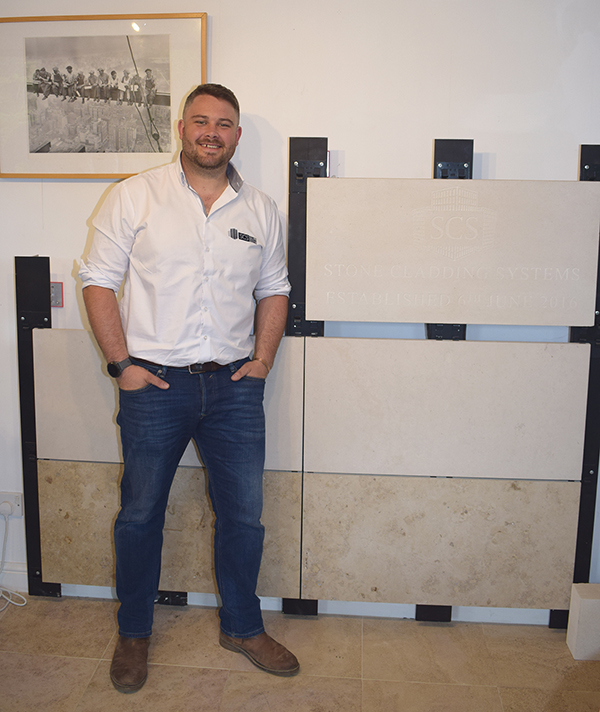 In fact, the contract for the 1,300m2 of Peakmoor for Rusacks Hotel came about because Stone Cladding Systems was already supplying the cladding sub-contractor that won the work, MetalTech Roofing & Cladding. It was using Aztec rainscreens on a project at New Waverley in Edinburgh. MetalTech took the system with it on to the Rusacks Hotel extension, where 40mm thick stone was used for the ground floor and 30mm above that. The architects were WCP, based in Aberdeen.
Both Rusacks Hotel and the Waverley project have been entered for this year's Natural Stone Awards, judging for which is currently underway ahead of the announcement of the winners at a glittering presentation ceremony in London in December.
The Rusacks project started just as the world was being locked down in the face of the Covid-19 pandemic, although Jason Kennedy says the lockdown in England and Scotland arrived when Stone Cladding Systems was working at full pelt. As Jason works mostly on his own he did not shut down.
MetalTech also carried on working. It was not allowed on-site at Rusacks but the project was mostly still at the design stage in any case, and MetalTech and Stone Cladding Systems were able to work together on the design of the cladding.
The Peakmoor sandstone, a Carboniferous millstone grit, was supplied by BlockStone, owned by Grants of Shoreditch, which already had the blocks required in stock at its Block Store in Cadeby Quarry in South Yorkshire. They were transported to Gloucester to be sawn and were finished in a yard in Newhaven in East Sussex, where Stone Cladding Systems helped design a bespoke processing machine specially for producing the cladding. Packing and final quality control is carried out at Newhaven.
The hotel extension was finished slightly behind schedule as a result of Covid, but not because of the stone or cladding system. "The stone industry kept going quite well during Covid," says Jason. And because the stone specified was British there were none of the supply problems experienced by stone importers.
Not that Stone Cladding Systems eschews imported stone, although it generally restricts its imports to Europe. It has lately been using Jura limestone from Germany for 1,000m2 of cladding on a Holiday Inn in Blackpool, although it was the first time it had supplied an imported stone for two years. Covid, Brexit and the war in Ukraine have all combined to make imports more expensive and unreliable and British stone a more attractive option. "The supply chain is short and reliable," says Jason.
He admits to an affinity with British stone. He is the son of Iain Kennedy, the former President of Stone Federation Great Britain who ran Realstone and BlockStone for many years, producing and selling stones from British quarries. Jason worked with his dad at Realstone for a while.
But whether it is British or imported, it is stone. "Natural stone is where we're at and where we want to stay. We're a stone company doing rainscreen rather than a rainscreen company doing stone," says Jason, adding that concerns about global warming, sustainability and the carbon footprint of materials has helped both stone and rainscreens. "It's one of the selling points of rainscreen: it combines economical build with environmental benefits." And developers like the fact rainscreens make it easy to achieve the continually stricter 'U' value requirements of buildings.
Stone Cladding Systems has even minimised the carbon footprint of its offices by installing photovoltaic cells on the roof powering the low energy heating system and LED lighting. All the computers use the Cloud so there's even less paper to be filed.
Bath Stone rainscreen
Jason is proud to be able to offer the only Bath Stone that has passed all the tests necessary for it to be used on a rainscreen. And it is currently being used on Stone Cladding System's Aztec system for a new pavilion being built at Bath Cricket Club's main North Parade ground.
That whole area of Bath around North Parade is being redeveloped and Jason hopes and expects to win more cladding work there thanks to the cricket club's choice of Aztec. "Having reference buildings is quite key to future work," says Jason, "so having the Aztec system used at North Parade, near the centre of Bath, is very useful."
The developments at both North Parade and Rusacks have included curved fascias, which involves radiusing the face, although the back of stone remains flat in order to fit on to the lightweight aluminium frame that ties the rainscreen back to the main structure. Being able to provide the curved stones all helps to establish Stone Cladding Systems as a company that can answer an architect's questions.
Jason has been steadily building his company since the opportunity to establish it arrived when he was made redundant from the design office at Realstone following the purchase of BlockStone and assets of Realstone by Grants of Shoreditch.
Jason had worked at Realstone for six years at that point and says: "Realstone was supplying a couple of projects that I had got specified. I thought: OK, I need to see these through. To do that I had to start my own business."
He knew people in the industry who were prepared to extend him credit that he doubts he would otherwise have been offered.
Having been involved in the development of the cladding system at Realstone and specialised in rainscreen design, he was familiar with the process and could see that rainscreens were a growing market with their benefits of lighter weight and material savings, with rapid fixing using mast climbers and scissor lifts rather than scaffolding.
He completed the development of the Aztec system and has improved it over the years, now believing it is even better. "It's simple and effective," he says. And simplicity was always the key.
There are 12 stones that have been tested at VIVCI Technology Centre in Bedfordshire as suitable for use with the Aztec system. Tests carried out include hard and soft impact resistance, wind loading, and the various other requirements of the recently updated BS 8298, with a significant safety factor added on, going well beyond the conditions this country is ever likely to see, even with global warming.
The Aztec system comprises the aluminium frame with 'T' rails, brackets and black powder-coated clips so they cannot be seen through the open joints of the rainscreen. A neoprene anti-rattle strip is A1 fire tested and there is nothing else to catch alight.
Some rainscreen cladding uses a veneer of stone on a backing material. Even though the stone would be non-flammable and the backing might be, the glue might not be. To avoid any risk, Stone Cladding Systems uses only solid stone. And although there is more stone and stone is expensive, materials and processes involved in making a stone veneered composite panel are avoided, so using solid stone remains price competitive.
A 50mm air gap between the stone cladding and the insulation on the building ensures ventilation around the stone for temperature stability, so the building envelope does not get too hot or too cold. Open joints also help to stabilise air pressure. When the wind load is tested the joints are sealed with mastic to provide worse case safety, but Jason says he advises against closing the gaps between the stones. If the gaps are closed, it has to be with a flexible mastic because the system is designed to be flexible.
A flexible system
Stones such as Yorkstone and some hard limestones can be used in sizes up to 1200mm x 450mm, although more commonly the maximum size is 900mm x 450mm. Any size smaller than that can be used because all the stone is cut to specification. The stone would normally be 20mm, 30mm or 40mm thick, depending on what it is, the size of it and its position on the building. The clips that secure the stone top and bottom come in six different versions, and for some applications, such as the curved cladding in Bath, a bespoke design has to be developed.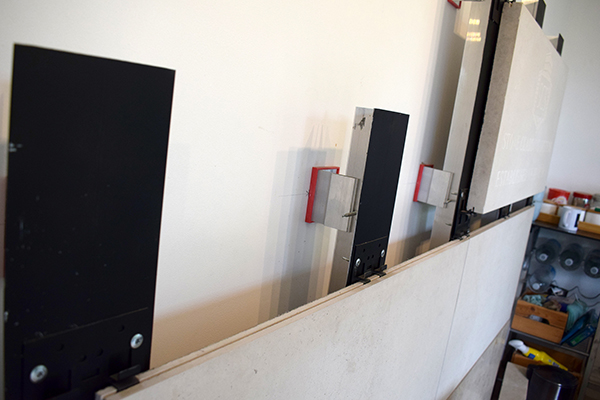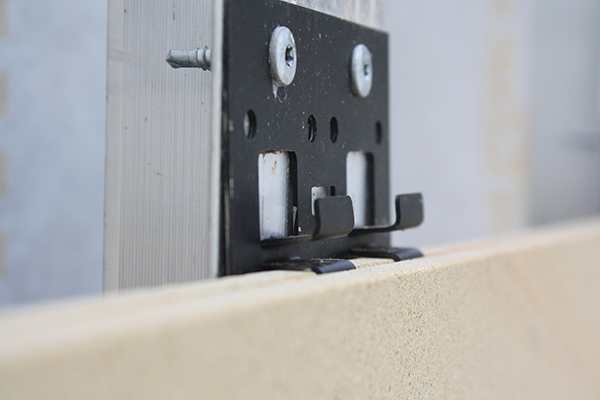 Although the system is designed to be simple, using standard frames and rails, Stone Cladding Systems always sit on design meetings so any potential pitfalls can be eliminated immediately and sometimes value engineering can be explored by, for example, changing the way it is fixed around windows or the corner detail. Jason is also happy to give toolbox talks on site for the fixers and will stick with a new team for up to a day.
He says it is also useful for receiving feedback, although contractors usually find they love working with the natural stone system because it is so easy.
There are now enough specialist cladding contractors who have used the system to be able to give main contractors an approved installer list for the work, "because they do ask us for a list of people who can install the system", says Jason.
The first two projects Jason saw through to completion after leaving Realstone were Sunderland Innovation Centre and a new building at Bradford Royal Infirmary. "Both projects were in the design stage so there wasn't an issue with them needing materials on site tomorrow."
As the number of reference projects has built up, familiarity with Stone Cladding Systems and its Aztec rainscreen has grown to a point where it is now specified by architects, whereas originally it tended to be selected by a contractor after a generic rainscreen system had been specified (although that also still happens).
Jason says it has been a hectic six years since he started his own business, but the success of it is its own reward. And he admits to feeling a little extra pride as he watched The Open in July.
Below are more projects with Aztec rainscreen cladding from Stone Cladding System.
The top project is Sunderland Hilton Garden Inn, on the banks of the River Wear in Sunderland is a 141-room hotel featuring Aztec 20mm Cebecca limestone ventilated rainscreen. The glass and limestone mix gave the architects of Redbox Design Group the light and spacious building they wanted without the need for a heavy support system. This was one of Stone Cladding System's first projects, completed in 2016. The Aztec system was installed by Metcalf Roofing & Building.
Below that is the £150million transformation of the former Caltongate area in the Old Town in Edinburgh, for which Allan Murray Architects were the master planners and principal architects. The site links Waverley Station with the historic Royal Mile. Peakmoor sandstone was the stone of choice and is seen here as part of a lightweight, A1 non-combustible Aztec rainscreen.