STONE CLEANING: Athena Stonecare celebrates 10 years of caring for stone
Ten years ago Dave Cranfield set himself up in business caring for the increasing amount of stone being used in people's homes. As Athena Stonecare celebrates its first decade, Dave and his wife, Becca, look forward to its second.
This year Athena Stonecare has reached the landmark of its 10th anniversary – a decade of keeping stone floors flawless, as the company says on its website.
And not just floors. Natural stone care specialist Athena Stonecare cleans and restores floors, bathrooms, kitchen and vanity worktops, paved terraces and patios. It provides specialist stone restoration services for marble, limestone, travertine, granite, sandstone, slate... whatever is required.
The company is spearheaded by husband and wife team Becca and Dave Cranfield, with two more team members supporting on site. And it makes full use of social media (especially LinkedIn and Instagram) to get the company's message into the market place, with Becca now being assisted by Larissa Hardisty, who has been recruited as Marketing & Communications Assistant.
Athena Stonecare says...
After spotting some before and after photographs on Facebook, the client realised that their travertine ground floor was in need of some TLC.
The ground floor throughout this stunning Buckinghamshire property was resurfaced using diamond abrasives to remove light surface scratches and etch marks. The grout lines and tiles themselves were deep cleaned and finer diamond abrasives were used to achieve a mid-shine finish to the floor as requested by the client. As always, the floor was sealed for protection with an impregnating sealant.
One of the additional services from Athena Stonecare included on all travertine resurfacing treatments is filling of the pits by hand.
Before installation, the naturally occurring pits in travertine are filled by the tile manufacturer. But over time the filler can become loose. This leaves the pits exposed and vulnerable to collect dirt. By filling the pits with colour-matched epoxy resin during the restoration process, the client will be left with an even finish to the floor.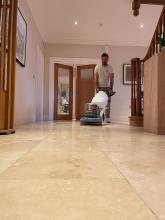 Finding this niche in stone care for himself was something Dave says he fell into.
At school he had hoped to become a professional cricketer and had gone to university to study sports science. He was exceptional at cricket, playing at county level and going on tour with the MCC. But competition for top tier openings is fierce. He, like many other aspiring professionals, had to work elsewhere to support his sports career, although he is grateful to cricket for having introduced him to a lot of interesting people as well as giving him time to run his own business.
What gave Dave the idea of cleaning stone surfaces was working for a friend, Matt, who had started a business cleaning carpets and then diversified into cleaning hard surfaces as well. The tile cleaning business started to take off but Matt decided it was not for him.
Dave: "He realised there's a lot more to cleaning stone than he had picked up on a couple of courses. He didn't want to get stuck down a wormhole of doing things he wasn't sure about.
"But I enjoyed doing the stone jobs. With carpets you do seven jobs a day at break-neck speed, but on a stone or tile job you would spend the whole day perfecting the finish. The work is more interesting."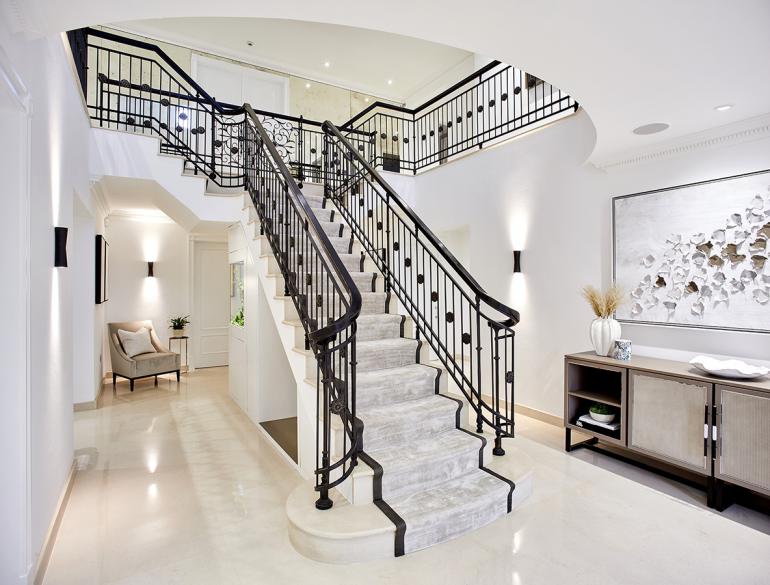 Athena Stonecare says...
Athena Stonecare loves working with interior designers who care about preserving existing features in a home and jumped at the chance to work with Bethany Riley.
Bethany is an award-winning interior designer who graduated from the prestigious Inchbald School of Design in SW1, London. Bethany offers full bespoke project management services to clients.
The Project
Athena Stonecare was approached by Bethany to advise on the options for restoring the limestone floor at the north London home of a high-profile client. Bethany had been asked to renovate the home while keeping the structural aspects the same.
She says: "One of the key decisions we made in the project was choosing to restore the limestone flooring that ran throughout the ground floor, staircase and landing. After considering the potential complications that could arise with replacing the floor completely, we decided to bring it back to its original state using a diamond resurfacing and polishing technique. This, along with simply changing the hue of the downlights from warm white to cool white, brought the beautiful natural stone back to life."
The Process
As with all projects of this size, Athena Stonecare attended the site to demonstrate the cleaning process on a sample. For an entrance this grand, a high shine finish on the stone was the perfect option. This re-quired eight stages of diamond resurfacing to bring the finish back to the perfect level of shine. Special care was taken for the limestone staircase. Although the steps were partially hidden by the stair runner, it is a central, prominent feature of the project.
---
Firmly believing that there was a place in the market for a company specialising in caring for and restoring stone, on 4 January 2012 Athena Stonecare was born.
Becoming an expert in natural stone cleaning and restoration was not an overnight transformation. It required a significant amount of learning and research.
There are numerous companies that supply training alongside their equipment, with a lot of methods centred on specific kit, all of which has its own benefits and limitations.
Trialling different methods, Dave used his own experience and sagacity to determine which systems worked best for various applications, and he uses whichever is appropriate for any specific project.
Five years ago Dave met Becca, who has since become his wife. With a background in business development and new business formation, Becca was perfectly positioned to join Dave in the company to help it grow.
Athena Stonecare at this point was providing a steady income for Dave, but Becca could see there was potential for growth.
While large stone cleaning and restoration companies could put as many operatives as necessary on to corporate work, smaller one-man-and-a-van operations were not able to offer the level of specialist services that Athena Stonecare had specifically gone out to develop. "I realised there was a business here with plenty of potential," says Becca.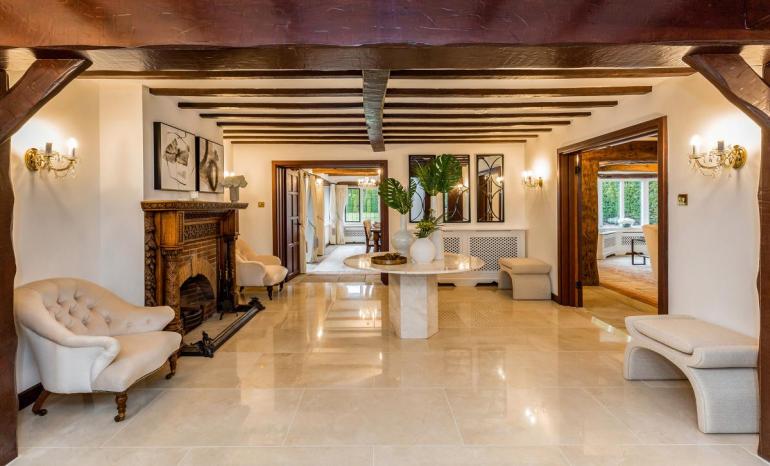 Athena Stonecare says...
During the renovation of a property in a sought-after Buckinghamshire location, the marble floor was laid before other works throughout the property were completed. The floor had been scratched and marked. There was also evidence of grout haze from the installation process. This occurs when the stone has not been correctly sealed prior to installation. This is often mistakenly thought to be a surface-level issue that can be treated with a chemical or scrubbed to try to remove it, although that can actually cause more damage. It is always recommended to seek a professional to reveal a fresh layer of stone.
Initial diamond grinding of the marble enabled the grout haze, scratches and marks to be removed, as well as stripping off the existing sealant. The client specifically asked for a mid-shine rather than a hard shine finish and this was achieved using an 800 grit diamond abrasive.
The finish of the natural stone floor is always the choice of the client but anyone who is unsure of the fin-ish they require has only to ask the Athena Stonecare team to carry out a small sample area as part of the quoting process.
---
Before she took the plunge and joined the company full-time, leaving behind a career in the charity sector, Becca's first role with Athena Stonecare was on the tools. The company had just taken on a monthly contract with Ralph Lauren, maintaining the limestone at its flagship store in London.
As it is a two-person job that has to be carried out when the store is shut, Becca offered to support Dave on-site. During these regular night shifts she learned a lot about stone and how to care for it from Dave.
With her passion for stone ignited, Becca soon handed in her notice at the charity and became a co-Director of Athena Stonecare.
Since then they have concentrated on working for private clients rather than corporate clients. Becca says: "We have decided to concentrate on private clients because they are truly invested in their stone and share our passion for wanting to maintain its beauty."
She adds: "It pains me that so many people don't and won't use natural stone because they think it's difficult to look after." Athena Stonecare has made it its mission to change that perception by offering its services to make maintenance easy.
One part of that mission last year was the publication of a step-by-step guide for householders about how to clean natural stone floors, bathrooms and worktops. The Athena Aftercare guide contains advice on the products and methods to use to maintain the finish on natural stone throughout the home.
Becca: "We were telling clients on a daily basis how to look after their stone, so it made sense to produce a piece of literature to explain it. It is a full guide covering any stone surface. Clients just haven't had this information readily available before."
It is available in a free PDF digital format. It is intended for people with stone in their homes and copies of it can be requested by email from [email protected] The aim is to ensure that anyone with natural stone can keep it looking stunning from the day it is installed.
Athena Stonecare says its main motivation in publishing the booklet was to promote the message that stone isn't difficult to maintain when you know how.
Dave says: "Our clients would often ask at the end of a restoration treatment how they could keep their stone looking this good. It became clear that there was no concise source of information available and so we wanted to produce a guide that was simple to follow."
It is likely that natural stone can only continue to rise in popularity due to its sustainability and versatility, and the booklet explains that one of the benefits of using stone for a floor, walls or a worktop is that it can be resurfaced and re-polished to refresh and restore its natural beauty.
It details how the correct daily and weekly cleaning regimes will help stone stand the test of time, and includes recommendations for both dry and wet cleaning as well as lots of extra tips to keep the stone looking as good as it did when it first went in.
Part of the stone industry
Last year Athena Stonecare also joined Stone Federation Great Britain. "The more we have got involved in the stone industry the more it excites us to be part of it," says Becca, who is one of last year's founding members of the Women in Natural Stone (WINS) group that was initiated by Claire Wallbridge, the Training Officer of the Natural Stone Industry Training Group.
Becca says being part of Stone Federation helps distinguish Athena Stonecare as a company that is going to restore a customer's stonework, not just clean it.
Dave says the stone industry is a close-knit community and Athena wants to work alongside stone suppliers and installers to enhance the whole stone package they are offering. That symbiotic relationship is already paying dividends with stone suppliers and specialist contractors suggesting Athena Stonecare's service to customers.
Becca: "I say to people if you purchase natural stone you should purchase it on the basis that it's going to need some maintenance. If you buy a Ferrari, you are going to expect to spend money having it professionally maintained. If you have purchased your stone because it's the most beautiful material for your home, you're going to want to invest in looking after it."
Sometimes people have stone in their homes because an architect or interior designer chose it and as it gets dirty and loses its lustre they can end up wishing they did not have it. Or familiarity means people living with stone don't notice the gradual process of it becoming dirty. It is only when the property is sold that new owners want to revive it. But they are not sure how to go about it. "They don't really understand it," says Dave. "People often don't even know what stone they have."
Restoring stone's reputation
But when they call in Athena Stonecare they end up loving stone again. "It changes people's perception of it," says Dave. "When we can change someone's mind about stone like that, that's what I like most."
Athena Stonecare's main aim is for people to get the best out of their stone surfaces. They like to work with clients in an on-going relationship, which often takes the form of a bespoke maintenance plan.
After the first restoration treatment, the necessity and frequency of ongoing maintenance to retain the pristine look will be discussed. Heavy wear areas (entrances, kitchens, high traffic lanes) will degrade more quickly than lesser used areas such as dining rooms, so should receive different treatments in order to produce a uniform finish overall, making an entire floor look seamless without the client having to pay for unnecessary work.
The message continues as Athena Stonecare celebrated its 10th anniversary by hosting a live webinar on Zoom on 9 February, again to share its expertise. Called Athena Aftercare Live, the webinar pulled together all the tips and advice in the guide published last year as well as offering a few hints on considerations of ongoing maintenance when stone is installed – because Becca and Dave are firm believers that this should be a consideration from day one.
There will be more live webinars. To register to attend them and submit any questions you might have, go to www.athenastonecare.co.uk/events.
And keep an eye on the Athena Stonecare social media channels, too, for details of more 10th anniversary events later in the year.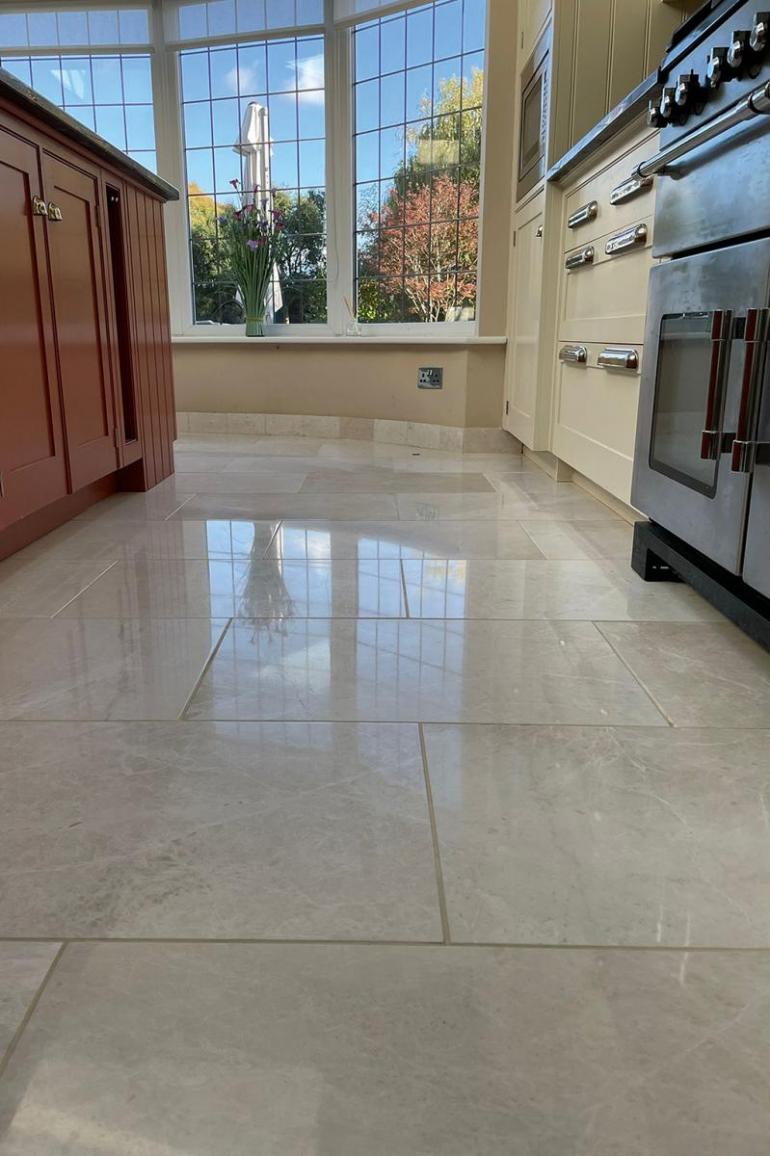 Athena Stonecare says...
The client wanted to ensure the marble they had used for the ground floor throughout their property would always look as good as when it was installed, so requested an ongoing maintenance plan from Athena Stonecare.
For floors that are highly polished and see a lot of traffic, it is impossible to prevent dulling from footfall over time. This means that in addition to the correct everyday cleaning, it is recommended to invest in a periodic maintenance regime. Keeping on top of stone maintenance is the best way to avoid costly restoration in the future.
Each year the Athena Stonecare team deep clean the marble floor tiles and grout on the ground floor. The floor is then re-surfaced with a 1500 grit diamond pad to achieve the desired finish. An application of a colour enhancing sealant helps protect the marble until the next deep clean.