Stone importers and wholesalers: Stone holds its own against the coronavirus
Whether it's natural or engineered, stone is still the most desirable material for countertops in kitchens and bathrooms, which has protected the importers from the worst of what Covid-19 has thrown at them.
It has been suggested that a silver lining of the Covid-19 pandemic is that at least it brought an end to the incessant chatter about Brexit, although Matt English at Pisani Wholesale in Matlock, Derbyshire, says it's not much of a silver lining, "more like a double whammy".
The stone wholesalers selling slabs for worktops and interiors almost exclusively sell imported stone – although there's an exception to every rule and Britannicus Stone is the main exception to this one, exclusively selling polishable British stones. Simon Hunter bought into the business in 2016. He describes himself as a "stone purist" who is saddened that Britain has allowed its stone industry to dwindle.
Some of the other wholesalers also sell British stone – MGLW sells Portland limestone, for example – but generally the wholesalers make a living from importing stone and, increasingly of course, quartz and porcelain.
They don't generally sell British stone because they would always face competition from the quarries, who tend to use builders merchants and sometimes stone merchants as their distribution channels – when they use such distribution channels at all, which many don't.
Why Matt English said the pandemic was a double whammy with Brexit is because both have made importing stone more difficult. The coronavirus disrupted supplies through a combination of interrupting production at source, especially in India, and making transport more difficult, exacerbated for a while in March by the Suez Canal being blocked by the huge container carrier Ever Green. And Brexit caused some delays as everyone got used to the extra paperwork involved as a result of being outside the European Union. Some European suppliers simply refused to send lorries to the UK.
According to the RoadHaulage Association, 15,000 European-born lorry drivers left the UK last year and 30,000 HGV driving tests in the UK were not taken because of the pandemic. Along with retirements, deaths, and people leaving for other reasons, it has left the UK short of 60,000 lorry drivers. Logistics firms complain of lorries parked and idle in their depots because they can't find anyone to drive them.
In spite of all the difficulties – or possibly because of them – the wholesalers selling natural and engineered stones for worktops and interiors are enjoying buoyant sales. Some even say sales in the past year have been better than they were in 2019, although 2019 was not a particularly good year.
Rediscovering wholesalers
The difficulty of importing might be one of the reasons the wholesalers are holding their own, because some of even the large fabricators, used to importing the slabs they need, have been making more use of the wholesalers, who are better at dealing with international suppliers, logistics companies and customs when it stops being quite so straightforward. And with the outlook still uncertain, fabricators are happy to shift the cost of stockholding on to others' shoulders.
There are various causes of uncertainty. One is that some scientists predict a third wave of Covid outbreaks, especially as the virus seems to mutate so quickly.
There is also concern about the level of demand for worktops and bathrooms when the stamp duty holiday on house sales comes to an end – the value of property it relates to was due to half to £250,000 at the end of June in England and Northern Ireland and half again at the end of September. In Wales the zero rate threshold of £250,000 was due to finish at the end of June. In Scotland it was £250,000 and ended on 31 March.
The removal of stamp duty on property up to £500,000 in England and Northern Ireland in response to Covid has encouraged a high level of house sales and purchases. HMRC says the provisional non-seasonally adjusted estimate of 392,860 transactions in the UK in the first quarter of this year is the highest quarter one total since the introduction of Stamp Duty statistics in their current format in 2005, and the highest quarterly total since a peak in the second quarter of 2006. Property website Rightmove calculated there were more than 700,000 transactions trying to beat the stamp duty holiday deadline in England.
The number of transactions is important for home improvement spending because people are most likely to carry out home improvements when they first move into a property. And kitchen and bathroom updates have become major areas of focus for home improvements.
Shortages and price rises
Whether people buying houses are actually saving money from the suspension of stamp duty is a moot point. House prices increased by 8.9% in the year to April, which was a bit down from 9.9% in March. The North East saw the biggest rise at 16.9%. The lowest was in London, where prices increased by 3.3% in the year to April. The average price of a property in the UK was £250,772. By May it was £251,973.
As Stephen Pike of slab wholesaler The Marble & Granite Centre says: "It's like a Harrod's sale where you get 10% off but it's still twice as much as anywhere else."
There is also uncertainty about the effect on unemployment of the winding up of the government's furlough scheme – the Coronavirus Job Retention Scheme (CJRS) – at the end of September. There is a suspicion that companies managing without the full-time contribution of those on furlough will continue to do so. There is also concern that some of those on furlough will be reluctant to return to full-time employment.
Fluctuations in the level of activity in construction add to concerns about the future. Figures published in June showed output fell in April, down 2.9% on newbuild and 0.6% for repair & maintenance. For the three months to April, however, the sector grew by 5.1%, with a 5.2% increase in new work and a 4.9% increase in repair & maintenance.
There are shortages of some building materials (timber, cement, steel) leading to price rises. And a suggestion that shortages of labour now some of the Eastern Europeans have left Britain are leading to wage inflation. Even apparent disagreement between the Chancellor and the Prime Minister over acceptable levels of government borrowing add to uncertainty, and uncertainty is not good for business confidence.
The increase in the price of transport has not so far resulted in a particular increase in the price of slabs. Some suppliers have passed on the extra cost (or some of it) while others have held their prices, believing prices will fall again. Some have been surprised they have not already fallen and are taking a second look at the prices they are charging.
There is no obvious increase in prices apparent from the figures collected by HM Revenue & Customs (HMRC), which show the average price of imports has remained at about £100 per tonne since before the pandemic, although that is an average for all imports, which includes relatively low price hard landscaping materials (see graph at the bottom of this page).
Quartz is king
For many, quartz is still king. There are plenty of fabricators who do not want to work anything but quartz because it is easy and predictable. It has led some to fear that skills in working natural stone are declining, especially stones such as natural quartzites, which some fabricators find as difficult to work as some of the sintered stones and porcelains.
Those selling any of the materials that fabricators rail against on social media take comfort from the fact that in the early days of quartz there were plenty of fabricators who complained that was difficult to work. They also point to fabricators all over the world who have successfully come to terms with working quartzite and porcelain.
As Sherrie Knight, Sales Manager of UK company Clay International, launched last year to sell the Italian Infinity brand of porcelain stoneware, says: "There are fabricators who are set up to work with porcelain that have the competence and confidence to work with it. In any industry there are new products and new ways of doing things. You move with the times.
"We have come into this market with this new brand from a group steeped in the history of porcelain. We have a good brand. It's an exciting time. Porcelain will grow and we will grow with it."
Not that the quartz companies will give ground without a fight. Those that exhibited at the interiors exhibitions at the start of last year previewed products they intended to launch in the spring. As it turned out, the spring was not a good time to launch products, but they have all now been launched.

The shout out from Cosentino was a new logo (pictured) for its market-leading Silestone range of quartz and a new formulation under the name of HybriQ, with some of the crystalline silica replaced by glass and other minerals, reducing by at least 50% the level of respirable crystalline silica (RCS) produced when fabricating worktops from it.
Glass is mostly silica, but the heating of silica sand to make glass converts it into the amorphous form of silica, which is not known to cause silicosis and is considered innocuous.
For the public, the main message is that HybriQ is an environmentally responsible product, containing at least 20% recycled material – the glass is what is classed as pre-consumer waste from manufacturing. Cosentino says 98% of the water used in making the material is recycled and 100% of the energy used is from renewable sources.
The first HybriQ range was the Silestone Loft collection, an industrial look inspired by four cities: London, Barcelona, New York and Detroit. From now on all Silestone products will be HybriQ. The latest collection just added is Sunlit Days, which Cosentino has introduced as "the first carbon neutral collection in the quartz surfaces and engineered stone market".
Cosentino says the development of the HybriQ technology took three years of testing in laboratories and factories and an investment of more than €12million, as finding alternative raw materials to crystalline silica was complex. The company says the new formulation adds around €3million to annual production costs, but says that is not being passed on to customers.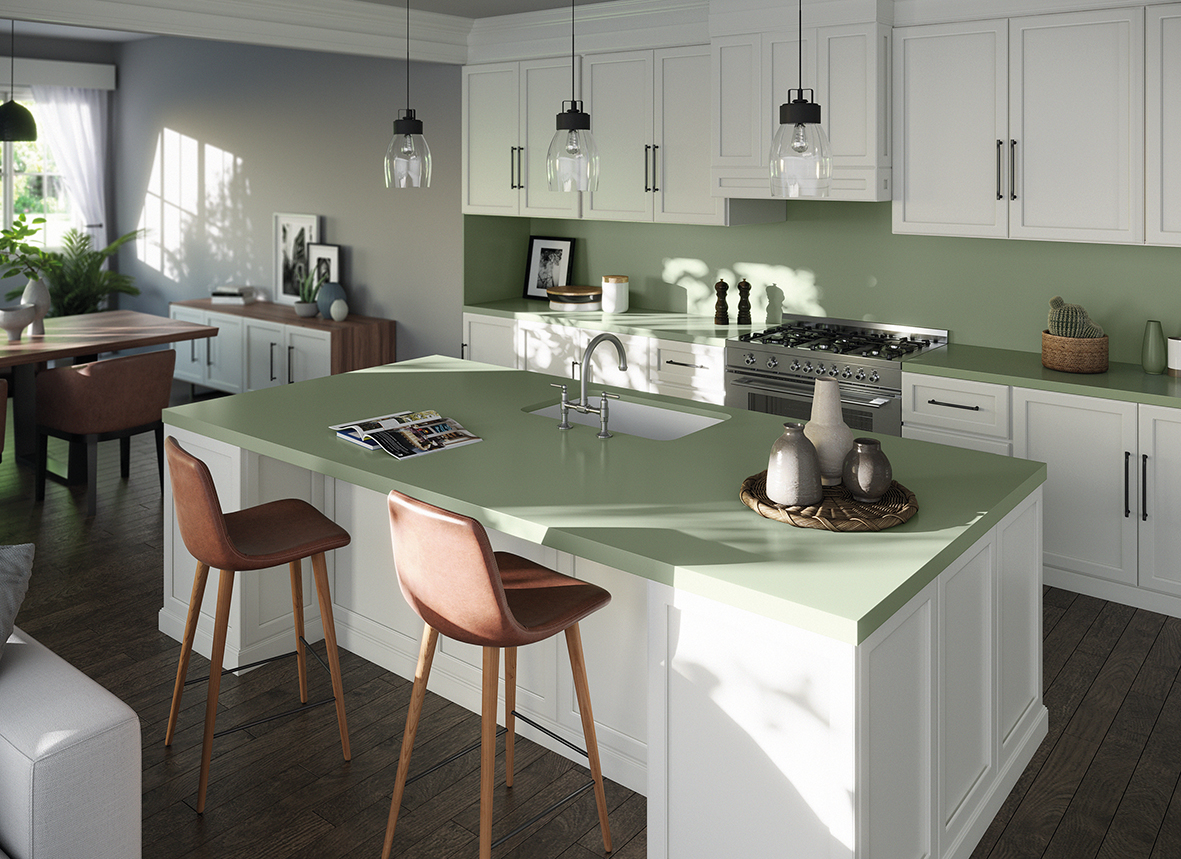 Silestone's latest HybriQ range is Sunlit Days, seen above in Posidonia Green.
With HybriQ Cosentino is trying to move away from the use of the term 'quartz' and prefers to call the material a "hybrid mineral surface for the world of architecture and design".
It says it has made Sunlit Days carbon neutral by calculating its carbon footprint and offsetting that by participating in voluntary projects certified as being in the framework of the Voluntary Carbon Market. This initiative is also complemented by a partnership programme for the preservation of the seabed, which is in recognition of the inspiration for the Sunlit Days colours being the Mediterranean.
The Sunlit Days collection does not completely ignore white and grey (it has Faro White and Cincel Grey) but it has some fresh new colours – Posidonia Green (pictured above), Arcilla Red, which is a terracotta colour, and Cala Blue, a greyish blue. They are all pastelly, solid colours, marking a departure from the marble effects that have dominated for the past few years.
Not all the manufacturers are ready to move away from the marble look. Caesarstone has expanded its offering with the Whitelight Collection, which it describes as a celebration of nature, bringing elements of the outside world into our homes.
The collection puts three new marble designs alongside three existing Caesarstone designs.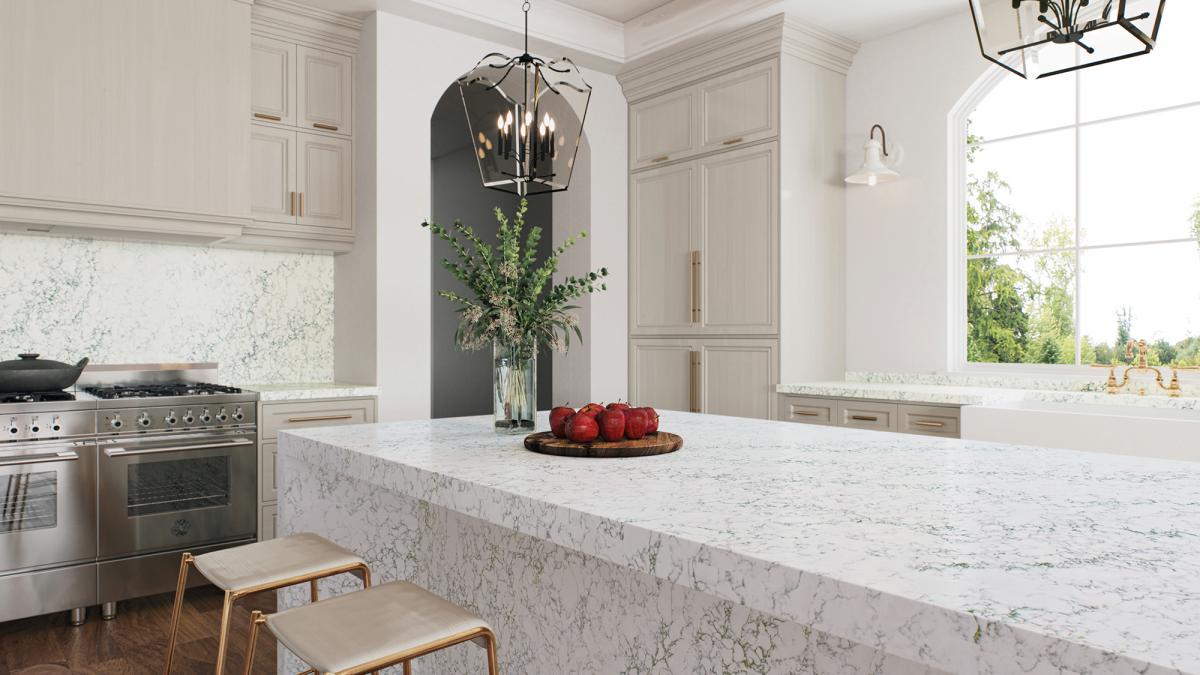 Above is 5171 Arabetto, one of the new designs in the Whitelight Collection from Caesarstone.
The new designs go under the names of 5171 Arabetto, 5112 Aterra Blanca and 5114 Calacatta Maximus. They sit alongside Caesarstone classics such as 5031 Statuario Maximus, 5143 White Attica and 4141 Misty Carrera. The aim is to give designers and homeowners a choice of white marble effects to suit a variety of kitchen styles and price points.
Jonathan Stanley, Vice President of Marketing for Caesarstone UK, says: "Some things never go out of style; they are timeless. And lighter, whiter, natural looking stone surfaces sit perfectly within this category. Soft white tonal designs and marble motifs remain hugely desirable and our new Whitelight Collection extends our product portfolio in this area, affording huge choice to consumers and designers.
"Already a very popular style, our increasing need to connect with the outside world and to bring it into our homes means that this look will continue to dominate kitchen design for the foreseeable future."
CRL Quartz from CRL Stone has also stuck to the marble look with its latest launch, Messina, which has a light touch of veining in a soft white base. It is being promoted as a natural complement to raw materials such as exposed brickwork, stone and metal, for those who want to create an industrial-style design.
CRL Stone says its CRL Quartz never needs to be sealed and requires minimum maintenance to remain looking as good as the day it was installed.
With full thickness veining, this is a surface intended to be a focal point of the room, whether used for kitchen worktops, splashbacks, island units or bathroom countertops.
Neolith sintered stone has responded to the coronavirus pandemic with Essentials, highlighting its ability to prevent the proliferation of harmful bacteria and offering high levels of food hygiene at home and in professional kitchens.
There are four designs in the collection, incorporating both the industrial look and the light coloured stone look: Shilin, Wulong, Metropolitan and Sofia Cuprum 2021.
As well as focussing on the hygiene aspect of the surfaces, Neolith ticks all the boxes by also emphasising its use of natural minerals and its sustainability through up to 90% recycled material.
 José Luis Ramón, CEO of Neolith, says: "People worldwide have gained a new understanding for what really matters. Health, safety and environmental awareness have become key in everyone's day-to-day lives.
"The current situation of our planet has made society more committed to the environment and concerned about exposure to biological agents such as bacteria, all while developing a special sensitivity towards well-being, pureness and beauty. It's a shift in paradigm where the materials we choose for our daily lives have become essential to living better."
The Marble & Granite Centre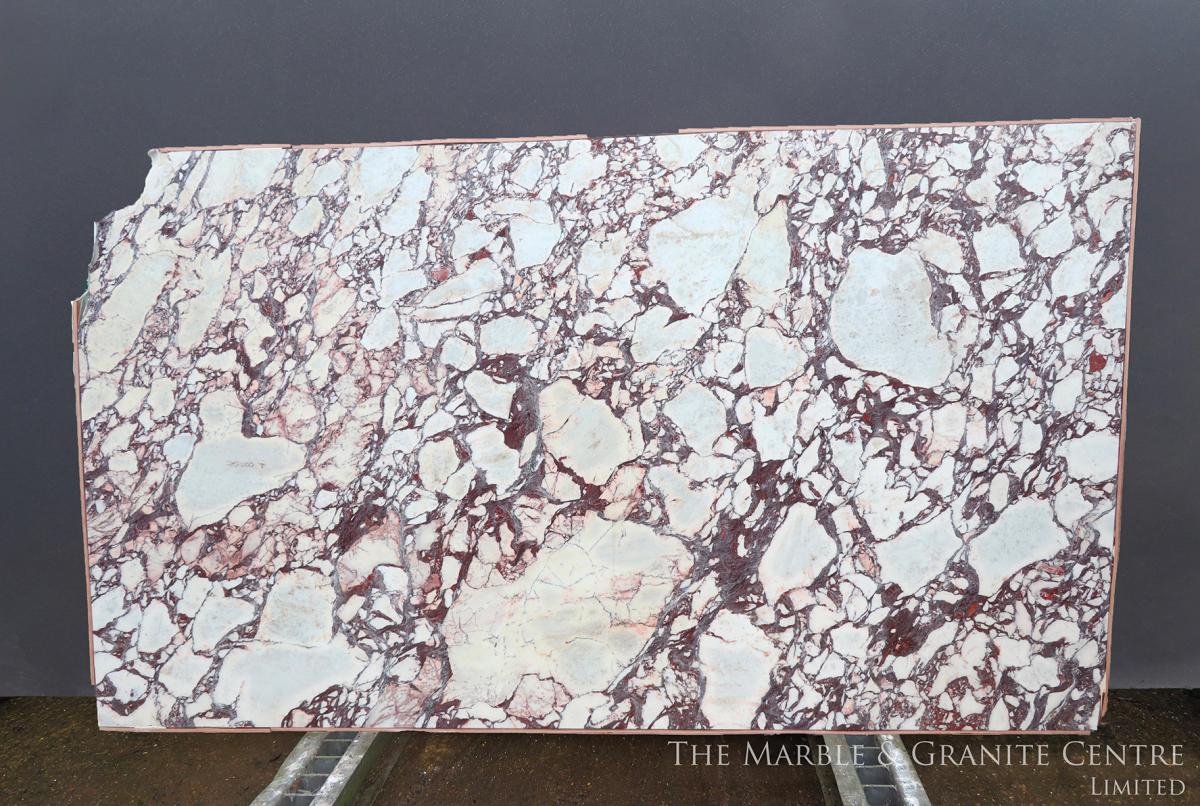 Calacatta Viola is popular.
Marbles like Pailisandro Classico and Bluette, Arabescatao and Calacatta, Volakas from Greece, Agora Beige from Turkey, and quartzite such as Sea Pearl from Brazil... these are some of the lighter coloured materials Stephen Pike highlights from his stock at the Marble & Granite Centre that are particularly popular.
He says a harsh winter in Europe meant some of the quarries that are high in the European Alps, were inaccessible for longer than usual this year, but that the Marble & Granite Centre has managed to get stock. The company was ready for the end of the Brexit transition period, with everything in place to make the transition to the new customs requirements as soon as they were introduced.
Because the Marble & Granite Centre imports full containers of stone, there are no other products to cause any problems at the docks. Containers of mixed products were sometimes what gave others problems because the whole container could be held up by one product not having the right paperwork.
"We were ready for the changes before they happened," says Stephen. "There's an extra bit of paperwork but it's nothing. It's about people being organised and taking responsibility for their own actions."
He says with studios and kitchen shops closed last year and projects on hold, demand for stone was hit and it is still not clear what the future holds, especially as it seems unlikely people will be returning to offices five days a week, which could reduce demand for office space and apartments in London.
Some of the people employed at the Marble & Granite Centre have been given the communications technology they need to work at home and will continue to split their time between the company's premises in Rickmansworth, Hertfordshire, and home. And the company has created a dedicated audio-visual room for video conferences. Stephen says a phone call would often serve just as well, but he likes the amount of time saved by not having to travel to meetings.
He says everyone is adapting to the virus. "Even my young guns are getting their jabs and I have my NHS passport on my phone."
Brachot Surfaces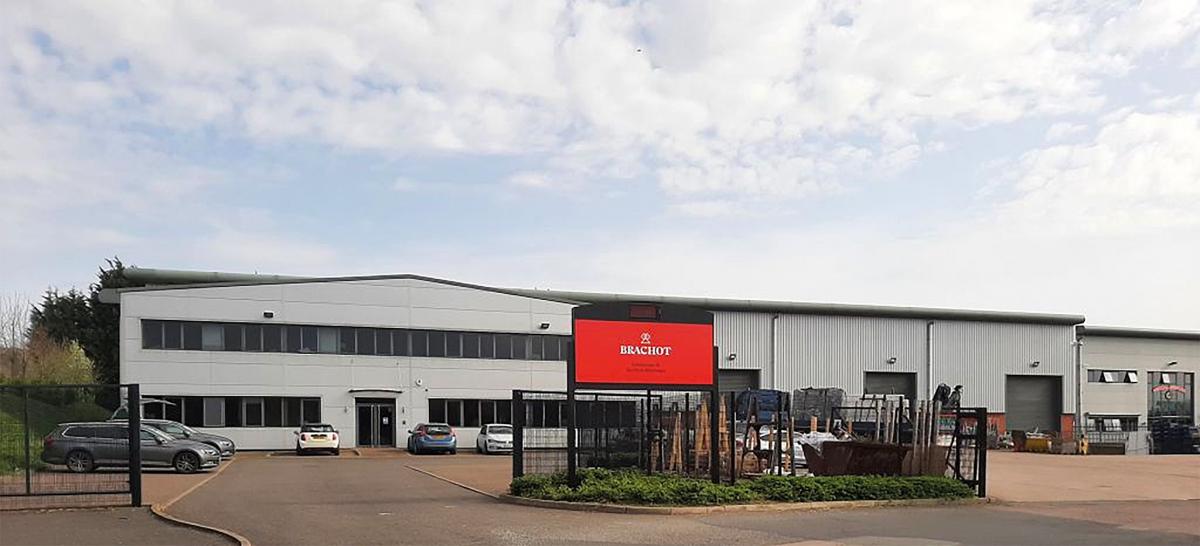 The re-branded Beltrami depot in Halesowen.
With Brachot (rebranded from Brachot-Hermant) having merged with fellow Belgians Beltrami in 2017, the UK depots of the two companies, both in the Midlands, now trade under the new styling of Brachot Surfaces. Martin Dolby, previously with Beltrami in Halesowen, is the Director of both, with Paul Sambrook continues to manage the Erdington depot.
There has been some rationalisation of stock and deliveries from the two depots to make the best use of the four lorries working from them, although they have each retained their own quartz ranges – BQS at Halesowen and Unistone at Erdington.
There is also a range of porcelains under the Uniceramica name, which is selling better on the Continent than it is in the UK, as well as natural stone, with sales of granite being particularly strong this year.
As well as rebranding last year, Brachot continued its international expansion, opening its first depot in Italy and investing in its depots in France. It also owns quarries around the world, including blue limestone  quarries in Ireland.
Plans for this year include a further investment of €20million to optimise, automate and digitise its various locations around the world.
Martin Dolby says customers are starting to visit the depots again now the coronavirus restrictions are easing. With the price of containers from China, where BQS comes from, having increased from £1,200 to £7,000 there has been some small adjustments in slab prices. "We thought prices [of containers] would come down again after Chinese new year but they are still going up," he says.
Paul Sambrook says they had a lot of containers on ships when the UK locked down at the end of March last year, all of which had to be unloaded even though nothing was going out, which left the depots particularly well stocked.
He says Brachot is not going for the quick buck and is holding prices steady in the belief that shipping costs will come down again before too long.
This year got off to an encouraging first half as spending on home improvements continued at a high level, although Martin wonders if a return to holidaying might hit the public's spend on kitchens and bathrooms as Covid restrictions are lifted.
"We may be on a bit of a wave," says Paul Sambrook, "but it's not quite a tsunami."
Pisani Wholesale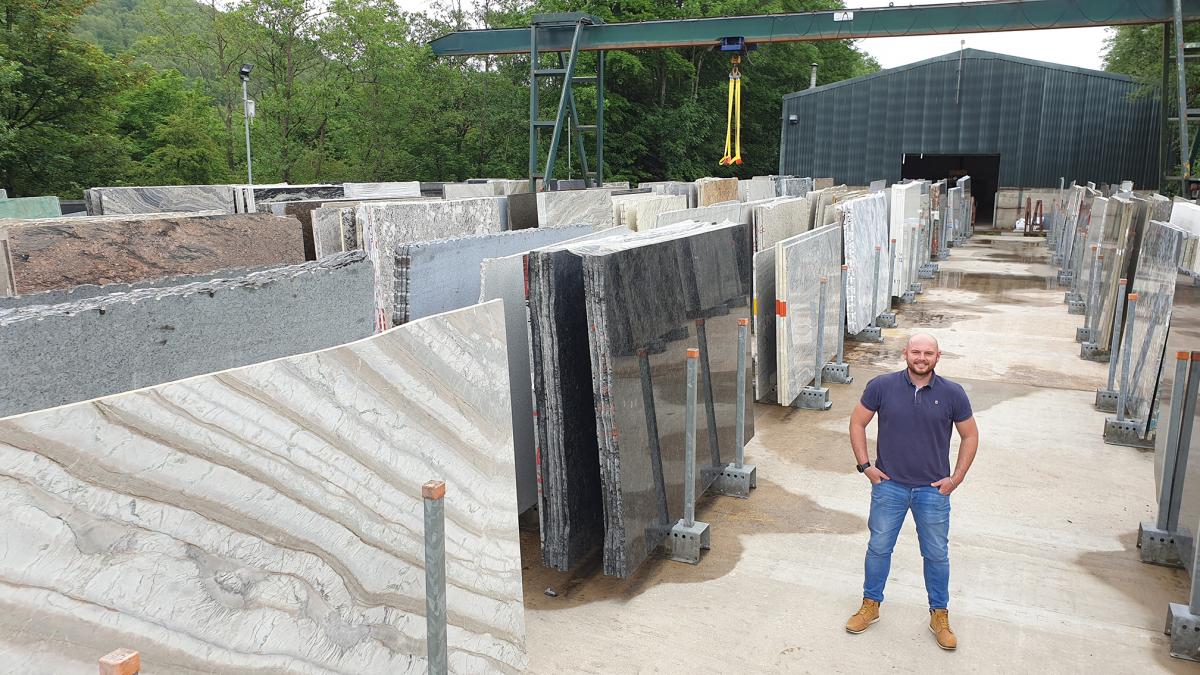 Matt English at Pisani, where the reconfiguration of storage means every material can be easily viewed.
During the quieter time after the initial Covid lockdown last year Pisani Wholesale reconfigured its stockyard near Matlock in Derbyshire so visitors can see all the different kinds of stone without slabs having to be moved. It makes it easier for people to choose, especially as choices made are tending to be more adventurous and there is so much to choose from.
General Manager Matt English says only one of his five-strong team – Michelle, who has returned after maternity leave – is still on furlough part-time.
Apart from the initial lockdown, when the depot was shut, Pisani has scarcely noticed a lull. Matt: "Like everyone else in this industry we have been extremely lucky we have been able to continue trading – a lot of industries haven't. Our customers have been busy and their customers have spent money on their homes – kitchens and bathrooms.
"We sell 100% natural stone. That's where we are; that's where we want to be. We see more and more of our competition pushing their own quartz and porcelain ranges. They don't have so much natural stone, so more people come to us for it. People often comment that we have the best selection of natural stone. We're doing well."
Pisani works with another supplier to deliver quartz if a customer insists, but Matt says: "It's not our focus."
Some of the success has come from Pisani's focus on social media. It has engaged two people just to run its social media campaigns, the main focus of which is Instagram, the mobile phone app that the stone industry has taken to in a big way. "We have just shy of 2,500 followers," says Matt. "It's nothing to be sniffed at. You would be surprised how many sales we pick up from Instagram."
Pisani's social media gnomes also post on Facebook and Twitter, and on Pinterest, which designers seem to like.
Matt: "We have posted things like Ivory Fancy from India. We did have difficulties getting it – the problem was the delays. Instead of six weeks, at times it turned into four months. And the cost of containers!"
He believes the rapid adoption of everything to do with information technology last year, even by those who had previously eschewed it, is also helping Pisani make sales around the country from its website, which is not overly complicated so is easy to use.
Matt says Brexit has not been a particular problem, apart from price increases of transport and some suppliers not wanting to send lorries to the UK. The cost of flatbeds increased so much that Pisani has switched to containers to bring stone in from Europe.
Current favourite is Calacatta Viola, with green and pink marbles and lively Brazilian granites and quartzites also proving popular as people look for warmer colours and more excitement in their homes. The fact that Pisani has the machines to be able to offer a honed, polished or leather finish is a bonus.
MGLW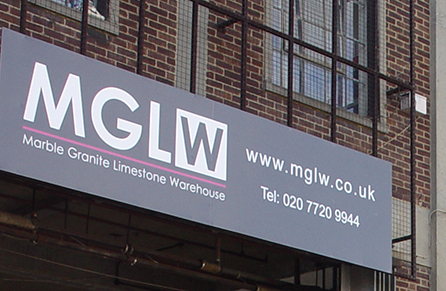 MGLW is one of London's major stone wholesalers with a high turnover of material, so when the slabs stopped going out during the lockdown last year but were still arriving at the ports, the company had to hire extra storage space to put it all.
The lockdown came just as the company had completed the customer relationship management (CRM) computer system it had invested in the year before.
Director Rogerio Moutinho said when the system was being developed in 2019 that it was "a very, very big job for us – and very important. It will give us a lot of information about the client. It will tie it all up together, although we will still prioritise the masons – we want to win projects but we supply them through the masons."
A CRM is designed to increase the efficiency of stock management, keep track of orders and deliveries, improve management resources and give the customer a quicker, more transparent service.
Rogerio Moutinho and his older brother Joao are Portuguese and had been thinking about opening a warehouse in Portugal after the UK voted to leave Europe. Last year they achieved that aim, as well as moving into Spain and Italy.
The warehouse in SW8 has also been modernised, with improvements made to the offices to make the environment more welcoming to visitors. And there are more visitors. London Manager Marcello Carvalho says: "20 years ago everyone wanted black Galaxy. Now there's so much for them to see and choose from. It takes longer to do the sale but it's more interesting.
"We've had to improve our service and we've had lots of changes, particularly in the past three years. You have to bring some novelty to the business and offer exclusive products.
"The new offices mean we can do CPDs here and we're going to do weeks when people can just pop in to look at what we've got – marble weeks."
MGLW was early into the market with sintered stone and porcelain. Marcello says sales are still limited, but they have helped marble sales because what people used to perceive as defects in marble, porcelain has helped them appreciate as desirable features in the stone.
Clay International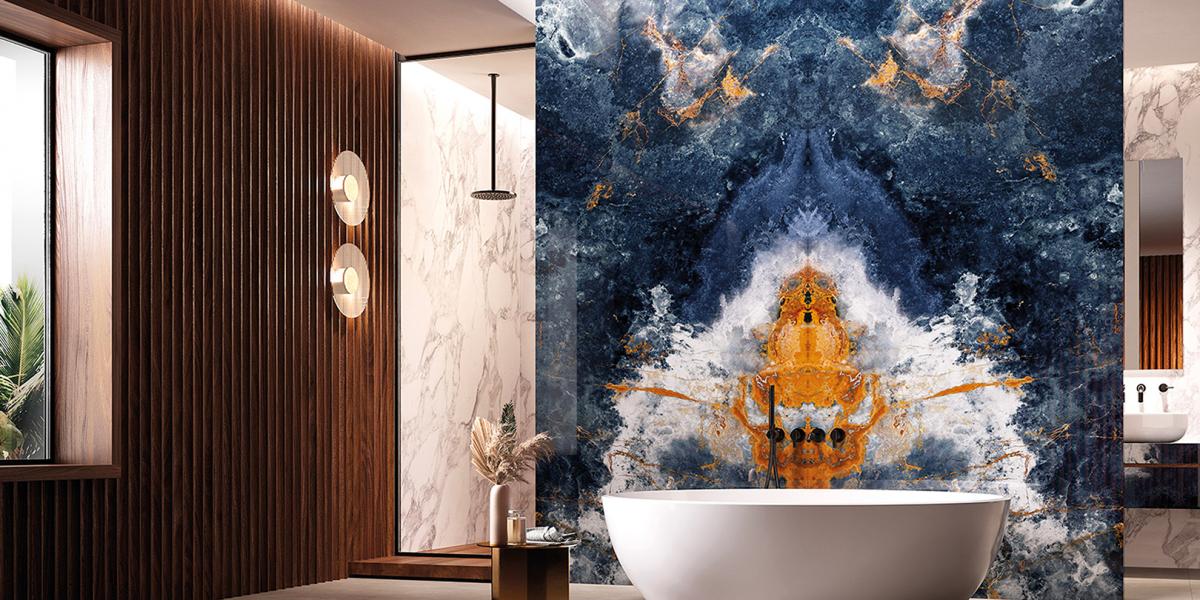 Clay International launched in the UK in January last year to sell the large format (up to 1620×3240mm in 6mm, 12mm and 20mm thicknesses) Infinity range of porcelain stoneware made in Italy. The range even includes some full bodied veining.
Clay International exhibited at the Surface Design exhibition in London and KBB in Birmingham at the start of last year. Then came the lockdown in March.
Not ideal, but at least it gave the new company time to work on its showroom in Wimbledon, SW17 (part of which is pictured below). It is not quite finished yet, both because of delays resulting from the Covid restrictions and because the work has taken longer than anticipated.
The original intention had been to have a grand opening last year but, like so many plans for last year, that was put on hold. Nevertheless, Sherrie Knight, Sales Manager for Clay International, says: "We most certainly will have an official opening." Precisely when depends on how the easing of Covid restrictions progress.
In the meantime, the showroom, which is above the warehouse and is managed by Paloma Livramento, is open and clients are visiting even as the finishing touches are  added.
Infinity porcelain stoneware is being presented as worktops, the ideal covering for floors and walls and the ability to create striking furniture. In Italy it is also promoted as  external cladding for adhesive wall tilling systems and curtain walls. "We have a lot of audiences," says Sherrie.
She says the lockdown also gave Clay time to concentrate on developing its social media presence, which it probably wouldn't have been able to do had it not been for the restrictions. It has helped get the new business and brand in front of people and generated a comforting amount of interest from clients and studios.
Clay has also invested in customer relations management (CRM) software and is currently adding data to that.
Sherrie says there have been no problems getting the slabs from Italy and while she concedes that some processors are still learning how to fabricate in porcelain, says "there's a real momentum building".
The value of stone arriving in the UK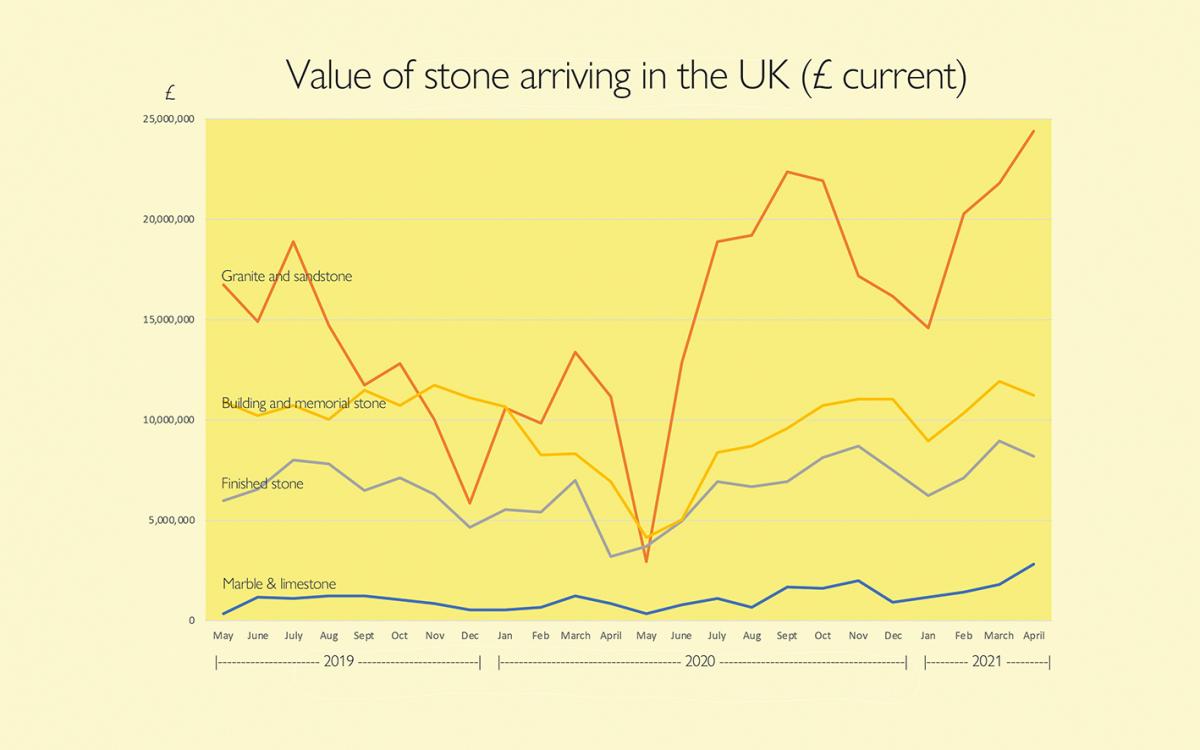 The graph above is produced from figures from HM Revenue & Customs and gives an indication of the impact of the Covid lockdown from March last year. Some fabricators have complained about price rises of the slabs they are buying but the price of the stone has remained fairly constant. The variable has come from heavy increases in the cost of transporting it by ship or lorry. The value of building stones is below the value of granite and sandstone imports because HMRC classes landscaping materials separately from building and memorial stones, and much of the granite and sandstone coming into the UK is for hard landscaping.
According to the year-on-year comparisons in the Builders Merchants Building Index (BMBI) report compiled by MRA Research and published in June, first quarter landscaping sales this year were 41% up on Q1 2020 and 32.3% up on Q1 2019. Sales of kitchens & bathrooms, on the other hand, were down 1.8% in Q1 2021 compared with pre-lockdown Q1 2020. However, month-on-month there are signs of improvement, with sales of kitchens & bathrooms up 12.3% in March this year compared with February.