Report: Machinery for the stone industry
Stone companies have been investing significantly in new machinery – and that shows no sign of ending yet. The Brexit vote has even spurred some companies on to improve their competitiveness in case demand does ease. As machinery manufacturers prepare for the Marmomacc exhibition in Verona, Italy (28 September - 1 October), NSS takes a look at what stone companies are buying and the developments that are encouraging the investment.
In the previous issue of Natural Stone Specialist we assumed that with the referendum out of the way there would be less to distract firms and their customers from their day-to-day business. As it turns out, the fall-out from the Brexit vote has produced various after-shocks that have continued to keep politicians and the financial markets (at least) nervous, although the rest of us seem to have taken it pretty well. 
The stone sector is generally optimistic. Business had already showed some easing for many in the months ahead of the vote, perhaps because of the uncertainty of the outcome of the referendum. But, anecdotally, the market has not worsened since 23 June. In fact, smaller businesses in general appear to be buoyant after the vote. According to business financers the Just Loans Group, UK SMEs (small and medium-sized enterprises) appear to have put referendum concerns behind them and are determined to invest and grow.
Figures released by alternative lender Just Cash Flow, a subsidiary of Just Loans Group, show the number of applications for its finance have shot up 28% since the result was announced.
Director John Davies says: "In the run up to the referendum, differing reports about which way the vote was going to go was causing a tremendous amount of uncertainty, with all sorts of doom and gloom forecasts being made. The one thing all businesses hate is uncertainty and we weren't surprised to see SMEs postponing investment decisions.
"We expected this cautious approach to continue for some time while all the speculation about the ramifications of Brexit continued. However, the significant increase in application volumes we are now experiencing and conversations we are having with business owners reveal a different story.
"They are saying a firm decision has been made and Brexit will be Brexit. It is going to take time, but we can't put our lives on hold while the politicians debate what it will look like – we need to get on with growing our businesses."
It is not all rosy. The value of Sterling fell about 12% against the Euro from 23 June to 6 July and reached a 30 year low against the US dollar. Much of the stone the UK imports is priced in dollars or euros and about 75% of the stone used in the UK is imported.
Nearly all stone processing machinery is also imported and the size of the fall in the value of sterling following the Brexit vote came as a bit of a shock to most of the agents supplying imported machinery. Those who had already quoted sterling prices had to decide whether to stick by their quote and take the hit or try to negotiate a new price with customers. Those who negotiated say customers were generally sympathetic.
The machinery market is still competitive, (and has only become more competitive with Italians Intermac and Donatoni Macchine deciding to join forces, increasing the Donatoni Macchine presence in the UK because of Intermac's presence here).
The machinery agents in this country are also competing head-to-head, especially on used machinery, so margins are not great and leave little room for absorbing currency fluctuations, especially not of the magnitude seen after Brexit.
Nervous financial markets do not make good lenders, either, and where they perceive risk they require better returns to encourage them to take those risks, which means interest rate rises.
With any luck, the dire warnings about the consequences of Brexit from David Cameron and George Osborne will be as unfounded as some of the Brexit benefits promised by Boris Johnson and Nigel Farage.
When this magazine reviewed the stone machinery market at this time last year, we said it was a perfect time to invest because of the combination of favourable factors that would not last for ever – Sterling strong, high Annual Investment Allowance, low interest rates (especially through Funding for Lending), Regional Growth Funds offering to pay up to 20% of the price of machinery and so on. A lot of stone companies seem to have agreed because all the machinery suppliers were busy last year.
A year ago it looked as if the money available from quantitative easing was winding down and interest rates were about to rise. The Chancellor, George Osborne, had also made it clear the Annual Investment Allowance was going to be cut, which it was, from £500,000 to £200,000.
But Funding for Lending, which is making money from quantitative easing available to business, especially SMEs, at particularly favourable interest rates, has been extended again, this time to January 2018. And the promise by the Bank of England of more quantitative easing if necessary might mean the 'temporary' scheme has some legs yet.
 There are 42 banks, building societies and other lenders still involved in Funding for Lending (11 pulled out with its latest extension), so it is still worth asking about it if you are borrowing money to invest in machinery.
There is also still money available from the Regional Growth Fund (RGF). Since its launch in 2010 it has invested £2.7billion to help businesses (many of them SMEs) by paying normally between 10% and 20% deposits on investments to make possible or bring forward those investment decisions. Many stone processors have benefitted from this scheme.
The government says that every £1 of public money from the RGF has stimulated investment of £5.50 from the private sector. It estimates that has created 149,000 jobs so far and will lead to 581,000 by the mid-2020s.
You can find a list of the companies managing the Regional Growth Fund, who you can approach for assistance with your investments, at bit.ly/RGFfunds.
There are all sorts of other government grants and funding available (532 separate schemes, at the last count), often region or sector specific. If you have the time and the patience (or someone who can do it for you) you can check them out to see if any are relevant to you on the government website at bit.ly/SupportFunding.
Another way the government is getting money to smaller businesses is through the British Business Bank, a government-owned but privately managed business development entity aiming to make the finance markets work better for smaller businesses.
Whether you're looking for finance to start a business, grow to the next level, or stay ahead of the competition, the British Business Bank can unlock a choice of finance.
Set up in 2013, it brings expertise and government money to the smaller business finance markets. It does not lend or invest directly but works with more than 80 other financial institutions (banks; leasing companies; venture capital funds; web-based platforms such as Funding Circle), which, because they work with the British Business Bank, can lend and invest more, especially to young, high growth or simply underfunded (but viable) companies. The Bank says it will unlock up to £10billion of new finance and bring greater choice and information on finance options to smaller businesses.
Nearly all machinery bought in the stone sector is paid for using finance. For a long time after the crash of 2008 it was difficult for companies to borrow money, particularly from the banks. Since then the government has done a lot to make alternative sources of finance available, at the same time reducing the wider economy's exposure to the mainstream banking sector.
Certainly there does not seem to be any shortage of money now and stone companies have been making the most of it to re-equip, especially as it is difficult to recruit enough skilled masons (at least from the UK).
One aspect of the machinery market that has not changed from last year is that there are still bargains to be had. Although prices have risen with the fall of Sterling (which applies across the board except for the UK's own Wells Wellcut), it is still a competitive market. With demand subdued in much of Europe, the manufacturers are looking to the UK and the rapidly recovering Ireland (and even more so to America) for sales. For several of the European machinery makers, the UK has been their best market in Europe, or their second best after Italy.
Stone suppliers and processing companies themselves are finding markets no less competitive. It does seem as if margins have improved to some degree, but everyone is still fighting hard for market share, which is one reason why they are investing in productivity-improving machinery.
Even though many areas of stone saw growth for much of last year, more people are coming into the market. Another big kitchen company in particular has been threatening to make a major move into kitchen worktop manufacture for quite some time now and looks to be on the verge of a significant investment.
The choice of machinery made by stone companies is often down to personal preference and the particular requirements of the company – although the machinery manufacturers have generally become more compliant about making bespoke modifications for individual customers in recent years.
Many of the significant developments in machinery in the past few years have been in software rather than hardware, as ever expanding processing power and increasing familiarity in the use of computers by operators extend the horizons of stone companies.
There are promises of more developments being launched at the Marmomacc stone exhibition in Verona again this year (28 September to 1 October). Ahead of that, Natural Stone Specialist spoke to machinery suppliers serving the UK and Ireland about the latest moves in the market. This is what they told us...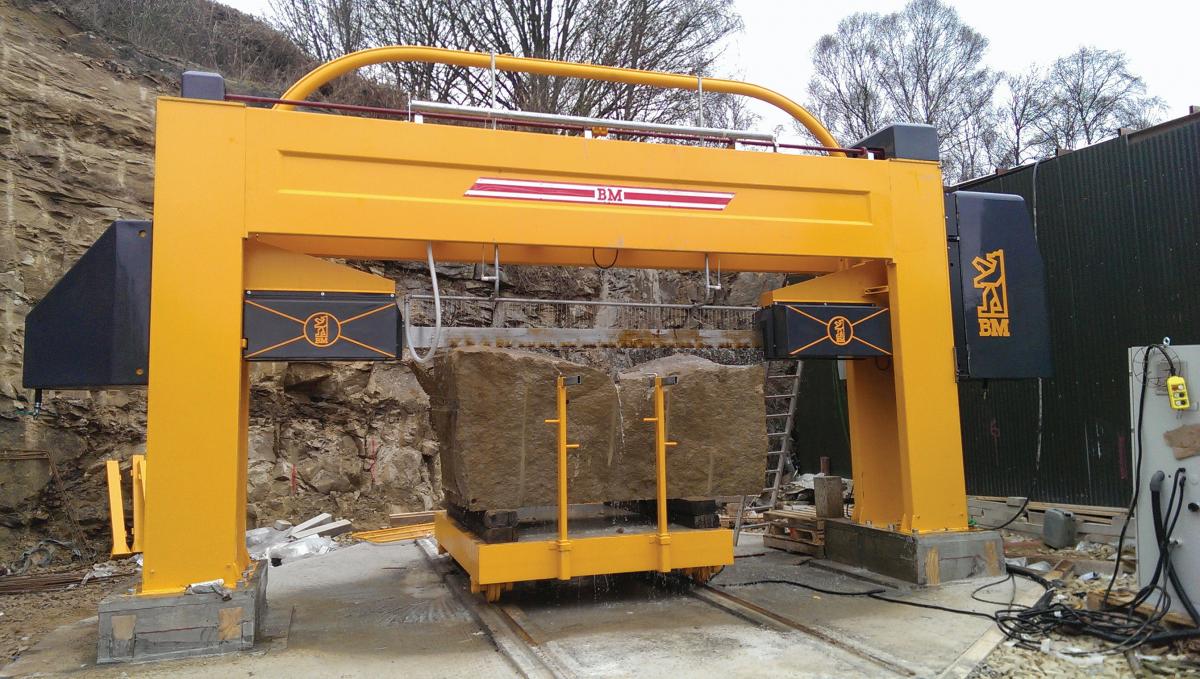 It was a particularly good year for New Stone Age last year. So good, it has taken it until now to get all the machinery installed, although Managing Director James Turton says enquiries tailed off a bit this year, which he presumes was due to uncertainty surrounding the referendum.
New Stone Age is best known as the supplier of BM saws and Bombieri & Venturi (now re-branded as BV-Tech) saws and lines. It has also had a lot of success selling OMEC water management systems in conjunction with its processing machinery. 
The latest machinery delivered has included BV-Tech block cutters and another BV tile line to companies in North and West Yorkshire. Both were existing customers of New Stone Age adding to, rather than replacing, their existing machinery.
Another customer with four existing block cutters has added two more, with a BV-Tech walling and ashlar line coming off them at 90º, which required a special transfer table to accommodate the turn.
New Stone Age supplies machinery throughout the UK, although its stronghold has always been among the sandstone companies of the North of the UK, such as Tradstocks, featured in the November issue of Natural Stone Specialist following the opening of its factory extension at Dunaverig, Stirling. The factory houses a new ashlar and paving line (pictured above).
New Stone Age also supplied two BM Super 800 Monoblades to M&M Stone (see photo on next page) and North East Stone. James Turton says BM Monoblades continue to be the choice of customers sawing sandstone and limestone in spite of strong competition from wiresaws. "Some people who have bought wire saws now tell me they think they should have stuck with monoblades," he says.
The BM monoblades offer accurate sawing and a good finish, giving a lower cost per square metre of finished product than wiresaws for the sort of work usually required in the UK, argues James. BM will be launching a new multiwire saw at Marmomacc but it is likely to be way beyond the requirements of anyone in the UK.
Housebuilding picked up last year, which was reflected in a greater demand for New Stone Age machines to produce walling.
The latest BV-Tech machines supplied by New Stone Age include two TBV/1600M Block Cutters, one with an AERO BV automatic unloader that removes the sawn-four-sided strips from the block and puts them on to a conveyor or pallet.
There are also two IBV/600 M-1 automatic heading machines with laser measuring conveyors that allow the operator to define quickly where the heading machine will cut. The sawn strips then pass through a CALBV/600 calibrating and honing machine to be finished. They were installed in October.
D Gillson & Sons in Haworth, West Yorkshire, also bought an IBV/600 M-1 with the optional laser measuring conveyor to replace its existing heading machine for sawing paving to length from its BV Block Cutter.
New Stone Age has even been exporting. It has sent one of its special automatic stone dressing machines for pitching walling stone to Spain and an automatic end dresser and dressing machine to Australia.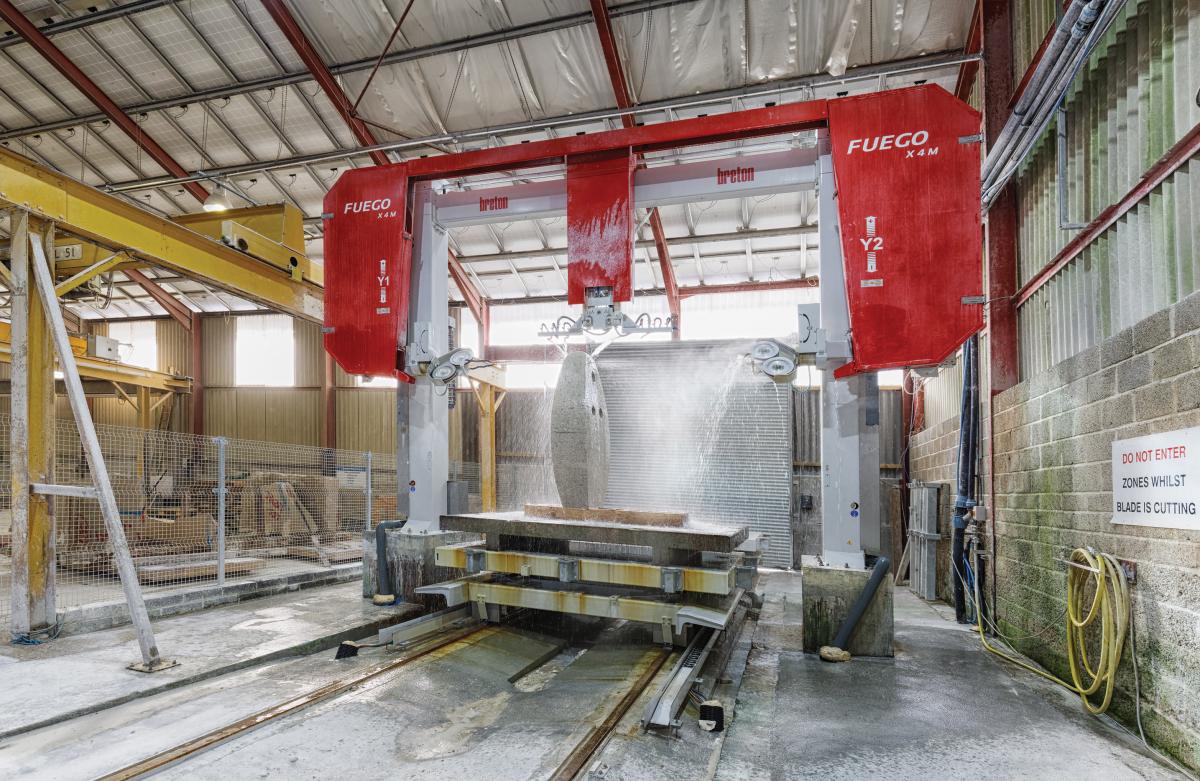 LPE Group takes its name from Laser Products Europe, the company it formed to develop a European distribution network for the American Laser Products' digital templaters. The Group now encompasses Breton UK, with its CNC stone processing machinery,  Comandulli UK (edge polishers and saws) and LPE Tooling.
It has grown rapidly, expanding into tools, consumables and handling equipment (LPE Tooling), taking on agencies such as the American Omni3 and German Weha. To make life easier for itself, it has moved to new premises in Beverley, in the East Riding of Yorkshire, where it has everything under one roof, rather than in the two separate buildings it previously occupied a few miles away.
It has also opened in Ireland as LPE Group Ireland in conjunction with Pat Swayne Supplies Ltd (stoneequip.ie). The first machine sold in Ireland as a result of the collaboration has been a Comandulli. The Omni3 American stone handling and safety products have also proved particularly popular.
LPE Group will have its own stand at Marmomacc showing Laser Products Europe's digital templaters, which are now widely distributed throughout Europe by a network of agents established by Carl Sharkey, who heads LPE Group. It will also be exhibiting the Omni3 range, which it is now also distributing throughout Europe for the Americans.
Breton and Comandulli, which are Italian companies, have their own stands.
One of the products on the Breton stand will be its multi-axes wire saw, the Fuego. And if you want to see an example of what the 4X version can produce you might like to visit Hall 9, where Albion Stone will once again be showing its Portland limestone. It is one of the three British stone exhibitors (the others are, once again, Burlington and Forest Pennant).
Albion has bought a Fuego 4X for its factory on the Dorset island of Portland, where it is cutting notched quoins by day for what is probably London's biggest current development, Chelsea Barracks, and is slabbing blocks by night.
The notched quoins will not be on show in Verona, but the saw was used to produce what Albion Managing Director Michael Poultney describes as "wobbly stones" (referring to their shape rather than their stability) that will be on the stand.
The Fuego is usually supplied with a motorized block-holding trolley with a brushless motor and a loading platform that enables it to execute profiles such as columns, frames and other shapes.
The wire-drive drums can be oriented so the entrance and exit points of the wire from the block follow the cutting direction, with drives for axis positioning. What makes it all possible, of course, is powerful but user-friendly, CAD/CAM programming.
Also on show will be the Breton Worthy, a CNC monobloc bridge saw with a revolving head and a fixed, single-piece worktable (although a tilting table is an optional extra).
It is a plug-in-and-go machine needing no special foundations and using software on a touch screen that will be second nature to the average operator. A control console has joysticks to position the head entirely intuitively with a laser tracer on the head to help with lining up.
The head rotates through 360° while the table is fixed, delivering cutting accuracy and speed. The head can be manually inclined from 0º to 90º for inclined cuts in both the plunge and step cut modes.
NSS caught up with LPE Director Simon Bradbury in North Wales, where he was installing a Breton NC250 CNC workcentre that was entering the third stage of its life. It was built in 2004 and has had two previous owners. "They are bullet-proof," says Simon of the Breton machines. "They go forever."
They do if they are looked after, anyway, and Simon knows this one has been looked after because Breton UK has been responsible for its maintenance through the service packages it offers, ensuring the best residual value for its two previous owners.
Simon says he has resold older NC250s than this one. "Breton and Comandulli are both very good," he says. "They might cost a few percent more than some of the competition but you more than reap that back in longevity and reliability."
Breton Combicuts, which incorporate saw discs and waterjet cutting, have at last found a buyer in the UK and four are currently being made in Italy for the UK.
The new ceramic and sintered materials being processed by stone companies have raised interest in waterjet cutting because the same machine can cut through most materials cleanly. The drawback is that it is slower than using a disc and by some estimates as much as ten times more expensive per metre. Putting the two forms of cutting together on one machine makes it easy to switch from one to the other to get the best of both worlds.
On the Comandulli stand in Verona you will be able to see the latest developments for calibrated bevels on the TMM3 edge polisher, which is an upgrade of the TMM2 that was on the stand at the Natural Stone Show in London last year. The Storm bridge saw, which was also shown in London, will be on the stand in Verona.
Simon says 19 Comandullis have been installed since the marque came into the LPE fold in January last year and there are more on order.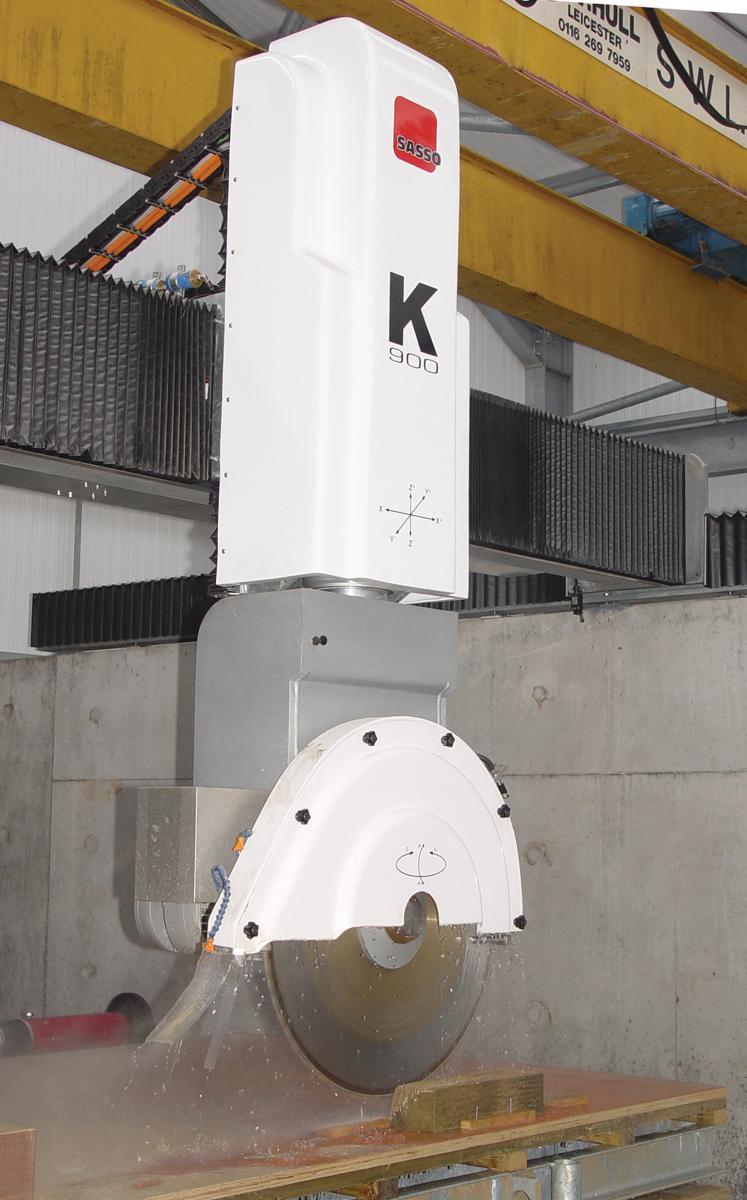 Sasso, the Italian edge polishers and saws, have been this year's star performers among the machinery offered by Pat Sharkey Engineering, which also includes German Spielvogels, French Gilberts and Italian Mondial Mecs, as well as Dazzini chain saws for primary extraction.
Pat Sharkey Engineering took on the Sasso agency for the UK and Ireland just as the Natural Stone Show opened in London in April last year. Sasso had already booked its own stand at the exhibition, showing both a saw and an edge polisher, and Pat Sharkey Engineering had its own stand. The combination got Sasso off to a good start in the UK and as a result the first big K900 five-axes Sasso saw (with a lathe) was installed at Ian Lowes Stonemasonry near Carlisle this year. It was featured in the May issue of Natural Stone Specialist.
Ian Lowes, the company owner, said one of the attractions had been how much saw you got for your money, and he says it has proved to be a fantastic success for his sandstone processing business.
But the K900 was just the tip of the iceberg. The granite sector has been attracted to the K600 CNC five axes monobloc saw, which has been a particular success this year. The first one went to Stonecraft in Edinburgh, and as soon as it was installed the company placed an order for its second.
Sasso has a significant plunge cut capability due to the special design of the self-healing table surface. It allows internal saw cuts to be made almost to the point of intersect. Pat Sharkey and his son Neil will arrange a demonstration if you contact them.
Sales of the five axes K600 saw have continued throughout the country all year, as have sales of Sasso edge polishers. The latest, a Flat 8.4, has just been delivered to W W Busby & Sons. You will be able to see the Sasso range in Hall 2 in Verona.
Pat Sharkey's longest term agency is with Spielvogel, which is not exhibiting at Marmomacc. Its machines have also attracted more sales this year. The latest is a Komplex 1200 saw that has been installed at Earl's Stone in Macclesfield, Cheshire, adding to its existing Spielvogel stable of a 3m block saw and 1200mm secondary saw.
The new saw was designed specifically for Earl's Stone to incorporate an electronic turntable that reduces the amount of forklift handling in the factory and makes it a lot easier for the operator to align cuts.
The first 1200 CNC from Spielvogel has been bought by Hutton Stone on the Scottish Borders.
The latest Spielvogel Pelikan, a jenny lind that Pat Sharkey describes as "the stonemason's workcentre" has been installed at Weldon Stone Enterprises near Corby in Northamptonshire.
Hutton Stone, Dunhouse and Border Stone have also invested in these versatile machines that remove masons' exposure to the dust produced by air tools, disc cutting and other dry stone work.
Health & Safety – dust and vibration in particular – are major concerns for the stoneworking sector, especially those working high silica content sandstone, granite and engineered quartz, keeping machines like the Pelikan, which is well established, in continual demand.
Dazzini chain saws sell into the quarry and primary block cutting sector. The range is impressive. One of the latest quarry operators to have invested in Dazzini saws is Cadeby, near Doncaster, owned by Lee O'Connor of Grants of Shoreditch, who has also just taken over Block Stone's quarries (see page 5). At Cadeby, the investment means the stone is now being extracted as blocks not rocks, as Pat Sharkey describes it. This feeds into efficiencies further along the processing chain. Dazzinis can cut up to 9.1m.
Along with the saws, Dazzini also makes hydro-bags as a safe and controlled system for parting the block from the quarry face. If you are in the market for a chain or wire saw, Dazzini will have plenty on show in Verona.
At the other end of the market – the cutting of smaller slabs of stone with budget bench saws – Pat Sharkey Engineering now offers the Mondial Mec range, which are perennially popular.
The variety of machines means there are versions available at 110V for site use and either 230V or 415V three-phase for workshops. There is a machine for just about everything from cross-cutting to floor and stair polishing.
The latest from Mondial Mec is the Manta Poker 3500, a 5+1 (five CNC controlled axes plus one manual) with an inverter (560–2800rpm) that uses less energy and makes it possible to cut a selection of materials at the correct peripheral speed using 300-500mm blades. The K-axis allows angled step cuts through to 45º while the 1900mm x 3500mm table includes pop-up rollers for easy positioning of the workpiece. It will be on show in Verona in Hall 5.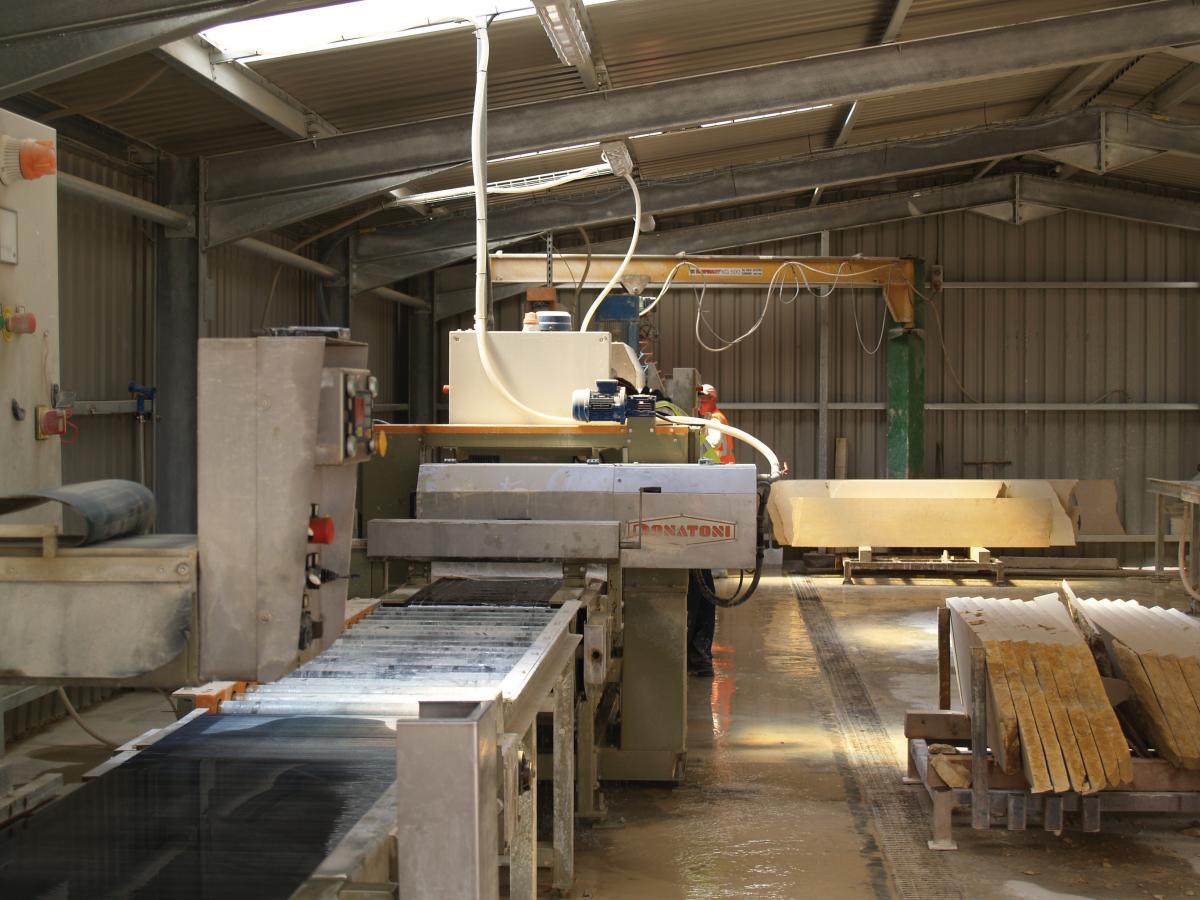 D Zambelis has a significant and loyal customer base that has expanded with the new agencies the machinery, tools and consumables company has taken on in the past few years – Omag, Donatoni, CMG edge polishers. They join the Zambelis longer term agencies for Terzago and Achilli. You will be able to see all of them at Marmomacc in Verona.
The Omag Blade 5 workcentre was on the D Zambelis stand at the Natural Stone Show in London last year with Omag MD Marco Cavalleri on hand to explain the benefits of his company's products. It has paid dividends. "We've had a fantastic year with them," says Stella Zambelis. "I have no complaints and I don't think they have."
Stella and her husband, Dimitri, own the UK company that bears the Zambelis name. Dimitri was a marble worker before they went into business supplying tools and provisions for stone companies in the UK and has always maintained that he will only supply products he would be happy to use himself.
That philosophy was extended to machines when the company expanded into the supply of them and it has served them well. It is not only Omags that have proved popular. "In the past month we have installed four Terzagos, one Omag, four Achillis and an Italmecc water treatment system," says Stella.
A Donatoni processing line with laser positioning was installed at Stamford Stone this year. (Note: the Donatoni represented by D Zambelis should not be confused with Donatoni Macchine that has joined forces with Intermac, the CNC and waterjet company – see page 32).
Note: You can see the Donatonis that Zambelis sells on the www.donatoni.com website, whereas the other one is at www.donatonimacchine.eu.
Terzago saws, which Stella says have such a good reputation in the UK they sell themselves, have relocated to Hall 2 at Marmomacc this year, where among the machines on show will be a new saw to fill a gap in the range between the Cute and the Easy.
CMG Macchine will be showing Taurus and Flotter edge polishers with the patented oscillating head system that gives exceptional results, especially on thick granite.
CMGs are made in a 2,500m2 factory in Italy that is still expanding, with an extra 2,000m2 currently being added so the developments of recent years can continue.
The Achilli stand in Hall 5 at Marmomacc will once again be a magnet for customers and dealers from around the world keen to see the results of the latest R&D that continues to improve the practicality and value for money of the machines, allowing for increased levels of customization for the specific needs of individual workshops.
In addition to the wide range of floor grinders, construction and tile cutting machines, bridge saws and CNC monoblocs, Achilli will be showing a new version of its Gold CNC saw, again with even more optional extras for customisation. And
D Zambelis promises a special launch price that will remain valid until the end of October.
Another upgrade is the MSA mitre saw, which will produce precise 45º cuts even on non-calibrated stock and the narrowest of strips, thanks to the 10 pneumatic pistons that hold the workpiece in place. The MSA is completely hot dip galvanized for corrosion resistance.
Achilli will also have its new Smart multifunction stone workcentre on show. It enables you to produce creative shapes economically using your own templates that would be difficult to achieve using a standard saw and hand tools. It is ideal for sink cut-outs, profiling and polishing edges, drilling holes for taps and re-polishing surfaces.
Prodim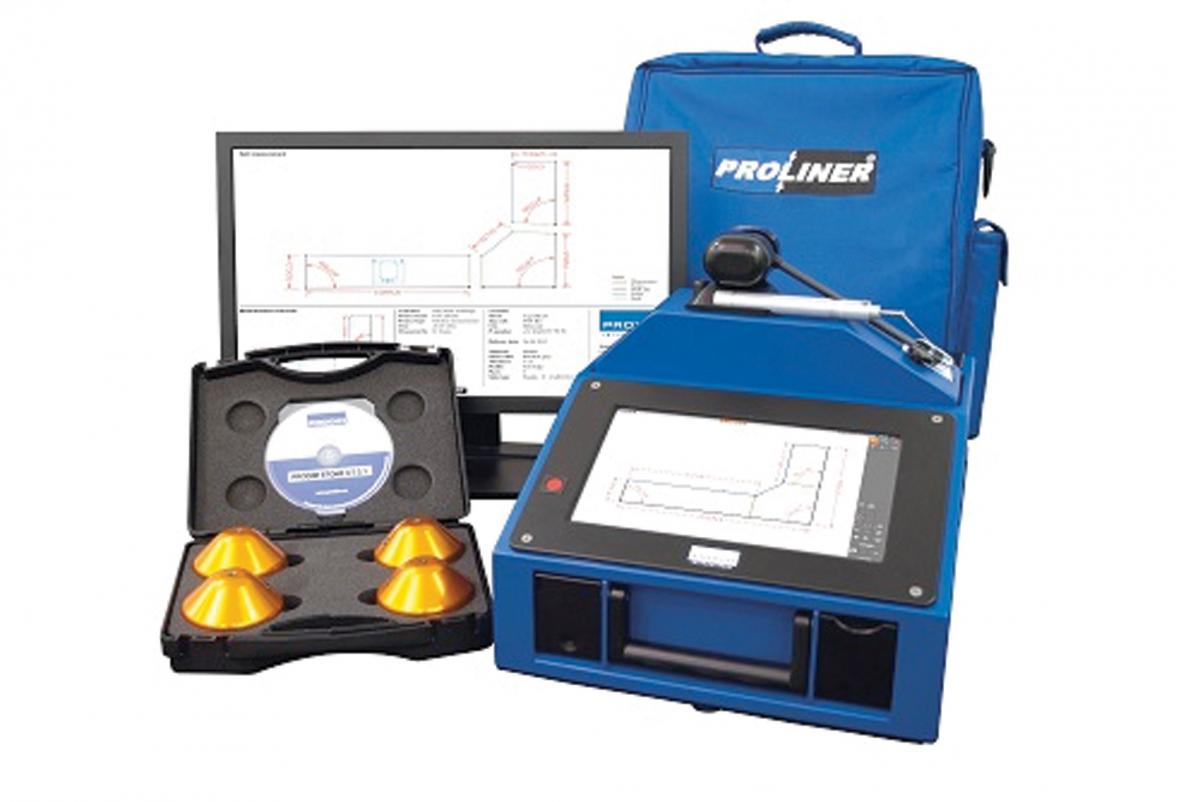 Prodim is exhibiting its Proliner digital templating at Marmomacc (Hall 5) for the 12th time. It will once again be showcasing its latest products and solutions for the stone industry, which this time includes the Proliner CS Series, Prodim Stairs, Prodim Factory Software and its Proline Stone CT (pictured above) with Proliner worktop software. This has additional functions that make the drawing completely ready for production in the kitchen industry. You can make a library of cut-outs (for, say, sinks) that can be dropped in place. You can add dimensions, a backsplash, or make a workshop PDF report on-site.       
Health & safety continues to be a driver for customers of the Waters Group, which has led to further investment by the industry in the dust extraction and the water management products from Martini Aeroimpianti that Waters Group supplies.
The water treatment systems now come with a new, plastic laminar pack that improves the quality of water coming from the unit once it has been treated and does not degrade in water.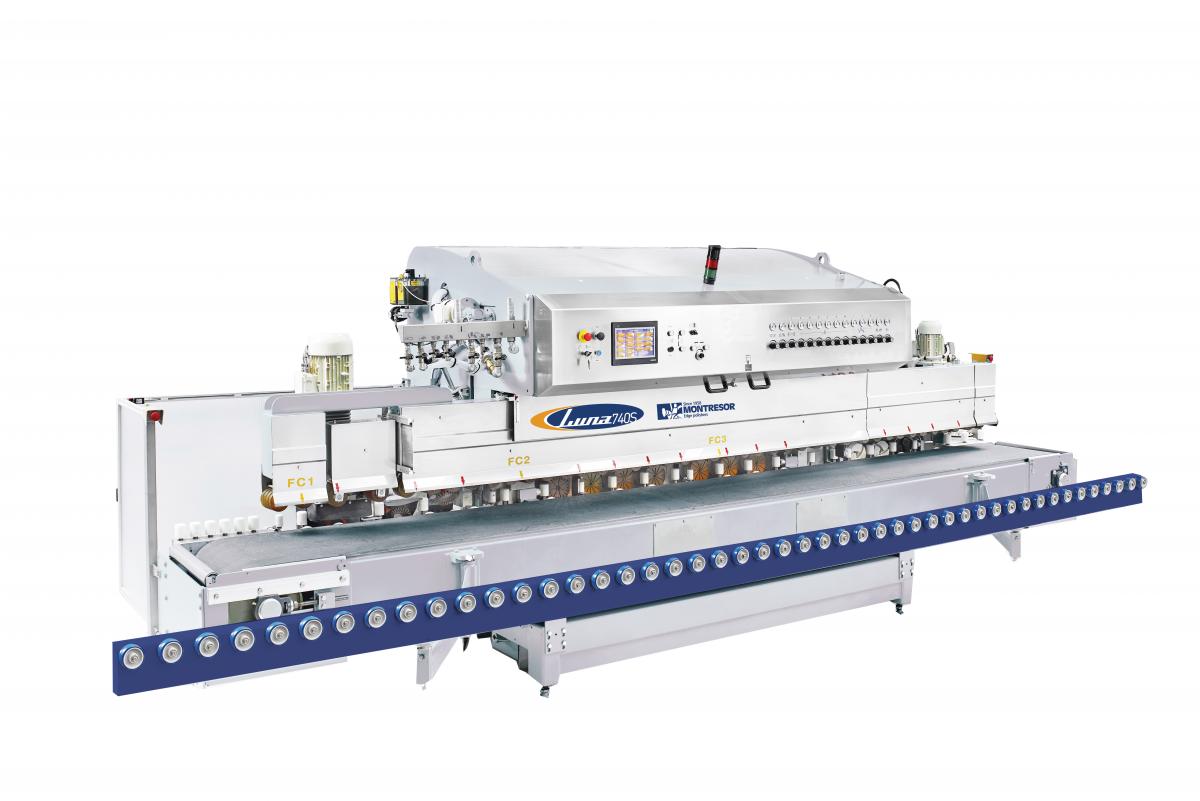 And the water walls from Martini Aeroimpianti all come with silicate filters  to satisfy current legislation to the satisfaction of the Health & Safety Executive. Examples of these improvements will be on show on the Martini Aeroimpianti stand at Marmomacc.
Customers often invest in improved water treatment as they upgrade their machinery and workshops. Often they are buying the Montresor edge polishers that Waters Group sells, the latest versions of which will be on the Montresor stand in Hall 4 at Marmomacc. The company says it intends to use the exhibition to preview a new edge polisher, although it is keeping it under wraps until the exhibition. It will join the Lola and Luna machines that have proved popular in the UK and Ireland.
All Montresor edge polishers are now equipped with the company's new, patented water system, developed to reduce by as much as 60% the volume of water used by the machines. Typically, an edge polisher will use 80 litres of water a minute but Montresor has cut that right back to 32 litres a minute.
The CNC saws and workcentres sold by Waters Group these days come from Cobalm, and the collaboration with Waters has led to some further developments you will be able to see in Verona – such as a laser plotter, which allows operators to scan round a physical template quickly and easily.
There is also automatic blade measuring for pin-point accuracy, especially when cutting mitres.
You will see how extensive the Italian manufacturer's range of stone processing machinery is on its stand in Hall 3 at Marmomacc. And many of the machines now include refinements to improve their use in the UK market place suggested by Waters Group customers. Even the software has undergone some development specifically as the result of feedback to Waters.
Director Daniel Waters says: "The ongoing relationship between Waters Group and Cobalm has been a great success, reflected in very good sales. We have been really impressed with their backup and support."
Cobalm offers just about everything from an entry level bridge saw or workcentre up to five axes integrated machining centres.
Another major brand in the Waters stable is Flow, the waterjet cutters. Waterjets cut just about any material, which is one of their strengths and why they are growing in popularity as stone processors get to grips with the latest generation of sinters and ceramics.
Waters is more familiar with the stone sector than Flow is, so it handles sales of the machines into the stone industry, which has worked out well for both companies. Another four waterjets have been bought so far this year, which both Flow and Waters are more than happy with.
Flow will have one of its machines working on its stand again this year, demonstrating the quality of the cut that can be achieve with its patented UltraPierce process, which uses vacuum assist to protect even the most brittle of materials from chipping when the waterjet pierces through the workpiece.
Flow waterjets are also supremely accurate for cutting complex inlays and mitres, all of which is key to the eminent position they hold in the UK and Irish markets.
Not every stone processing company is as fastidious as it might be about maintaining its machinery, especially when it is busy. But it is when you are busy and your machinery is under strain working flat out that something is most likely to break. And if you do not have time for maintenance, you will certainly not have time for unscheduled stopages due to breakdowns.
Stone Equipment International, which represents Emmedue saws and workcentres and Marmo Meccanica edge polishers in the UK and Ireland, as well as having a well established business in used machinery, wants to help you make sure your machinery stays up and running in peak condition. So it is offering standard one, two and three year service contracts from as little as £85 per machine per month.
It calls its service Pro-Active and is already on average saving companies as much as £1,500 a year per machine, which is no doubt why more than 250 companies have signed up for it so far. The predictable monthly payment is also better for cash flow than a sudden, unanticipated bill for machinery repairs following a breakdown.
 The offer is not just on the machinery Stone Equipment International supplies, but on all makes. The contract includes two services per machine per year, at least 10% discount on any spares needed, and priority status if there is a breakdown (accidents happen).
A well-maintained machine not only keeps going, it works accurately and efficiently, avoiding errors on the workpiece and a slow-down of output. And because Stone Equipment International will know the machine has been looked after, it is prepared to guarantee its residual value for resale or part-exchange.
As for the machinery sold by Stone Equipment International, both of the company's major principals, Emmedue and Marmo Meccanica, are exhibiting at Marmomacc and Andy Bell, the proprietor of Stone Equipment International, will be at the exhibition to talk to visitors from the UK.
You will be able to see how extensive the Emmedue range is in Hall 3, from the simple ES 100 bench saw up to the five axes Astra.
The ES 100 is light but durable with a single phase motor. It is ideal for use onsite or in the workshop. The Astra is a heavyweight with five interpolated axes that can cope with everything from kitchen counters to capitals, floors and stairs, and memorials.
The table is made of hot galvanised dipped electro-welded steel. The 13.2kW motor can drive a 500mm blade up to 3,000rpm as standard, cutting stock up to 145mm thick.
Digital, brushless axes drives and linear recirculating ball guides protected by bellows allow for precise cuts.
The head rotates automatically through 370°, there is a mobile console with an easy to use 15in touch screen and an optional tilting table with hydraulic pump for loading and unloading to speed up production.
Marmo Meccanica, meanwhile, has introduced a vertical version of its LCV edge polisher which offers an alternative to
V-grooving for mitres in the production of splashbacks and drop-fronts on worktops.
It is called the V/O cutting system and with it a continuous polishing mode can be achieved on workpieces as small as 45mm wide and up to 30mm thick.
Marmo Meccanica will also be in Hall 3 if you want to see the LCV M - V/O for yourself  – or a good selection of the company's other machinery. Because while Marmo Meccanica is one of the best known names in edge polishing in the UK with an enviable reputation, you might be surprised to see the range of other machinery available from the company, including numerically controlled saws and workcentres.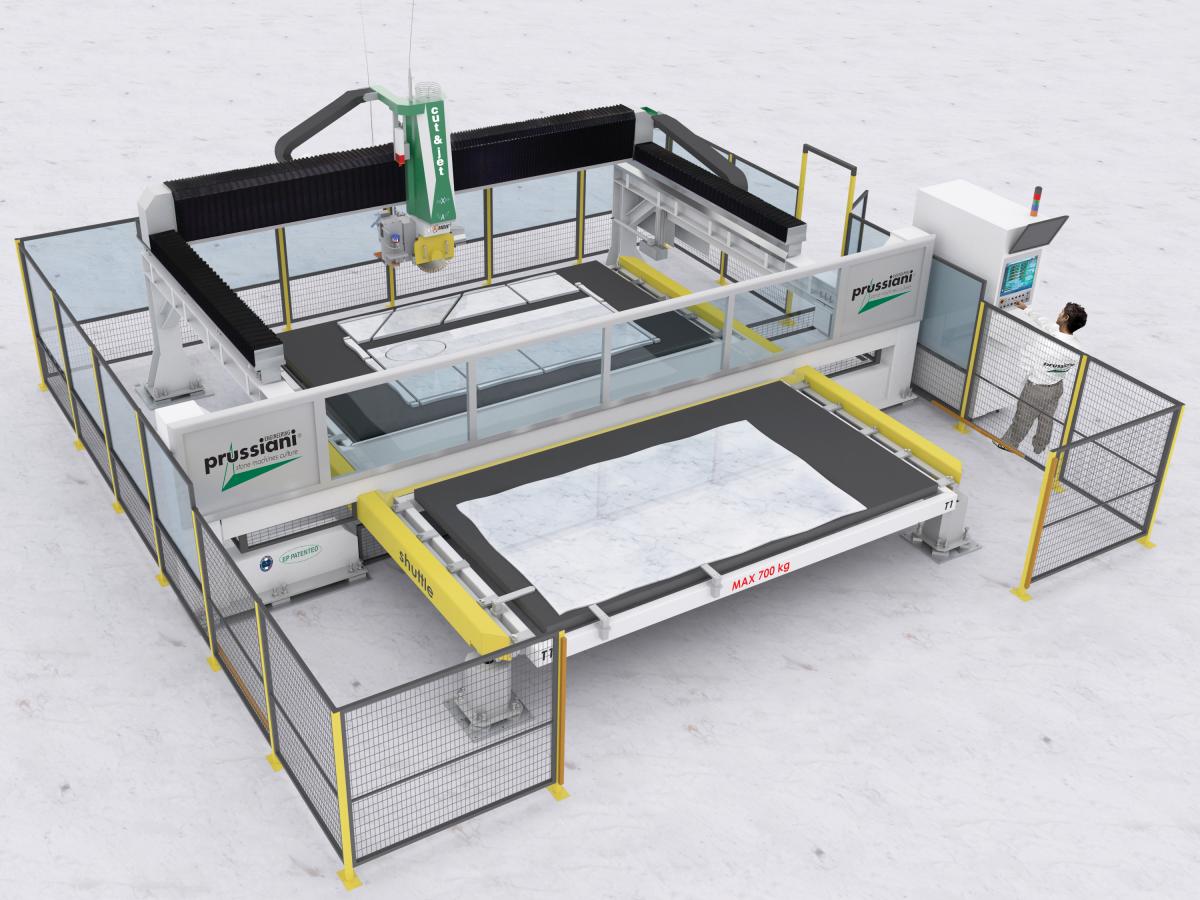 The latest from Prussiani is a four axes CNC workcentre called Platino. With an X-axis of 3.8m and Y-axis of 2m as standard (although it can be extended up to 3m) the Platino is designed for the production of kitchen worktops, sinks, shower trays and bas-reliefs from the largest of available slabs.
It has a monobloc steel structure with recirculating ball guides on the axes for accuracy and speed. There is a 40-station tool rack with automatic monitoring so processing remains precise as the tool wears.
The Platino will be on show on Prussiani's stand at Marmomacc in Hall 3, where the company will also be presenting a new version of its Cut & Jet Compact, a powerful saw and waterjet cutter that includes motorised, rotating tables, allowing one table to be loaded and unloaded safely while the machine continues working on the other table.
A high definition video camera monitors the working area, so the operator can follow the progress of the job on a remote display tablet.
Cut & Jet Shuttle combines the speed of disc cutting with the versatility of a waterjet and the efficiency of the Prussiani's patented Cut & Move system.
The disc is driven by an inverter, saving energy and accommodating the different speeds required for processing different materials. The head tilts automatically from zero to 60º or 90º.
The waterjet is on an independent second head with automatic tilting from -5º to 60º.
Prussiani says having independent heads improves the rigidity of the machine to produce a top quality cut.
This combination of heads and the rotating table not only means a higher work throughput, it also minimises waste, which can make a difference in a market that is still highly competitive.
Intermac and Donatoni Macchine are both Italian manufacturers of CNC machines. At Marmomacc last year they announced they had decided to stop competing and start collaborating. This year they are together in Hall 5 on the largest stand of the exhibition (1,300m2), where they will display 11 machines, seven of them Donatonis.
[Just to reiterate, Donatoni Macchine is not the same company as the Donatoni represented in the UK by D Zambelis.]
Intermac and Donatoni Macchine also promise more news during Marmomacc, although for the moment they say: "We can't reveal more".
They say the synergy developed over the past year has brought great commercial results for a large number of satisfied customers.
On the stand you will be able to see the Donatoni Jet 625 CNC five axes bridge saw. It carries a 625mm disc and has a 400mm
Z-axis stroke. Ideal in combination with a workcentre, it has high productivity and practicality thanks to the Move handling system on the operating head.
Donatoni Echo Twin is a five axes cutting line with a 500mm Z-axis using a 725mm disc. It is a high productivity machine with a range of options for a high degree of customisation.
Waterjets are becoming more popular as stone processors encompass more sintered and ceramic materials. If it is a move you are considering, you will be able to see Intermac's Primus 322, which has a working area of 3210mm x 2000mm and two cutting heads (one three axes, the other five). The machine can produce inclined cuts and bevels, while the infinite rotation of the
C-axis (a patented development) allows the seamless execution of complex cutting patterns.
Multi-headed machines are not restricted to waterjets. The Donatoni Quadrix SX5 plus loader Geko has five saw blades for exceptional productivity. Advanced software and the slab scanner work in conjunction with the Move system to produce a dramatic reduction of both processing time and waste.
The five axes multi-function Donatoni Rapid 900, with its 650mm Z-axis and 900mm disc, is halfway between a bridge saw and a CNC workcentre. The head rotates from -5º to 540º and the machine can process stone up to 310mm thick.
The Donatoni Quadrix DG2000 is an impressively advanced five/six axes machine  with a 1m to 2m Z-axis stroke using a maximum disc diameter of 1200mm. It is capable of producing just about everything from carvings to holes and horizontal cuts. A CNC lathe is an option.
Since it was established in 1987, Intermac has employed the word 'Master' for its workcentres and this year sees the launch of a new generation of these machines on the stand at Marmomacc in the Master 38.3 and Master 33.3.
The innovation is on the software. Developed by BiesseSoft, the software house of the Biesse Group of which Intermac is part, bSolid allows even more control of the production cycle, reducing the possibility of human error and maximising the potential to re-use any 'waste' elements of a project in subsequent work.
And check out the new approach to human-machine interface on the 38.3. It is a first in the world of stone.
The big Intermac Master 850 will be back on the stand. These machines can work on blocks to the same quality of finish that a Master 30 produces on slabs.
The Intermac MasterSaw 625 Double Table is for companies looking for a higher level of automation. There is a moving table dedicated to slab cutting and another to CNC processing, minimising operator intervention as the raw slab is converted to a finished worktop.
For polishing and calibrating there is the Donatoni Zenit, a single-headed machine that can also drill holes, make straight and shaped cuts, and produce inscriptions and bas-reliefs. There are recirculating ball screws for high precision calibration and pneumatics for polishing and brushing.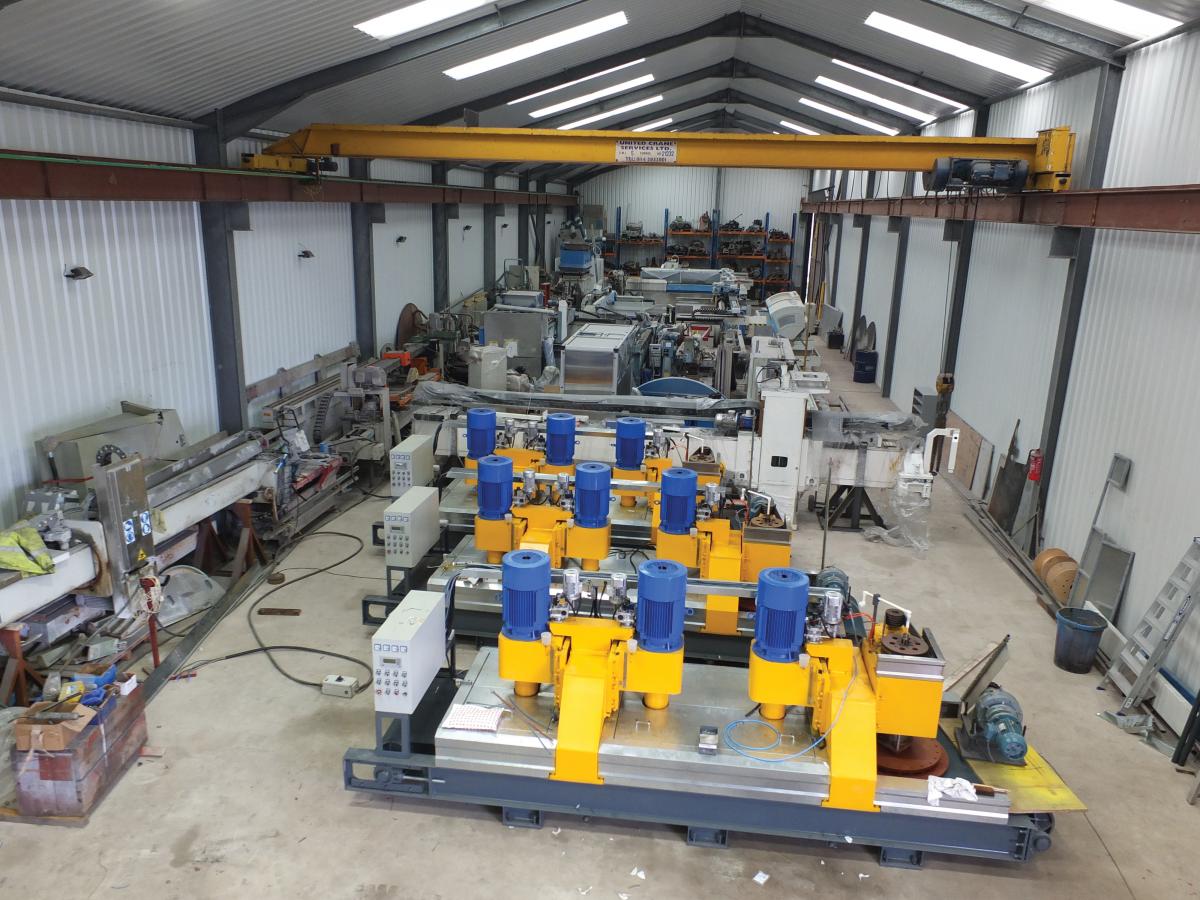 Although Mark Brownlee, the Managing Director of British stone machinery supply company Accurite, will be in Italy supporting Denver at the Marmomacc exhibition as the UK agent for its CNC saws and workcentres, much of Accurite's business these days comes from its
own-branded machinery or used machines it has refurbished.
Accurite has a factory and showroom in the Lake District, where it has six engineers assembling its own range of machines and renovating used machinery. And customers can come and try out the machines in the showroom before placing an order.
The company has been importing saws from China for several years. It strips out the electrics and uses the carcasses to house its own, which include a PC-based operating system that Accurite has developed.
Last year, it also started importing edge polishers from Italy that it sells under the Accurite name and the latest addition to the own-brand range is a calibrator (from China) to improve on the 3mm tolerance of a saw, which is often no longer considered adequate, especially on paving.
By the end of this year there will be 30 edge polishers installed and three of the first four calibrators have already been snapped up – by Buxton Stone, Dunhouse and Fairhurst.
Selling own-brand and used machinery is working well for Accurite, says Mark Brownlee. "We have been selling two machines a week for the past year. It's been difficult to keep up."
He says he sells machines that he believes are as good as any and are better value for money than most. The new calibrators, for example, are around £35,000.
Accurite buys its own-brand machines at a price that involves a commitment to take a certain number in a year. They are paid for before they arrive in the UK and are stocked by Accurite ready for sale, which has the benefit of making them available to customers in the UK quickly at a guaranteed price. It also means spares are always available to reduce down-time rather than having to wait for a response and then a part from Italy.
The used machines have often been taken in part exchange. So whether it is new or used, Accurite has been cushioned against the fall in the value of sterling. "We have £1million worth of stock and it's all paid for," says Mark.
In the past six months Accurite has also started exporting its own brand and refurbished machines to Dubai and Saudi Arabia, thanks to British companies working in the Middle East. "I can't see it becoming a big part of our business," says Mark, "but you don't turn anything down."
He has even started producing his own instruction videos. "My son has got one of these GoPros. I've been coming in early to record the videos."
Instruction manuals have always been the last resort of machinery users, while many people are used to using 'how-to' videos – YouTube is second only to Google as the most commonly used site for internet searches these days.
Not that you will find Accurite videos on YouTube. "I don't want any Tom, Dick or Harry looking at them," says Mark. He is supplying them on USB memory sticks with the machines. The monobloc saw, for example, comes with a 35minute video explaining all its functions one at a time, so you don't have to watch it all in one go.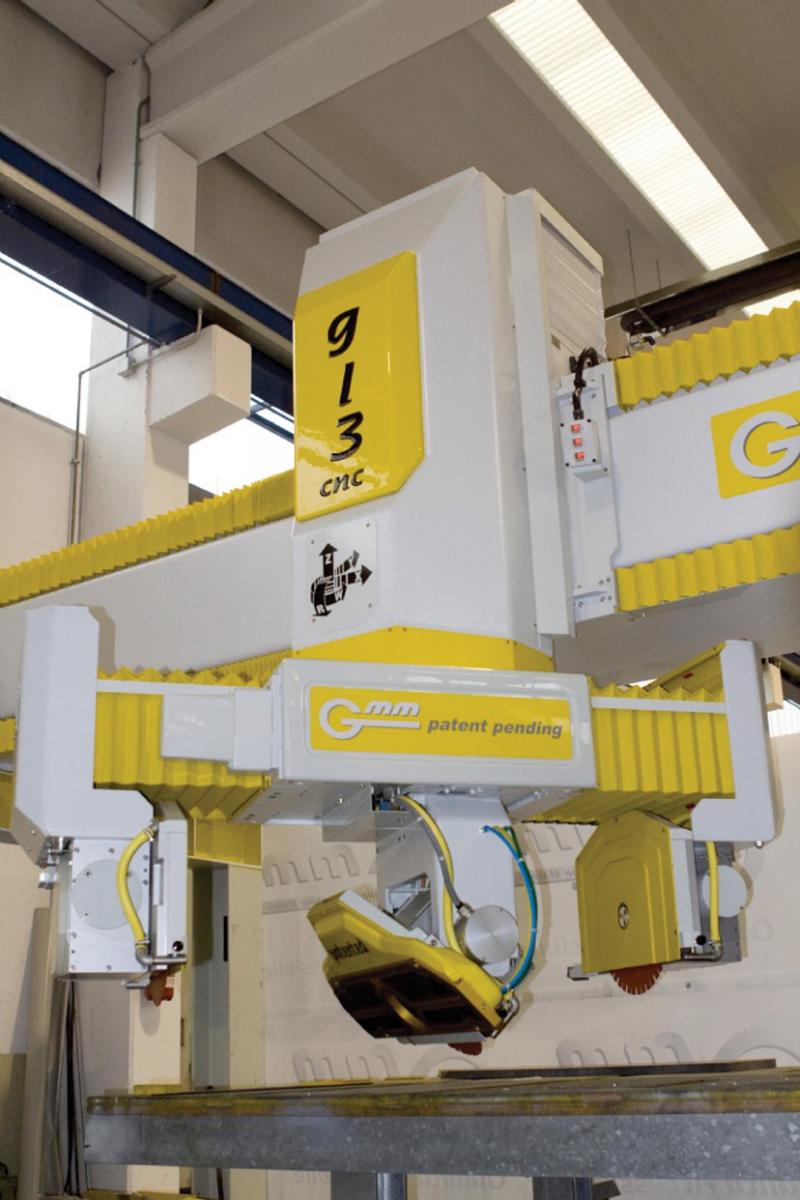 It has been another good year for Roccia Machinery, which represents Italian GMM saws and edge polishers and CMS Brembana workcentres.
A star performer has been the three-bladed GMM GL3, six of which have been sold to companies producing cut to size slabs (it is out of the price bracket of most kitchen-top makers). The extra two heads give the machines nine usable cutting axes.
If you have not already seen a GL3 there will be one on the GMM stand at Marmomacc. It might also be joined by a five-bladed GL5 that was under construction ahead of the exhibition.
The multi-headed saws are for high rates of production. The GL3 has three blades driven independently by variable speed brushless motors. The heads can be used simultaneously or the centre head independently of the outer two. 
This allows multiblade cutting from 200mm to 1300mm. The central unit can perform inclined cuts and turns through a full 360º. There is independent tool wear control and compensation for each blade.
This is a high productivity, high precision machine thanks to linear bearing guides and a rotating top cutting unit that means the material does not need to be moved or realigned. GMM says that with automatic loading and roller belt feed, output can be as much as 340m2 in an eight-hour shift.
There is automatic nesting of the workpiece with defect tracking using an external camera and the GMM patented vacuum lift on the central unit.
If the GL3 is more machine than you need, the fully interpolated five-axes Intra has remained popular and the larger, traditional (as opposed to CNC) Diama with a 2m blade has also come into its own. Roccia Director Darren Bill says orders for two of each have been received since the Brexit vote in June. "Companies are just deciding to get on with it," he says, although he believes Marmomacc will be an interesting barometer of the level of confidence in the UK decision to leave Europe.
Customers are also getting used to the idea of Roccia selling CMS Brembana workcentres and have started investing in them. Various Brembanas have an option of including a waterjet as well as a saw blade and Roccia has now sold its first high performance Formax combination. CMS says it will have one on its stand in Verona.
Last year, Roccia also took on the agency for T&D Robotics. Darren said then that Roccia had made the decision because the company's Lapisystem robots were a technology whose time had come. "That's even more so now," he says.
The first machine has been sold as part of a package that includes waterjets and saws.
Another agency Roccia has taken on is for Pellegrini wire saws. No order has yet been placed but Darren says discussions are at an advanced stage with one customer.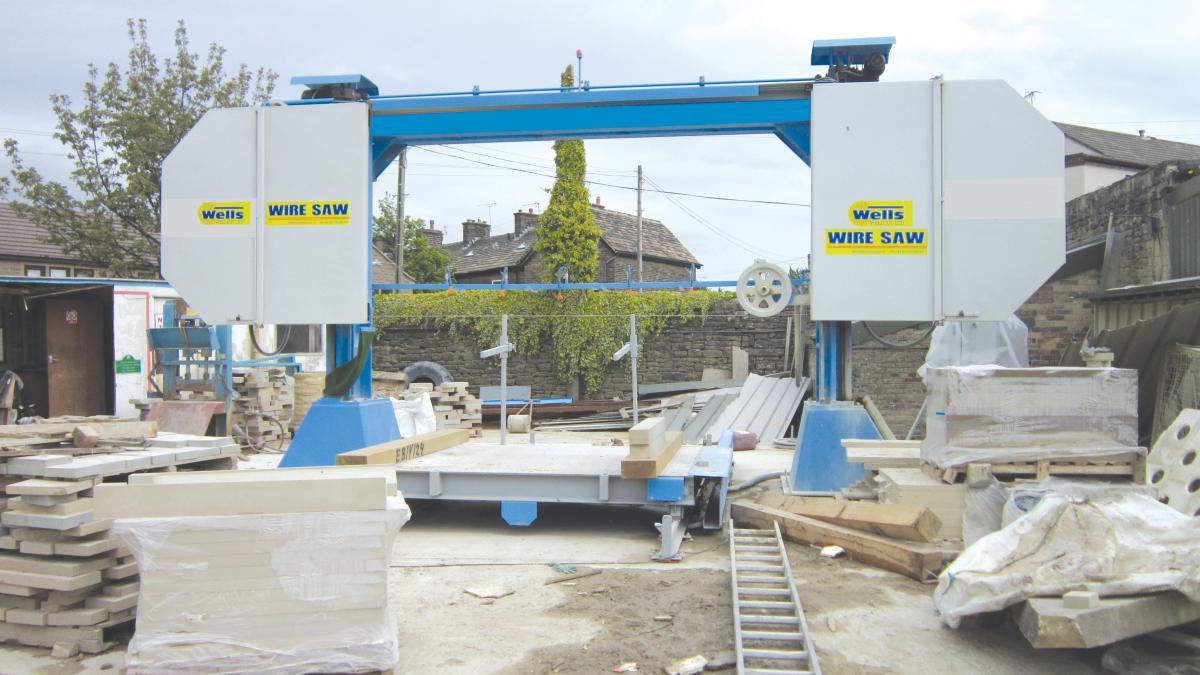 Not quite all the saws used in the stone industry come from abroad. A lot of companies, especially those in primary production, prefer to use the workhorses from Wells Wellcut.
Wells also produces croppers and tumblers and, being an engineering firm, is prepared to consider most requests for stoneworking machinery, whatever it might be. Lately it has supplied multi-blades and wire saws.
Luke Wells is proud of his engineering ability and is prepared to take on most challenges, while his father, John, deals with sales. Like the importers, Wells has been flat out in the past year. It has been so busy the company has not even had time to move into the new factory it has bought. "We have a yard full of machines waiting to be refurbished that we have taken back in part-exchange for new saws," says Luke. There is plenty of demand for refurbished machinery but he and his small, dedicated team of engineers have been so busy making new machines they have not had time to turn their attention to the old ones.
Not that all the old machines come back to Wells for replacement. Some customers like to keep their original machines and want them refurbished in situ. John says: "We had one customer recently who 'phoned up wanting his Wellcut refurbished – it's 28 years old and it's still got the original bearings!"
When Wells was facing lead times approaching six months to get the machines made, it decided to ease the pressure by teaming up with a similar, small family-owned engineering company in Portugal. That association has also enabled Wells to introduce new products, such as its wire saw, three of which have now been sold in the UK. With programmable cutting and auto lubrication, Wells believes it will slice through British stones faster than most of the competition – "and at a price that should leave the purchaser with a big smile!" as John puts it.
Wells Wellcut has made a three-bladed saw for Goldholme Stone, which it has also supplied with an automatic hydraulic cropper that can produce more than 50 pallets of walling a day thanks to a new hydraulic system and a 30kW motor.
Another company has taken delivery of a Wells multi Chisel 100 ton cropper, and Wells has gone into the production of 'silent' tumblers, which are lined with a rubber material with fins poking through to tumble the stones. It reduces the noise level by around 40%.
Wells says the 'phones have been quieter since the Brexit vote, although John hopes coming out of Europe might revitalise British manufacturing. And while the fall in the value of Sterling might encourage exports, Wells does not court them because it is at full capacity supplying the home market.
Nevertheless, in the past year it has sent a 1m Wellcut granite saw on hire to St Kitt's in the Caribbean, where it was being used to cut stone to build a multi-million dollar hotel. It was then sold to a company in St Mary's, one of the Scilly Isles, along with a 130-ton granite cropper to work on sea defences. A 3m Wellcut saw has also been sold to Ireland.
John says: "We have a good customer base and they are nice people to work with. We make time for them, even when we are busy, which they appreciate. We try to look after them. And we don't disappear in August!"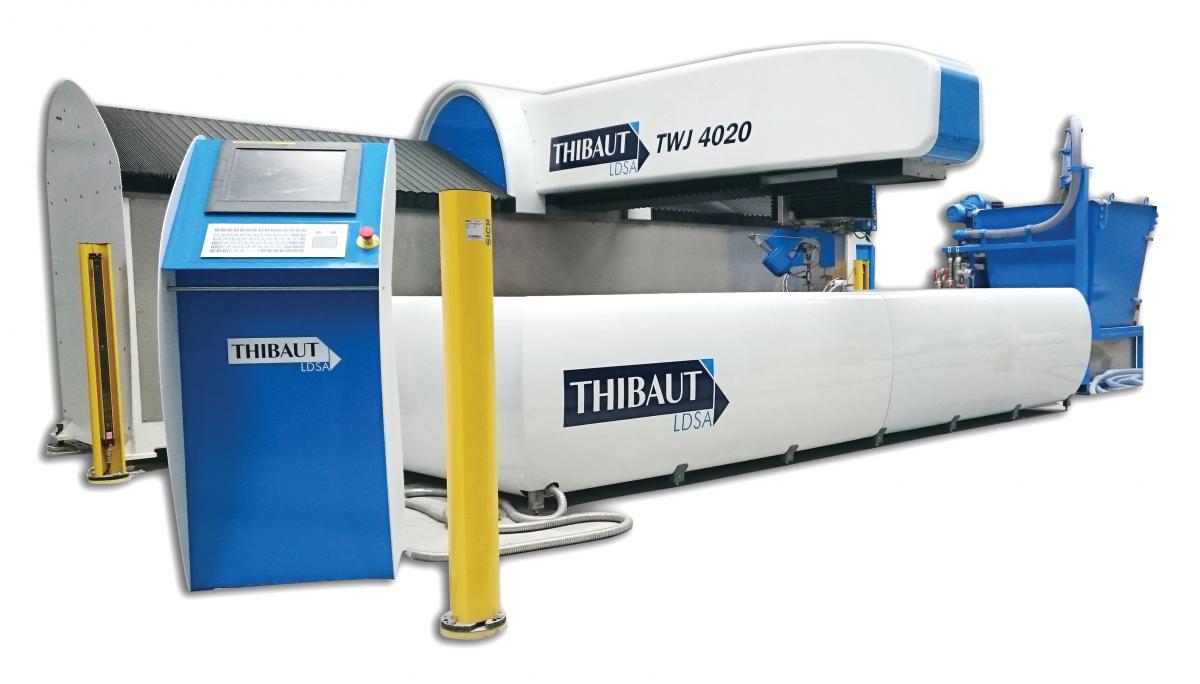 The French manufacturer Thibaut will have seven machines on its stand at Marmomacc (Hall 4) this year, as well as featuring the Octopod hoseless and wireless vacuum cups it launched last year, which can be used on all new and some of the earlier Thibaut machines, including the T812, T818, T918 and T858. If you want to try out the Octopods for yourself, you will be able to at Marmomacc. Thibaut will have a variety of materials on hand for you to use.
The machinery on show includes the four-axes T812V4 machining centre, available in L and XL versions. Its new design takes up less space but can still work 1500mm or 1900mm workpieces.
The T658 is the new CNC multipurpose edge profiling and polishing centre for straight or profiled edges with automatic tool changing. It can be used for making memorials, countertops and building stone. It is easy to use, versatile and requires minimum intervention with its 21-space tool magazine.
The TC600 is a CNC sawing and milling centre approved for ceramics, with up to five axes. Cuts can be linked in all directions (straight or inclined) automatically without moving the slab. It can cut material up to 200mm thick and profile any shape. It has a monobloc frame and 360º disc rotation, making a rotating table unnecessary and keeping the machine compact. The torque and variable speed (up to 6,000rpm standard) produces maximum cutting speed.
Thibaut believes it has the industry's only multipurpose sawing and profiling centre with a moveable beam in its C1350V2. It allows high precision cuts up to 500mm deep yet requires minimum headroom. Its variable speed (0-6,000rpm) 44.4kW spindle delivers impressive torque and power for drilling, profiling, milling and 3D shaping.
Another Thibaut innovation is the comprehensive pneumatic pressure on its  T858V2 five axes CNC milling and polishing centre. The Scanbox system automatically scans the workpiece, which might be anything from memorials and architectural  stonemasonry to countertops.
Then there is Thibaut's T108, which sets the standard for jenny linds in workshops all over the world. The Marmomacc stand would not be complete without one – and this year it will be the 108S. Easy to use, economical, compact and producing fine quality results, this manual multifunction machine remains a must for quick routing, milling, drilling, polishing, texturing and profiling in the masonry workshop.
Completing the line-up is the TWJ 4020,  the new waterjet cutter from Thibaut that comes in three and five axes alternatives. With a waterjet of just 1mm at pressures up to 4000bar (400MPa) it can cut just about any material in the most elaborate of configurations.
The large table (4m x 2m on the 4020 or 3.3m x 1.7m with the 3317) mean large or multiple workpieces can be accommodated, while the ergonomics of the machine make it easy for the operator to load and unload.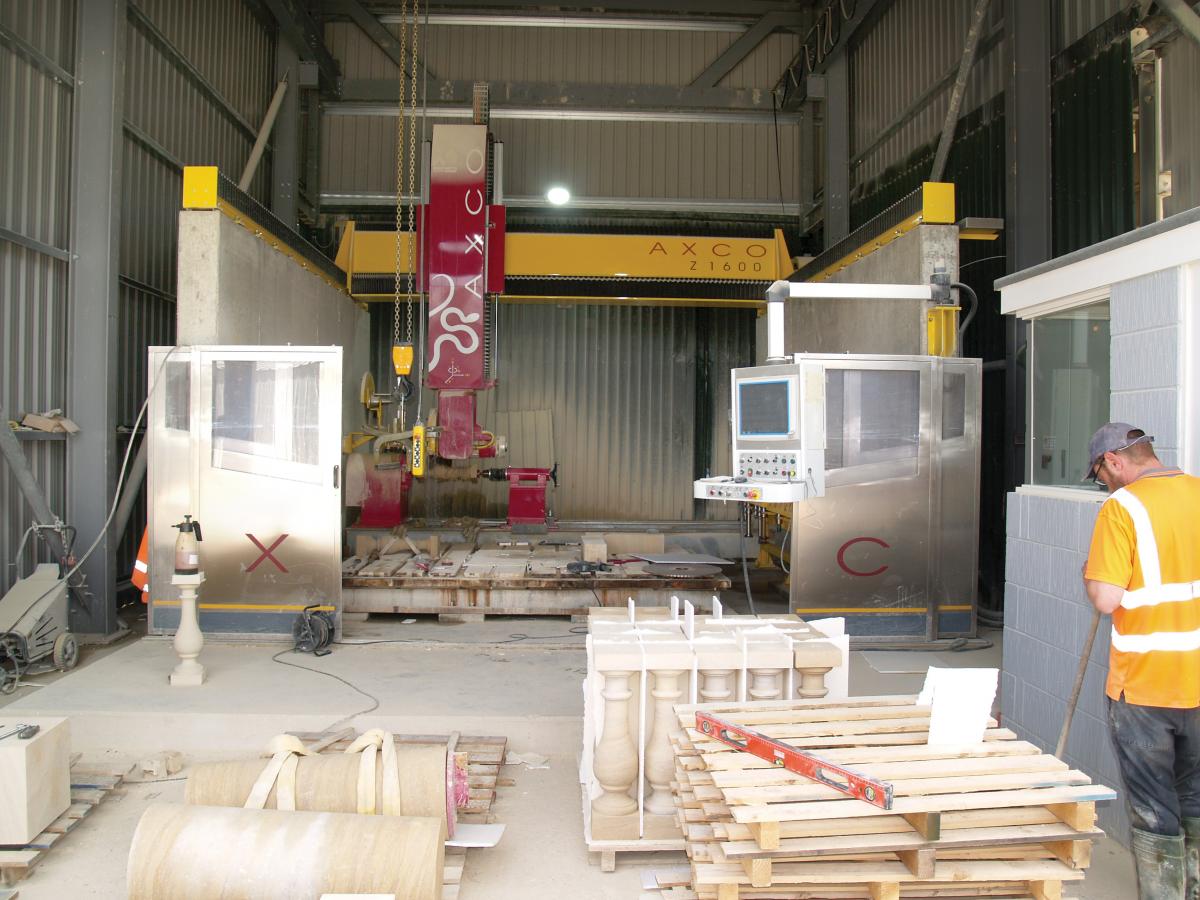 Usually new equipment is presented at an exhibition or during an installation. But Marchetti Group has decided to present its new Hyper to the world three years after it installed the first machine at one of the world's leading stone companies, Savema of Pietrasanta in Italy.
This extensive field trial by Savema has certainly put the Hyper through its paces. With more than 12,000 hours of work on the Hyper clock, Marchetti is now confident that any bugs have been ironed out and the reliability of the system has been ably demonstrated.
Marchetti has heaped praise on Savema for its part in carrying out the trials, which it wanted to be exhaustive because this is a sophisticated cutting line with innovative hardware and software features – a line that performs the work of eight cutters.
It has two independent heads and an independent vacuum lift and move manipulator. The functions combine to produce 11 interpolated axes for high production rates even of complex geometric figures. Marchetti says the second saw head can increase productivity by more than 30%.
In spite of the complexity of the machine, the software is relatively simple to use because it, rather than the operator, calculates the optimal use of the Hyper's formidable capabilities. It automatically determines which of the two heads will be used to optimise cutting times whatever the configuration of the cut, and when and how the workpiece or waste need to be moved.
Efficient nesting software optimises material use, and although programming is in 2D, 3D video simulation highlights any programming errors, making it possible to avoid them.
The vacuum manipulator plate slides under the bridge of the machine, totally independently of the saw heads. It can move in all directions and turn through 360º, so it can pick up and move any piece of stone to remove it or reposition it, which delivers exceptional flexibility.
When the vacuum lift is not in use, it stays well out of the way so it does not get contaminated with water and sludge and needs minimal maintenance.
Minimising down time was all part of the aim of producing a high productivity machine. All the components have been designed for maximum durability and reliability.
You need to see it to really appreciate it, and you will be able to see it on the Marchetti stand in Hall 2 at Marmomacc, along with a selection of the company's other machines, such as the Axco, like the one at Stamford Stone in Rutland pictured above producing columns and balustrades for a private client.
Marchetti is proud that all its machines, including the new Hyper, are truly Italian. The bridge, slide, rails and heads are all built in its factory in Savignano sul Rubicone.
Chichester Stoneworks automates with an Omag Blade 5 from D Zambelis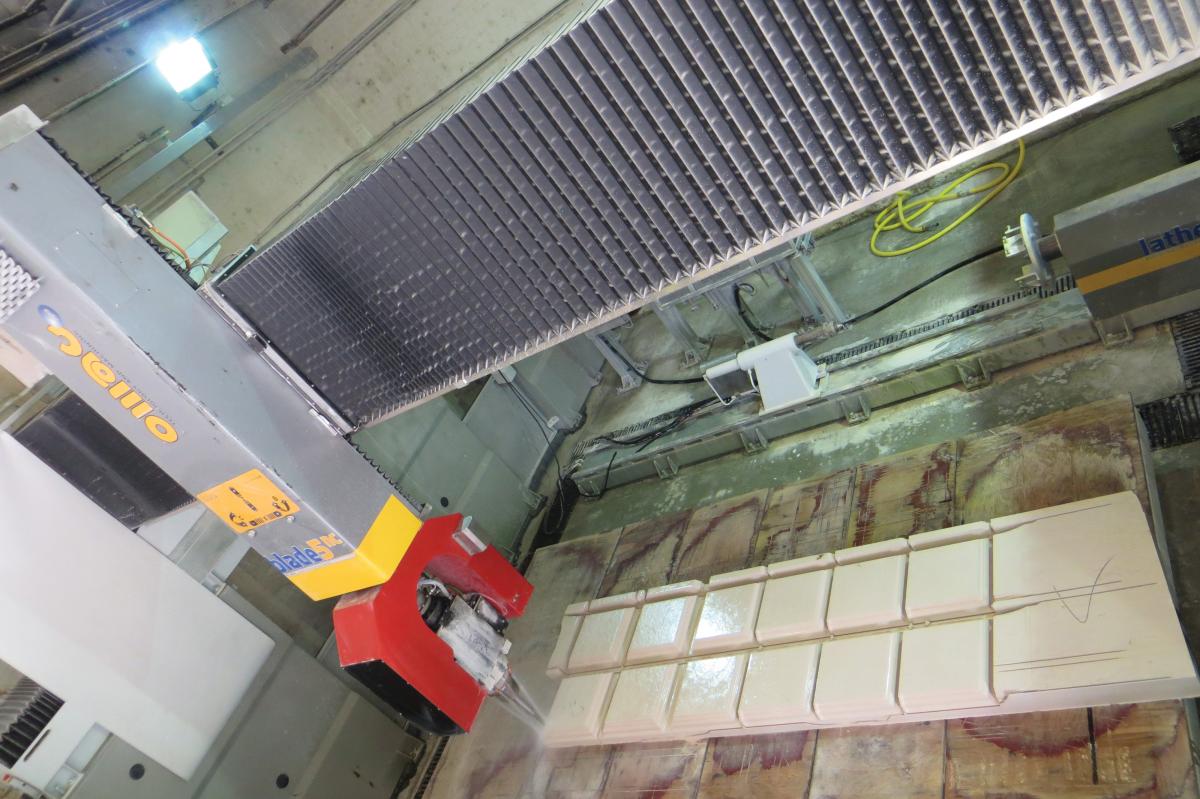 After Chichester Stoneworks had collaborated with Stoneworld in Oxfordshire on the production of four Massangis limestone lions to guard a 27m tall obelisk celebrating The Queen's diamond jubilee (see NSS October 2015), Managing Director Adam Stone said he was considering investing in robotics.
Stoneworld had used its Kuka robot arm in conjunction with its computing skills to manufacture the lions that then went to Chichester Stoneworks to be hand finished – which still took 10 weeks for each lion.
Each lion is 12tonnes and although they were produced from scans of carved marble lions, it took months of programming just to prepare for the production. It then took eight weeks on the Kuka, working 24/7, to produce each lion to within 3mm of the finished line that the masons would complete.
It was a big job, but not as big as it would have been if the whole project had been completed by hand. It helped convince Adam Stone that technology had a place in stonemasonry and that Chichester Stoneworks needed to update its technology.
But in the end, Adam was not convinced a robot arm was the way forward for Chichester Stoneworks. Instead the company has bought an Omag Blade 5 with a lathe from D Zambelis, which has already made a significant contribution, starting with stonework for the new statue to Mary Seacole, the Crimean War nurse, in London.
It has been used to make a capital on the Royal Artillery Memorial, a project at UCL, an ornate door and window, four tracery windows for a church extension in Redhill and a cantilevered staircase in Mayfair. "I ask myself on a daily basis how we did without it," says Adam. "It makes us more competitive and it reduces the dust and vibrations the masons are exposed to."
It has not replaced any of the masons but it has made it possible for Chichester Stonework to take on extra projects. "It has supplemented the masons, but we are actually trying to recruit some more. Hand skills aren't being replaced." 
Operating the Omag is Bart Baren, who is finding new and better ways of working it all the time. "It's not like a cross cut that is at full capacity straight away. Every time Bart uses it it gets better."
Adam wants to replace and upgrade more of the company's machinery. He is nervous the Brexit vote might hit demand and wants to improve the competitiveness of the company. He says the priority is to replace some of the older machinery but that "it would be a very easy decision to get another Omag".
The company had considered moving to a larger site to give it more room to expand but does not feel the extra permanent liability that would represent should currently be taken on. "We're going to be a bit smarter with the space we've got," says Adam.
The power behind the processing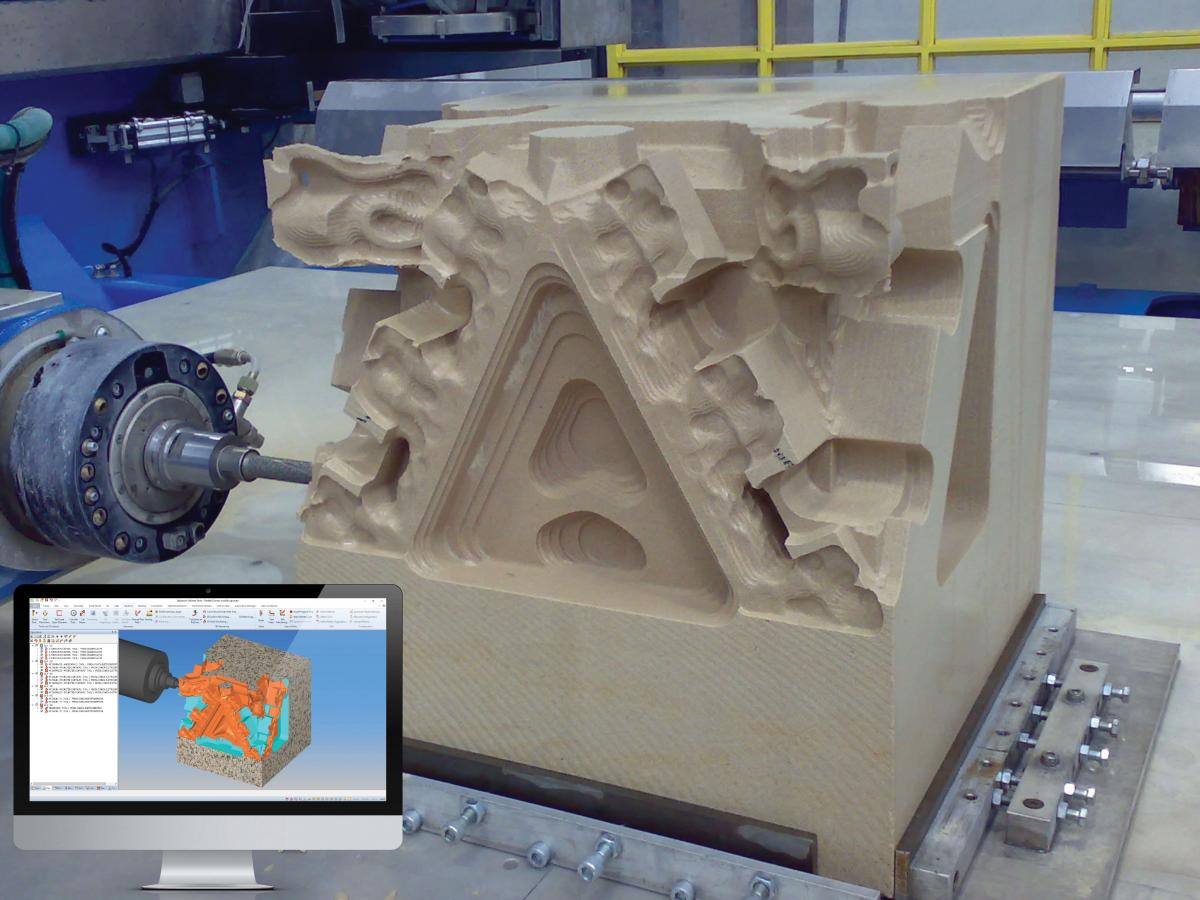 The mechanical engineering behind stone machinery is pretty good. No doubt new alloys and new techniques will continue to be developed, but at a snails pace compared with the changes taking place in processing.
The computer-aided manufacturing power behind a lot of stone machinery comes from Alphacam, which has offices in Italy working with original equipment manufacturers such as GMM and Omag as well as at Reading and Wakefield in the UK working with the companies that buy the machines.
The aim always is to make it easier and quicker to programme the machines, and Alphacam encourages customers to use its portal to provide feedback about their experiences. It was as a result of feedback that it created its 'STL Simplifier'.
Previously, if an angel was being carved (say), a programme of the whole carving would be used for the whole of the manufacturing process. That is a big programme, which can slow the process down. The Simplifier takes only the information it needs for the current process, such as roughing out, making it a lot faster.
Parametric Sketchers have also been added, so, for example, once you have created a program to make egg and dart moulding, you won't have to do it again because the machine can store the principle of it and apply it at any dimensions or configuration to future designs. Alphacam makes a distinction between learning and teaching. It says the machine is not learning, because it cannot do it on its own, but it is being taught by the operator and will retain information it is taught.
And Alphacam is now fully 64bit to make use of all the processing power of the latest generation of computers, which, again, speeds it up.
Project Marble says it couldn't have done it without its Intermacs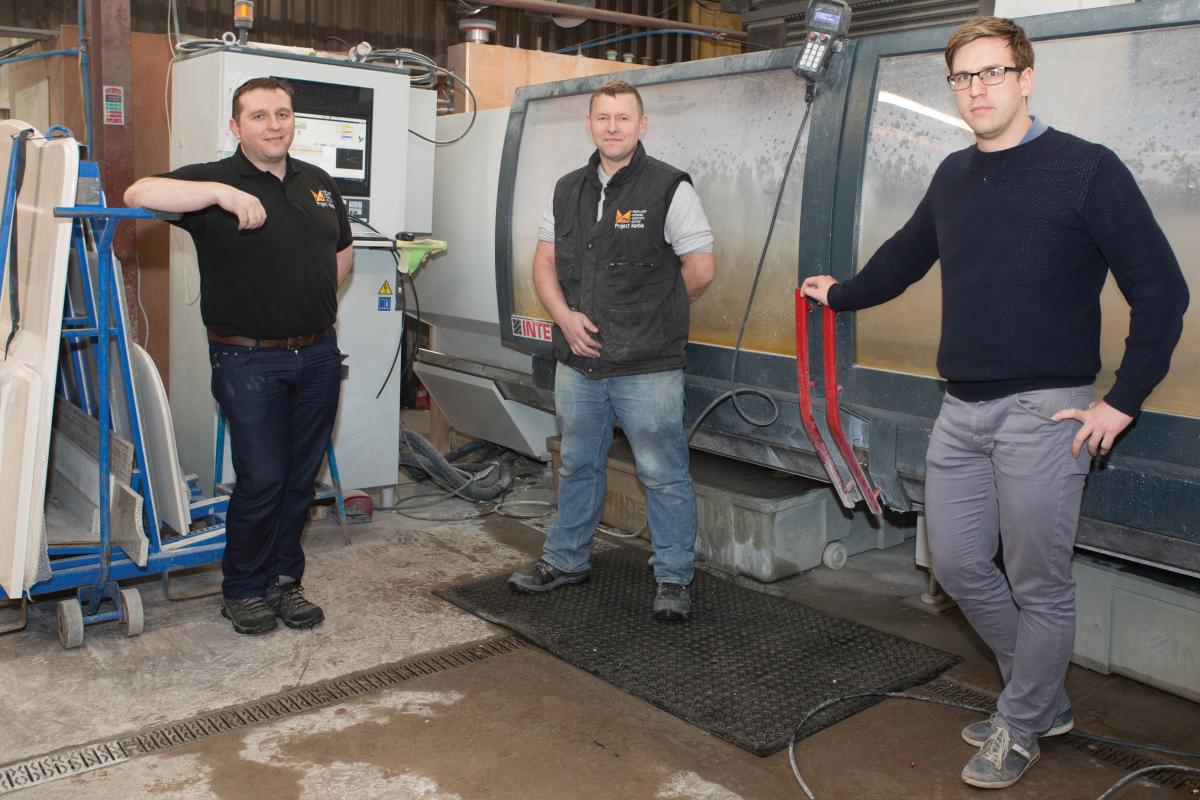 Project Marble is a family stone business in Northern Ireland. It manufactures and supplies bespoke fireplaces, countertops and vanity units for both residential and commercial customers using a Master 33 workcentre from Intermac.
"We originally invested in an Intermac Master 30 back in 2003 to automate fireplace production," says John McNulty, one of the Directors who is pictured with his brothers and co-directors, Brendan and Seamus, on the left. "However, we wanted to re-design our own position in the market and increase our penetration into the kitchen worktop and commercial marble décor sectors, so we made the decision to invest in a new showroom and upgrade our machinery." Part of the upgrade was a Master 33 workcentre.
The new marble studio has been designed and fitted out by Project Marble themselves. It  is a blend of natural marbles, limestones and granite alongside engineered marbles and quartz.
John: "The showroom has actually been designed around the needs of designers who specify for schemes, as well as contractors of varying sectors. It really is a haven for selecting materials for whatever your project –  and Project Marble welcomes every visitor at any time.
"We couldn't do what we're doing now without the Master 33, as we can now benefit from advancements in technology, especially with the engineered material in the architectural design world. You need state-of-the-art machinery to produce the goods.
"When you get to this level, you need reliable equipment and Intermac's track record spoke for itself. The 5-year warranty and the fact that Intermac have a local service presence was a no-brainer as far as we were concerned. And as a result of our investment, not only in the machine but also our showroom facilities, we've demonstrated our commitment to the stone market. The confidence it's instilled within the company and with our clients is a huge positive statement to prove that we're here for the long term."
How did Project Marble reach the decision to purchase an Intermac machine?                                                          
John: "We researched the entire stone market and identified shortfalls that could be filled with the right investment. So with the help of Intermac, we specified our requirements and the Master 33 delivered what we were after.
"The fact that we have an Intermac Master 33 is now part and parcel of our sales and marketing strategy. We make a point of telling our customers that we have an Intermac machine, which helps to build credibility. It's all about relationships.
"We wanted to be a premier manufacturer and supplier within the stone industry and we needed top equipment to be able to achieve that."
Having already been using the Master 30 for so many years meant Project Marble were able to put the Master 33 into production as soon as it arrived, although John says it is so easy to operate and so reliable that it has already paid for itself after a year's production.
Glebe Quarry solves a bottleneck with its second Fantini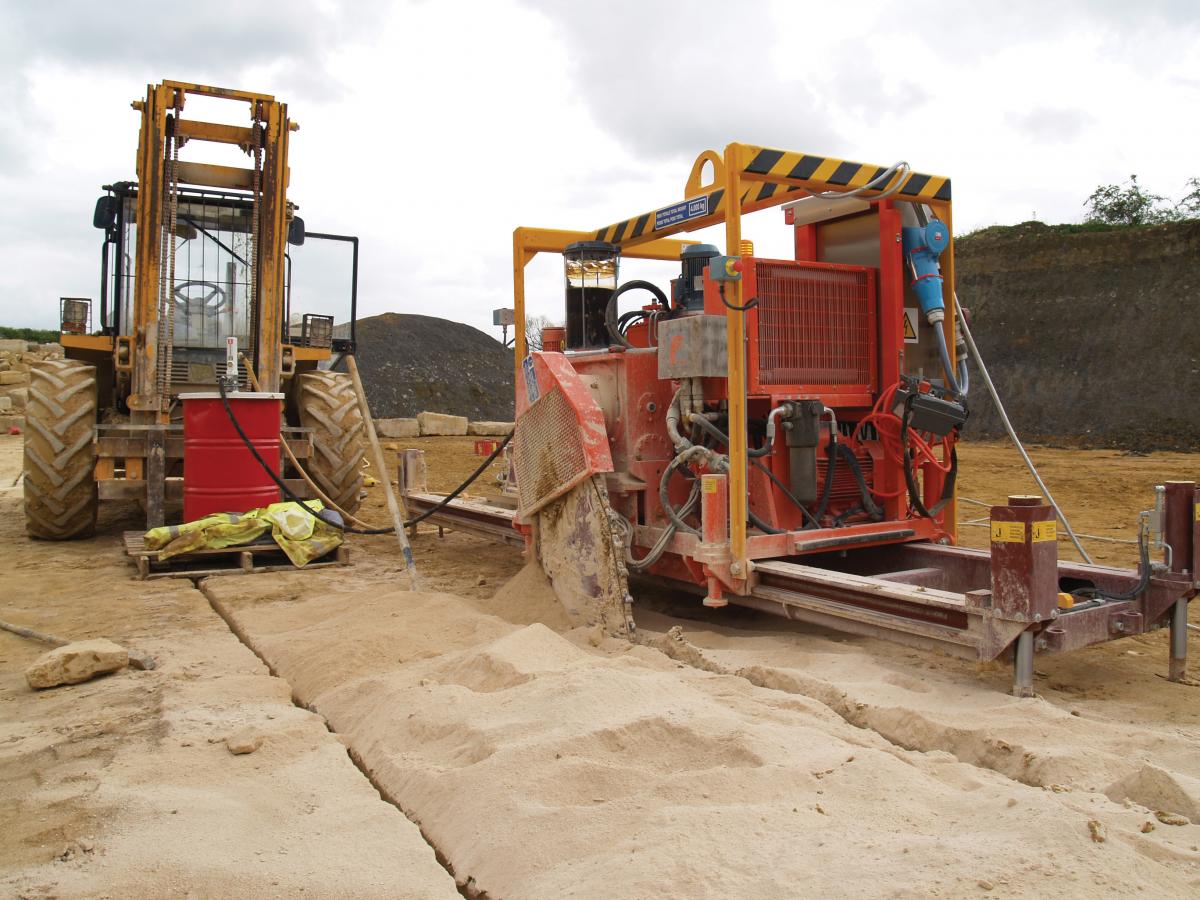 In the past year, Terry Smith and his son, Andy, have spent £300,000 on new machinery to try to keep up with demand for the Ancaster limestone they produce from Glebe Quarry in Lincolnshire.
Glebe Quarry is the source of a particularly fine Ancaster Hard White bed, which is in great demand in many parts of the country. Ancaster White can have a pinkish hue to it, but Glebe Quarry's is particularly white, hence its popularity. The quarry also produces Ancaster Weatherbed, which is used more commonly locally.
Last year Glebe became the first customer of Atlas Copco's new Dimensional Stone Industry (DSI) product range when it bought a Rock Buggy rock drill rig.
Atlas Copco created the DSI range as a result of its acquisition of Perforo, an Italian company based in Bagnola, close to the heart of the Italian Carrara marble centre in the region of Turin.
Rock Buggy is a compact mobile drill rig with three-way steering. There is an option of remote control for steering and the drilling operation, which Glebe chose because it makes life easier for the operator. With the drilling arm reaching out to a 4m radius, the rig can be steadied so only the arm moves while a series of holes are drilled, enabling the Rock Drill to work quickly and accurately. It can drill the holes to separate two blocks deep on three lanes at a time and takes just 90seconds to drill each hole. It even has self-contained dust collection.
Drilling had been a bottleneck in the production of the stone at Glebe. The Rock Buggy solved that problem, but then the bottleneck became the sawing, so Terry and Andy Smith paid a visit to Fantini in Italy to buy a second chainsaw. They had to buy a second generator to power it and bought a new JCB to work alongside it, as well as recruiting another person (their third) in the quarry to operate it.
The Fantini and JCB can be seen in the photograph below. The barrel contains oil that is pumped into the saw to lubricate it. This is the quarry's home-made adaptation because Terry and Andy thought Fantini's was expensive and they could easily make their own.
The Rock Drill has no problem keeping up with the work rate of the two saws, which take about three-and-a-half days to cut 25m of stone, 2m deep.