Report : Memorial Masonry & NAMM Tradex
The NAMM Tradex exhibition for memorial masons is back at Warwickshire Exhibition Centre near Leamington Spa on 20 & 21 June. The UK's memorial wholesalers say they have decided to take a gap year from the show this time but there will still be plenty to make a visit worthwhile, as NSS discovers.
This month (20-21 June) sees the third of the stand-alone Tradex exhibitions run by the National Association of Memorial Masons (NAMM) at Warwickshire Events Centre near Leamington Spa.
The first was in 2015. Before that the event had been run as part of the National Funeral Exhibition (NFE) at Stoneleigh Park, which is close to Warwickshire Events Centre. At one time NAMM Tradex had even been associated with the Natural Stone Show in London and is still a regular exhibitor at the Show.
The second stand-alone Tradex was held in 2017 and now the third is, again, following the two year schedule. But this time the UK memorial wholesalers will not be there and the two-year frequency is the reason.
They like to introduce new designs when they have gone to the expense of taking part in an exhibition but they do not want to introduce new designs every two years, not least because it means going through the expensive process of making and photographing the new memorials and producing new catalogues featuring them. 
They also say it takes two years for designs to filter out into the market place because a lot of bereaved people make a choice of memorial based on what they have seen in a cemetery.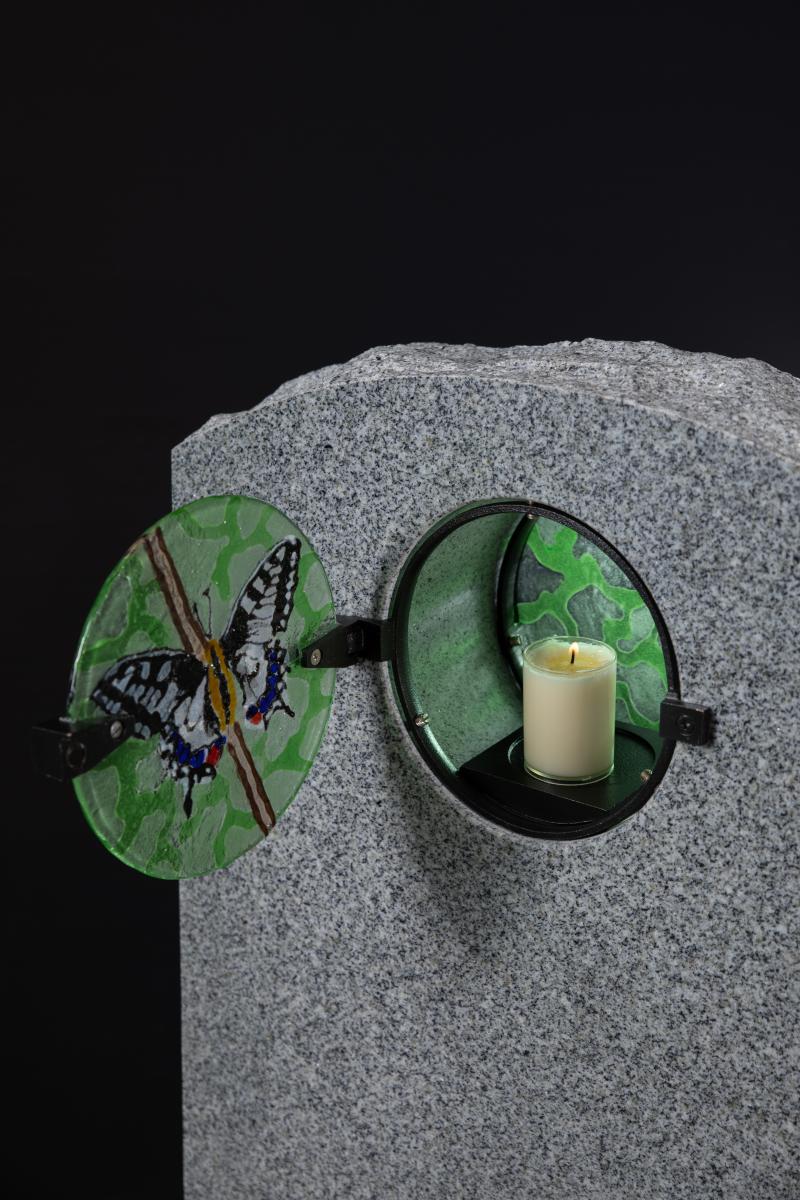 This is a detail from one of the new memorials Robertsons in Aberdeen will be introducing for next year, but it will not be at NAMM Tradex this year.
The two year frequency of the National Funeral Exhibition was one of the reasons not many of the wholesalers exhibited there, although it was also felt that memorial masonry sat a little uncomfortably alongside coffins and mortuary equipment. 
The first NAMM Tradex was held just a week or so after the 2015 NFE and both the 2017 Tradex and this year's event also follow close on the heels of the NFE. That also concerns the wholesalers because they feel funeral directors who have their own memorial masonry department will not come to both shows so close to each other and the NFE has a wider interest to them. This year it is on 7-9 June with more than 200 exhibitors and expecting perhaps 4,000 visitors.  
As we went to press, Tradex had 21 exhibitors (although NAMM was still talking to others interested in exhibiting) and there are only about 1,000 retail memorial masons in the UK so the number of visitors is likely to be lower.
NAMM asked exhibitors for their comments after each of the previous two shows and each time the wholesalers made a plea for Tradex to be held every three years rather than every two. At least then the exhibition would not be in the same year as the NFE every time and the frequency would be more in line with the frequency of launch of new collections of memorials. Some of the other exhibitors have some sympathy with that suggestion. As Marshall Black at Nettlebanks, which makes memorial fixing ground anchors, says: "I understand where the wholesalers are coming from." 
After the 2017 show the memorial wholesalers also suggested as an alternative to keep the show at its two-yearly interval but with the wholesalers alternating between small stands showing existing ranges one year and having major launches on larger stands every other show. They wanted NAMM to restrict the size of stands when they were having smaller stands so no wholesaler could come along and dominate the event, but NAMM did not want to do that.
So this time the UK wholesalers have said they are not exhibiting.
The show will still include the Craftex competition for the best memorials, although there might be fewer entries than usual as in the past many of them have come from the wholesalers.
NAMM still believes it is relevant to have the show because a lot of memorial masons visit to see what the suppliers of machinery, tools, consumables and ancillary products have to offer. Visitors will also be able to hear from the Ministry of Defence, who are responsible for looking after and supplying many memorials for service men and women and need memorial masons to help them to do that. There will also be Continuing Professional Development talks by NAMM and various demonstrations that will help retail masons understand how products should be used.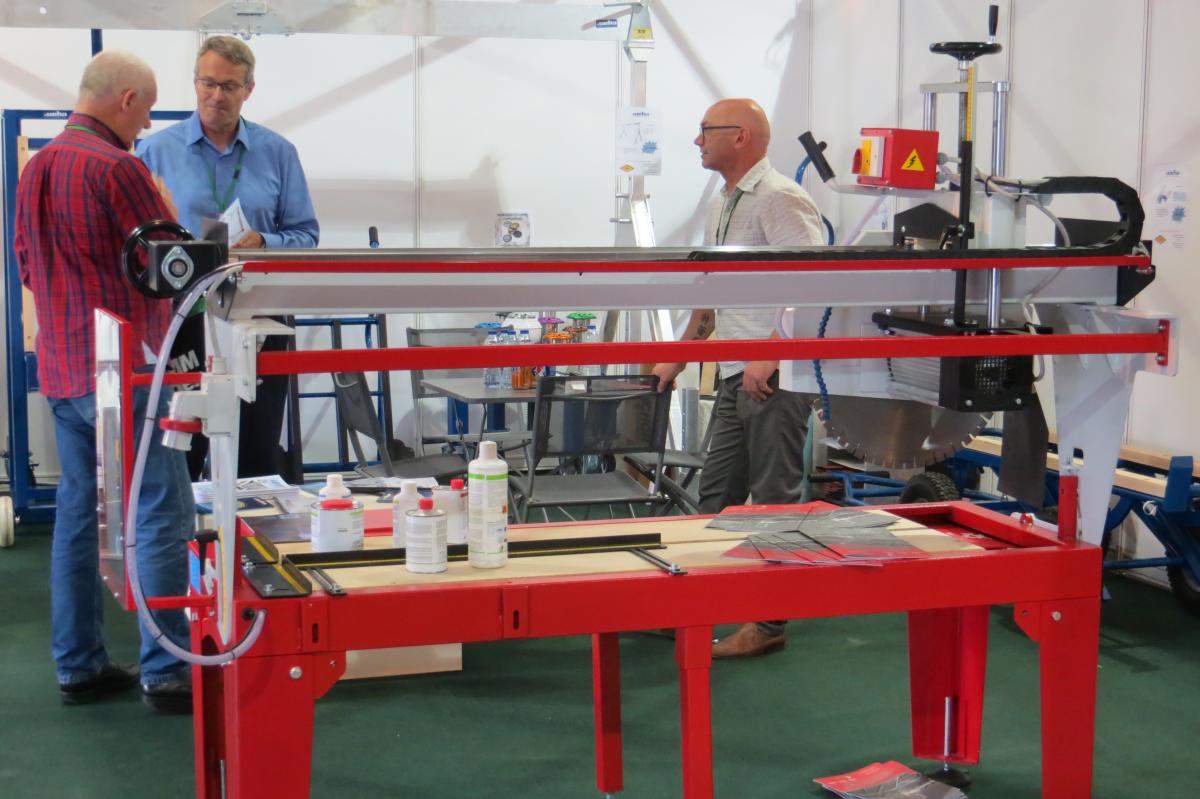 Combined Masonry Supplies is one of the equipment suppliers that will be back at NAMM Tradex this year.
Last year's changes to the British Standard relating to memorials (BS 8415) have meant that all the memorial fixing systems have had to be re-tested to the conditions laid down in the revised standard. NAMM carried out the tests in its new testing centre in February this year. Those systems it had previously approved as conforming to BS 8415 before it was changed were re-tested free to show they still conform to the standard, which they all did.
Anton Matthews, who makes the Stone-Safe memorial safety fixing system and has always maintained that a steel rod hammered into the ground does not conform to the standard when tested in a pit filled with sand and gravel, is arguing about the validity of the latest tests. He believes there is an error in the new standard as published, which says the medium for testing should be sand and gravel with particles up to 6mm. He believes the particle size was supposed to be 0.6mm. Both he and NAMM representatives sit on the British Standards Institution committee that revised the standard last year.
No doubt we will hear more about that in due course, but following NAMM's re-testing of existing systems, it posted a statement on its website www.namm.org.uk saying: "The re-testing of ground anchors to the new standard has been undertaken mainly due to concerted and unfounded scaremongering and has been undertaken at considerable expense, time and effort to NAMM and the anchor manufacturers. 
"Testing was done in accordance with BS 8415-2018 under the supervision of an independent Chartered Engineer and provides definitive and trusted third party assurance for Burial Authorities, memorial fixers and the general public." 
It says the test pit medium consisted of 2mm to 6mm clean graded gravel and 0.4mm to 4mm clean sharp sand, graded in conformance with BSEN 1260.
NAMM emphasises in red lettering: "It should be noted that there is no historical evidence of any injuries occurring from correctly installed NAMM Accredited ground anchors since their first introduction."
Nettlebanks will be back at Tradex with its three, re-tested ground anchor systems, as will CCA Fixings and others. The Blast Shop, which has its own range of ground anchor fixing systems, will be demonstrating on its stand just how rigorous the testing criteria for memorials are. A rigid system has to withstand a horizontal pull of 150kg for a minute. The Blast Shop will have a rig so people can try to pull a force of 150kg. And it is offering one of its gritblasting inscription products to anyone who can hold that for a minute. 
Blast Shop Director Rob Critchley does not expect anyone to be able to do it, but says the offer is genuine and if anyone is strong enough they will win the blasting equipment, so it is worth giving it a try.
Even if you can't pull 150kg for a minute, you might still win something by entering The Blast Shop competition to guess the number of items the company keeps in stock to ensure a rapid response to orders – and Rob points you in the right direction by saying that at the last stocktake there were more than 114,000.

Look out, too, for a new pneumatic polisher that The Blast Shop is introducing. It is a Gyson brand tool, made in Taiwan. Its high torque gives it more oomph than an electric polisher and it will last longer. If you don't have a compressor to power it, don't worry because The Blast Shop can sell you one of those as well.
Another change brought about by the new version of BS 8415 is in concrete foundations, which are now required to have steel reinforcement rather than fibre. 
The makers do not really feel the change was necessary and many masons don't like it because it makes drilling the base more difficult, but there were examples of fibre reinforced bases cracking along the weakened points where they had been drilled, so there is an element of extra security in having steel reinforcement.  
You will be able to see the new foundations with steel reinforcement (not that they look any different) on the stands of Sharcon Monumental and Thorverton Stone. Both have some new designs, including one from Thorverton that is stepped, so the majority of it will be hidden under grass. It goes under the name of the Grass Over.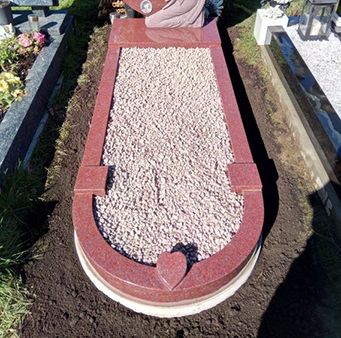 Thorverton will be showing its moulded edged bases, which are its best sellers. A solid landing with a round front is also growing in popularity and Sharon Taylor, who you will meet on the Thorverton Stone stand, says: "It does look nice." 
They do not cost any extra but look better and the company will emphasise that it is happy to make bespoke solutions as well as supplying standard products because it has its own mould-making department. It has, for example, made a concrete raft specially designed for Mansfield Cemetery in Nottinghamshire.
The major suppliers of tools, equipment and consumables to memorial masons – Combined Masonry Supplies, Harbro, BI Crawshaw (with its Stone Doctor helpline available for advice on a wide range of stain removal, sealing and polishing issues on 0208 686 7997 Monday-Friday 8:30am-5pm) and Odlings MCR, as well as The Blast Shop already mentioned – will all be there and expect another good event.
There will be show offers and the exhibition gives masons the chance to see larger equipment such as saws, gantries, blast cabinets, stone etchers and a whole host of hand and power tools and ingenious handling devices – watch out especially for the latest launches in the Weha range on the Combined Masonry Supplies stand.
PFM Design Consultancy will be back at Tradex having exhibited its Biers at the NFE earlier in the month. At Tradex it will show a sack truck with integral drill supports as well as introducing the B-13 free standing drill support it first developed for a customer in Staffordshire nine months ago. On the stand will be a special show offer on CX20S drills with pistol grip handles of £695 (they are usually £895), although Peter Moles (who is the PFM in the company name) says he only has nine of them, so it will be first-come-first-served.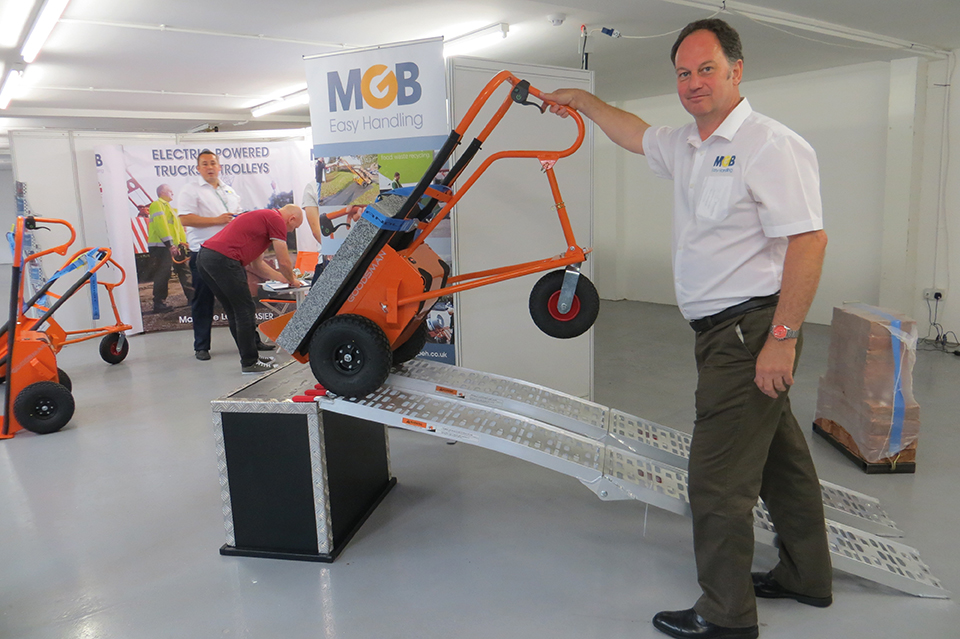 MGB Easy Handling is also returning, having found the previous two NAMM Tradex events among the most successful exhibitions in any product area. 
Its electrically powered sack trucks adapted into the 300 Mason Truck for carrying memorials have found a ready market among masons.
There is a new product for cleaning stone being introduced by Ivor Taylor of D/2 Bio UK. D/2 is the product used to clean the White House in America and Ivor Taylor says he got the licence for it in the UK last year after being told about it by Graciela Ainsworth, whose company has used it to clean memorials in Scotland.
Then there are some digital innovations. Although some memorial masons have not wholeheartedly encompassed the digital age, no sector of society escapes it.
Taking pride of place on The Blast Shop stand will be a new piece of software they have developed in conjunction with a programmer in America. Called Memorial Design, it is an add on to CorelDraw, already used by some memorial masons, to adapt it specifically for work on gravestones.
A great bonus of Memorial Design is that it makes CorelDraw even easier to use for this specific purpose, although it comes in two versions, one with a particularly intuitive interface for those who are not so familiar with computer design and one with more features and versatility for the more experienced computer user. Even people who have never used CorelDraw find they quickly pick it up. And its visual rendering of memorials to present to customers has made some people think the headstone has actually already been made and photographed. So watch out for that because customers might think their headstone is ready for installation when you are still waiting for their approval.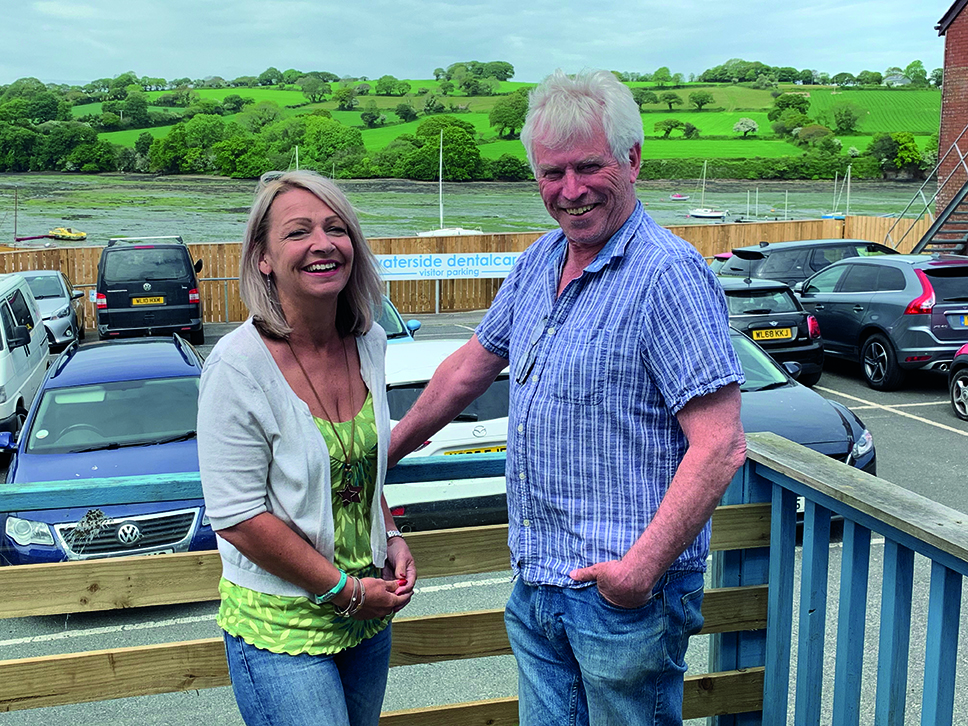 Liz Owen and Simon Neild of SNA Software are showing the latest version of their Masonry Management System.
SNA Software is introducing the latest version (V3) of its Masonry Management System that has evolved during more than 30 years of supplying programs for a whole host of industry sectors and for companies ranging from one-man-bands to multinationals. 
It depends on the number of licences, but it would cost most memorial masons only about £30 a month to have the system.
Liz Owen, one of the SNA partners, says: "It was one of these customers who introduced us to the monumental industry. We soon discovered that monumental masons needed to find ways to modernise their traditional manual tasks. After years of research, design, and testing with different businesses nationwide, we created what has become the most recognised Masonry Software in the UK. 
"With more than 30 years experience in this key industry, SNA is now proud to launch the latest Masonry Management System V3.
"Having developers in-house means we can make changes and additions to our software at your request. Often these ideas will then make their way to future updates to benefit all our registered support users."
One of the customers who uses bespoke SNA software based on Masonry Management System is Lodge Bros.
Going digital is almost unavoidable already and will only become more so with HM Revenue & Customs rolling out its Making Tax Digital, which requires returns to be submitted online. To accommodate that, Masonry Management System V3 is completely compatible with the Sage accountancy package.
Liz says SNA is currently in the process of adding stock control to Masonry Management System V3, which she hopes will be up and running by the end of July.
Memorial wholesaler George Willcox Granite is also developing a management system for memorial masons. It has shown versions of it at both the previous Tradex exhibitions. Willcox will not be at Tradex this time, but SAMM, as it is called, is not yet ready in any case. It suffered a serious setback last year when the Willcox computer systems were hacked and many of the SAMM files deleted. Willcox presumes it was a KIP (kids in pants) attack. At first the company thought it was just a code error and it took about a week before it realised it was under attack. 
It made Willcox realise how vulnerable it was to a malicious attack and it has since tightened up its security significantly as well as updating SAMM from an ASP platform to .NET Core, which supports Windows, MacOS, and Linux and can be used to build device, cloud, and Internet of Things applications.
Willcox already had customers with trade accounts linking to it to order their memorials and after the attack they checked the access passwords, many of which were simply the customer's name, which is presumably how the hacker got into the system. It is now no longer possible to create an account with Willcox using just a name.
Another digital innovation you will see at Tradex is an embedded chip that works like contactless payment. You put your mobile phone against a place on the memorial to see a video, perhaps, or details of the deceased.
A similar idea introduced a QR code to memorials, but QR codes never really caught the public imagination and are not necessarily seen as attractive on memorials. As a result, they are a rarity. Contactless is easier to use and already familiar to many people.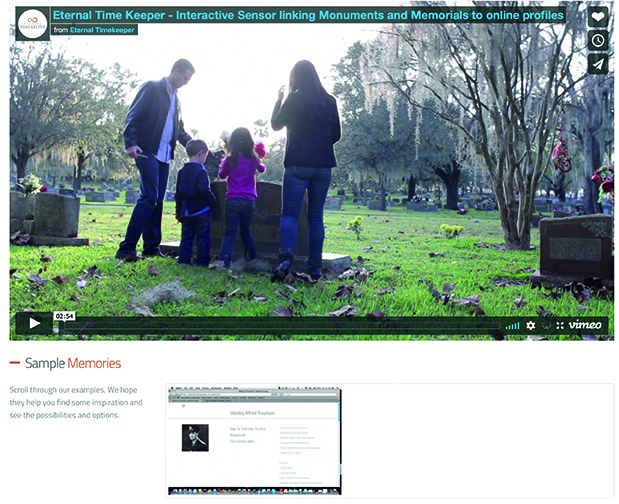 One company introducing them is Fotoplex Grigio. The device fits into a space on the back of the plaque. The laques themselves normally have a picture of the deceased on them. The chip links through to a website called Eternal Time Keeper, where details about the deceased are recorded.
Colin Gray of Fotoplex says the Fotoplex Grigio plaques without the chips have continued to grow in popularity. The company is now supplying as many as 250 a week. The company's ceramic toners, used to create the picture on the plaque, do not fade, unlike dye sublimation used by some other companies. The ceramic toner plaques take longer to create and the image is fixed at 900ºC rather than 200ºC for dye sublimation, so they are more expensive. But the extra price is seen by many as worth paying in order to have a picture that does not fade.
Lapidaris is also introducing a chip in a plaque. It calls its version Lapidaris Stone. Photos and videos of the departed are uploaded to the memorial website, which is accessed with a smartphone via the Lapidaris Stone plaque fixed on a gravestone. It does not have the option of putting a photograph of the deceased on its plaque, but the plaque is nicely designed.
The Lapidaris Stone has a built-in chip that is waterproof and completely resistant to weather conditions. By touching an NFC-enabled mobile phone or tablet to the Lapidaris Stone the online memorial page of the departed on www.lapidaris.com opens instantly. If there is more than one person in the grave, each can have a Lapidaris Stone linking multiple memorial pages. 
The system can even help you find a grave by recording its exact location using GPS co-ordinates.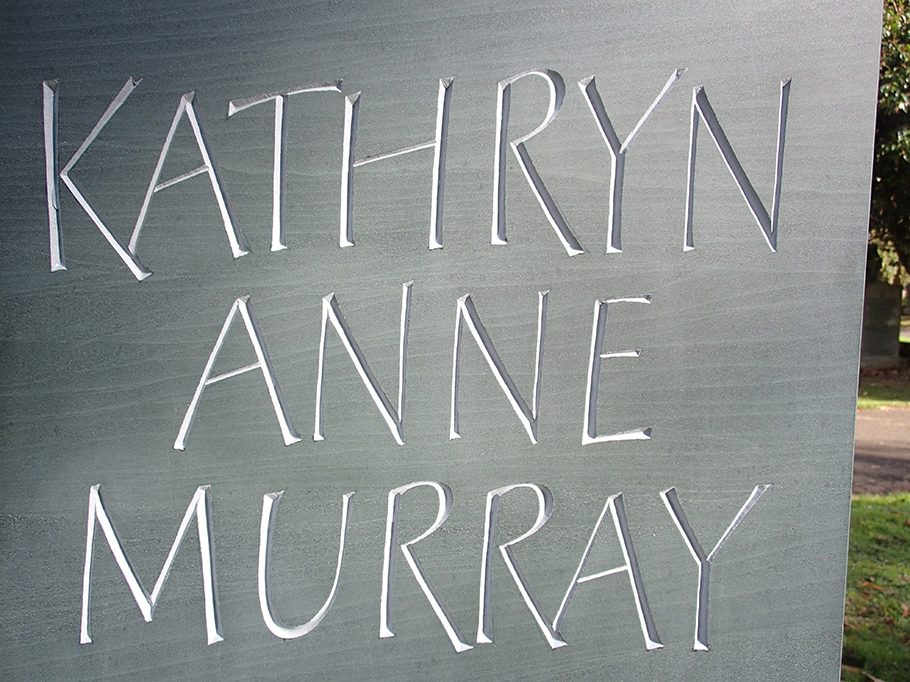 Hand-cut lettering in Honister Slate.
In spite of the absence of memorial wholesalers, there will be some memorials on show thanks to the presence of two British stone companies – Honister Slate Mine and Wincilate Welsh Slate.
Wincilate has been at the two previous Tradex shows but for Honister this is a first. Michelle Blignault will be on the stand introducing memorials in the company's Westmorland Green Slate from England's last working slate mine in Keswick, Cumbria (although there are other opencast slate quarries). This is the same stone used for the roofs of St Paul's Cathedral and Buckingham Palace in London – and Honister does sell the slate for roofing. But not all blocks split easily for roofing and those that do not are used for other purposes, such as memorials. 
Those who cut letters by hand (in particular) enjoy using slate from companies such as Wincilate and Honister because it takes fine detail and the cut letters contrast with a honed or riven surface on the stone.
And just to complete the line-up of exhibitors booked as this issue of NSS went to press, there's Bridge Insurance Brokers, Doro Tape, JKH Drainage Units and Pro Tec Arts paints.
Death rate increasing again
Many memorial masons have had a good start to this year in terms of sales, especially compared with last year, when it was still snowing in March. When the weather's bad, fewer people want to go into a cemetery – and that is true of memorial masons as well as the bereaved. This year's mild winter did not keep people out of cemeteries and the usual winter dip in memorial sales was reportedly smaller than usual.
On the other hand, cold weather does tend to take its toll on mortality and the weekly number of deaths so far reported to the General Register Office this year are significantly lower than they were last year (Fig 2). These are provisional figures for England & Wales only and there will be some so-far unrecorded deaths to be added. Nevertheless, the difference in the number of deaths seems stark. It was as much as 15% lower some weeks this winter than in 2018, which presumably will mean some reduction in memorial sales in the months ahead.
On a longer time scale, the fall in both the number and the rate of deaths at the start of this millennium does now seem to have gone into reverse, according to the more precise figures from the Office for National Statistics (Fig 1). The ONS will not produce annual statistics until more than a year after the figures have started to be collected because it says they can be amended for that long and because it includes reasons for deaths and breaks them down into age groups and geographical regions. As a trend (and excluding the World Wars), life expentancy has been increasing since Victorian times and hit new highs at the start of this millennium. Peak life expectancy seems to have been reached (at least for now) in 2011, when the number of deaths and the death rate started to increase again. Whether that is a real trend for an increased mortality rate or just a temporary blip in an otherwise still increasing life expectancy will be determined over a longer time scale. 
We have included a break-down of the proportion of deaths in each region in 2017 (Fig 3) so you can see how your region fares. The figures are based simply on the number of deaths, so areas with the highest populations might be expected to have a higher number of deaths.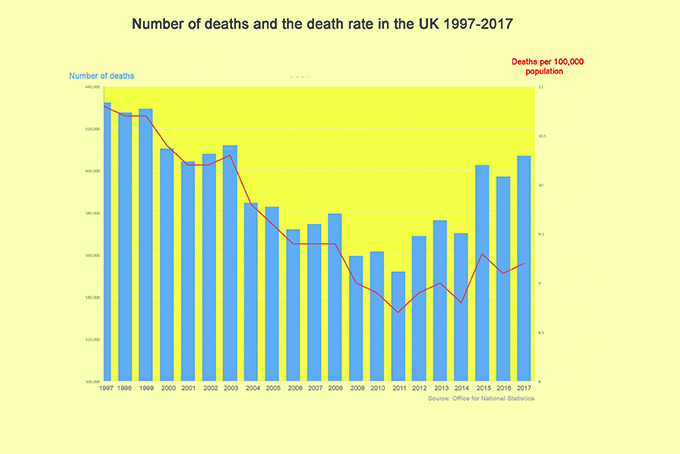 Fig 1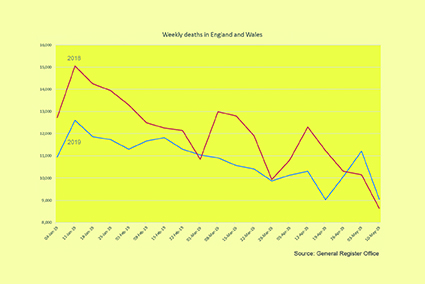 Fig 2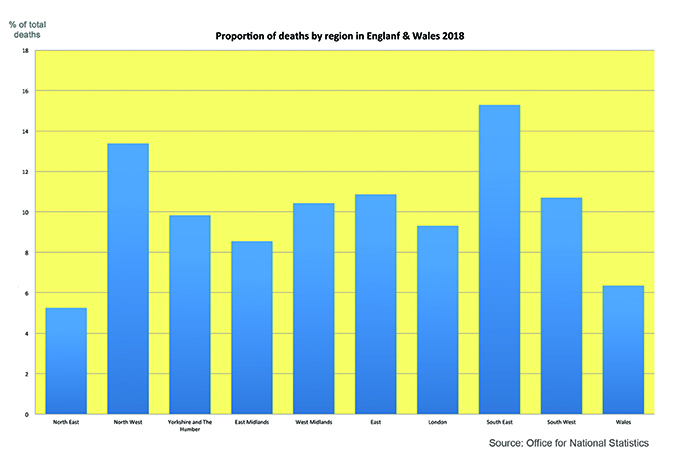 Fig 3
Cemetery of the Year Award highlights memorials
The Memorial Awareness Board (MAB), which has appointed Phil Potts, previously the NAMM national executive officer, as its new administrator, reinstated the Cemetery of the Year Awards last year and is holding the competition again this year.
The Cemetery of the Year Awards are an excellent way of engaging the burial authorities and encouraging them to think about the importance of memorials to their grounds. The publicity associated with the Awards also means the message reaches the public. And they represent an opportunity for memorial masons to engage with the cemeteries they are involved with and show their appreciation of these public spaces.
It is cemetery authorities that enter the competition but memorial masons can benefit by encouraging the cemeteries they deal with to enter, especially as a category for memorial design and innovation has been added this year.
The competition is free to enter and open to any cemetery or churchyard in the UK. Entry is online at www.cemeteryoftheyear.org.uk with a closing date for this year's competition of 31 July.
The categories are:
A. Small/Medium Burial Grounds up to 10,000 graves
B. Large Burial Grounds above 10,000 graves.
There are three new categories for 2019:
1          Parish, Town and Community Councils 
2          Natural Burial Ground Provider
3          Design and Innovation of Memorials. This is open to any memorial fitted in a cemetery in the past five years. The Cemetery Manager will send a maximum of three photographs of the memorial (after obtaining permission from the family) along with a short description of why it should be considered for an award.
The entries will be judged on their design and innovative qualities.
Initial judging will be on the basis of the online entries and photographs. A short list of the best entries will be drawn up and they will receive notification in writing that they are among the finalists. They will then be visited by an adjudicator.
The application form is simple to complete and allows the applications to be marked objectively with points allocated for each section. This means feedback can be given to each entrant showing not only their overall competition marks but also how they can improve and develop their cemeteries. 
There will be a presentation ceremony at the ICCM conference in September at which the winners in each category will be presented with a 'Cemetery of the Year 2019 Winner' framed Gold Certificate along with a press release that can be used to promote the cemetery's work and achievement in the Awards.
Runners up in each category will receive a framed Silver Certificate and a press release.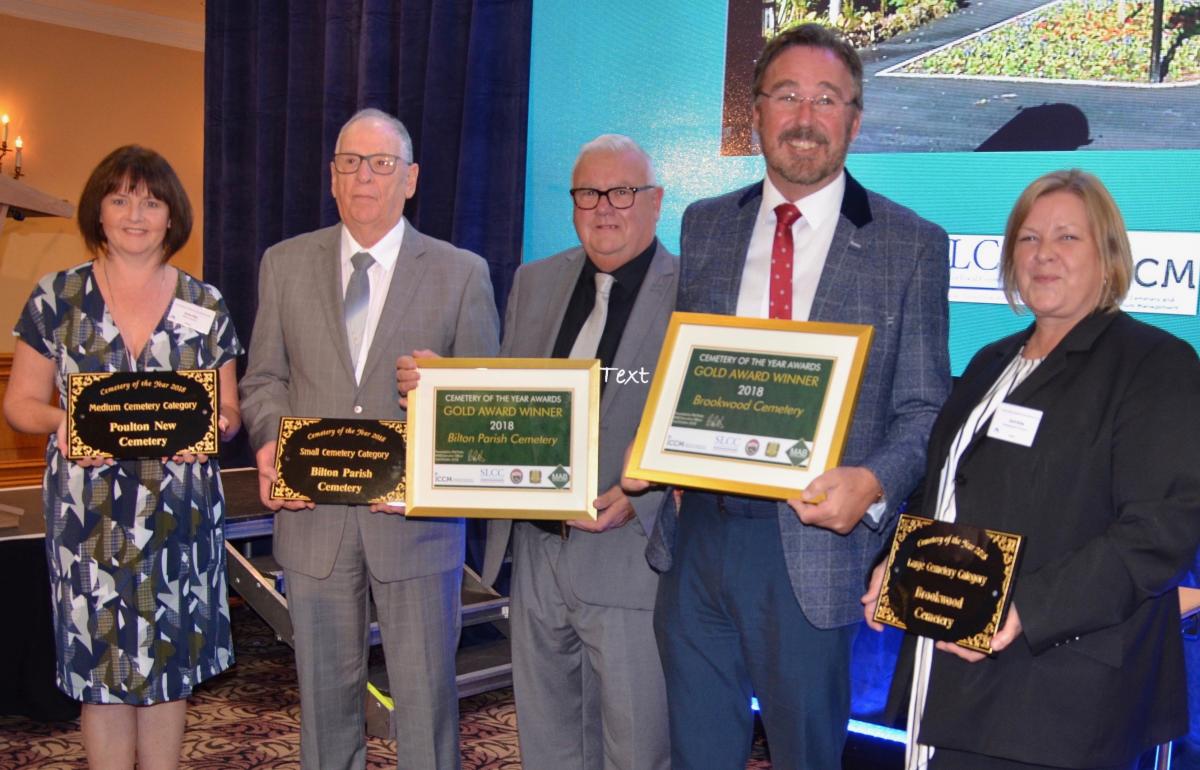 Winners in last year's Cemetery of the Year Award.