Ruby Granite: A gem from north Wales
Ruby Granite has been growing ever since Ross Salter set it up 15 years ago. It's latest expansion sees the company double the size of its factory workshop, open a new showroom at its premises in north Wales and modernise its presentation with an updated logo and new website.
Ross Salter has just celebrated his 36th birthday but he has already been running his own business for 15 years. And in that time it has gone from strength to strength.
To keep up with the increasing workload for the worktops and bathrooms that constitute the majority of what is supplied by his company, Ruby Granite (named after his late grandmother), he has just extended and modernised his factory, at the same time adding a showroom to what are now 1,500m2 premises in Mochdre, near Colwyn Bay in north Wales.
The company has also been given a new look and its website has been updated.
The latest move is own brand quartz, which Ruby Granite sells under the name of LA Quartz. It is brought in, a container load at a time, from China, from a company Ross was introduced to by a business contact. 
Importing directly has increased the stock he holds to about 400 slabs of granite, quartz and porcelain/sintered products, but he says he can now supply up to 25 kitchens a week and can afford to increase his stockholding.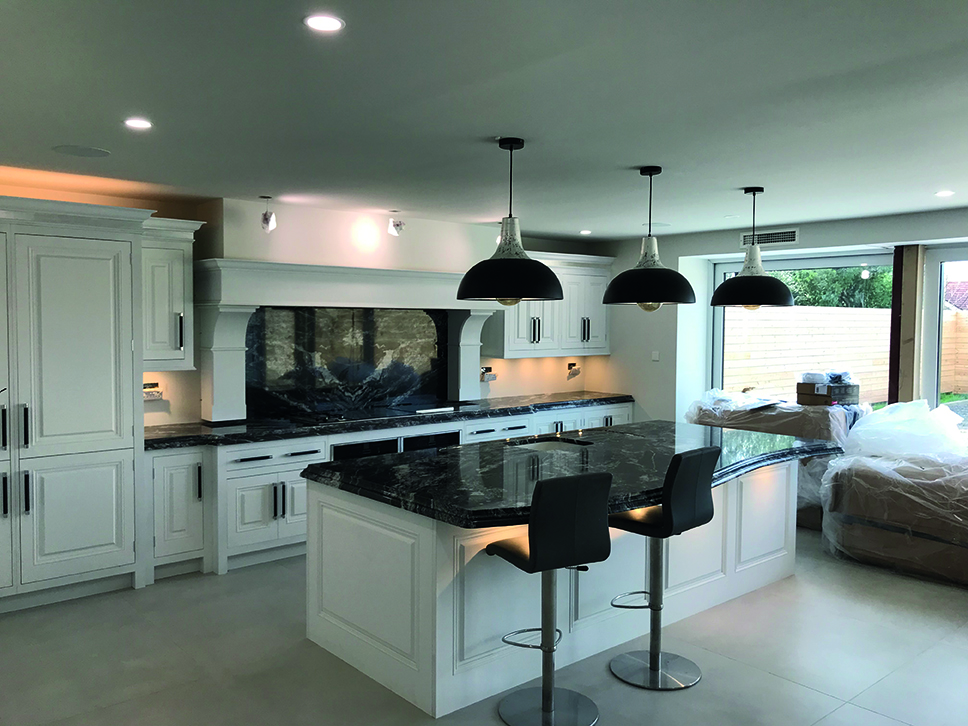 Inevitably these days, about 70% of his work is in quartz, 20% in granite and 10% in porcelain and sintered products. He says he has coped well enough with porcelains but has lately started using Atlas Concorde's new range of large format slabs, from which he says circles can be cut without even loosening the tension on the material beforehand. Ross had originally been sceptical but Atlas gave him a slab to try out. "It works fine –and they have marble and industrial finishes."
Ruby Granite has also just started using Porcelanosa and will be having Lapitec training shortly.
Ross does not rely solely on the local market for his sales. He goes north, south and east to wherever the work takes him. He is currently working with a developer building 1,000 apartments in London. There are up to 100 properties he will supply in Manchester and 200 in Liverpool. He is also using his CNC capability now to produce steps for another stone company that he says is far enough away not to be a direct competitor.
In order to extend his premises, Ross bought the neighbouring property, giving himself twice the space. He joined the two factories together, concreted the floors, clad the walls and put in new air lines and lighting. He added a gantry that goes the full width and length of his new factory workshop and upgraded his home-made water management system to a Turrini Claudio recycling unit supplied by LPE Group – and he says he would recommend it to any granite company as it has cut his water bill from £2,800 a month to £35 a month.
He chose the Turrini Claudio system because he trusted Simon Bradbury of LPE Group, which supplied it. He met Simon three years ago at the KBB exhibition in Birmingham, when Ruby Granite wanted to move over to laser templating, which LPE Group also sells.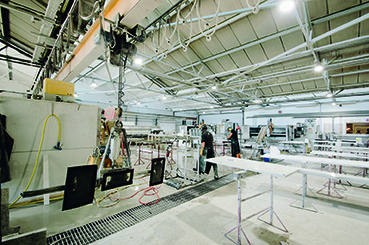 Ross would have been happy to stick with Correx for templates because he likes seeing in a physical format what is to be produced. He believes it leaves less room for error. However, having moved into CNC machinery with a Breton NC260 and a 250 as well as a GMM Extra saw, he needed a digital templater. The day after the CNC saw was installed was the day Correx gave way to laser templating at Ruby Granite.
One of the 21 people employed by the company concentrates on templating and can do four or five projects a day with the Laser Products equipment. The templates are emailed back to the factory and the worktops produced before the templater even gets back to base. The company has two teams of fitters installing the products.
Alongside the CNCs, Ruby Granite also has a Comandulli edge polisher from another of the LPE Group companies and even a small Kolb that Ross says is still used on a daily basis for jobs that are not worth setting up a CNC to perform.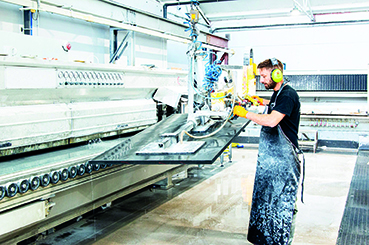 Ross admits he is no academic and struggles with dyslexia, but there is not much doubt about his entrepreneurial acumen. Last year that saw him create his own thermal former for quartz (a tank of boiling water large enough to take a slab of quartz). Quartz is about 30% resin by volume and when resin is heated it can be shaped in the same way solid surfaces are.   
It was his solution to a project calling for shaped quartz. Rather than saying he couldn't do it he found a way. He says after half an hour in a bath of boiling water Silestone can easily be bent. And he is as happy to work with other fabricators needing thermoformed quartz as he is in any other sphere of his business.
It was, no doubt, Ross's entrepreneurial zeal that made him impatient to start his own business. His dad, Cedric, was a stonemason and inspired him to pursue a career in the industry.
"When I left school and went to college to do engineering my heart wasn't in it and at the time I felt all I really wanted to do was work with my dad and become a stonemason."
So he gave up engineering and started working with his dad and attending a stonemasonry course at York College. After a year-and-a-half he pulled out of that, fed up with the travelling.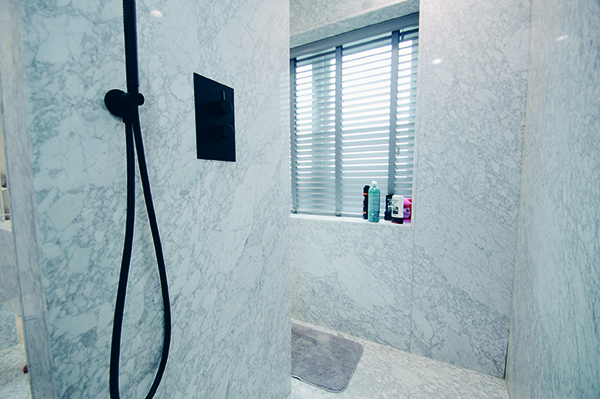 "I wanted to stand on my own two feet and go it alone. I managed to get a bank loan, sold my beloved Volkswagen Golf and bought an old Transit Van. I got some tools and went for it, working every hour I could in a little shed near my home in Deganwy to get my own business up and running.
"One of my first jobs was at a house in Betws-y-Coed, where I did everything from railings to drains, plastering and stonework.
"The owner was going to pay a lot of money to have kitchen worktops made and asked if I wanted to do it. I bought some slabs, had them delivered, cut them all up and he was delighted with what I produced. So it went from there.
"The kitchen company saw what I'd done and started putting work my way. It was quite slow as I would do all of the sawing, templating, polishing, fitting and quoting.  I had no lifting equipment other than an old forklift and a friend who would help me. It was a far cry from where we are now."
Ruby Granite began to expand, moving to commercial premises in Trefriw before relocating to Quinton Hazell Enterprise Parc in Mochdre.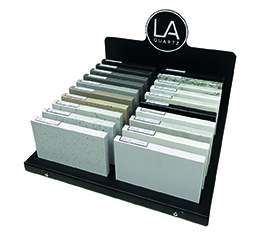 "The business had been growing steadily but it really took off when we came here," says Ross. "I went from one kitchen a week to an average of 17 a week now, which has seen us increase profits and our workforce."
It has also helped raise the company's profile, even getting appearances on popular TV programmes DIY SOS, Grand Designs and Salvage Hunters: The Restorers. 
Six years ago Ross met Gemma. She owns The Hair Shop in Colwyn Bay and is now his wife and the mother of their three-year-old daughter, Livia. Ross says: "Gemma gave me a sense of perspective and helped me find the balance we are all looking for.
"A year or so ago this business was controlling me. I was working long days, every day, and never having any time off. Now I've wrestled that control back. We work hard, we make amazing products and we have a loyal and supportive customer base.
"We're in a very good place and I would like to thank all of our staff, past and present. We have an amazing team that will help us continue to grow."