Sales of imported stone show little fluctuation
For the first time since 2008 the value of stone coming into the UK just topped the £400million mark in 2014 (£400.43million) only to dip back below it again last year (£391.90million). The figures are produced by HM Revenue & Customs based on VAT returns and do not facilitate much detailed analysis, but if you remove the hard landscaping and roofing slate categories from the equation, so that what remains is building stone, it accounts fairly consistently over the period (within four or five percentage points) for about 70% of the dimension stone that comes into the UK.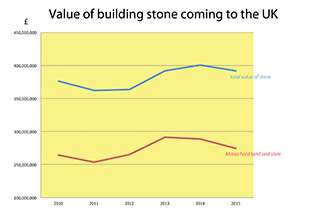 The proportion of stone coming from the EU (marked as arrivals on the graph) has continued its slow, downward trajectory in spite of the increasing efforts of European producers to make direct contact with buyers and architects in the UK. Some companies report that the burst of activity expected in the final quarter of last year was not as big as usual, which could account for the fall. Imports from India were also down while from China they remained consistent.
About half the building stone brought into the UK from overseas comes from India and China directly, in roughly equal proportions. In hard landscaping, India and China have supplied more than half the stone used for several years. Most of the rest of the overseas stone (wherever it might originate) is still supplied from Western Europe, from both EU and non-EU countries, accounting for 33% of the foreign building stone market in the UK last year and 38% of it in 2014.
Data source: HM Revenue & Customs