See sculpture and letter carving at the Natural Stone Show
A new feature of the Natural Stone Show taking place in London at ExCeL from 30 April to 2 May is the 'Sculpture Studio', where some of the industry's artists have been invited to exhibit examples of their work in a celebration of the best of British creativity, craftsmanship and design.
Click here to get your free ticket for the Natural Stone Show
The artists involved include Mark Brooks of Artisan Memorials and Lois Anderson, two of the artist-lettercarvers of The Lettering Arts Trust, and sculptors Carrie Horwood of Cat's Eye Carving, Pippa Unwin of Mewstone Masonry, Oliver Annaly and Jude Tucker.
The Lettering Arts Trust has created a niche for itself as a champion of the art of lettering and letter carving. It raises awareness of the art form and ensures that the role of the master craftsman and a rich lettering heritage is valued.
The Lettering Arts Trust ensures the continuum of these skills through a programme of education, with apprenticeships and journeyman schemes and a range of workshops held across the country in artists' studios.
Using a contemporary lettering designer, working in stone or other materials, creates a unique and lasting impression. For bespoke signage, cornerstones, keystones, impressive facades and monuments, commission a lettering artist to craft the finishing touch to your architectural or landscape project.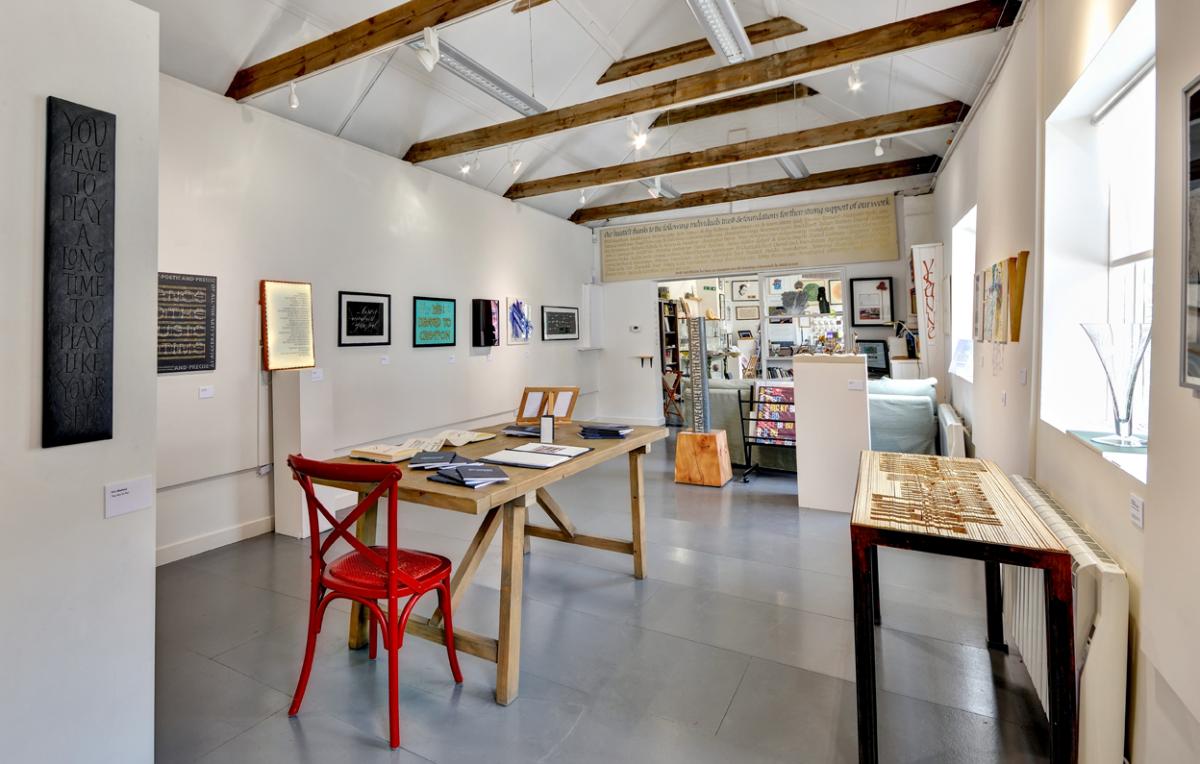 The Lettering Arts Trust gallery at Snape Maltings, Suffolk.
The Lettering Arts Trust works with the most gifted artists in the UK - all peer-reviewed and selected by master letter carvers for the quality and originality of their designs - to help you find the right artist for your project.
The Lettering Arts Trust is a leading voice for promoting lettering to the public. It brings the finest artists and the public together, engaging them through exhibitions, training programmes, and original commissions. Its permanent gallery at Snape Maltings in Suffolk showcases the work of renowned lettering artists, past and present, with an ambitious annual programme of exhibitions exploring the many facets of the art form.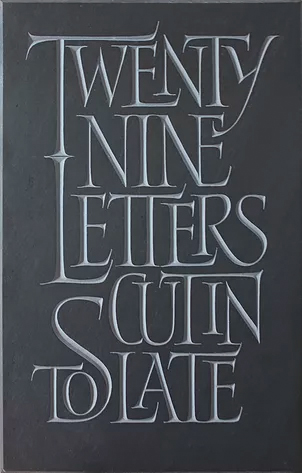 Lettering on slate by Mark Brooks.
You can find examples of public and private commissions on the artists' gallery page of our website and if you would like further advice, get in touch with us by emailing [email protected].
The Lettering Arts Trust, Lettering Arts Centre, Snape Maltings, Suffolk, IP17 1SP
Tel: 01728 688393
Other sculptors taking part in the Sculpture Studio at the Natural Stone Show are:
Carrie Horwood achieved a degree in sculpture at Christ Church College in Canterbury from 1995-1999, after which she had work experience in the mason's yard at Canterbury Cathedral, where she decided this was what she wanted for her career. In the Summer of 1999 Carrie moved to Gloucestershire where she became the first woman apprentice stonemason at Gloucester Cathedral. She set up her own business in 2005, undertaking many types of commissions involving letter cutting, sculptures and smaller designs that she sells from her studio at Taurus Crafts on the edge of the Forest of Dean.
Pippa Unwin is a stonemason carver famous for her animal sculptures. She originally trained as a children's book illustrator at Cambridge Art School and worked on several published books. But she always wanted to work in three dimensions, so studied for NVQs 2 and 3 in Architectural Stonemasonry and Carving at Bath College. She now has her own Mewstone Masonry workshop near Kingsbridge, in Devon.
Jude Tucker is based in south Warwickshire near Stratford upon Avon, her flowing stone sculptures celebrating the beauty in the natural world around her. She has explored many media as an artist and turned to stone after a visit in 2003 to the Portland Sculpture Trust in Tout Quarry on the Dorset island.