See sculpture and letter carving at the Natural Stone Show
A new feature at the Natural Stone Show taking place in London at ExCeL from 30 April to 2 May is the 'Sculptors' Studio', where some of the industry's leading artists have been invited to exhibit examples of their work in a celebration of the best of British creativity, craftsmanship and design.
The artists involved include Mark Brooks of Artisan Memorials and Lois Anderson, two of the artist-letter carvers of The Lettering Arts Trust, and sculptors Carrie Horwood of Cat's Eye Carving, Pippa Unwin of Mewstone Masonry, Graeme Mitchinson and Jude Tucker.
The Lettering Arts Trust has created a niche for itself as a champion of the art of lettering and letter carving. It raises awareness of the art form and ensures that the role of the master craftsman and a rich lettering heritage is valued. Ensuring the continuum of these skills through a programme of education, apprenticeships and journeyman schemes, it holds a range of workshops across the country in artists' studios. Further information can be found at www.letteringartstrust.org.uk.
The Lettering Arts Trust works with the most gifted artists in the UK - all peer-reviewed and selected by master letter carvers for the quality and originality of their designs - to help you find the right artist for your project. As a leading voice for promoting lettering to the public it brings the finest artists and the public together, engaging them through exhibitions, training programmes, and original commissions.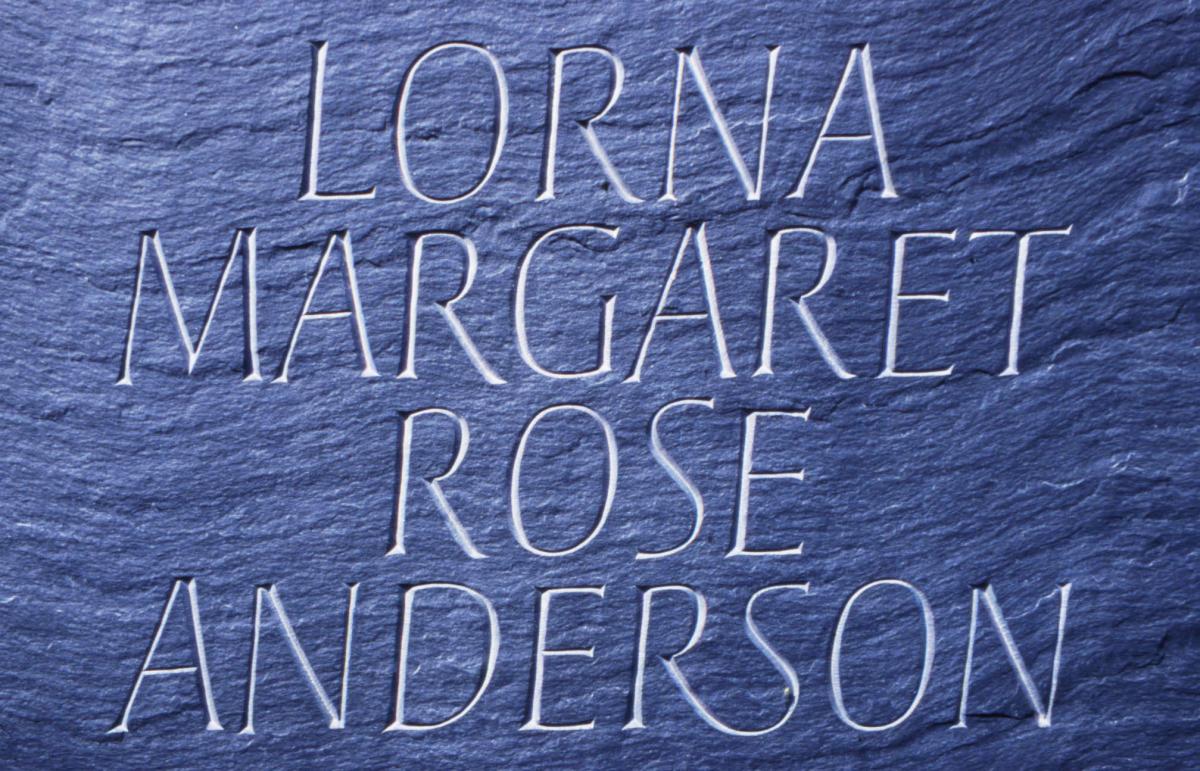 Mark Brooks, an experienced calligrapher and lecturer, has been carving all his working life in a broad range of media including stone, brick, ceramics, glass, pen and paper (calligraphy) and digital for print and fabrication. His work ranges from the huge landmark sign at Margate's seafront for The Old Kent Market to intricate monograms for bespoke jewellery. He has also carved the large title lettering into the front of the Freemasons Headquarters in Covent Garden, as well as 300 hand carved and gilded slate place-cards for an extravagant party thrown by a well-known retail magnate. He dedicates much of his time to bespoke headstones and memorials in stone which he considers an important and rewarding part of his work.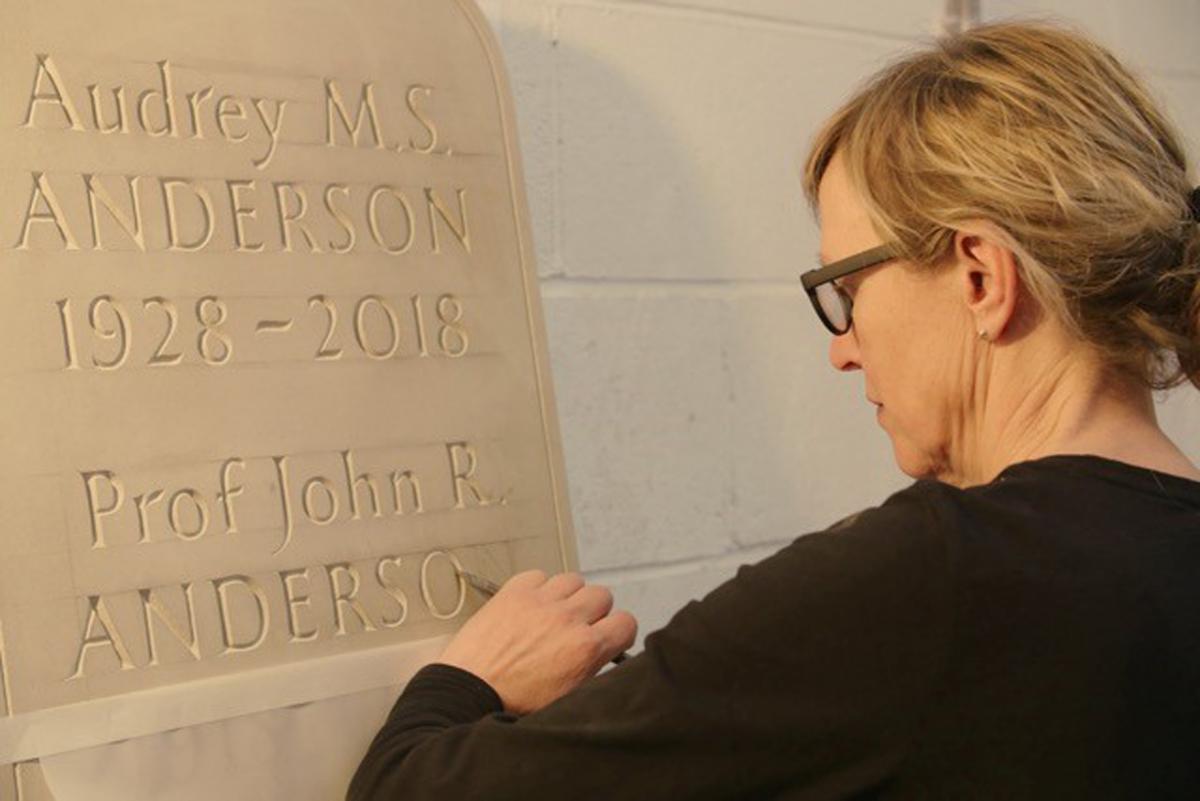 Also a Trust affiliate, Lois Anderson runs a letter-carving workshop in Islington, North London. She studied letter-carving for two years at Weymouth College, then worked for Richard Kindersley as an assistant in his London studio for a further two years. She works to commission for new projects as well as restoration and cleaning of old stones. Lois mainly uses indigenous stones but will also re-purpose old materials and diversify to other media. In addition to applied lettering on buildings and being the stone carver to RIBA, she creates signs for houses, public buildings, interior and exterior decorative pieces and memorials.
Both can be seen working on their latest projects at the Sculptors' Studio at the Natural Stone Show. The following carvers will also be in the Sculptors' Studio: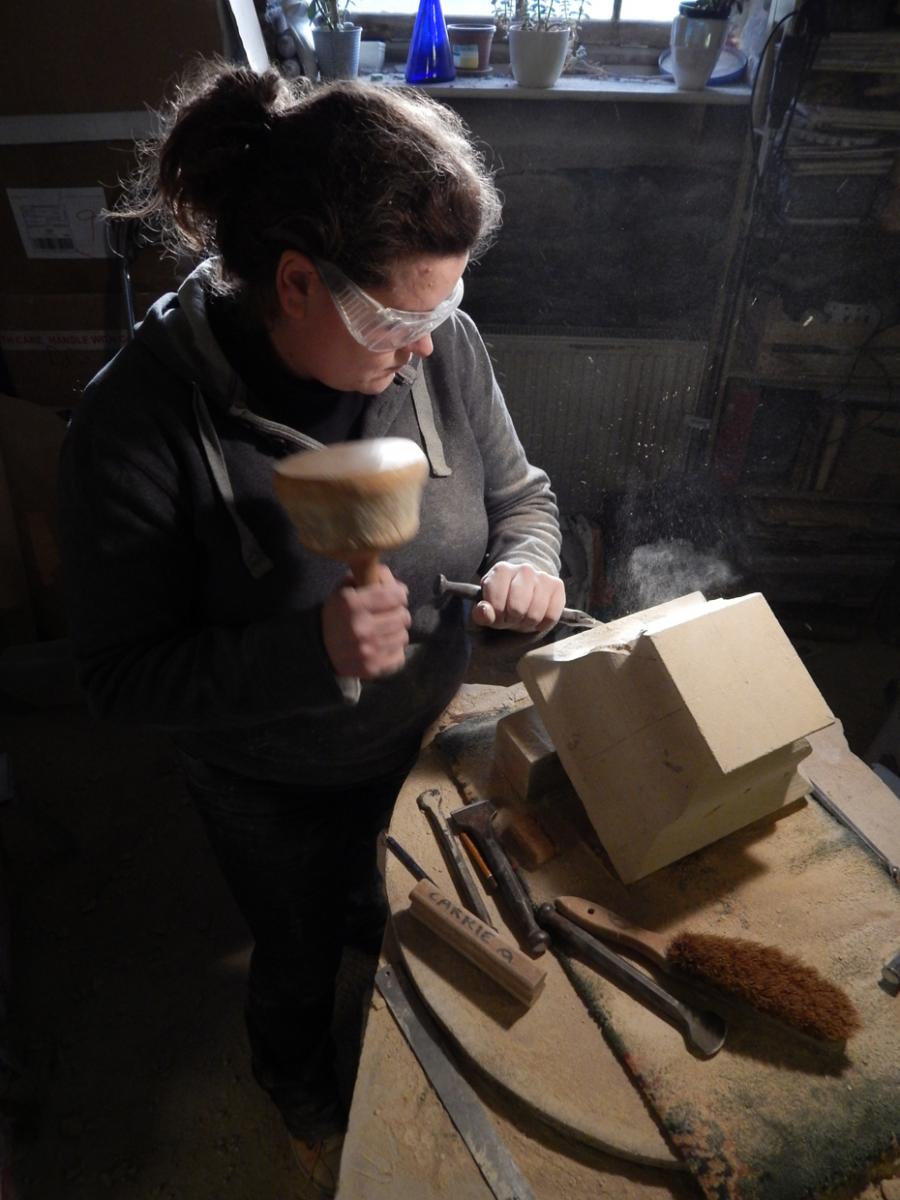 Renowned as the organiser of the Gloucester Stone Festival, Carrie Horwood's career started at Christ Church College in Canterbury, where she achieved a degree in sculpture in 1999. She secured work experience in the mason's yard at Canterbury Cathedral, which brought conviction to her decision that this was the career path she wanted to pursue. In the Summer of 1999 Carrie moved to Gloucestershire where she became the first woman apprentice stonemason at Gloucester Cathedral, and by 2005 she had established her own business undertaking many types of commissions involving letter cutting, sculpture and smaller designs. She will be bringing a number of pieces to the Sculptors' Studio, including Angel Lepine and Mother and Child, as examples of the work available to buy from her studio at Taurus Crafts on the edge of the Forest of Dean.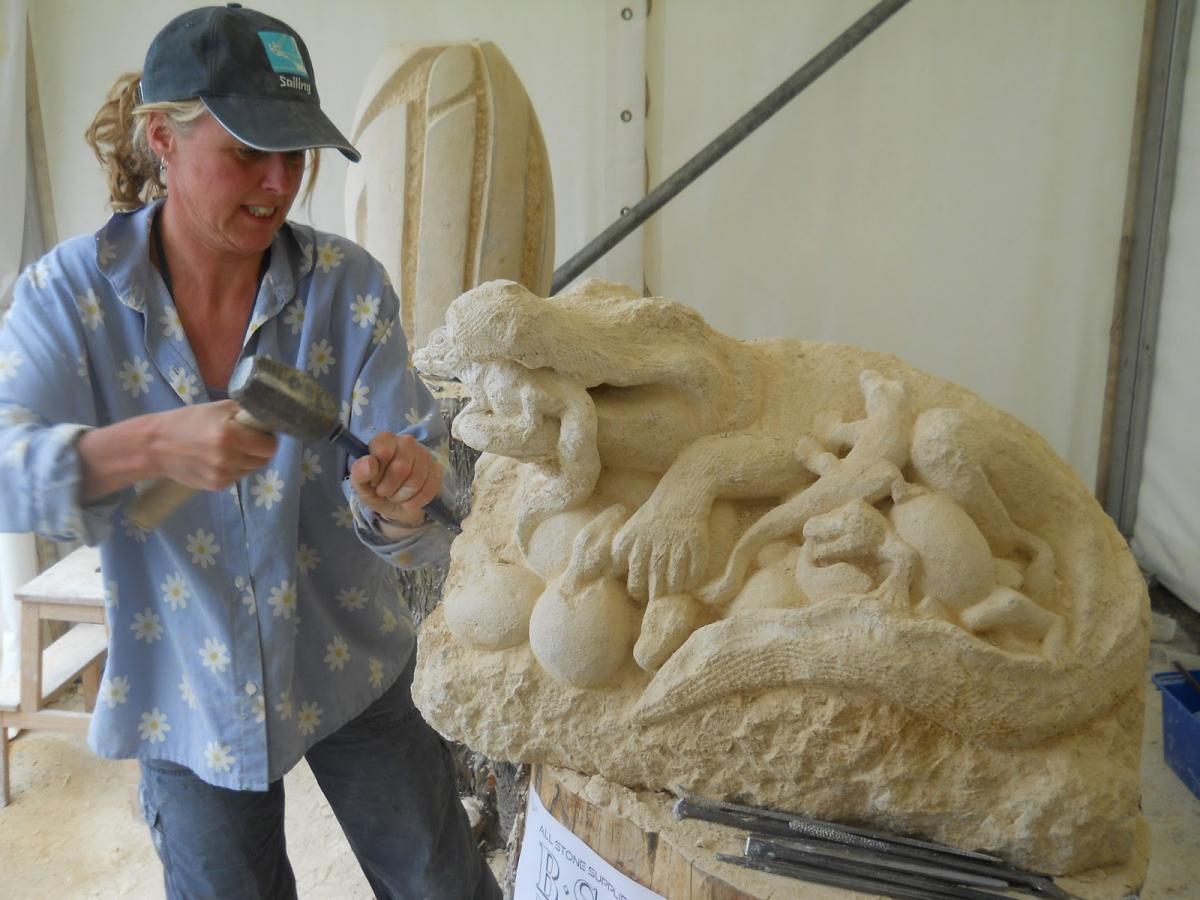 Famous for her animal sculptures, examples of which will be exhibited in the Sculptors' Studio, Pippa Unwin  originally trained as a children's book illustrator at Cambridge Art School and worked on several published books. Her desire to express her work in three dimensions lead her to further study and she completed NVQs 2 and 3 in Architectural Stonemasonry and Carving at Bath College, which lead to an apprenticeship with Keystone Masonry in Salisbury.  With five years' experience behind her, she starting to take commissions of her own, working on restoration, new build, lettering carving and sculpture. She continues to be self-employed working predominantly on fireplaces and sculpture from Mewstone Masonry workshop near Kingsbridge, in Devon.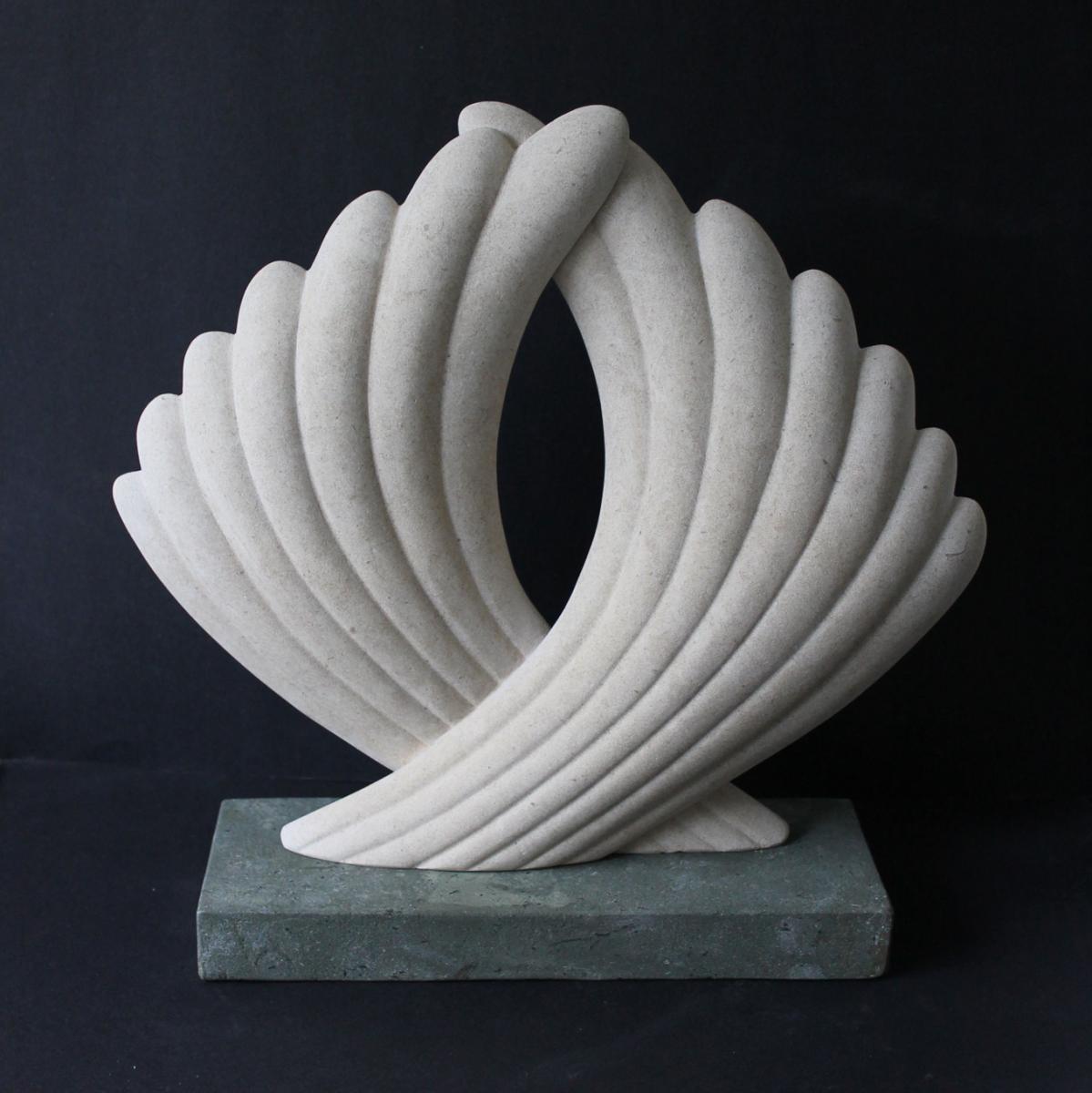 Jude Tucker's education in art began in 1966 and she continued to study art until the mid-70s, exploring many media, including ceramics, printmaking and large charcoal drawings. It was only after visiting the Portland Sculpture Trust in Tout Quarry on the Dorset island in 2003 in an attempt to recover from a period of 'artist's block' that she turned to stone. This marked the start of her training in stonemasonry during which she had the opportunity to design and carve two grotesques for St Georges Chapel, Windsor. She was offered her first exhibition in 2007 and continues to exhibit her work, also running stone carving courses. Her distinct signature style of flowing sculptures celebrating the beauty in the natural world will be shown at the Natural Stone Show, including Dovetail (pictured here) and Amphora.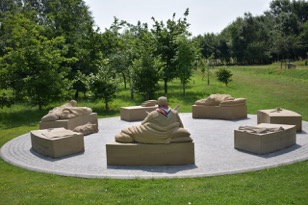 Specialising in public art sculpture, Graeme Mitchinson graduated from Loughborough College of Art in 1995 and won his first significant commission on 'Cures', a 2m tall, hollow white limestone column with a spiraling inscription of more than 3,000 carved letters for the pharmaceutical company AstraZeneca. His other major works include an 8-tonne granite Millennium sundial in Leicestershire and four sculptural seats for New Walk in Leicester, an ancient walkway into the heart of the city. His tactile and eye-catching work can been seen all over the UK, with sculptures in Belfast, Northumberland and Wales. He will be bringing models and maquettes to ExCeL that he has used in advance of making his large-scale public artworks. They will give an insight to the preparation and planning involved in creating his pieces. Visitors to the Show will be able to see scaled versions of The Flower, a life-sized bust of The Scout and Mussel.