Pinnacle Certificate of Merit for Scottish Dry Stone Wallers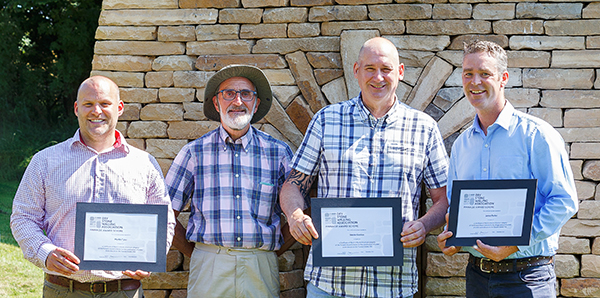 Scottish Sculptor James Parker and the team at Drystone Walling Perthshire have received the prestigious Pinnacle Award Certificate of Merit from the Dry Stone Walling Association (DSWA).
The Pinnacle Awards recognise exceptional projects incorporating dry stone walling in Great Britain. This is the first Certificate of Merit to be awarded in Scotland since 2006.
The winning work is a Doocot (Dovecot), commissioned by Sir Fraser and Lady Morrison of Teasses Estate, Fife. It was commissioned in celebration of their golden wedding anniversary and was submitted for consideration under the Dry Stone Walling Association's Pinnacle Award Scheme that highlights craftsmanship, innovative use of design and inspirational use of stone.
This is only the seventh award to be made in Scotland under the Pinnacle Award Scheme since its inception in 1994, with previous project winners including a Packhorse Bridge near Dunkeld and Ratho Adventure Centre.
The Doocot, which stands more than 4m high, was designed by James Parker of James Parker Sculpture. He also contributed to the building of it, carrying out some of the more complicated features and all the joinery work. Working with him were Martin Tyler, Stevie Gordon and Findlay Reade of Drystone Walling Perthshire. They used some 40 tonnes of Alston Stone from a fell quarry in the Pennines operated by Alston Natural Stone. Dry Stone Walling Perthshire is a team of professional wallers that works on a wide range of dry stone projects across Scotland.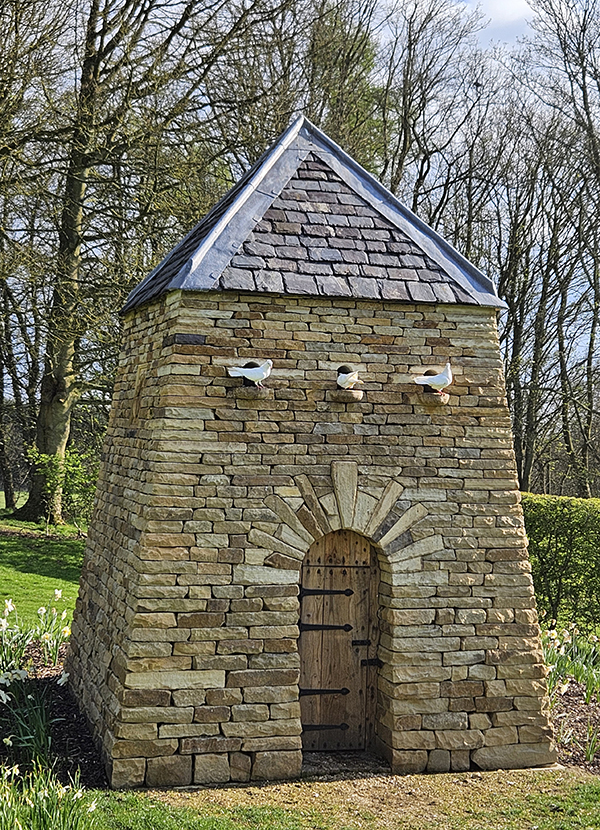 The DSWA says it is delighted to recognise the work involved in constructing the Doocot, which sits nicely in its surroundings and is so well proportioned that it appears much larger than it actually is when viewed from a distance. The semi-circular arched doorway voussoirs form a pleasing, well balanced fan shape and the build even incorporates the family coat of arms, carved in stone by Gardner Malloy of Cockenzie.
As explained by Sean Adcock, the DSWA's Pinnacle Award Co-ordinator: "The Award Scheme seeks to inspire people to commission work like the Doocot and it is encouraging to see young wallers and designers working on exciting projects such as these that can be enjoyed by the public for many years to come."
Doocot designer James Parker says: "A project like this is a once in a lifetime experience; an opportunity to demonstrate skills and techniques in dry stone walling and to create a structure that will exist for many, many years.
"To be recognised by the DSWA for the Doocot is a real honour. My grateful thanks go to Martin, Stevie and Findlay of Drystone Walling Perthshire who built the Doocot alongside me and to Sir Fraser and Lady Morrison for commissioning the project. I hope it brings them and visitors to Teasses a great deal of pleasure."
Doocot owners Sir Fraser and Lady Morrison said: "To celebrate our golden wedding anniversary we wanted to add to the rich heritage of the estate and gardens at Teasses by creating a focal point opposite Teasses House. Working with our chosen sculptor, James Parker, we decided to build a doocot in dry stone.
"James, and Martin Tyler together with his outstanding team of dry stone wallers, created a masterpiece, which we are delighted the Dry Stone Walling Association has recognised with an Award.
"The Teasses Doocot will grace the gardens at Teasses for generations to come. On a daily basis we enjoy the doves flying round the gardens and admire the design and craftsmanship of an exceptionally talented team."
The Certificate of Merit was presented by Richard Love of the Dry Stone Walling Association on 14 June. 
You can watch a video of the building of the Doocot at Teasses below.