Stone cleaning: boil it, freeze it, blast it, zap it
From superheated water at 150ºC to dry ice at -79ºC and from baking powder to lasers – they are all used for cleaning stone. Natural Stone Specialist magazine spoke to companies developing the technology.
Last month (September) Stonehealth, which sells the Doff steam cleaner and Torc gentle abrasive cleaner, introduced an online store to its website. You can buy Doff or Torc from the store, but not 'off the shelf'. Stonehealth will communicate with customers via an online form to ensure they are buying the correct machine for their needs. You can, however, put the newly introduced range of Lavor Hyper brand pressure washers and vacuum cleaners straight into your online shopping basket.
Made by Italian company Lavorwash, they are clearly marked as 'restoration' products to distinguish them from Torc and Doff, which Stonehealth regards as conservation products that require operatives to be trained how  to use properly to achieve appropriate conservation cleans.
Stonehealth's Doff and Torc have such a valued reputation with architects, conservation officers and other specifiers, that Stonehealth introduced its 'Rosette Scheme' several years ago to identify properly trained operatives of its systems. It issues them with cards identifying them as trained operatives and strongly advises architects and clients to view the cards before work commences on sensitive buildings.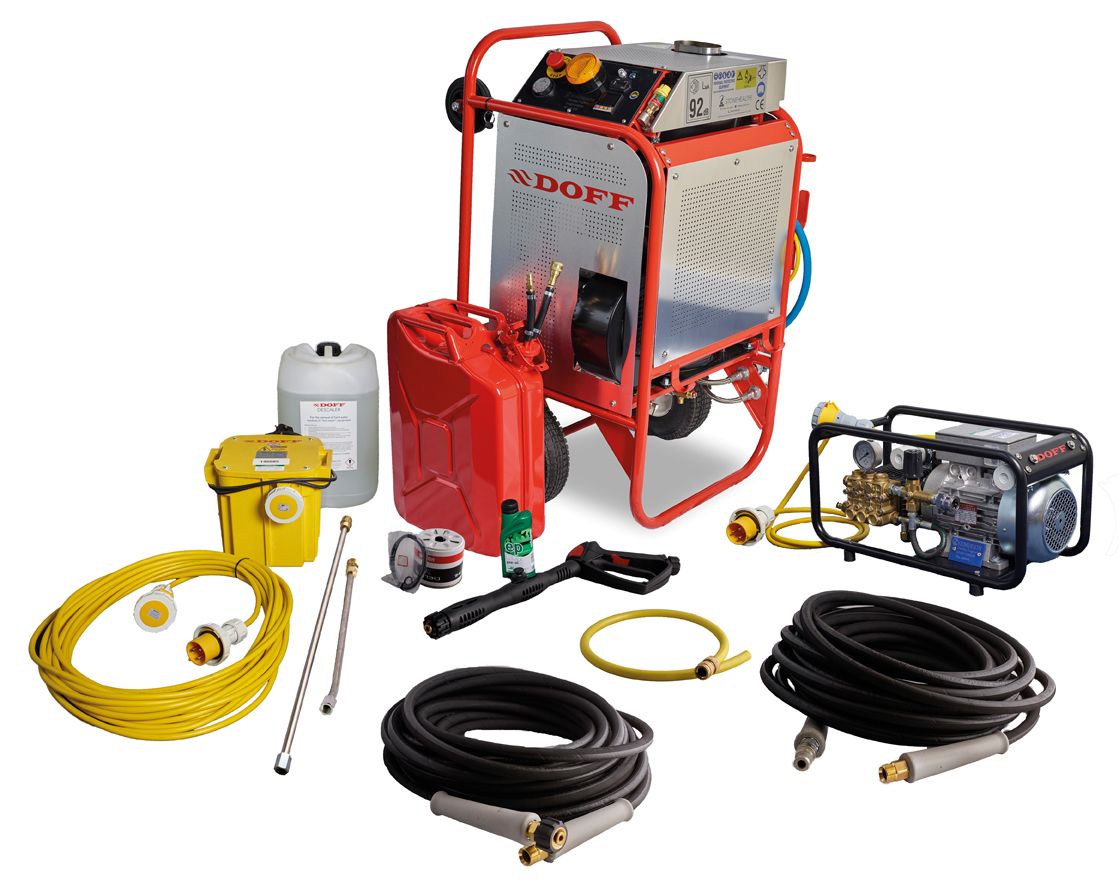 Stonehealth is often asked for the names of companies that can carry out conservation cleaning and it is happy to offer those of companies whose operatives it has trained. And it does so, it emphasises, without asking for or receiving any royalties or commissions for referrals.
When providing referrals, Stonehealth takes responsibility for listing genuine contractors only who it knows will carry out the work in a way that meets all the Stonehealth Rosette requirements.
But the Lavor Hyper cleaning products are not for sensitive conservation work. They are powerful, high-pressure units that do not cost as much as Stonehealth's specialist conservation products and are ideal for general restoration work. They complement rather than offer an alternative to Doff and Torc.
Stonehealth was aware of the products introduced by Lavorwash because the Italians supply the boilers used in the Doff steam cleaners. In fact, Lavorwash has supplied Stonehealth for more than 20 years, so the companies have a well-established relationship.
Stonehealth particularly liked Lavorwash's insistence on  manufacturing all the high-pressure cleaning components of the Lavor Hyper range in-house in order to have complete control over the final product and to be able to adopt necessary improvements based on feedback from customers.
Lavorwash Group has expanded into an international company in the cleaning industry having been started in Italy in 1975 by Giancarlo Lanfredi. The business began in Italian town of Suzzara making pressure washers and air compressors. It now encompasses many aspects of cleaning, from the domestic to the professional range of pressure washers, vacuum cleaners, wet & dry steam systems, sweepers and floor polishers. It employs more than 300 people and works with 200 associates (like Stonehealth), with branches in Europe, Brazil and China.
As well as the high pressure washers, Stonehealth is introducing dry steam machines, although they have not been put on to the online store yet.
Unlike Doff, which actually cleans with super-heated water as well as steam, dry steam machines have self-contained pressure vessels that release just steam. They use less water and therefore only need a small tank of it (2-6 litres), which makes them easily portable for reaching awkward places. They are for intricate cleaning in sensitive environments such as churches.
Also online is a range of anti-graffiti applications from APP in the Netherlands. These are for treating surfaces to make it easier to remove any graffiti that is daubed on to a surface. There is a permanent treatment for applying to newly poured concrete and a sacrificial treatment (APP S) for stone and other porous surfaces.
APP S is made from vegetable biopolymers suspended in water. Applied by brush, roller or spray in two coats, it leaves the stone with a natural looking finish but protects it against graffiti and atmospheric soiling. It is said to last for three years before it needs refreshing, although there is no need to remove the previous coat before applying the new one. It just needs washing down.
The concrete protector is a bit of a departure for Stonehealth, but Director Jim Diamond says it came to the company's attention and there was the opportunity to market it around the world, which could expand the Stonehealth sphere of influence.
Stonehealth considers these conservation products, but is also introducing a range of renovation products from Proteger Protect Ltd (PPL) in Wilmslow Cheshire.
The PPL product library includes fast-acting sealants (Proteger ProShield Facade and Stone Sealer), Colour Enhancers (Shield-it and Restore-it Colour) and Street Guard HD for pedestrianised areas. If anyone wants to try it out before committing to it there are free samples available to companies willing to provide feedback. "We want to know what our customers think of it," says Jim.
Stonehealth says it is still predominantly promoting its own equipment and products but wanted to branch out to offer a wider range to its customers. "We're trying to offer people the products they are looking for," says Jim.
There are also more moves in the pipeline, although Jim says: "I can't really say anything about that at the moment." Keep an eye on the new website to stay up to date.
Competitors Restorative Techniques also offer a superheated steam cleaning system (ThermaTech) and a gentle nebulous abrasive cleaner (VorTech) and lately the company has combined both methods of cleaning  by adding an abrasives dispenser to the superheated steam cleaner.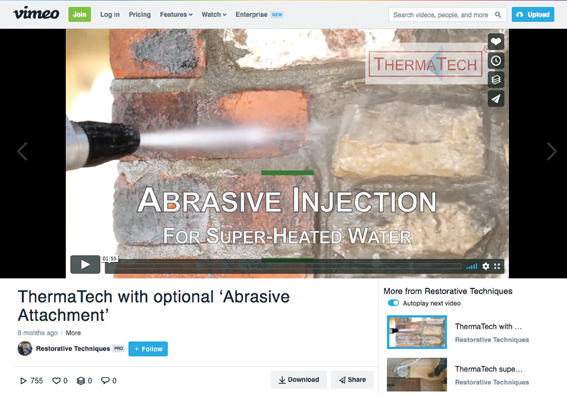 It is easy to attach the abrasive dispenser to the ThermaTech and a back-pack to carry the abrasive makes it particularly mobile if you need to move about. You can watch a video of it at vimeo.com/312083283.
The tricky bit is making sure the abrasive does not get clogged by becoming damp, which Restorative Techniques has cracked using a ceramic nozzle for the abrasive and three jets of water. If noise levels are an issue, this has the advantage of being quieter than a straightforward abrasive system.
With the attachment, ThermaTech offers a pressurised mixture of boiling water and abrasive medium, which makes it effective on non-temperature responsive coatings (cements, lime based paints, carbon sulphation, lime efflorescence and many others).
Restorative Techniques says: "This combination of ThermaTech with this attachment provides even more distinct advantages over other commercially available superheated and steam systems."
This abrasive attachment kit is specifically designed to connect the ThermaTech and can be used at temperatures of up to 100°C, although ThermaTech on its own will work at temperatures of up top 150ºC.
Many companies turn to Restorative Techniques' ThermaTech, VorTech and other products for cleaning stone, including Sally Strachey Historic Conservation (SSHC) based in Wells, Somerset.
Director Lisa Edwards explains that she chooses Restorative Techniques because of the company's straight-forward and helpful approach combined with competitive pricing.
For example, Lisa often uses the ThermaTech super-heated water cleaning system on her projects. With this system, the control over temperature and pressure is important for the delicate work involved in the conservation of historic structures.
Small areas of proposed work are always tested first to establish suitability and technique.
Lisa also likes the level of expert advice offered by Jamie Fairchild, a founder and Director of Restorative Techniques. She appreciates the fact that Jamie is on hand to offer excellent technical advice and is prepared to work closely with SSHC if needed.
Lisa finds Jamie will ask as well an answer questions on the phone and suggest solutions, but will also make a site visit if he thinks it's necessary.
If SSHC is writing a specification and needs to know the temperatures and pressures to use on the ThermaTech, Jamie is more than happy to come along to the trials and work in conjunction with the SSHC team.
More recently SSHC has invested in its own ThermaTech with the optional vacuum recovery attachment to collect the water and dirt. The Company's operatives have been trained by Restorative Techniques on the use of the equipment during CPD days.
Sometimes more than one machine is required on a contract and Restorative Techniques is happy to hire out machines to companies that have trained operatives.
The reason Restorative Techniques insists on training operators is because it helps to ensure that the machine is used and cared for in the correct way and therefore gives expected results. Good training helps prevent the system being blamed if results are not as good as they should be.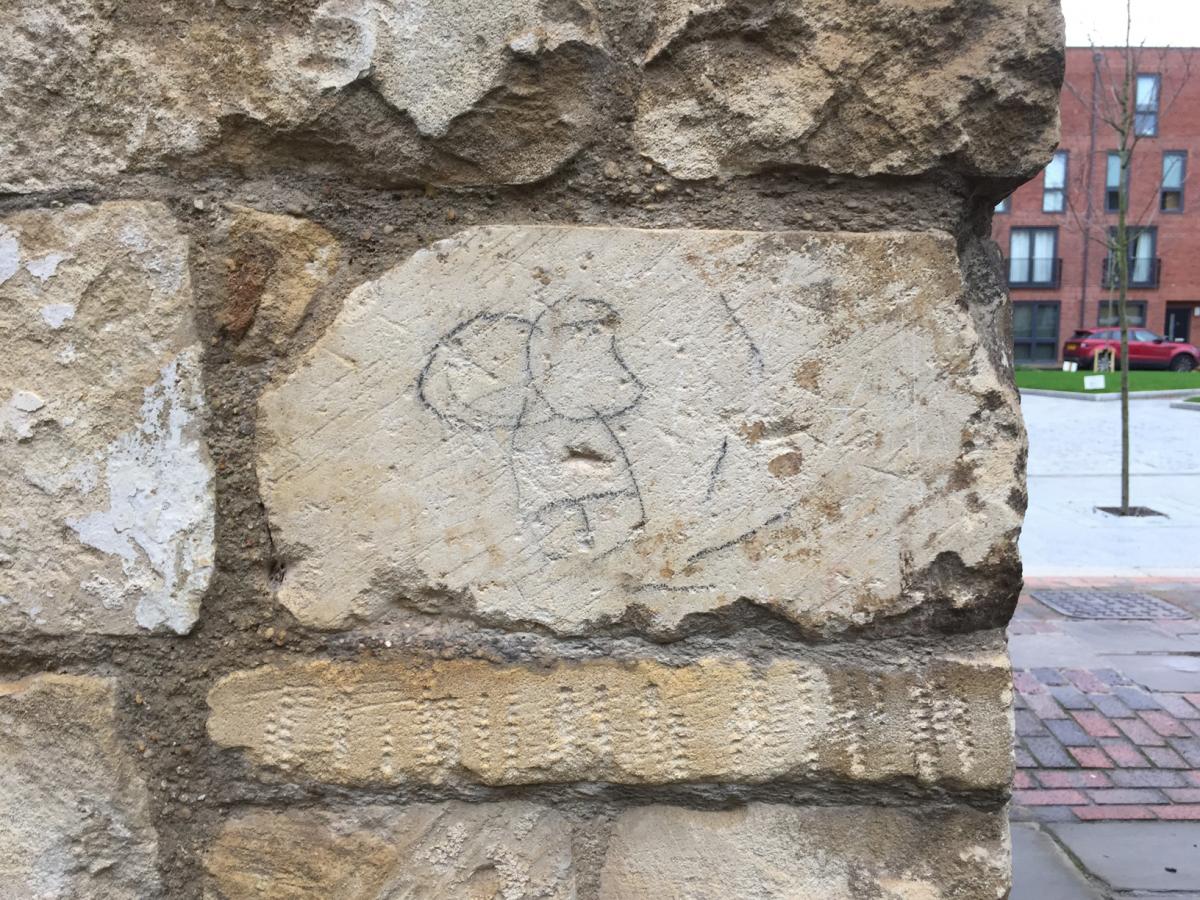 One project just completed by SSHC involved cleaning off "inappropriate" graffiti daubed on to Greyfriars in Gloucester, a medieval monastic house founded in 1231 with a Gothic church added in the 16th century.
SSHC was approached by English Heritage and asked if it could remove the offending (and offensive) daubing that certainly had none of the artistic merit of a Banksy.
Lisa says that although it may at first seem comic, this is criminal damage and it has to be cleaned off quickly or else it attracts more graffiti.
In this instance, spray paint had been used and was fairly easily removed using a chemical from Restorative Techniques called Restorative Graffiti Remover, a multi-purpose, low hazard application that normally works in 30-60 minutes.
The trouble with removing graffiti is that it often leaves a mark where the graffiti had been – what is known as 'ghosting'. Restorative Techniques has a product called Restorative Ghosting Remover, an alkaline (and therefore safe to use on limestone and marble) cleaning product.
A careful approach to the application is required, needing to be used at between 5ºC and 25ºC. It should not be used in frozen conditions or exposed to direct sunlight. It works quickly and should only be allowed to dwell on the surface for a couple of minutes. Restorative After-Rinse neutralises Ghosting Remover and removes lime efflorescence.
To finish off at Greyfriars, Restorative Anti-Graffiti Coating was applied. This is an environmentally friendly, water-based microporous, microcrystalline sacrificial wax emulsion that protects a surface. If any more graffiti is applied it is then easier to remove.
SSHC is currently working at Bath Abbey on the Footprint Project, lifting ledger stones laid in memory of deceased parishioners in order for underfloor heating to be installed. 
Many of the stones have been under fixed box pews for the past 150 years or so and nobody was quite sure what condition they would be in once the pews were removed. As it turns out, most of them are salvageable and will be able to be re-used.
The stones are being cleaned once they have been conserved and relaid, using SSHC's ThermaTech system with the vacuum recovery attachment.
The SSHC team has found some of the stones to be in quite a damaged state when lifted. Lisa's technical term: "a right two-and-eight". Those that are broken are repaired using various conservation methods.
The Footprint Project at the Abbey spans three years and is due for completion in 2022, with the Abbey remaining open while the work is carried out. Inevitably, visitors ask questions and SSHC is always happy to explain about the work and why it is being carried out.
SSHC also gives more formal talks to groups of visitors such as the Victorian Society and school children. As this is a project given National Lottery Heritage Funding there is a requirement for it to include community projects. Lisa says: "The children like the talk of tombs and monuments and we also show them the tools we use for the work."
That is just one of SSHC's projects. The company has plenty of others in London, along the M4 corridor and into Wales, with the name of Sally Strachey already well known and highly regarded in the heritage sector.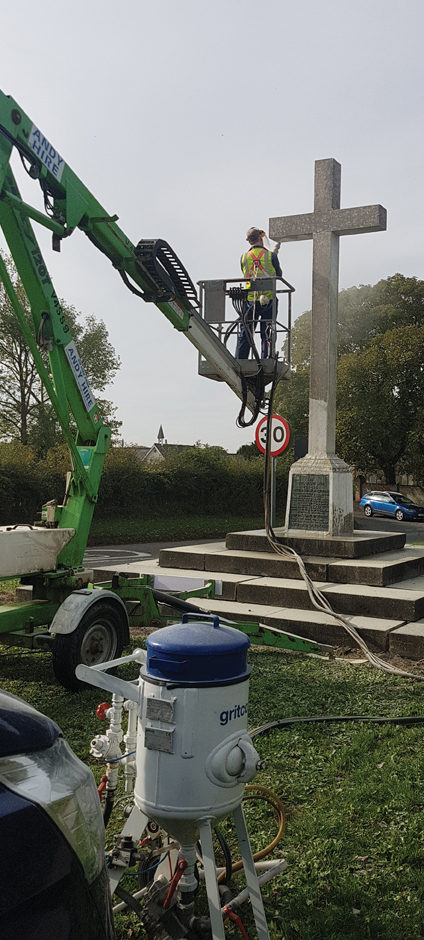 Precision Blast Systems believes it has a better alternative using sodium bicarbonate, sometimes known as baking soda (and other cleaning media, including olivine). It exhibited its systems at both the Natural Stone Show in London in April / May, where it says it received a particularly positive response and came away with a lot of enquiries, and at the NAMM Tradex exhibition in June, where visitors saw its potential as an add-on for memorial cleaning.
"We're trying to educate people to realise it's not sand blasting," Director Ian Simmonds told NSS.
At the shows, the company showed two machines for use with the media (it prefers to call the cleaning material media rather than abrasives), the MiniPro and the Microstrip 40. The main difference is the size of the nozzle, which determines the speed the machine can be used at. The MiniPro is designed for smaller jobs, notably memorials and headstones, and where you need a particularly portable machine. The Microstrip 40 can handle much larger restoration jobs, including complete facades.
Both machines can be used with various cleaning media, including soda and olivine, at pressures as low as 15psi (103kPa). They  use small amounts of the media and cleaning can be carried out both dry or wet. Wet involves the injection of a small amount of water at the nozzle to suppress dust.
Precision Blast Systems' equipment was used during a three-year programme of cleaning thousands of square metres of brick at London Bridge railway station. The company believes there is a lot more potential for its machines and abrasives in façade and building cleaning in specialist areas such as stone. "In the past, people have found us for these projects," says Ian. "Now we're being a bit more proactive in reaching them."
Precision Blast Systems is the authorised distributor for Gritco equipment (like Microstrip) from the Netherlands and is master distributor in the UK and Ireland for Armex soda blast abrasives as well as other media.
Armex, made by Arm & Hammer, is sodium bicarbonate specifically formulated for abrasive blasting, which is why it says 'blast media' on the bags. It contains flow aids and moisture inhibitors not present in ordinary soda.
Cleaning with soda is not new. Precision Blast Systems has been supplying soda cleaning systems for 20 years, although it has only lately started promoting them specifically for building restoration.
The company describes itself as a specialist in dustless blasting and dustless wet blasting (soda does not create a dust and Precision Blast Systems has vacuum recovery attachments for its machines for collecting up dislodged dirt). The systems are widely used for classic car restoration, in the marine industry where the environmental impact of cleaning products is an issue and in petrochemical applications where sparks need to be avoided.
An advantage of using soda rather than dry ice, says Ian, is that particles of dry ice are smooth, whereas the crystals of soda  have sharp edges that cut through dirt.
The Microstrip and BlastMate range of equipment is stocked in the UK along with aftercooler's and other accessories that allow the company to supply a complete cleaning solution from compressor to nozzle. And if you don't want to buy the machines, Precision Blast Systems also hires them.
The company offers training, advice, demonstrations and technical support, and keeps a register of trained users for anyone looking to employ an experienced operator of these systems.
Then there are other cleaning methods, such as dry ice. A few years ago the National Association of Memorial Masons (NAMM) was considering going more commercial by encouraging its members to offer a memorial cleaning service using dry ice (which is frozen CO2) delivered by a Kärcher compressed air system.
In the end NAMM decided not to take that route but there are still various dry ice cleaning systems commercially available, generally from companies that freeze and sell the dry ice.
CO2 is called dry ice because it does not have a liquid state. Carbon dioxide freezes at -79ºC and melts straight into a gas. The ice can be purchased commercially in insulated containers that cost about £250 for 350kg, which would be enough to clean several memorials.
Cleaning with dry ice is well established. It was used to clean London Underground stations, where it was advisable to avoid liquids around high voltage electricity.
The Kärcher ice blaster uses compressed air at a pressure of 7bar to shoot 3-6mm pellets of dry ice at the surface to be cleaned. The ice is said to freeze the dirt, which makes it brittle so it will be broken up and dislodged by subsequent pellets. Demonstrations show it works, but dry ice is more expensive than water or most abrasives and cannot be stored for very long before it evaporates.
If you like hi-tech, you can clean stone using lasers, although you might have to learn a whole new language to understand them.
With nothing but light touching the stone, lasers can be a gentle way of cleaning and have been used on sensitive stone artefacts by museums.
Frames have even been set up so lasers can move backwards and forwards automatically along tracks to clean façades, which shows it can be done, although most people think there are easier, cheaper ways of doing it.
The American administration was convinced to use lasers this year to clean some of the marble of the senate building in Washington, USA. Carved cornices, the pediment, columns, pilaster capitals, sculptures and window and door surround carved brackets have all been cleaned using lasers during a major exterior restoration of the building.
Two CL100FFC 100 watt Q-switched lasers operating at 1064 nanometres (nm) were used to clean off sulphate crusts and soiling without damaging the weathered stone substrate.
The laser effectively reduced black crusts and soiling on the marble, leaving a significantly cleaner surface.
The same laser is available in the UK from Powerlase at £250,000 upwards. It is called the Vulcan 500c system and is designed to fit in the back of a van. It is light enough to lift in and out, is easy to use and has wheels so it can be moved around a site.
The compact hand tool allows easy access for cleaning in confined spaces and of sharp curves. Andritz Powerlase says it has state of the art universal control systems and simple synchronization so it works quickly. The company advises against pointing it at people.
If you want a bit of an idea of how it works on stone there is a real-time video at bit.ly/YouTubeLaser. 
Other companies are familiar to the stone industry, such as Hodge Clemco with its  1448NC Soft Clean system specifically for the stone cleaning industry where delicate, controlled abrasive cleaning is required.
The system uses the complete range of micro abrasives, including Stone Grit Extrafine, Dirk Grade 1 and any fine aluminium silicates, calcium carbonate, glass bead and grit and speciality media including sodium bicarbonate.
Features include:
Operating pressures that can be under 0.5bar
Able to use all commonly available nozzles from 2mm to 12.5mm
Wet operation when wash down facility is incorporated
Water consumption approximately 4 litres per minute
Mains water supply not required
Hodge Clemco specialist training provided.
The machine is supplied in a modular form allowing selection of the most suitable options for individual requirements.
There is also Tensid offering its Torik high pressure superheated water and steam equipment. Used in conjunction with Tavec 201, a chemical paint remover for paints that do not respond to steam, just about any paint removal project can be successfully completed.
Tavec 201 is a non-toxic biodegradable paint stripper for the removal of most paint types, urethanes and other coatings.
Tavec does not dissolve paint but is absorbed into the paint layers where it swells, lifting the paint away from the substrate. This helps contain hazardous components such as lead and isocyanates. Tavec 201 is now available in smaller, four litre containers as well as 20 litre containers.
10% off new floor dryer from Amtech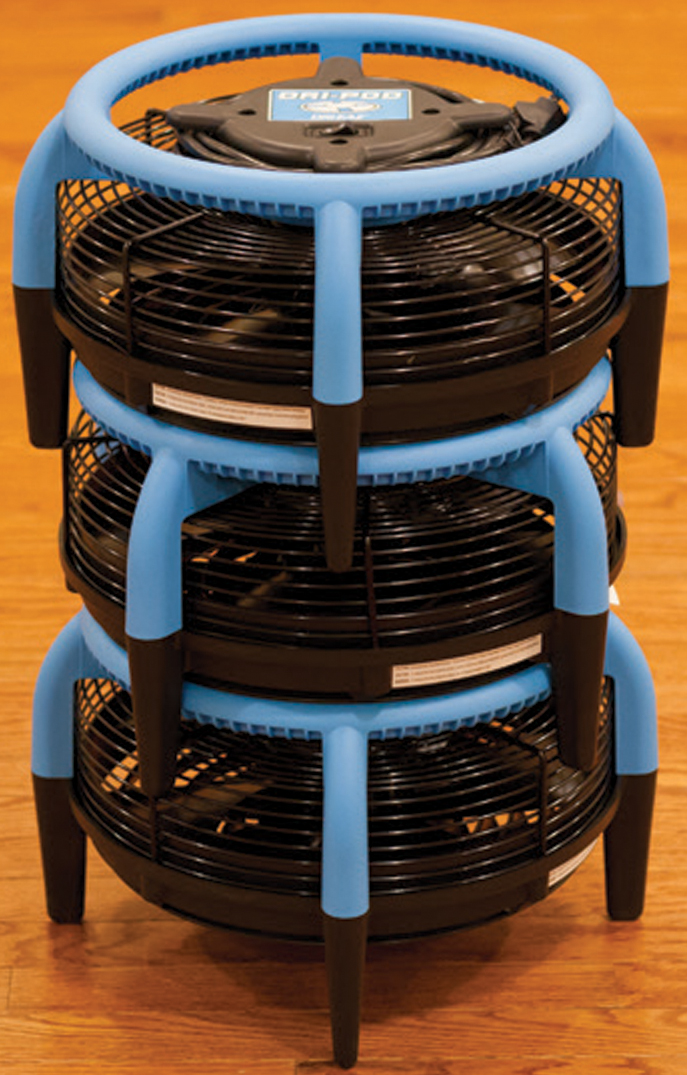 Amtech has an introductory offer of 10% off its new Dri-Eaze Dri-Pod floor dryer, which is a handy idea for drying floors quickly after they have been cleaned and reducing the potential slip hazard of a wet floor in areas such as hotel and office reception areas.
Dri-Eaze Dri-Pod is 38.5cm dia and 22.5cm high. It weighs 4.8kg. It comes with a 7.6m length of cord and a two-year warranty. The units stack together on top of each other for easy storage and transportation.
It normally costs £128.75 (plus VAT) but there is 10% off until the end of October if you quote the promotional code: SSM1019. You can buy them from the Amtech online store at www.amtechuk.co.uk.
Amtech supplies professional cleaning products, including the Orbot SprayBorg compact, a versatile orbital floor cleaning machine that can be used in both commercial and residential properties. It has a drive system designed to allow an assortment of pads and brushes to be easily attached for cleaning, scrubbing, sanding, stripping and polishing floors.