Stone is even greener with water and dust management
Natural stone is a particularly environmentally friendly building product, although it is greener still when appropriate measures are taken by companies processing it to manage water use by recycling and to remove dust from the factory atmosphere.
D Zambelis
Italmecc, available in the UK from machinery, tools and consumables company D Zambelis, has an extensive range of components to achieve the correct water management plant for most companies.
One of the most popular configurations is a system that uses silos of between 4,000 litres and 8,000 litres, which can clarify 260-400 litres of water per minute.
An electrical control panel is used for managing flocculant dosing, discharge valve and, if needed, an additional polyamine dosing station.
There is also an option of a separate tank to store the recyclable water before it goes to the boosting pumps for distribution to the machinery.
This is a configuration that works well for small-to-medium sized companies using between two and five machines.
For companies that need a larger capacity, there is a version with silos that can hold from 14,000 to 83,000 litres of water and which can clarify 600-4,000 litres per minute.
It has filters and dosing stations and an electrical panel for full automation. The discharge is handled by an ecopress filter that has from 15 to 35 plates, although a smaller press is also available that has from four to eight plates.
All Italmecc water systems are available with smart boosting pumps that have inverters for stable pressure in all conditions and to eliminate the start-stop that damages pumps. To avoid damaging the seals if there is no water going through them, the pumps have an automatic cut off if they become dry.
With the growth in the number of CNC workcentres being used in the stone industry over the years has come a need for even cleaner water, which usually means it is coming straight from the mains. However, Italmecc has responded to the need for clean water with a system that filters out particles down to a size of 40µ (microns). The filter is self-cleaning and can feed up to five spindles.
For dust management, D Zambelis offers Air Quattro. This is a bench using dry dust removal technology. It uses the same filtration system as the Air-Dry aspiration cabin and has water and oil proof filters.
The self-cleaning process is controlled by the internal programmable logic controller (PLC). The dust removed from the filters is collected into drawers at the bottom of the machine.
Mobile bulkheads mean the air flow can be altered as required. Different levels of suction can be set at different parts of the bench if required.
Dust capture devices are important for helping to keep the air clear in workshops but they will not necessarily capture all the dust in the air immediately. There has been a lot of concern lately about the risks associated with respirable crystalline silica (RCS) when cutting high silica content slabs. To protect workers, 

D Zambelis offers the Dräger X-Plore 8000 helmet that gives IP65 optimal protection.
The Dräger company goes back a long way. It started manufacturing medical and safety products in 1889. These days it makes products such as respirators for premature babies and air-fed masks for firefighters.
The innovative Dräger X-Plore 8000 air purifying respirator is one of the best available to the stone industry.
It comes with a helmet headpiece, P3 filters and fume filters, two types of belts and a lithium battery that will last at least six hours before it needs recharging – and recharging only takes four hours.
The X-Plore 8000 has a new level of control electronics so those wearing it can focus on the task at hand. It is self-checking and self-adjusting to deliver the rate of air flow needed for any working environment.
There is a two step alarm to warn if dust levels are getting unacceptably high and another indicating when the filter needs replacing. You can't fit the wrong filter or use it incorrectly because advanced sensory technology recognises any errors. A display indicates particulate saturation levels in the air.
The X-Plore 8000 is designed to be practically maintenance free so its costs in use are minimal. When it needs a clean it is easily taken apart and to protect the visor from scratches there are easily replaced peel-off self-adhesive plastic films.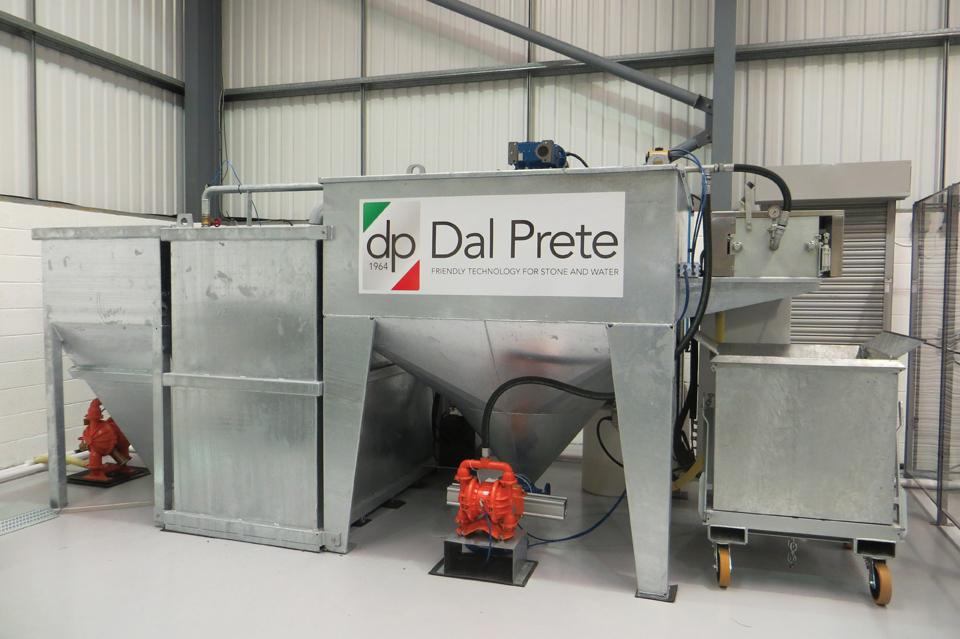 Dal Prete water management systems are sold in the UK by Intermac (see below) and Stone Equipment International as part of a complete service associated with machinery supply. Dal Prete is introducing a new filter for cleaning water sufficiently to use it through CNC machine spindles. Many companies use fresh water from the mains for spindles. Being able to use recycled water instead would save a lot of water.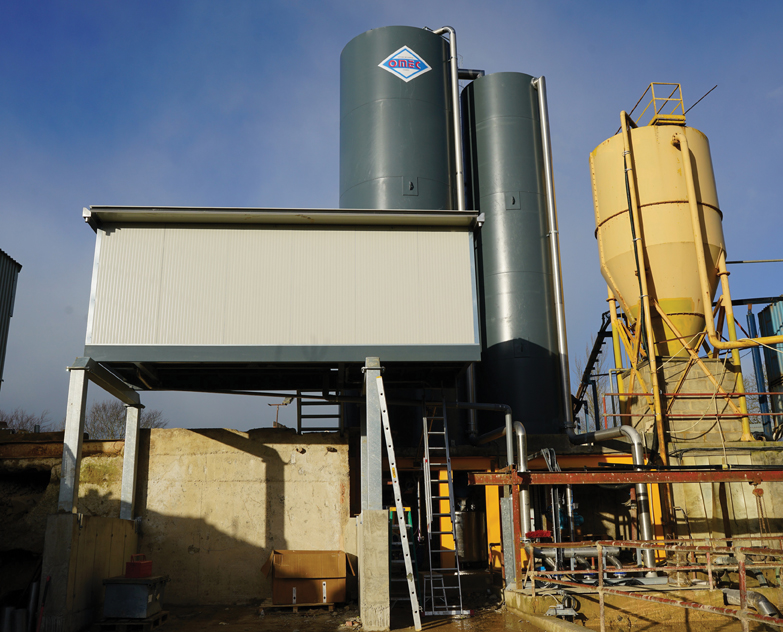 New Stone Age
Widely used water management systems in demanding environments are the Omec solutions supplied in the UK through New Stone Age. Major northern stone quarry company and masonry supplier Dunhouse Quarries has one of the latest to be installed, capable of processing  up to 3,000 litres of water a minute.
Paul Alison, the Managing Director of Dunhouse, which operates seven sandstone quarries, says: "With energy and water efficiency being a priority, Dunhouse were in need of a more efficient water recirculation system. We needed to use less top up water, reduce our collective pump kilowatt hours and maintain water clarity while increasing automation. This was further complicated as we needed to run full production while the installation went ahead.
"We were very happy with the service provided by James Turton and the team at New Stone Age to help us through the planning and installation of a system that is an integral part of our factory and that is now super efficient."
James Turton is the Managing Director of New Stone Age and Paul Alison contacted James when it became clear Dunhouse needed to improve its aging water treatment plant.
James says: "Paul Allison had seen that we had provided several medium to large installations throughout the UK over the past few years and recognised several advantages of Omec systems."
Notably these include: built in redundancy, including extra sump pumps, so if one fails there is another to take over. The pumps are used for regular duties in rotation so they will work if called on in an emergency. This built in redundancy means the water will continue to flow if one of the pumps fails – and a modern masonry works is brought to a halt without water to cool and lubricate the machines.
Other aspects of the Omec system are also designed to ensure water keeps flowing – all the pipework is stainless steel and the filterpress is installed in a fully insulated cabin to protect it against frost. The silos have an enclosed lower section as standard, again providing weather protection.
The old Dunhouse water treatment system comprised a main silo and filterpress along with other clean water storage tanks that had been added and dotted around the factory as the business had expanded over the years.
It had become cumbersome and inefficient, the various tanks requiring  booster pumps around the factory to deliver the water and the system having to be constantly topped up due to imbalance leakage and the fact that the system was undersized for the operation.
Water for topping up the system came from the quarry sump, so at least it did not have to come from the mains. However, the quarry sump is about 20m below the factory and pumping the volume of water required up to the factory was expensive. 
The filterpress being used was large  enough to cope but because of its age was only semi-automatic and required a lot of intervention by the operator.
A new Omec filterpress would be fully autonomous, requiring intervention just two or three times a week and for only a few minutes at a time.
James: "Having discussed his existing and future water requirements, we agreed that our 3,000 litre per minute system would be sufficient."
To avoid closing the factory while the new system was installed it was built alongside the existing system, which continued to be used throughout the build. An existing concrete pump house below ground level was used to house the new mud tank, flocculant station and control panel, while the new Omec silos sat neatly above it.
The Pump House had to be reinforced with steel supports to carry the extra weight of the new silos.
James: "We worked closely with Paul and advised him of the design, size and position of the steel reinforcement. New Stone Age works closely with all its customers, making site surveys and producing ACAD drawings to provide a detailed technical link between the customer and Omec, the manufacturer.
"We are able to show the customer various designs and solutions, making sure they are happy with what we are suggesting.  We feel this is very important when supplying water treatment systems."
The new Omec system that is now up and running comprises a 3m DIA OMD 60 (60m3) water cleaning silo. A silo of that size would normally be 12m high, but because this one is on top of the pump house and the cone section protrudes down through the roof, it is only 10m high.
The OMD 60 is fed by three sump pumps (two working at a time and one on standby). The two working pumps deliver 4,400 litres a minute. A 1,000 litre flocculant tank automatically doses when required. There is also automatic flocculant preparation for mixing the flocculant as it is required. It uses £15-30 worth of flocculant a week.
The new OMF 814 filterpress has fourteen 800x 800mm plates fed by a high pressure impeller pump. It can process up to 1.5m³ of mud an hour. The stainless steel impeller has been specially designed by Omec to reduce wear caused by the abrasive sandstone mud.
The filterpress, fully enclosed as always, is an automatically regulating model that analyses the consistency of the mud being pressed and determines when the next press needs to be made, although the number of presses is limited to the capacity of the mud discharge container so it does not spill.
There is an OMT 40 clean water storage silo 2.25m DIA x 9.5m high (again lower than standard because it is on top of the pump house). Normally New Stone Age would provide the clean water pumps but Dunhouse wanted to source these itself as it wanted to upgrade the system to work on a single variable speed pump. That also meant upgrading all internal pipework around the factory.
Because many New Stone Age customers were also asking for dust management systems, James Turton took the opportunity of his visit to the Marmo+Mac exhibition in Verona this year to find a supplier and has  subsequently started a  new collaboration with Ceragioli Carlo & C as its exclusive representative in the UK and Ireland.
Ceragioli Carlo & C has an extensive range of dust extraction systems and more than 35 years' experience of producing them. Included in the range are dry and wet walls, benches and mobile units.
There is the MCC Dry Jet front vacuum wall with dry filtration. It is made entirely of galvanized sheet steel and has an average filtration efficiency of more than 95% thanks to the Class BIA USGC/M filter, comparable to F9 of EN779.
The filter elements are self-cleaning through a pneumatic washing system under counter-pressure operated by a timer and electrical panel complete with inverter.
Widths from 2m to 5m are available with 98m² to 162m² of filtering surface and 9,500 to 15,000m³/hr of intake air flow.
Accessories include: air and power chords to tools; an extra suction tube arm; mobile benches for the stone being worked; silencer units to reduce the noise of the air being extracted; and cubicle extensions.
There are also mobile vacuum filter units made entirely of galvanized sheet steel with, again, self-cleaning filtration efficiency of more than 95%.
Three metre-long self-supporting 160mm DIA trunk arms come complete with a metal cap that has a handle and butterfly damper.
The Monocubo has, as its name suggest, one suction tube arm giving 20m² of filtering surface and 1,800m³/hour of air intake. The Bicubo has two suction tube arms.
 The CC 2000 Evolution and CC Compact are vacuum benches with dry, self-cleaning filtration better than 95% filtration efficiency. Both models have 90m² of filtering surface and 9,000m³/hour of air intake.
 The MCC Hydro front vacuum water walls can be either galvanized sheet steel or stainless steel. Widths from 2m to 4m are available, drawing in from 9,000 to 16,000m³ of air an hour.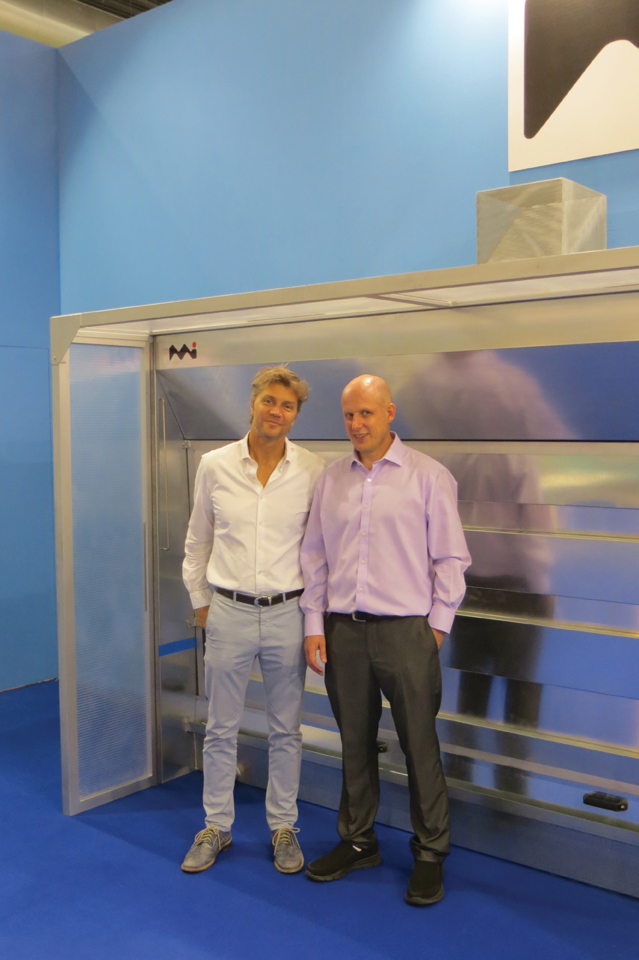 Giorgio Martini, the CEO of Italian water and dust management company Martini Aeroimpianti, with Daniel Waters of the UK company the Waters Group that represents Martini Aeroimpianti in the UK. They are in front of a new dust extraction cabinet being shown at the Marmo+Mac exhibition in Verona this year.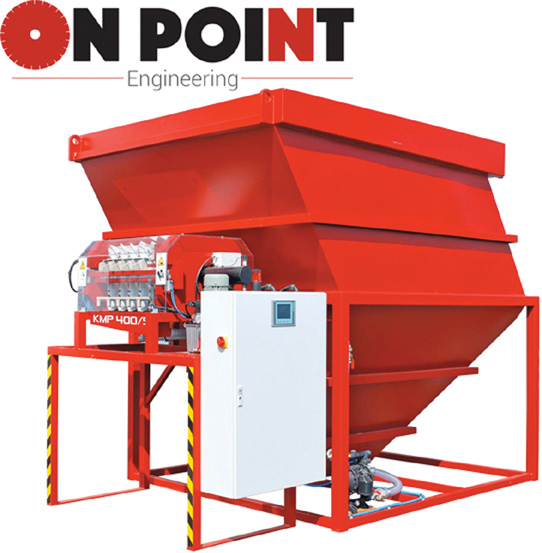 On Point Engineering
On Point Engineering offers a range of flocculant free systems of water treatment from Germans ECS Eich.
The VS series is normally operated in automatic mode but can be controlled manually. In automatic, all pumps and valves are automatically adjusted. The sediment concentrated in the lamella clarifier is pumped periodically to the drying station and a signal light indicates when the drying bags require changing.
Output for the VS series ranges from 85 litres/min up to 290 litres/min.
The fully automatic control of ECS VMC plants uses a Siemens PLC. Operation and visualisation of the flow diagram of all processes and parameters take place using a 12in touchscreen colour display.
With automatic switching between day and night operation and automatic sludge detection, VMC plants adjust to production conditions automatically so continuous operation and monitoring by staff is not necessary. The integrated cleaning and flushing program automatically cleans after each cycle.
The ECS VMC software is developed in-house, based on practical experience gathered over more than 20 years of production.
The VMC series has an output from 300 litres/min up to 1500 litres/min.
The VFP / VFB systems take the process water to a dirty water collection basin. This is pumped by a specially designed submersible pump to an obliquely-arranged lamella clarifier. The water flows through the specially coated honeycomb structure which, with the obliquely-arranged lamella clarifier, is ten times more efficient than a conventional sedimentation tower even though it does not use flocculant (although a liquid additive is used to achieve the full clarifying performance at maximum production load).
The sediment can be dehydrated by a chamber filter press or bag drying station. The cleaned water overflows to a fresh water tank to be returned to the process water circuit. The VS, VMP  and VMC series complete the line-up with outputs ranging from 85 litres/min to 1,500 litres/min.
For dust management, On Point Engineering offers a range of Manzelli extraction options, including the first in a new generation of dry walls.
The Dry Smartwall can be from 2870mm wide to 3870mm and is equipped with a modular structure entirely made of galvanized 20/10 steel.
Dust is suppressed by a system of pocket filters made of polyester with an anti-oil and anti-water treatment. The unit achieves effective suppression of 99% of atmospheric dust.
A steel mesh basket inside the filter maintains the cylindrical form required for optimal efficiency and there are 24 cartridges on every linear meter of the dry cabin.
A compressed air system run by a PLC cleans the filter cartridges with an air jet of 5 bar automatically as necessary. The removed dust is deposited into drawers at the bottom of the machine. The machine is divided in half by a watertight bulkhead, which creates two separate suppression chambers.
Smartwall is equipped with a noiseless double intake fan directly coupled to the electric motor (an inverter is optional) and suction capacity is regulated from the electrical switch panel.
And Dry Smartwall can be shipped in modules to reduce the cost. The modules are easy to assemble and do not require any particular technical skills.
There are also water walls that capture up to 95% of dust. There is the Smart Wall and the Easy Smart Wall, both 2-4m wide and processing 15,000-30,000m3 of air an hour.
The main difference is that with the Smart Wall the external water veil is entirely openable with a pneumatic jack for the regular maintenance of filters and nozzles whereas with the Easy Smart Wall the PVC filters that separate the wet area from the dry area and the nozzles are more easily removable and completely washable.
Dust suppression is achieved by a system of nozzles and filters creating a water spray. It is sucked into the cabin, gets wet and falls into the tank below.
PVC filters that separate the wet area from the dry are easily removable and completely washable. The pump and all the plumbing are made of stainless steel.
The water is controlled by a probe which stops the pump if the water goes under the minimum level so it does not get damaged by working dry.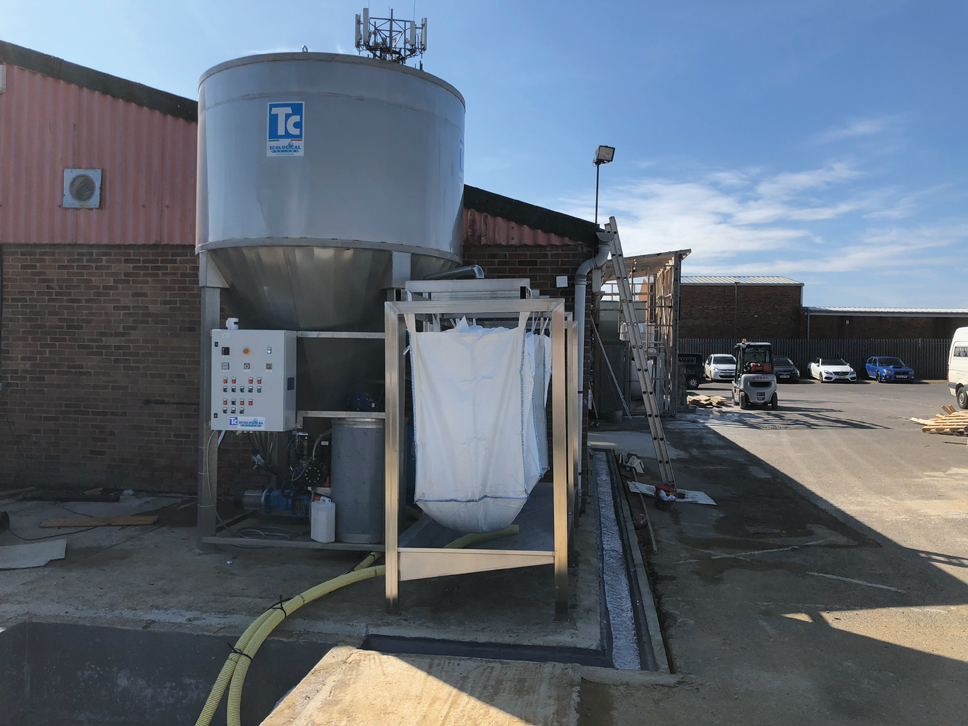 Stone Industry Group
The new Stone Industry Group (SIG) set up by Simon Bradbury is selling the Italian Turrini Claudio water management systems in the UK (and elsewhere in the world including America).
Turrini is another widely used water recycling system in the UK used by many of the major stone fabricators – companies such as J Rotherhams, which has used Turrini equipment for more than 15 years.
Over the past five years the J Rotherham water management system has been upgraded to the current three 1,000 litres per minute systems. Two of these run the original expanded factory containing two Breton automatic cutting lines, five stand alone and one dual table Breton CNC, a Breton CNC saw, LeviBreton slab polisher, a Breton single wire saw, a carving robot, a robot cutting line and three Comandulli edge polishers.
The third Turrini single handedly supplies the new multi million pound Breton automated production facility, with two CombiCuts, robot edge polisher and six Breton CNCs.
All the sludge is disposed of by bagging. Why bags and not a filter press? Because while a filter press is suited to high volume sludge removal from natural stone, it is not so well suited to the mixed material countertop market, particularly when working with chemicals.
This sludge is sticky and does not play well with a filter press, which leads to maintenance and downtime. There can be a build up of sludge in the system so the water is not as clean. Using bags is fast, easy and maintenance free.
You have to use the right bags, though, so they have the right porosity to allow the water out fast and the mud to dry quickly. SIG supplies high quality bags but warns that if cheaper bags are used they can end up full of 'slop'. When they do, people often end up punching holes in them, which just allows mud out and makes a mess.
In the past year or so the engineered stone make up has changed, producing a lot of lightweight particles. They go into the water and can cause a problem.
Simon Bradbury: "I don't want to go into it too much because working with a few customers who had a real problem with it we have managed to solve it. We are now giving some of our customers that have had this problem virtually crystal clear recycled 'grey' water. We've done this using a combination of things but for a small upgrade we can do it on any Turrini system, so anyone with a Turrini we haven't been in touch with, drop us a line!"
Simon Bradbury has been working with Turrini for 10 years and says the company is more of a partner than a supplier. "Now I am more dedicated to Turrini in the UK than ever, with Turrini being my primary focus here."
SIG also sells Turrini dust extraction products. "Our waterfalls are of the highest quality, all stainless steel, no gimmicks and hugely efficient. Along with my friend Lorenzo at LLC Piedra in Mallorca, we worked with Cosentino last year putting 65 MB40 and MB60 machines across their fabrication facilities in the USA. They have had Turrini in Cantoria [Cosentino's headquarters in Spain where Dekton and Silestone are made] for many, many years, but we did a couple of tests in Arizona because of the climate and when they passed the OSHA (the American HSE) inspection levels, we rolled it out to all of the facilities.
"It was tough getting 65 machines built, shipped and installed in only a couple of months but we have a great team in Italy and the USA as well as here in the UK and the results proved excellent, all getting a clean bill of health from OSHA. We've just completed the second round of twice yearly maintenance with no problems to report – and these machines run all day every day.
"In the UK we sell plenty of these units with seven in build or on their way right now."