Stone features at Surface Design exhibition
Surface Design Show was back at the Business Design Centre in Islington, London, this week (11-13 February) with Stone Federation once again hosting the Stone Knowledge Hub, supported this time by Lithofin, LSI Stone, Fila, S13 Diamond Floor Pad Technology, Polycor and Amarestone.
The stone look is clearly still popular and some of it on show actually was natural stone, including a display called 'Stone Tapestry' designed by architects Squire & Partners in conjunction with the Stone Federation. It was a table with a top formed by a patchwork quilt of 126 individual pieces of 18 different stones in 71 different finishes.
The stones used are: Portland Jordans Basebed limestone, Calacatta Talaa Marble, Honey Onyx, Sunrise Delight Onyx, Pale Pink Hue Onyx, Chai Rose, Cenote Quartzite, Verde Root Marble, Paintstream Marble, Broughton Moor Cumbrian slate, Laguna Dark Marble, Microscopedia Onyx, Choco Swirl, Amarena Field, Shahan Dark Marble, Aurena Flamma Marble, Luz Night and Caithness sandstone.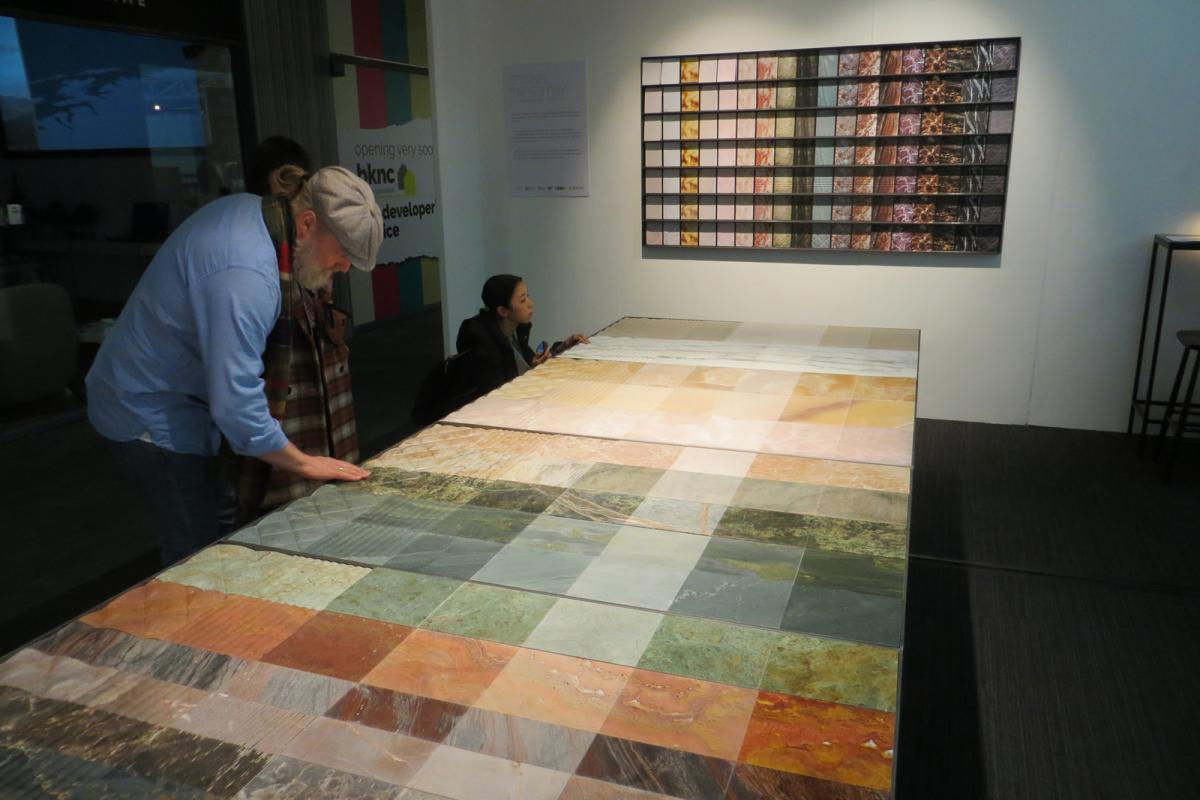 Squire & Partners were particularly successful in the Natural Stone Awards in 2018 and Stone Federation approached them for a list of stones that had surprised and inspired them. The architects not only did that, but designed the 'Stone Tapestry' to display them. 
As well as the table, there was a map at one end showing where the stones come from (three of them are British) and at the other end were postcards of each stone in its various finishes for visitors to take away with them. There were 2,000 cards printed and many of them had run out by the start of the third day of the exhibition. The stones on the table with all their different finishes were produced in the Netherlands in a fortnight from offcuts to reduce waste - and sustainability was a major theme running throughout the exhibition.
Stone Federation held talks around the 'Stone Tapestry' table during the show for the design community of Clerkenwell that is Surface Design's target audience.
There was more natural stone from the likes of Italians Marmi Faedo and SSQ's Riverstone, but others known in the stone industry either did not show stone or showed it in conjunction with other surface materials.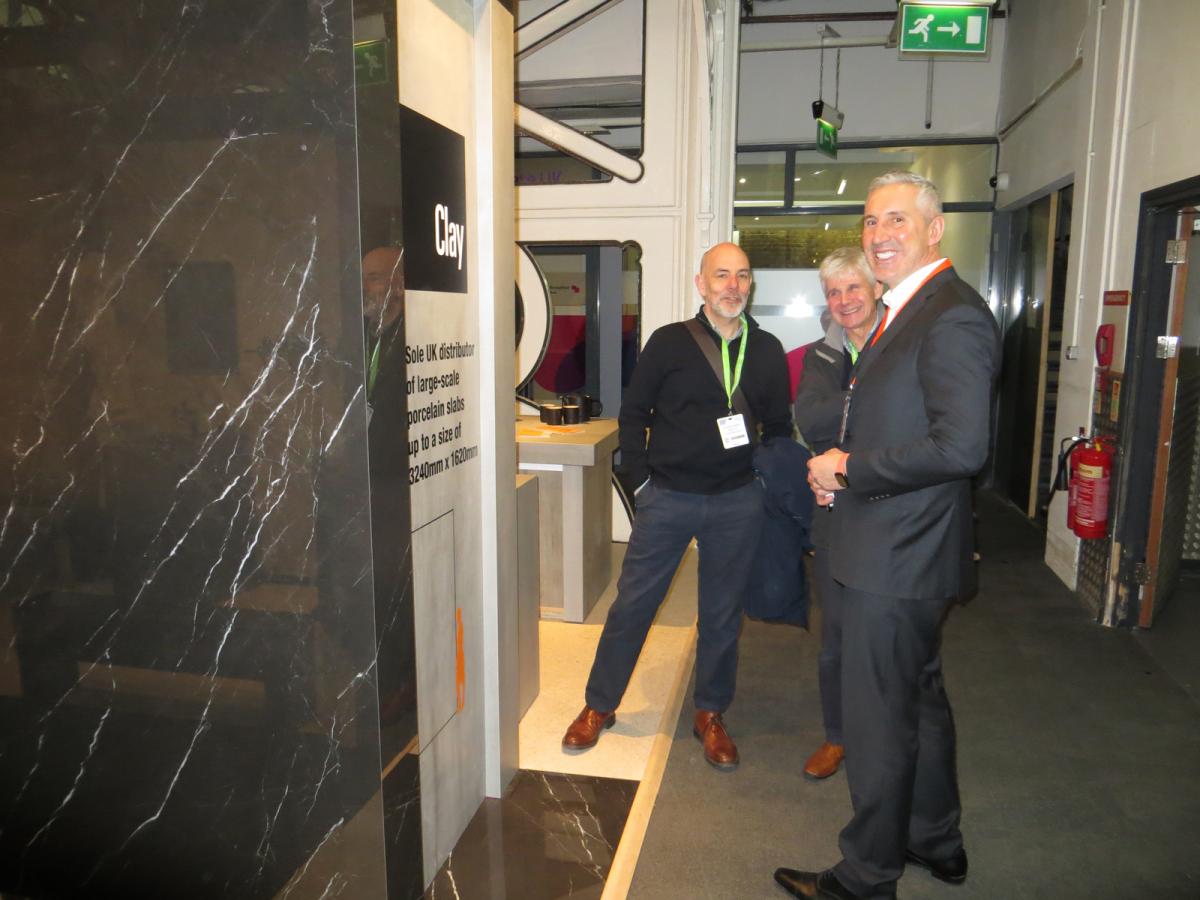 Louis Livramento (on the right) of London stone company Livra introduced his new business, Clay, that sells large format porcelains.
Diespeker, for example, was showing its popular terrazzo; stone processor Nerostein was showing a range of natural and manufactured materials; Master Products was featuring the back-lit natural onyx and manufactured materials it specialises in; and Louis Livramento of London stone company Livra was previewing a new company he has launched called Clay to distribute large format porcelains (more about that when the company has an inauguration open day in a month or so).
There are also some stone companies that have units in the Business Design Centre – such as the Stone Library and Stone Design London next to it. Neolith also has one of the units in the delightful Victorian building constructed originally as the Royal Agricultural Hall that houses the show.
More pictures from the exhibition....