Stone floors: Everyday luxury that's good for the environment
Natural stone's proven low carbon sustainability and hard wearing longevity make it the ideal material for flooring. And its thermal mass even contributes to a reduction in the amount of energy needed for heating and cooling living and working spaces. But, above all, it looks stunning.
There's no doubting the visual appeal of natural stone. It is why it has been so comprehensively appropriated by the ceramics industry. The makers of larger format porcelains have put a significant marketing spend into competing against stone.
Generally, the stone industry has been honest about the need for care when laying a floor and that it will need sealing and maintenance to keep it in its original pristine condition. The porcelain product makers have used that to their advantage, claiming their products avoid those issues. They have tended to skate over the fact that the stone look on porcelain is printed on and that a porcelain floor also needs cleaning and maintaining.
With growing awareness of climate change, natural stone is starting to reassert itself. It is essentially low carbon because it does not require high temperature kilns to 'cook' it. The Earth is a rocky planet with stone not very far from the surface anywhere. It is sawn into the shapes required, rubbed, hammered or possibly flamed on the surface to give it the finish preferred and then used just as nature fashioned it. In fact, the way nature fashioned it is its appeal.
There are several reports demonstrating the low encapsulated carbon content and sustainability of stone extraction and processing, the latest from the German stone association Deutscher Naturwerkstein Verband (DNV) published last year. The German stone association commissioned scientists to look at the overall environmental lifetime impact of stone compared with other floor coverings. They concluded that stone is exceptionally sustainable, even comparing favourably with wood.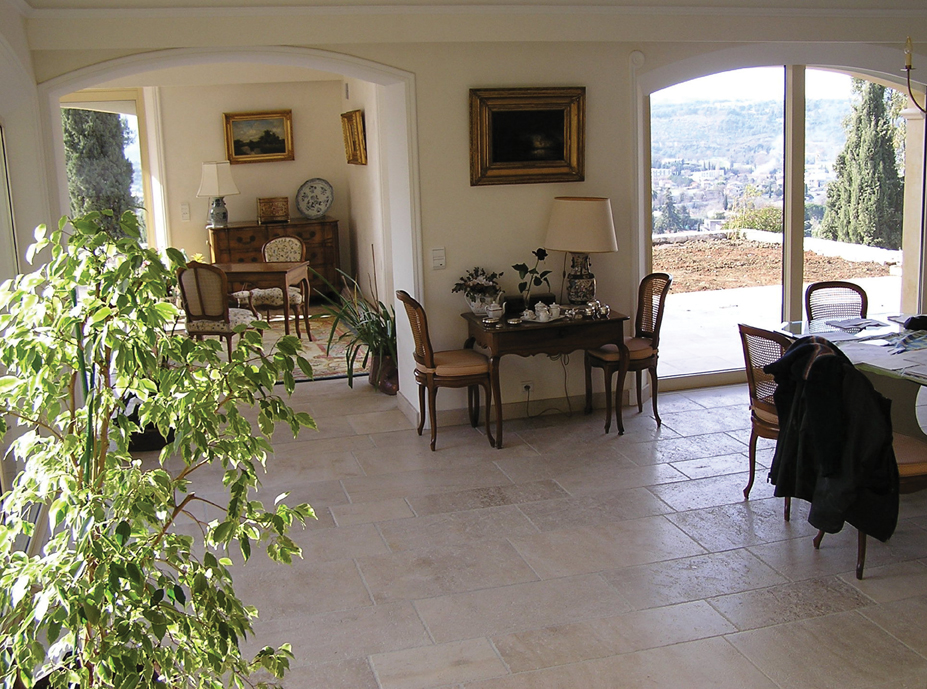 Ampilly French limestone hammered and brushed flooring available in the UK from Amarestone and Pierre Heritage.
Stone's thermal mass also makes it the ideal partner for use with underfloor heating, which is another carbon-reducing development that has been growing at a rate of 5-8% a year in recent years and now accounts for nearly 9% of heating installations, including new build, where it is growing in popularity because buyers like it.
Underfloor heating is more efficient than using wall radiators, especially with stone, which stores the heat and radiates it up into the room. In spite of their name, radiators do not radiate much heat. They heat the air mostly through convection currents. As radiators are often placed under windows and windows are the least thermally efficient part of a wall, the inefficiency of radiators is increased.
Because heating under a stone floor radiates heat up to about 2m above the floor, it acts like walking on the sunny side a street, which is warmer than walking in the shadow even though the air temperature is the same. Consequently, underfloor heating operates at a lower temperature than a radiator system.
Water going into a hot water central heating system with radiators is typically 70-80ºC. It is why radiators are hot to the touch. That will heat the air in a room to about 21ºC, which is the temperature at which people generally feel comfortable.
With an efficient, modern hydronic (water) underfloor heating system (UFH) in a house complying with the latest Part L energy requirements of the Building Regulations, the water only needs to be 5-6º hotter than the floor temperature required, which does not need to be more than 20ºC because of the radiating effect of the heating – although some people take it higher because they like to feel warmer floors. However, a solid floor should never reach 30ºC and timber floors should not go above 27ºC.
Heat pumps
Heat pumps are also gradually starting to make an impact on the heating market. They cost thousands of pounds to install (typically about £15,000 for a domestic system) but are cheap to run, producing about four times as much heat energy as the electrical energy used to power them.
They are part of the government's plan to cut carbon emissions with a target of 20million installed by 2050. As more are bought, the price will drop, as it has with underfloor heating that heat pumps are often used alongside.
Heat pumps involve installing plastic pipes a few feet underground. The ground retains solar energy, both directly from the sun and transferred by water (rain and ground water). The heat pump system uses antifreeze circulating in the buried pipes to absorb heat from the ground. This is used to warm a gas inside the heat pump unit. The heat pump compresses the gas, which heats it further to 70-80ºC – it's like a bicycle pump getting hot as you blow up the bicycle tyres. That heats up the fluid circulating in the heating system to provide central heating and hot water.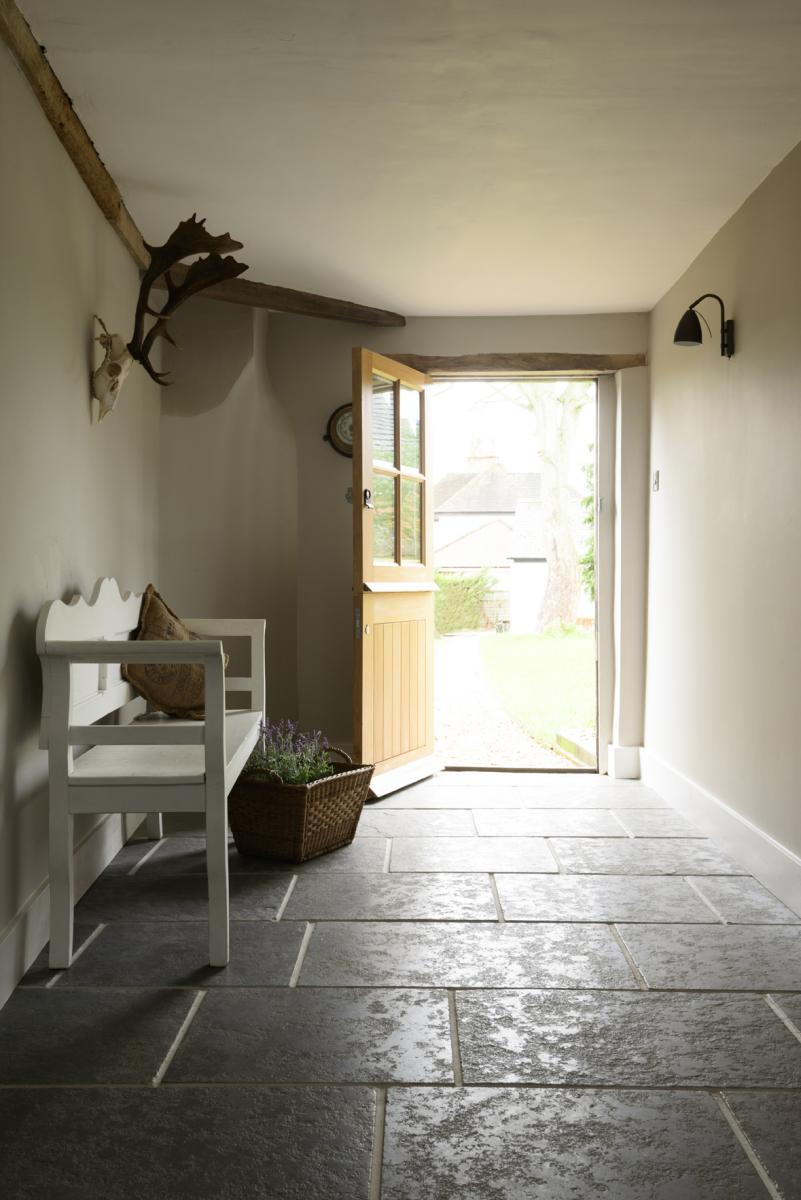 'Worn Grey Limestone' from Floors of Stone. The stone is riven and brushed with hand dressed edges.
Because of the operating cost savings associated with using less energy, it is a system that has proved particularly popular where there are large spaces to heat, such as churches. Underfloor heating is successful in such applications because of the heat it radiates up to 2m or so above the floor. That keeps the congregation comfortable even before the huge volume of air all the way to the ceiling is heated. And, of course, churches tend to have stone floors.
An added advantage of heat pumps is that they are basically refrigerators in reverse, so they can easily be used to cool premises as well as heat them. The Met Office says the 10 hottest years on record have all been since the turn of the millennium (2019 was the 11th hottest overall, even though it had a record-breaking UK single day temperature of 38.7ºC in Cambridge Botanic Garden on 25 July). It anticipates a continuation of that trend, so cooling efficiency might become as significant in terms of energy saving as heating.
The Netherlands has been particularly good at using heat pumps to cool buildings in the summer, store heat in the ground and then use it for heating in the winter. In the UK, London South Bank University has won an award for just such a system developed with the support of InnovateUK.
Indigenous stone
Churches and cathedrals have some particularly fine examples of floors that use indigenous stones, like the one pictured below, where different beds of Purbeck limestone have been used on the floor at Buckfast Abbey in Devon.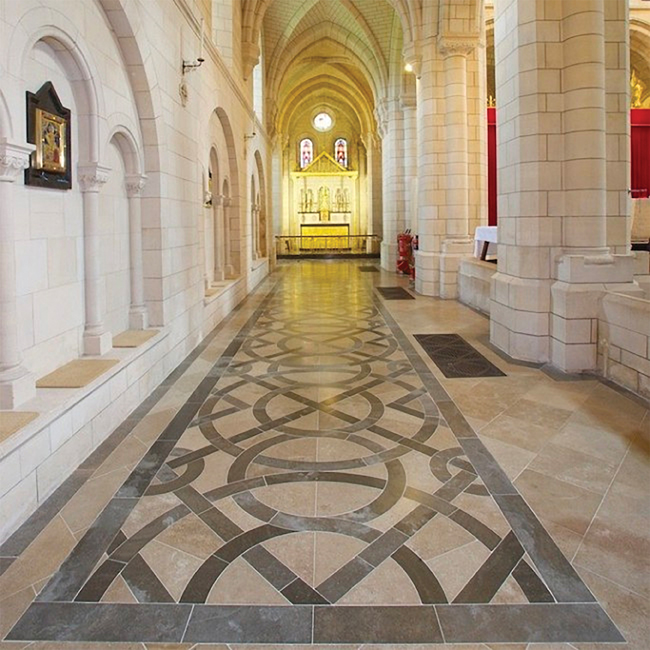 Purbeck limestone supplied by Lovell Stone Group at Buckfast Abbey in Devon. Stone from contrasting beds of Purbeck Capstone and Purbeck Grub have been laid on hydraulic lime with 3mm lime joints. The stone was precisely cut by waterjet.
Indigenous stone is frequently used for flooring projects in the UK and Ireland, particularly (but not exclusively) on prestigious developments and where it is being used for the renovation of historical buildings.
In London, Orlando Boyne's company, Britannicus Stone, has made a speciality of supplying British stones, most of which would not otherwise be available. He particularly sources hard limestones and marbles that can take a polish. Orlando says: "I am passionate about British stones and marbles. They are true marvels of nature and geology; luminescent, beautiful, rare and unique."
However, indigenous stones are more usually supplied directly by the quarry or a mason who buys block or slab from the quarry and produces it for a specific project.
Consequently, a floor in British stone is not usually as easy to source as imported stones that are available off the shelf, many of them at a price well below the price of indigenous stone. Inevitably, therefore, most of the stone used on floors is imported and bought from tile retailers such as Topps or specialist retailers like Alma Small's Mandarin Stone.
Mandarin sells porcelains as well as natural stone, as it has done for several years, especially since the porcelain manufacturers started producing tiles in larger formats to compete directly (and successfully) with stone.
Mandarin says stone flooring has the effect of breathing fresh air into a home, adding life, character and charm to an interior. It creates an authentic and traditional design and feel, especially with the use of 'antique' stone, which has had the pristine newness softened.
Stone fashions
There is certainly no shortage of imported stones to choose from. There tend to be fashions of popularity. At one time it was Chinese slate. Later it was travertine, mostly from Turkey. Now Portuguese limestone is particularly popular.
Mandarin recently highlighted a selection of what it considers its top five antique stone tiles to inspire its customers. They are: Jaipur brushed limestone, evocative of traditional flagstone flooring; Blenheim Grey brushed limestone, with a slight surface texture; St Arbois tumbled limestone, with soft greys, creams and a hint of pink; Dijon tumbled limestone; and the timeless grey Milan tumbled limestone.
One of England's major stone producers, Lovell Stone Group, has also now started supplying  imported stone specifically for floors and paving through a new company called Belvedere Stone. A new showroom open to architects, designers and the public is proposed where the indigenous stones of the Lovell Group and the imports from Belvedere will be displayed alongside each other.
The fact that all the stones can be used for both floors and paving – and the imported stones were specifically chosen so they could be – reflects another result of the warming climate: the blurring of the boundaries between interiors and exteriors. More than ever gardens are becoming an extension of living areas, with open-air kitchens replacing barbecues. Natural and engineered stone is playing a major part in the transition.
BAL turns to Mudd
Building Adhesives Ltd (BAL) has introduced a no frills economy range of products under the name of Mudd, intended to help smaller tiling retailers and fixers compete against larger competitors. BAL says it still uses industry-leading materials to make the products, but holds back on some of the expensive polymers and additives that refine BAL products. It has batch-tested all Mudd products to ensure they perform properly and backs that performance with a 10-year guarantee, giving fixers and retailers peace of mind that the products will do the job with no kick-backs. For larger projects you are probably still going to want to use BAL's more sophisticated range, but for run-of-the-mill domestic and smaller commercial applications lower cost Mudd is an option. More than 50 outlets are stocking it already.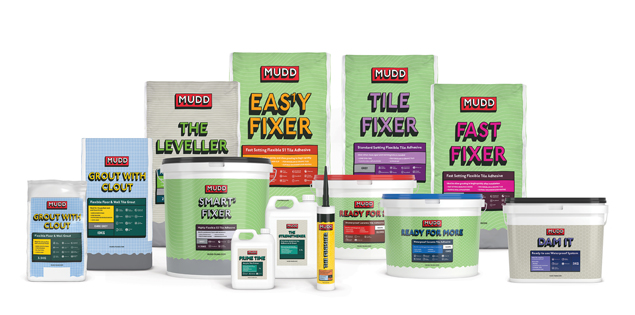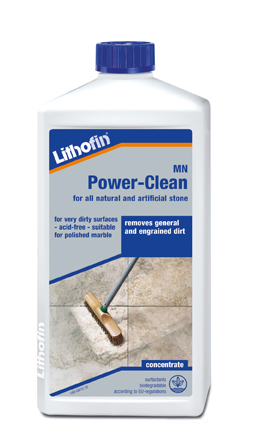 Lithofin is the market leading brand with products for cleaning, protecting and maintaining all types of stone and tiled surfaces.
The Lithofin product range covers everything required from installation through to general cleaning and problem solving.
Specially designed to provide protection and maintenance for natural and artificial stone as well as any other tiled surfaces, the range is supported by a professional technical team to provide help and advice.
Lithofin is acutely aware of its responsibility to the environment and uses environmentally friendly materials with recyclable packaging made from polyethylene and tin.
All products are registered with the German Federal Environmental Agency as complying with the strictest regulations. On-going laboratory and practical testing ensure they are of the highest standard possible.
For natural stone flooring, the impregnating sealant Lithofin MN Stain Stop provides protection for a floor regularly cleaned with Lithofin MN Wash & Clean or Lithofin Easy Care.
This after care of routine maintenance is important for the longevity of sealants. Lithofin products, used correctly, will ensure that stone remains protected and in pristine condition for longer.
Lithofin MN Stain Stop ECO represents the next generation of water-based protective treatments for limestone. It is a high quality impregnator that repels water and oil on these porous natural surfaces – although please note: the chemical properties of the stone are not altered and limestone will be vulnerable to attack by acids. 
Lithofin Stain Stop >W< protects surfaces against the penetration of oil, water and grease and prevents staining to provide an ideal water-based option for natural and artificial stone.
The extensive Lithofin range also includes products such as Lithofin MN Colour Intensifier to embellish and enrich the natural beauty and colour of the stone. And there are products to provide a sheen, such as Lithofin Multi Seal for a satin finish. This is applied after the appropriate impregnating sealant.
Whether you are restoring a floor, installing one, or simply carrying out routine maintenance, a cleaner such as Lithofin MN Power Clean, a mild alkaline cleaner, effectively removes grease and all kinds of ingrained dirt.
Casdron is the sole agent for Lithofin products in the UK, and with that experienced team of technical advisors on hand it can assist with any specification and answer queries. 
The Technical Support Line is manned Monday to Friday from 8.30 in the morning until 5pm – just call 01962 732126. Or visit www.casdron.co.uk where Method Statements for the different types of stone are available in the 'Support and Advice' section.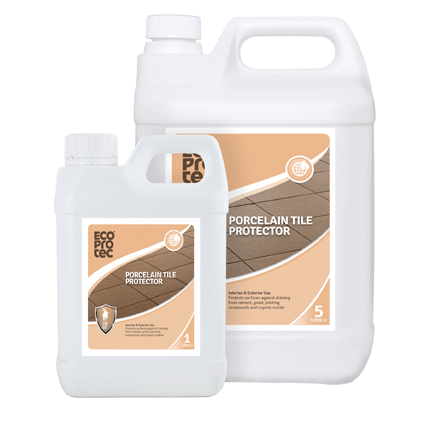 Ecoprotec from LTP
LTP's Ecoprotec range provides surface protection and aftercare solutions for all types of natural and engineered stone flooring.  
Manufactured by LTP in the UK, the treatments have advanced water-based technology for low odour and low levels of volatile organic compounds (VOCs). 
The latest in the range is Porcelain Tile Protector, in recognition of porcelains having their own issues. It is a 'pre-and-post-grout' treatment for use indoors and outside. It creates a barrier without forming a film or altering the surface appearance of the material.
It increases the working time of grouts and jointing compounds and allows easy removal of residues.
Application greatly reduces the risk of staining from cement-based grouts and two-part resin based jointing compounds, as well as stubborn organic matter. A further coat after installation helps assist with future cleaning and aftercare.
Other new treatments in the Ecoprotect range include Cement, Grout & Salt Residue Remover.
This replaces the acids normally used to remove cement and grout residues, and because it is not acid can be used on all types of unpolished stone, including acid-sensitive limestone surfaces, including  travertine. As well as removing new and existing building residues, the Remover disperses any rising salt residues from  substrate moisture and spot fixing.
Alongside the new products, best-selling Ecoprotec treatments span each stage of the treatment process, from pre-sealing to regular maintenance and intensive cleaning. 
There are also treatments for specific issues – Rust Stain Remover; Resin, Polymer & Epoxy Residue Remover; Colour Enhancing and Anti-Graffiti Sealers and Graffiti Remover.
Aftercare Packs for both domestic and commercial projects keep new and renovated surfaces pristine.
Advice on specifying the correct treatment for surface type and symptom can be found at ecoproductselector.com, LTP's Product Selector tool for the contract market.
Stamford Stone has the answer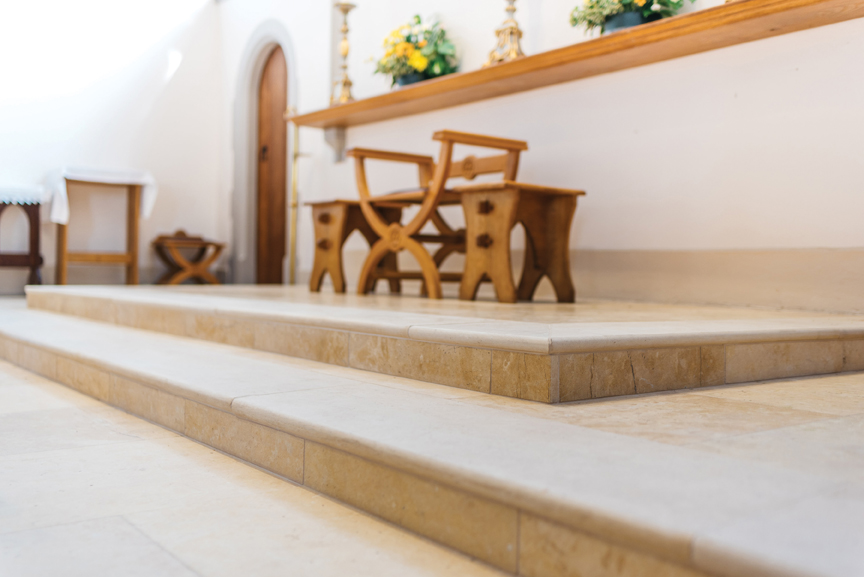 The Church of King Charles the Martyr in Potters Bar, Herefordshire, was bequeathed £100,000, which it decided to use to pay for a new floor. Representatives of the church visited Stamford Stone in Rutland to choose the stone they wanted for the floor and selected Audbourn Lincolnshire limestone from one of Stamford Stone's own quarries.
The person who left the church the money had stipulated the stone used must not be full of shells. Audbourn satisfied that requirement and its blend of warm hues with intermittent grey veining in a honed finish was just what the church needed for its 500m2 floor. Stamford Stone also supplied 45 linear metres of Ancaster stone with a bullnose edging for the steps up to the altar.
Stone has a natural place in ecclesiastical settings and the new floor could not be more appropriate or in-keeping with its historical surroundings. Following installation, the church personnel contacted Stamford Stone to express delight with the floor and to request a brochure to add to their log book as a permanent record of the source of the stones used.