Stone in hard landscaping - some projects
Hardscape 
Stone provides all the answers in Birmingham 
Hardscape was approached to assist in developing proposals for the paving design for Centenary Square, Birmingham. Having provided a sample panel, it was the high-quality of the paving evident in the Hardscape panel and the willingness of the company to work closely with Graeme Massie Architects (GMA) in testing and developing particular paving finishes and profiles that contributed to the company being chosen for the project. Hardscape's demonstrable Ethical Trading Initiative credibility also impressed the client and design team.
As a continuous but articulated surface over the full extent of the Square, the granite paving became a key element of the design. The quality and variation of Hardscape's product palette allowed GMA to achieve its design intentions for the project with Hardscape always available to advise on technical aspects of the stone paving.
Hardscape's ability to store materials locally for easy inspection and same day delivery was also appreciated.
This expertise and peace of mind all helped GMA's understanding and strategy to ensure the long-term success of the project.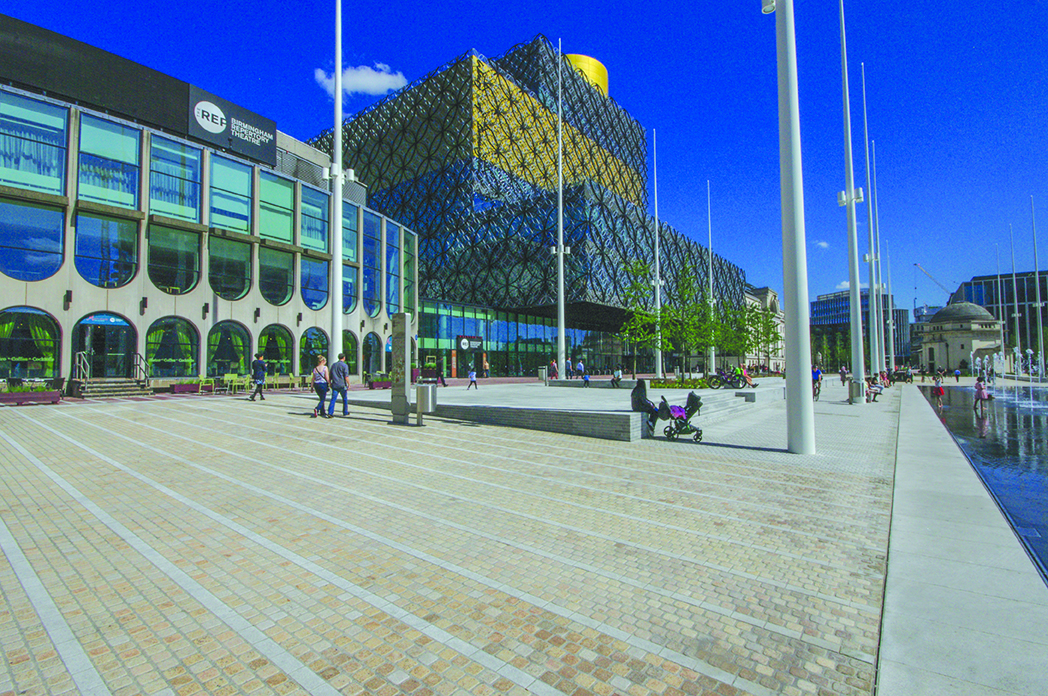 The granites used in the project are Caesar White, Shiraz Red, Crystal Black and Yellow. They appear in the project alongside British Woodkirk Buff sandstone. Finishes are: flamed, honed, bush-hammered and cropped. 
Granite was chosen as the main paving material for its durability and variety of colours and finishes. Also it had to be able to accommodate the HGV traffic that would be using Centenary Square and the big wheel put up there at Christmas.
Slip resistance was important, including for the Crystal Black paving in the 1,700m2 reflective water feature. It had to maintain a minimum slip resistance even under its 10mm deep covering of water, so it would be safe for people to walk through the water, as they are intended to be able to do.
Hardscape worked closely with GMA to develop an anti-skateboarding strategy for the edges of granite benches and platforms. Having tested and explored various textures and profiles, the final strategy was to use a series of alternating grooves that were made into bespoke granite bench top pieces.
Centenary Square's defining feature is a 'Hall of Columns', composed of a grid of 25m-high, slender lighting columns. The canopy of lights illuminates the impressive urban landmark at night. 
Limestone
Limestone also plays its part in the landscape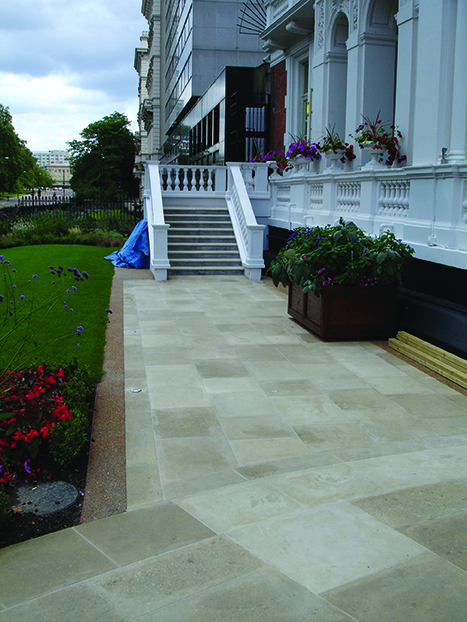 Portland limestone from Albion Stone on the terrace of London's Mandarin Oriental Hotel.
While most people tend to think of sandstone and granite for hard landscaping there are plenty of examples of limestone and marble being used.
Because limestone and marble tend to be associated with floors when they are walked on, and floors are often polished or at least finely honed, it is often thought limestone is not suitable for paving because it will become slippery when it gets wet. But just as granite can be textured as well as polished, so can limestone. It is true it can wear smooth with heavy traffic and can become slippery with algal growth, but it is used for paving.
It is most commonly used in domestic settings, like the French limestone around the swimming pool in the picture on the right, but the picture on the left shows Portland stone in a commercial setting on the terrace at the Oriental Hotel in London. It also paves Wilkins Terrace, used for social events and as an amenity space at University College London. There are plenty of other examples.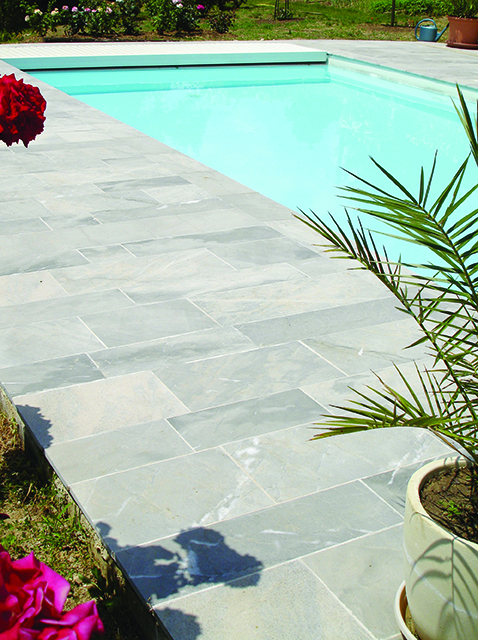 Bleu de Savoie French marble in an acid etched finish and random lengths from Amarestone.
Marshalls
Marshalls' stone makes Aldgate Square so welcoming
As part of a major regeneration project backed by the Mayor of London and Transport for London (TfL), Aldgate Square in the City of London has been totally transformed.
Identified as an area needing support to promote regeneration in 2008, Aldgate Square was designed to remove barriers between communities. It is now the first public space for the area's mix of residents and one of the largest public spaces in the Square Mile.
Featuring a striking pavilion designed by Make Architects, the Square's paving uses Marshalls' Scoutmoor Yorkstone paving, with the muted grey and brown tones enhancing the feeling of openness throughout the area as well as complementing the unusual copper-coloured tones of the Corten steel roof of the pavilion, which, along with the trees planted as part of the project, provides shade on sunny days.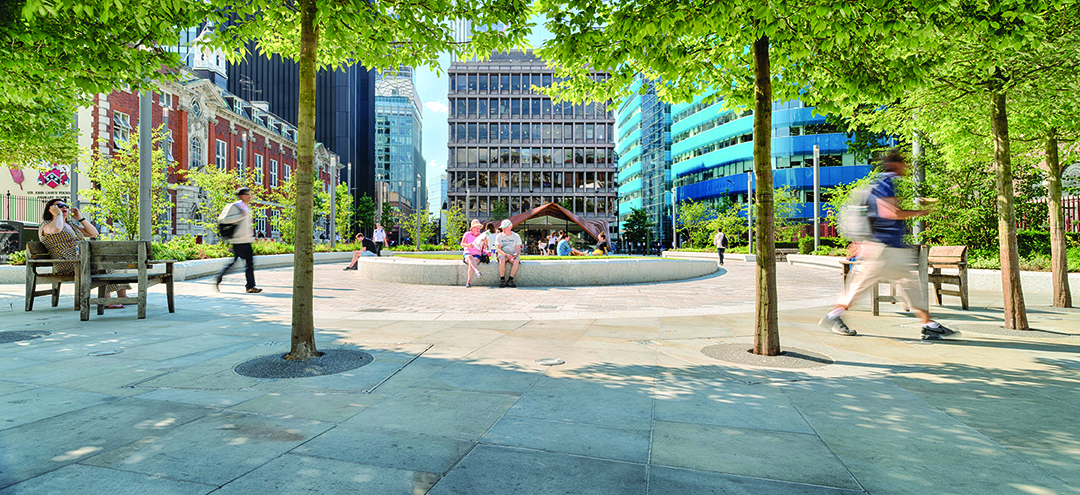 Marshalls' Scoutmoor is a popular paving choice throughout London, chosen for its colour, technical performance and slip resistance. It comes from Marshalls' quarry in Lancashire, which produces some of the strongest Yorkstone available.
Bespoke Portuguese Tarvos Granite Seating Units were also used in the scheme to create a centrepiece that allows a large area for residents and visitors to congregate. Tarvos is an elegant silver grey granite with delicate pigmentation. It is supplied by Marshalls as paving, setts and bespoke masonry.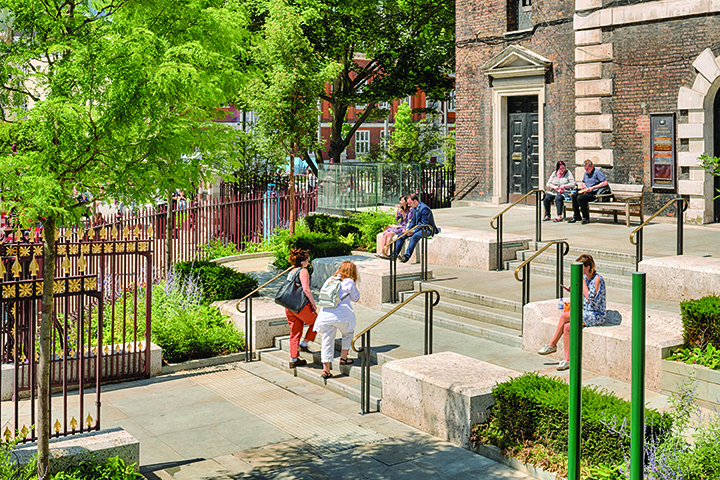 Aldgate Square is the setting for St Botolph's Church, where Scoutmoor was also used to impressive effect as a range of products – flagstones, setts, steps and wall cladding. The stone develops an harmonious aesthetic with the surrounding square while also generating a social exterior gathering space in the heart of the city.
Transformational projects such as Aldgate Square and St Botolph's Church form a key part of achieving the Mayor of London's Transport Strategy, which sets out a long-term ambition to create more beautiful, accessible and people-friendly streets across London where everyone can enjoy spending time and being active. 
CED
South Quay Plaza shows what can be achieved
South Quay Plaza in Canary Wharf, London, is a residential scheme constructed by Berkeley Group Holdings with landscape design created by HTA Design LLP.
CED Commercial Division worked with external works and landscaping specialist Maylim, which was responsible for installing around 4,100m2 of paving and setts, as well as bespoke clad benches.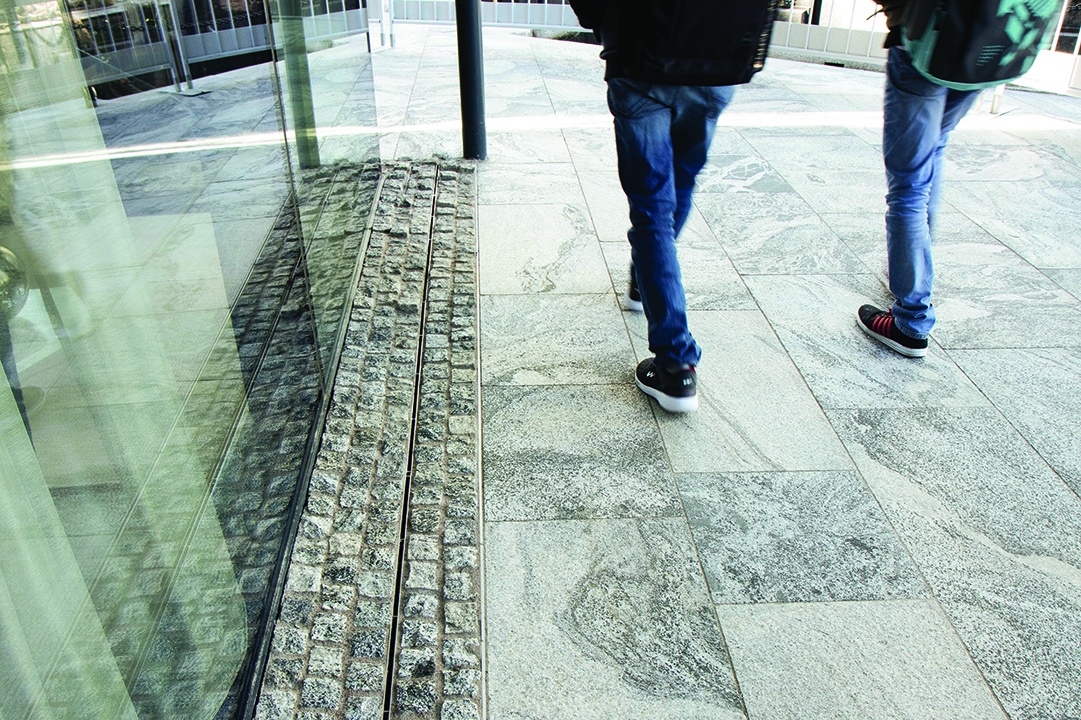 The granite chosen for the scheme is distinctive. It has a lot of variation and has not been supplied on this scale previously by CED.
Representatives from CED, Maylim and the Berkeley Group travelled to the Shandong Province in China. At the factory, the finished products and blocks were available for quality inspection and a benchmark was set for colour and quality.
This trip, during the summer of 2018, was crucial to ensure the client and factory management understood the levels of colour variation and natural inclusions that would be acceptable on the finished scheme.
Tolerances were agreed and some size variations approved for the setts to allow for a better staggered bond pattern when laid. Ethical worker interviews and health & safety training were conducted by CED to ensure they complied with the company's ethical code for ensuring workers rights.
The chosen stone is directionally distinctive – that is, it can be 'cross cut' or cut 'with the grain', each giving distinctive patterns and offering different technical strength capabilities. It was important to thoroughly investigate both options before a final decision could be made. 
Finally, some further stone testing was conducted to ensure the stone would survive its real life environment in London.    
This scheme has taken a particularly unusual stone that would not normally be considered for large commercial projects and used it to transform this area into a spectacular cityscape. 
With a vast library of natural stone from all over the world and 40 years' experience, CED hopes the project will encourage architects and designers to approach CED with open minds for something a little bit different for their projects, as South Quay Plaza is a showcase for what that approach can achieve.
Charcon
Walthamstow railway station transformed
Charcon, the hard landscaping division of Aggregate Industries, has helped transform Walthamstow Central railway station in London by providing poetry-engraved paving and a giant decorative sundial as part of a major revamp of this busy transport link.
As part of the Walthamstow Gateway project, a partnership between Solum, Network Rail and Kier Property, 79 apartments have been built next to Walthamstow Central Station in North East London.
The project features wider regeneration of the station area, including modernising entrances, resurfacing and landscaping pedestrian walkways, new kerbs and a roundabout to ease congestion.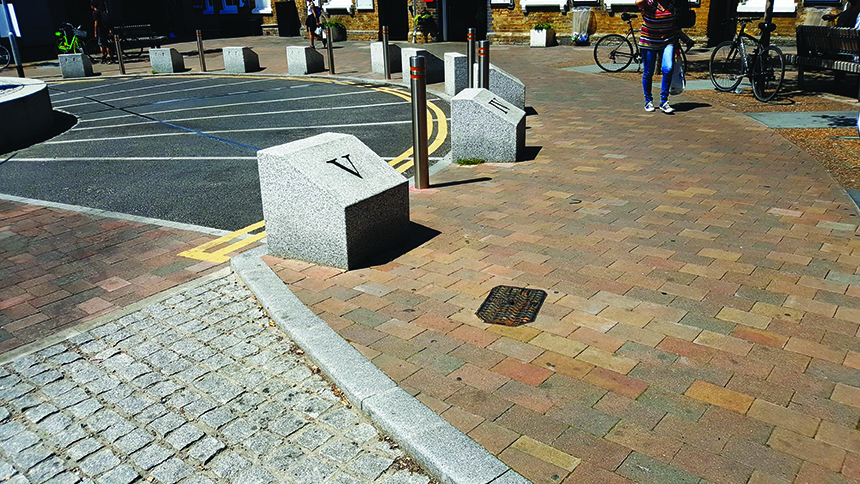 Working with Landscape Architect Fabrik and contractors Osbourne and Toureen, Charcon was given the unusual brief of supplying paving engraved with poetry for the station forecourt as well as a giant decorative sundial to feature as the centrepiece of the forecourt roundabout.
The sundial itself has granite bollards acting as hour markers while at the same time preventing vehicles mounting the pavement.
Charcon provided a range of often bespoke solutions in natural stone, including granite kerbs, setts and sundial markers, and concrete paving.
Woburn block paving was used to provide a hard-wearing surface capable of withstanding the high traffic and footfall of the station car park, while StoneMaster concrete paving, designed to have the appearance of natural stone, was used on the pedestrian link route.
High quality Portuguese granite was used to provide a durable and striking finish for the kerb leading to the sundial, which was also made of granite.
Charcon supported the phased installation programme, including meeting tight deadlines to supply the poetry-engraved slabs and sun dial markers, procuring granite from Portugal in time for the start of the first phase of the development.
Mark Barter, Sales Director at Charcon, says: "As a busy and bustling train station in London, the revamp of Walthamstow Central Station is unlike any other, giving us an unusual brief to provide slabs that could be engraved with poetry and paving to create a distinctive sundial. Our team has worked hard to provide the technical expertise and rapid sourcing required to meet the unique needs of the project. We are delighted our natural stone, concrete paving and high granite kerbs have helped to create a striking and contemporary environment."
Below. The Peterloo Memorial in Manchester commemorates the 200th anniversary of a tragedy of English history in layers of British stone. The memorial was designed by Turner prize-winning artist Jeremy Deller as part of a landscaping scheme by Caruso St John Architects. The stonemasons on the scheme were Mather & Ellis, based in Trafford Park. There will be more about this project in a future issue of Natural Stone Specialist.