Book review: Digging Bath Stone
Digging Bath Stone – A quarry and transport history 
ISBN: 9781911038 86 3 
Author: David Pollard 
Published by: Lightmoor Press 
Pages: 512 
Illustrations: 570 
Price: £50 + £6.50 p&p from Lightmoor Press
David Pollard, the owner of land from which Hartham Park Bath stone is extracted, would quickly correct anyone who called his underground quarry a mine. He once had cause to correct Natural Stone Specialist magazine on the matter. He said: "When Bath stone quarrymen began to dig stone underground there was no reason to call the workings anything other than a quarry – legislation and the legal definition of 'mine' and 'quarry' came much later, in the 1870s and 1890s."
David died unexpectedly in 2017, but not before he had all but completed a book he had spent a large part of his life researching and writing. Now that book has been published by Lightmoor Press of Lydney, Gloucestershire, under the title of Digging Bath Stone – A Quarry and Transport History.
Throughout it David refers to the sources of Bath Stone as quarries rather than mines and explains at one point how he included as a condition of leasing Hartham Park to Hanson Bath & Portland for them to re-open in 1999 that it should only ever be referred to as an underground quarry.
He writes that "as the self-appointed guardian of traditional Bath stone quarry terminology, [I] was responsible for a clause in the lease whereby the word 'mine' cannot be used on any sign, nameboards, advertising and marketing literature, and hence the name is Hartham Park Underground Quarry, although it is classified as a mine under the law".
These days Hartham Park is operated by Lovell Stone Group, whose new drive-in entrance to the mine is named the Pollard Shaft in memory of David.
It is all a little quirky, perhaps; a touch old-fashioned. And that has been allowed to shine through the 300,000-or-so words (plus an index and a glossary of terms) of David's  book, which serves as a testament to the man himself as well as the industry that fascinated him.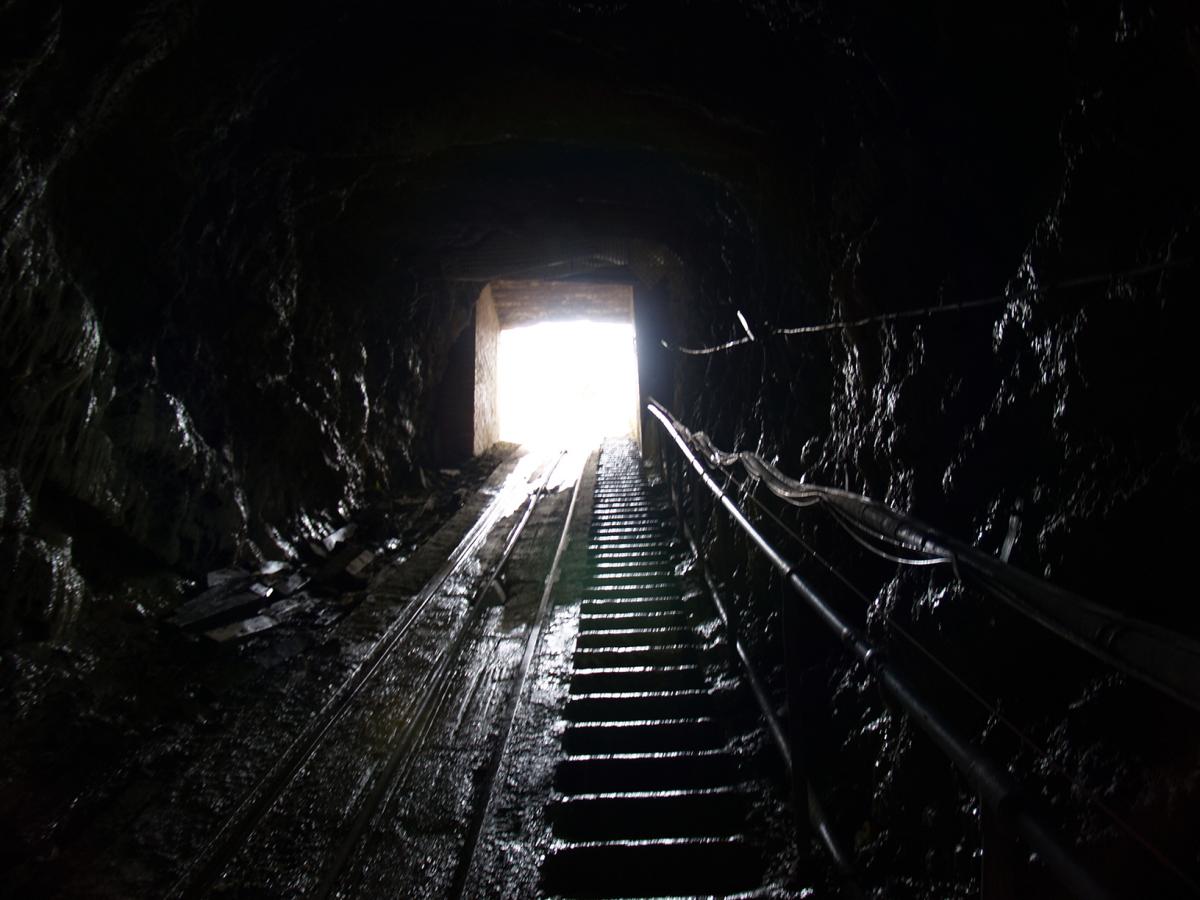 He explains in a preface what sparked that fascination: "In April 1958, I began an apprenticeship at Swindon locomotive works. On weekends, when I returned home to Bristol by train, when passing through Corsham at speed, a wharf with two vintage cranes and the trackbed of a narrow gauge tramway could be glimpsed on the Down side. At home an old motoring map showed a mineral tramway heading south from the wharf. One Saturday in 1960, I set out [on a bicycle] to follow the route and eventually got to the then abandoned Park Lane Quarry where I ventured down the slope shaft to the limit of the light. Further discoveries followed: Sumsion's Monks Park Quarry and Elm Park Quarry in 1964, and Clift Quarry in 1966. It was all very puzzling but a paper by Roger Tucker in Industrial Archaeology Review provided some facts and whetted my appetite to know more."
It was an appetite that was never satisfied and for the next 50 years he accumulated an extraordinary wealth of knowledge about the Bath stone industry.
That included the way the stone was transported around the country, which is an essential part of the Bath stone story, as David explains at the start of Chapter 9, 'Haulage and Transport': "Thus the haulage of Bath stone by the different modes of ox and horse 'plow', coastal shipping, trow and canal boat, railway, tramway and trolley road, ship and motor lorry, is very much part of the Bath stone story."
Without effective affordable haulage, the quarries would not have developed in the way they did, initially locally on roads, then by sea and, once the River Avon had been made navigable by the construction of the Kennet & Avon Canal, by water. The building of the railways identified more sources of the stone as well as making it quicker to transport it. Eventually the stone was back on the roads, now on lorries rather than ox carts.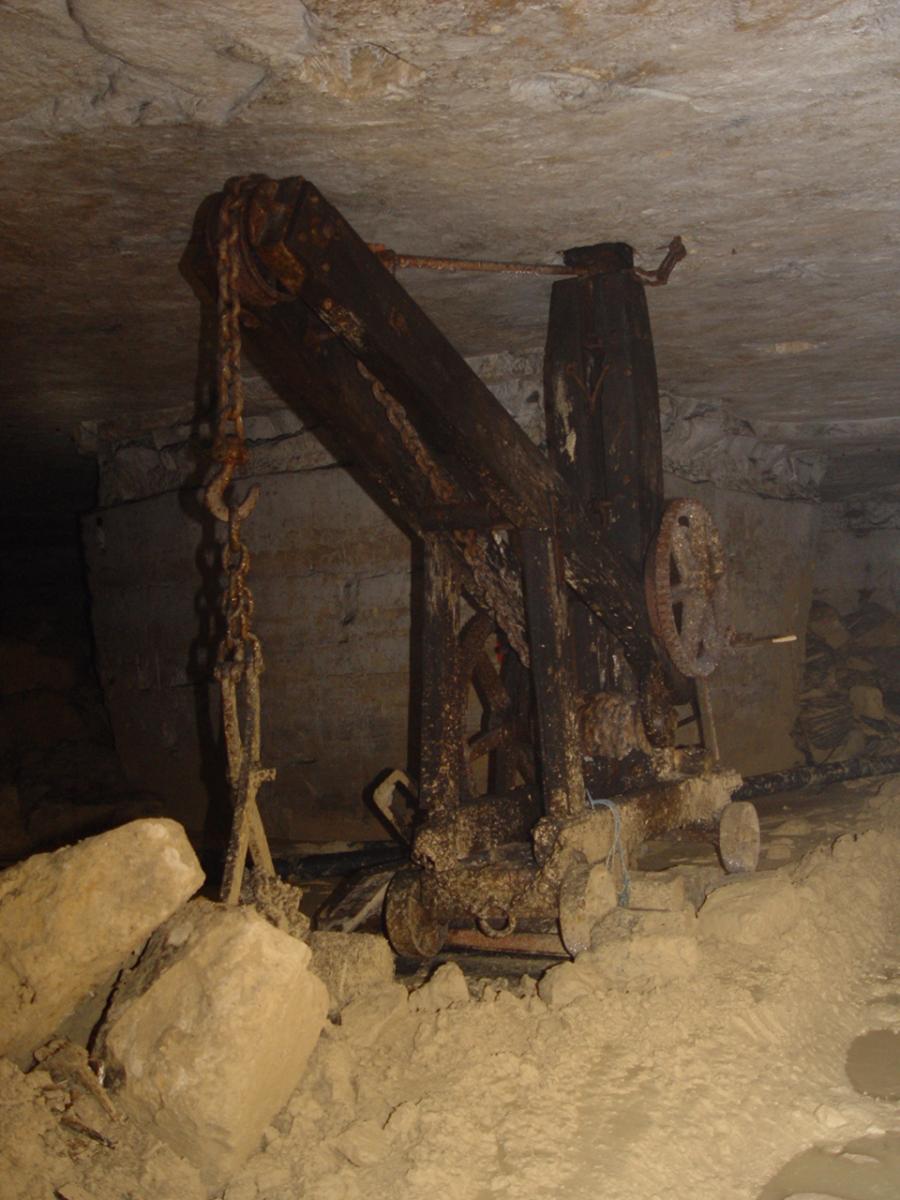 Bath stone was first quarried at least 2,000 years ago, and its first heyday came with the Romans and the development of the baths in Bath. Then the Saxons and the Normans built with it, both by quarrying it and by re-using stone from what the Romans had built. In the Georgian era digging began on an industrial scale when, in 1727, Ralph Allen of Bath bought a half share in Combe Down, including the quarries, and laid a railway down to a wharf on the then newly navigable River Avon.
From that time on the industry grew, reaching its zenith in the late 19th century, with Bath stone being quarried at numerous places across a swathe of land in north-east Somerset and west Wiltshire, from Bath to Corsham and down to  Bradford on Avon.
Various books have been written about the industry, or facets of it, but in Digging Bath Stone David has attempted a comprehensive history that covers just about all aspects of the industry – the companies, the quarries, the personalities, the methods, the product and its transportation.
David Pollard spent the best part of a lifetime compiling the information that has gone into this book, as well as opening up Hartham Park underground quarry.
In great detail, copiously illustrated with a plethora of maps, plans and photographs – many of which are historic and have never previously been published – this book presents the story of an industry which once dominated this part of the country and helped to shape the landscape and the towns, villages and communities it built. It is still alive today, albeit using extraction and transport methods that would amaze the earlier generations of men who won the stone.
Digging Bath Stone is crammed full of stories of  intrigue, deception, bravery and all the strengths and frailties that define humanity and make the book such a fascinating read.
In November 1885, for example, one of the quarrymen, name of John Horton, in a fit of rage beat up his father, Edward Horton (who had apparently been a wife beater himself) and then beat up his former partner, Charlotte Tarrant. Both died from their injuries and John Horton was convicted of murder and hanged at Devizes on 1 February 1886.
During the  1880s, William Godwin,  described as a stone merchant working Westwood quarry, sued a Cambridgeshire mason named Marsh in the County Court, claiming he was owed £4 15s 4d (£4.76p). Marsh was ordered to pay 6s (30p) per month.
James Cottle, one of Godwin's  quarrymen, was fatally injured when a block of stone set up edgewise toppled over on him after being struck by another stone which the men were moving with a crane. He had worked at the quarry for 40 years. This was the third and final quarry fatality at Westwood.
In another case, Walter Allen Sheppard, who had various business interests including a steam traction engine company, got together with six others to form the Bath & Corsham Freestone Quarries Ltd, incorporated in 1898.
By late 1900 the company had opened four new underground quarries at Corsham: Westwells, later known as Moor Park Quarry; Brockleaze, also known as Corshamside; Hills Quarry, later known as Clubhouse Quarry; and Hollybush Quarry. There was also a quarry at Foxleys, in Limpley Stoke parish.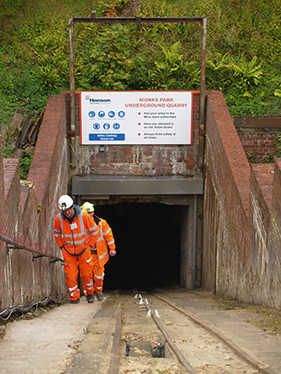 Walter Sheppard put his son, Norman Lovell 'Bunty' Sheppard, in charge of the quarries. Bunty lived with his wife in a flat above the office. 'Bunty' Sheppard had been a journalist with the Bath Herald before he went to Canada farming. He had returned to England on the outbreak of the First World War and was commissioned into the Royal Flying Corps (later the Royal Air Force) and served on the Western Front.
'Bunty' was Sheppard's third son of six and seems to have been his favourite. He was a daredevil and was long remembered for his habit of being lowered down or hoisted up the shaft at South Wraxall Quarry standing on the crane hook.
During 1923, the Moor Park Quarry workings trespassed into the adjoining Spring Quarry belonging to Bath & Portland Stone Firms, which made a claim against Bath & Corsham Freestone Quarries that was settled by a payment of £107 and a further £100 personal contribution made by Walter Alan Sheppard.
The company also had to pay the Bath & Portland Stone Firms' surveyor's fee and send Bath & Portland a certified copy of its own surveyor's report. Bath & Corsham Freestone Quarries committed to supplying an up to date quarry plan every year thereafter to satisfy the mineral agent for the Neston Park Estate that no further trespass had taken place.
In spite of that, there was another encroachment in June 1926 and again the company paid for the trespass.
Meanwhile, on 6 February 1925, there had been a fatal accident at South Wraxall Quarry when 'Bunty' was supervising an operation to lower a pump down the shaft. A rail supporting a stage in the shaft suddenly snapped and the quarryman standing on it fell to his death.
The Inspector of Mines scathingly reported: "I do not think any competent engineer would have attempted to support such a load across such a span on two rails of unknown age. The possibility of crystallisation of the metal had never occurred to the manager. The accident was due to defective practice, and a lack of common sense on the part of the officials responsible for the work."
David Pollard writes that 'Bunty', who, it was said, spent much of his time sitting in a pub at Corsham, was not a successful manager.
Various other fatalities are included in the book, giving an indication of how dangerous the work was. And there is evidence of how tough the men were. One report taken from the Bath Chronicle records a man named John  Hancocks, a quarryman at Combe Down standing no more than four feet [1.219m] in height, carrying three hundredweight [152kg] of stone a distance of nearly three miles in half an hour in order to win a bet of half a sovereign (50p).
According to the Bath Chronicle report, John Hancocks was teetotal  and had consumed a breakfast of 2lb [0.9Kg] of beef "with bread in proportion" and two quarts [1.92 litres] of coffee before attempting the feat.
There are also fascinating insights into the lives of the quarrymen, like the examples below:
George Harris, who visited the quarries in 1893, was going up the steps of a slope shaft with George Hancock, the Bath Stone Firms managing director, when they met a quarryman carrying a bottle coming down. Hancock said "Well my lad what have you there? Paraffin I suppose?". The man replied "Yes Sir". Harris noted it looked like beer and that the men sometimes called it paraffin to gull the employers. The Firms did not mind each man getting his beer but they objected to large (gallon) bottles being brought into the quarries for several men. This had a good effect because most of the men were too lazy to fetch beer for themselves.
If the distance and effort needed to get there was small, underground quarrymen went outside to eat; otherwise they built breakfast holes in which to eat their food. It was essential to locate these away from drafts and a typical breakfast hole was sited against a pillar (the quaries were dug on a room and pillar format, with large pillars left to support the roof), which formed a 'wind break'. The hole comprised a small flat floor, wholly enclosed by the gob (backfill of waste stone), faced on two sides and sometimes partly on the fourth side by neatly built, shoulder high dry stone walls.
Some breakfast holes were approached by a narrow drung through the backfill and must have been snug for a while until the men cooled down. The temperature underground is about 51 degrees Fahrenheit or 11 degrees Celsius. The men sat on small squareish stones covered with sacking or a small board of wood. These 'cushions' were taken out of the quarry at the end of the day to dry.
To keep the contents of the flask bags out of reach of rats, the men hung their bags high up on a pillar with worn out saw sharpening files used for pegs.