Colin Burns, master mason and instructor in the specialist craft of repairing ancient monuments and historic buildings, has died aged 74. He was cremated on 26 February. His ashes will be scattered on Portland, which he considered home.
Colin will be remembered as a skilled craftsman and trainer whose teaching inspired hundreds of buildings conservation professionals, conservators and contractors throughout the UK and abroad. He was also a major contributor to the success of the 'lime revival', which saw a gradual acceptance among specifiers and practitioners towards using traditional lime mortars instead of potentially more harmful modern cements.
Colin served his apprenticeship with The Stone Firms on Portland, in the days when only the best masons qualified from Bottom Coombe masonry works. Eventually he joined the Department of the Environment's Directorate of Ancient Monuments & Historic Buildings (DAMHB).
His first foray into the world of ancient monuments conservation was at Farnham Castle, in 1970. Many more projects followed. In 1981, he moved to the York office of DAMHB, where he worked on the repair and maintenance of many ruined abbeys, castles and churches.
In 1985, his talents were spotted by John Ashurst, head of the DAMHB (later English Heritage) Research Technical & Advisory Service, who invited him to join his national team based in London, beginning a close working relationship and friendship which was to last until John's untimely death in 2008.
John's books and technical articles won international acclaim, but he was the first to acknowledge that Colin's significant practical input was crucial to the success of these works. 
The 'lime revival' began in the 1970s and was embraced with great enthusiasm by a few practitioners, even though a number of failures generated much scepticism among clients and their architects. Colin's practical and thoughtful approach did much to produce objective data that demonstrated lime mortar could be best for masonry. It eventually convinced sceptics that these materials could work successfully.
A skilled and innovative craftsman, Colin cared deeply about ancient monuments and how they were maintained and presented. No matter how challenging the problem, he would always come up with a practical solution. He was also committed to imparting his considerable knowledge to others.
In 1993, Colin worked with John Ashurst to establish a series of bespoke 'Building Conservation Masterclasses' at the then new English Heritage training centre at Fort Brockhurst in Gosport, Hampshire.
Colin built the famous 'ruinettes' – full-scale replicas of ancient masonry incorporating typical defects – for students to work on. The intensive Masterclasses included lectures and demonstrations, as well as practical hands-on tuition.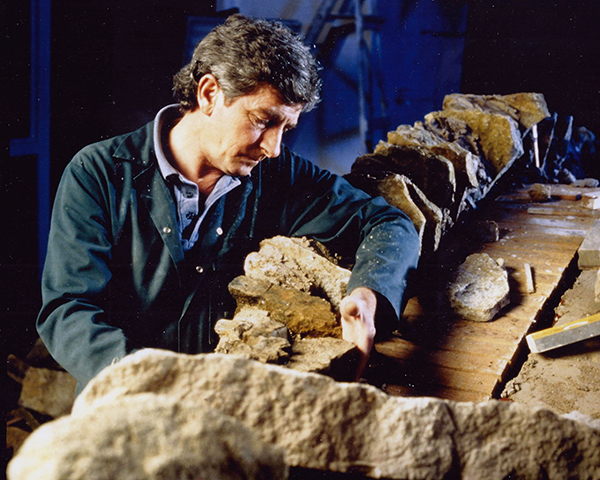 Colin building the first of two ruinettes at the Fort Brockhurst Training Centre in Gosport in 1992. This training aid was designed by him to include typical faults found on ancient ruins that were to be 'repaired' by delegates on the courses. Colin later rebuilt the ruinettes when the courses moved to West Dean College, where they continue to be used to this day.
Colin also designed a range of tools to improve the quality of masonry repair (such as his mobile mortar mill) that are still in demand today.
When the Fort Brockhurst training centre closed, the classes moved to nearby West Dean College along with the 'ruinettes', which Colin rebuilt there.
Although Colin retired from English Heritage in 1997, he continued to give Masterclasses at West Dean for the next 15 years.
He also worked as a consultant, training contractors and craftsmen in the UK, Ireland and the Middle East. His teachings are still revered by many beneficiaries.
He continued his close association with former colleagues in Historic England, providing technical advice and contributing to many research projects and site trials concerning masonry conservation.
Perhaps his most significant legacy was that he gave people confidence to employ traditional techniques and materials, such as lime mortars, rather than inappropriate modern alternatives.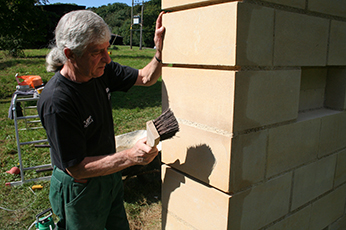 Colin prepared these Cotswold limestone walls as part of a research project in 2004. The purpose was to monitor and compare the performance of mortar joints using the same materials. One joint was prepared as a model, the rest included different aspects of poor workmanship.
There was nothing Colin enjoyed more than sitting in a pub after a long day on site or teaching, discussing the work or the performance of different mortar mixes.
His calm, considered approach and dry wit made him a natural teacher and an easy colleague to work with. But he had very strict standards. If a colleague on a training exercise was using blunt or dirty tools, or the scaffold was a mess, he would let them know it, no matter how senior they were.
Colleagues knew they had done something really stupid when he would calmly ask in his soft Dorset burr: "What for you do that then?"
He never lost interest in or enthusiasm for his work. Even a few days before he died he was animatedly discussing the potential benefits of adding wood ash to lime mortars.
Born in Southampton in 1946, Colin was just three months old when his family moved to Portland and he always thought of himself as a Portland mason, with the status that went with that.
He died in early February after a short battle with lung cancer. He leaves a widow, Val, and two sons, Gordon and Steve.
On Portland, they say: 'Masons, it is said, are born not bred. They come equipped with a head for heights, a steady hand and eye and the sort of countenance that doesn't bat an eyelid when they clunk their knuckles'.  A fitting epithet for Colin Burns.
This obituary was written by Colin's friend and colleague of many years, Chris Wood.