HERITAGE: It's not just about history
History comes alive when you can touch it and feel it, and much of what is left to be touched and felt is what our ancestors built in stone. It helps define nationality, which is why the built heritage is culturally so significant.
This year marks the 1,900th anniversary of the 73 mile (117km) long wall built from coast to coast across the north of England by the Roman emperor Hadrian.
It was built from the stone readily available in Northumberland. With its network of forts, it was to protect the northern frontier of the Roman empire.
Even people who have never been north of Watford have heard of Hadrian's Wall, and lots of people do go north to visit it every year.
That, of course, is one of the reasons heritage is considered important in a world that tends to measure importance by the financial return assets offer.
But it is not the only reason. Heritage also plays a significant role in creating a sense of nation and giving people an idea of belonging to something that stretches back into history.
The various significances of the built heritage, beyond the simple preservation of buildings and remains, are explicitly acknowledged by many of the organisations that lead the way in protecting the country's heritage.
In 2018, £2million of National Lottery money was allocated to Hadrian's Wall and the lesser known Antonine Wall, built by Hadrian's successor as Roman Emperor, Antoninus Pius, to mark what was briefly the northern limit of the Roman Empire as it expanded into what is now Scotland.
The lottery money was allocated to help train a volunteer army to survey and carry out repairs to Hadrian's Wall and fund a campaign to locate its missing stones, taken from the wall during the 1,500 years after the Romans withdrew from Britain. It has turned up in local houses, farms, field walls, and churches.
The funding was also intended to address a lack of awareness about the Antonine Wall, started 20 years after Hadrian's Wall, with £980,600 of the lottery cash allocated to a programme of 30 community-designed projects in the five local authorities that the route of the wall now passes through.
This year's celebrations to mark the 1,900th anniversary since the beginning of the building of Hadrian's wall sees English Heritage, along with the wider Hadrian's Wall partnership, celebrating the history represented by the wall, which is now part of the transnational UNESCO Frontiers of the Roman Empire World Heritage Site.
The Hadrian's Wall celebrations began on Emperor Hadrian's birthday (24 January) this year and will culminate with Saturnalia (17-23 December). They include events at Chesters and Birdoswald and a new exhibition at Corbridge Roman Town.
English Heritage is working with the National Lottery Heritage Fund to help local communities celebrate the anniversary (see bit.ly/Hadrian1990 and 1900.hadrianswallcountry.co.uk).
On behalf of the Hadrian's Wall Partnership, English Heritage received a grant from the National Lottery Heritage Fund to distribute to local communities in packages of between £250 and £5,000 to get them involved in the celebrations. The grants programme is administered by Tyne & Wear Archives & Museums in partnership with English Heritage on behalf of the Hadrian's Wall Partnership. Applications for grants are open until the end of September (see 1900.hadrianswallcountry.co.uk/get-involved/community-grants/).
Involving a wider audience
Historic England said in its latest annual report: "The regeneration of heritage assets is recognised as a key catalyst in realising the Government's Levelling Up strategy. It can address regional inequalities, provide training and employment opportunities, help nurture skills and contribute towards tackling the climate crisis."
The broadening social and policy-leading role of the sector is redefining it, and the changing face of heritage has also this year seen the National Lottery Heritage Fund engage the wider heritage sector and the public in deciding its future direction.
The National Lottery Heritage Fund (NLHF) invited those in the industry and anyone interested in heritage to give it their opinions on what should be included in its next 10-year strategy.
Eilish McGuinness, Chief Executive of The National Lottery Heritage Fund, said: "As the UK's largest funder of heritage, it's important that we understand and collaborate with you – those who know the sector and the people it serves – on how we continue to invest in heritage and ensure it is maintained and valued now and in the future."
The National Lottery Heritage Fund also ran a second UK Heritage Pulse survey, focusing on organisational resilience, sustainability, recruitment, and staffing, in conjunction with Historic England and heritage partners across the UK.
UK Heritage Pulse is a project to collect the views and experiences of the UK's heritage sector to help influence the Heritage Fund's work.
If you want to add your voice to UK Heritage Pulse, you can register to see the full results of the surveys, and take part in future surveys and quickfire polls on live topics for the sector at heritagepulse.insights-alliance.com.
The first UK Heritage Pulse survey was carried out in February, when Covid was still very much on people's minds even though restrictions in England had just been lifted. In Northern Ireland the restrictions were lifted half-way through the month-long survey period, while in Scotland and Wales restrictions were in place throughout.
The Heritage Fund asked the industry about its level of confidence, the impact of the coronavirus pandemic, including on staffing, and its strategic priorities. It concluded from the 230 completed and 47 partially completed responses that the sector was resilient to the pandemic, even though Covid had presented economic challenges, largely due to the loss of visitors. Concerns remained over staffing and the uncertainty of the economic climate.
While 9% of respondents said they had not been affected by Covid-19 restrictions, 72% had experienced event, booking and order cancellations, and 75% had had to deal with staff or volunteer absences. Recruitment of specialist staff had been so challenging for 40% of respondents that it had affected their operations during the previous six months.
Diminished risk
However, in a marked change from a different survey carried out in 2020, most respondents (84%) felt the risk from another Covid-19 wave like Omicron would be low or moderate.
Financial and organisational resilience was high among the list of respondents' strategic priorities, although what came out as most important was contributing to a sense of place and community.
Anne Young, Director of Strategy and Innovation at the Heritage Fund said: "The UK's heritage sector has faced its gravest threat since the Second World War over the past two years. To know that organisations are emerging confident and with a stronger financial outlook is good news. But it's also clear that our respondents face challenges to achieving their ambitions in the current economic climate. This survey gives us invaluable insight into those issues and how we might be able to help."
The views from the surveys are feeding into the long-term organisational strategy of the Heritage Fund.
Although the impact of Covid is receding fast, it was significant for the heritage sector because most sites had to close and even those that didn't saw visitor numbers decline.
The National Trust put some figures on the size of that impact in its annual report that was published in December.
The National Trust has an annual income of some £600million, more than 50,000 volunteers and 10,000 staff. It cares for more than 500 historic houses, castles, parks, and gardens that between them have more than a million items in their collections. The Trust owns around 250,000 hectares of land and 780 miles of coastline. It ended the year 2020/'21 with 5.4million members, a loss of more than 500,000, in spite of offering payment holidays and not increasing the cost of membership.
However, income from membership in 2021 was £267.6million. That was £2.1million less than in 2020, but £24million more than it had been in 2019.
But because premises closed and the Trust lost its visitors, it was calculated that Covid would lead to a loss in operating income of £200million. It was able to save £41.8million in non-staff costs and a further £114million by immediately stopping many of its projects and all but essential conservation work. The Government's Coronavirus Job Retention Scheme ('furlough') enabled it to relieve the loss of income while retaining staff members, but there were job losses.
It reduced staff numbers by 1,767 from an overall headcount of 12,389. There were 845 voluntary and 922 compulsory redundancies, reducing ongoing staff costs by £52.7million, although at a cost of £19.8million in redundancy payments. The job losses returned the number of people employed to its 2013 level.
In total, the charity managed to save £197million of its planned spend to mitigate against what turned out to be £213million of reduced income in 202/'21. There will be an on-going annual reduction in costs of £94.5million.
The Board of Trustees said in its annual report: "The actions that we took, alongside the signs of recovery that we have seen in recent months, give us confidence in the long-term sustainability of the organisation."
In spite of the Covid restrictions, the pay-to-enter Trust sites had 13.6million visitors in 2020-'21, thanks to the rapid introduction of a booking system alongside comprehensive Covid-safe processes. Nevertheless, it was less than half the number of visitors it had welcomed in 2019-'20.
Ahead of the pandemic, in January 2020, the National Trust had announced a goal to reach net-zero carbon by 2030, committing to emissions cuts across its operations as well as ensuring its land maximises its potential to capture and store carbon.
In 2020/'21 it cut its carbon emissions by 30% but Covid played a big part in that.
It was the final year of the Trust's 10-year energy strategy aimed at reducing overall energy use and switching half of its fossil fuel use to renewables. It fell short of the target (it achieved 44% from renewables)but believes it will reach it this year and continues to strive to achieve its net-zero carbon goal by 2030. The Trust has more than 100 renewable energy projects up and running, including hydropower, solar power, heat pump energy and biomass boilers.
The National Trust is not alone in tackling climate change issues, and the reduction in the use of fossil fuels will only be hastened by the rise in gas oil prices following Russia's invasion of Ukraine.
Less waste
Another National Trust target is a reduction in waste, which includes tackling significant amounts of litter and fly-tipping. Litter takes its toll on wildlife and nature, and is expensive to clear up. Additional support and training has been given to staff to help manage the problem.
The Trust has an ambition to plant 18,000 hectares of new woodland, which is steadily gaining momentum, and in Stroud, Gloucestershire, it worked with partners such as the Gloucestershire Wildlife Trust and the Woodland Trust, as well as 24 local landowners, to create new wildlife habitats and corridors as part of a larger landscape project to increase biodiversity.
It is being supported by the Green Recovery Challenge Fund to deliver £3.8million of projects at some of its estates and this year it has also received £6.2million from the Hamish Ogston Foundation for a new Heritage Crafts Apprenticeship programme.
The Hamish Ogston Foundation Heritage Crafts Apprenticeship Programme, which starts as this issue of Natural Stone Specialist is posted in September, offers 52 apprenticeships in stonemasonry or carpentry & joinery. They will result in either a level 2 or level 3 qualification through the government's formal Trailblazer apprenticeship scheme and will be followed by a year's work placement arranged by the National Trust.
The Hamish Ogston Foundation has also given £2.3million to the Cathedral Workshops Fellowship to continue its training in traditional skills.
The story has been similar across the heritage sector. At English Heritage, for example, which cares for more than 400 buildings, monuments and sites that are normally visited by around 10million people a year, saw visitor numbers drop in 2020-'21 to 1.9million. Membership recruitment fell to 182,000 from 372,000 in 2019-20. Its 753,000 membership renewals was 0.5% down on forecast. Income fell to £99.8million from £126.9million in 2019-'20, which included £35.4million from grants, Covid-19 support programmes and a subsidy from Historic England.
For Historic England, which split from English Heritage seven years ago, the Covid period was busy as it helped support the sector.
It adjusted its short-term priorities during the Covid lockdowns and restrictions to divert resources to provide emergency support, with its 200 members of staff distributing relief though the Government's Culture Recovery Fund.
It worked with the National Lottery Heritage Fund to deliver more than £126million to 785 organisations and, through the Heritage Stimulus Fund, awarding almost £53million for capital repairs to over 800 historic sites.
It launched the £95million High Streets Heritage Action Zone (HAZ) programme, supported by the Department for Digital, Culture, Media & Sport (DCMS) in its Culture & Heritage Capital Framework. That is intended to provide one universally accepted standard for measuring the social and economic impact of the nation's cultural and heritage assets. Historic England convened the Heritage Sector Climate Change Forum, which published a Joint Heritage Sector Statement on Climate Change. It says it is determined to provide practical solutions to assist the custodians of historic buildings to reduce carbon emissions and improve energy efficiency.
Information technology
And it learnt that moving training programmes online reached a wider audience than live events, with 10,000 people watching 83 online training events as they took place and a further 25,700 views of recordings of them. As a result, Historic England continues to present training online.
There were also more than 10million visits to its website – its highest ever audience.
The heritage sector continues to be important and influential and the stone industry makes a vital contribution to the preservation of the built heritage and its continuing relevance.
Heritage in context at the National Gallery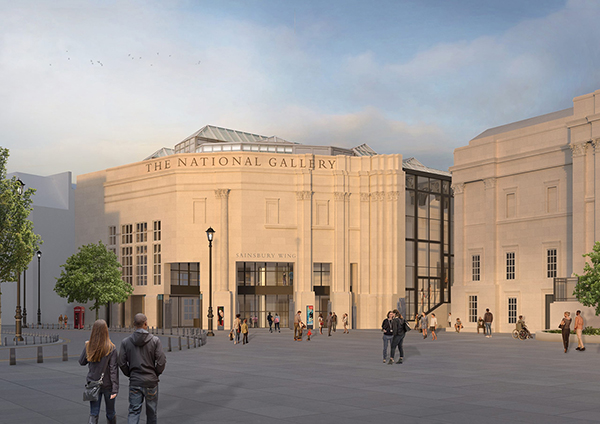 Heritage is about so much more than just preserving existing structures, as the Sainsbury Wing of the National Gallery ably demonstrates.
The wing was designed as an extension to the National Gallery by post-modernist architect Robert Venturi and built in 1991.
It followed the rejection of an earlier design that was famously described by the Prince of Wales as "a monstrous carbuncle on the face of a much-loved and elegant friend". The 'friend' was the Portland limestone National Gallery that was opened in 1838 in Trafalgar Square, a site chosen deliberately to be egalitarian – it could be reached by the rich driving in carriages from the west of London and on foot by the poor from the East End.
And now, as part of a project called 'NG200: Welcome' to celebrate the bicentenary of the National Gallery in 2024, changes are proposed to the Sainsbury Wing.
Why is 2024 the bicentenary? Because it was in 1824 that Parliament decided to create a national collection of paintings by buying the 38 in the collection of banker John Julius Angerstein. The pictures were displayed in his house at 100 Pall Mall until the National Gallery was built.
Changes to the Sainsbury Wing proposed as part of NG200 are shown in the computer generated illustration on the left. A world-class architectural team led by Selldorf Architects and Purcell Architects has been appointed for the project and a planning application to make the changes has now been submitted.
The proposals include a more welcoming entrance, with queuing brought inside, out of the weather, in a newly configured vestibule with lighter coloured gates.
More natural light is brought into the main foyer by replacing dark glass and removing parts of the dark ceiling to create a better sense of openness. There is clearer wayfinding and access to the main stairs, lifts, amenities and gallery spaces above.
New seating, paving and trees will also be added to the public spaces outside the Gallery on Trafalgar Square and Jubilee Walk between Trafalgar Square and Leicester Square will be made more accessible.
But it was felt more could be done to encourage more diversity. It also wanted to contribute to Net Zero CO2 emissions.
Social inclusivity and environmental objectives are central issues of the heritage sector, and for NG200 this means changing and adapting the buildings to make them easier for more people to access and move around, while respecting the special architectural and historic character of the buildings and reducing carbon emissions at the same time as ensuring the art and buildings are conserved for future generations.