Stone cleaning: the specialists
Natural Stone Specialist asked two of the top suppliers of stone cleaning equipment how the sector has been during the pandemic. Here's what they said...
Stonehealth is well known for supplying innovative masonry cleaning systems and products to the restora-tion and conservation trades. Architects and other specifiers regularly rely on Stonehealth's  list of trained and approved contractors, both nationally and, increasingly, abroad.
James Diamond, Stonehealth Managing Director, says: "Other than the challenges with stock (that I'm sure everyone is facing) we have had a good year and the stone cleaning world seems to be as busy as ev-er!"
It was 35 years ago that Brian Crowe introduced the gentle carbon removing machine known as Jos to the UK. This was at a time when many monuments and buildings were polluted with carbon, calcium and bio-logical growth, while others had been painted.
Before Jos, various methods of stone cleaning were used. Most were aggressive and caused instant seri-ous damage that often resulted in lost detail and accelerated the decay of masonry.
This damage was normally initiated by the heavy use of air tools, chemicals, high pressure water, satura-tion and scrubbing, and sandblasting, with the work being carried out by untrained operatives who just wanted to get the job done as quickly as possible.
Because of the damage some of these methods were causing it became normal for some authorities not to authorise the cleaning of listed buildings and monuments. Chemicals, high pressure water and sand-blasting do not only cause damage but some will also create health hazards to the operators and harm the environment.
There are good reasons for cleaning, apart from the aesthetics of just making the structure look better – carbon deposits, for example, damage masonry due to the reduction of permeability they cause.
Moisture within stone containing salts will cause damage if it is trapped, particularly when the stone ex-pands and contracts with temperature changes. Clean masonry with unblocked pores allows moisture va-pour to be released.
The Torc system launched by Stonehealth in 1990 was a further development and improved method of us-ing a swirling vortex compared with the original Jos system.
Torc has since been continuously developed and improved compared with earlier versions. It now has its own power supply, uses less water, and has significantly improved effectiveness. Although parts seldom need replacing, when they do they are readily available from Stonehealth together with many types and sizes of interchangeable nozzles.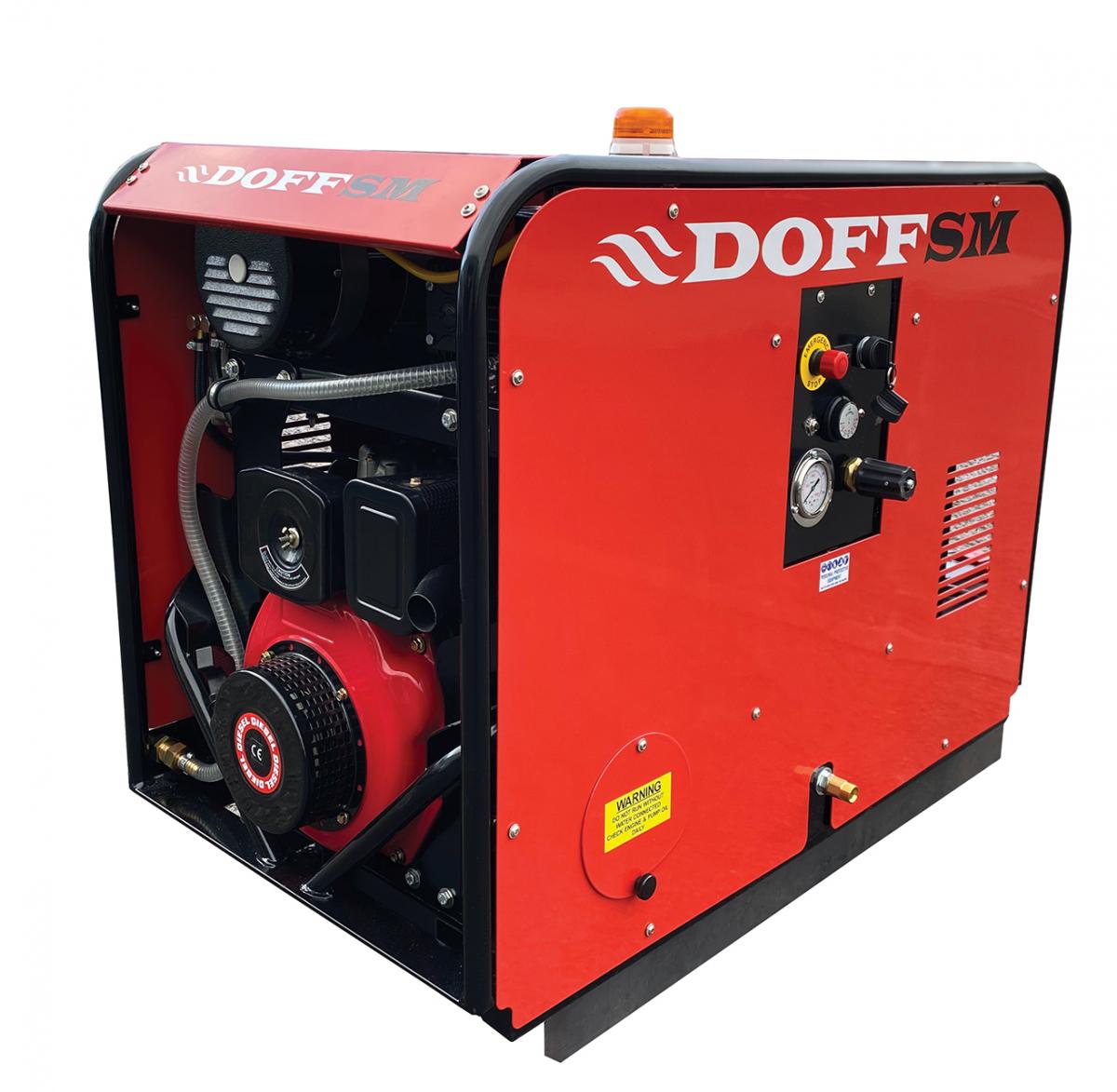 The partner to Torc is the Doff system, which creates superheated water (150ºC at the nozzle) and is ef-fective at removing acrylic and other flexible paints, bitumastic coatings, biological growth and other un-wanted matter from stone and most other types of masonry.
Stonehealth recommends Doff as the starting point when cleaning or removing paints and if any brittle coatings remain – such as limewash, cement or carbon – they can be removed using Torc.
It is no exaggeration to say these systems revolutionised the way stone is cleaned.
Stonehealth continues to work with various conservation and restoration companies, as well as advising architects and surveyors on various projects.
In all its years of trading, through the various economic highs and lows, Stonehealth says its business has never been seriously affected because conservation and restoration seems resilient against the worst of the stop-go fluctuations that impact new build.
Even during the first Covid-19 lockdown last year, after careful consideration and with some staff being furloughed, Stonehealth knew customers' machinery would still need servicing and that services could be carried out by the remaining staff working in a completely Covid safe environment.
By June last year all the furloughed staff were back at work because the company found that demand for its systems and products was increasing rather than reducing.
Record sales have continued this year, with machines being sold to the National Arboretum in Stafford-shire, the Canadian and Swedish Governments, and many other organisations in various countries. The number of palaces, monuments, commercial properties and places of worship being cleaned by machines and products from Stonehealth continues to increase all the time.
Stonehealth Canada was set up a few years ago and there are agents representing Stonehealth in various countries, including Holland, Poland and Switzerland.
The DOFF Integra super-heated water / steam cleaner (left) is versatile enough to allow access to a wide range of cleaning projects. While the temperature in the system is high, the pressure on the surface being cleaned is gentle and the volume of water is low. The surface is therefore not saturated and will be dry within minutes.
The Doff SM (or DOFF Skid Mount) pictured below is predominantly aimed at contractors looking for a van, trailer or workshop mounted version of the DOFF.
It is a diesel powered, compact, self-contained unit that only requires a water supply to operate. This gives additional versatility while still offering the same reliability and efficient performance of the DOFF Integra.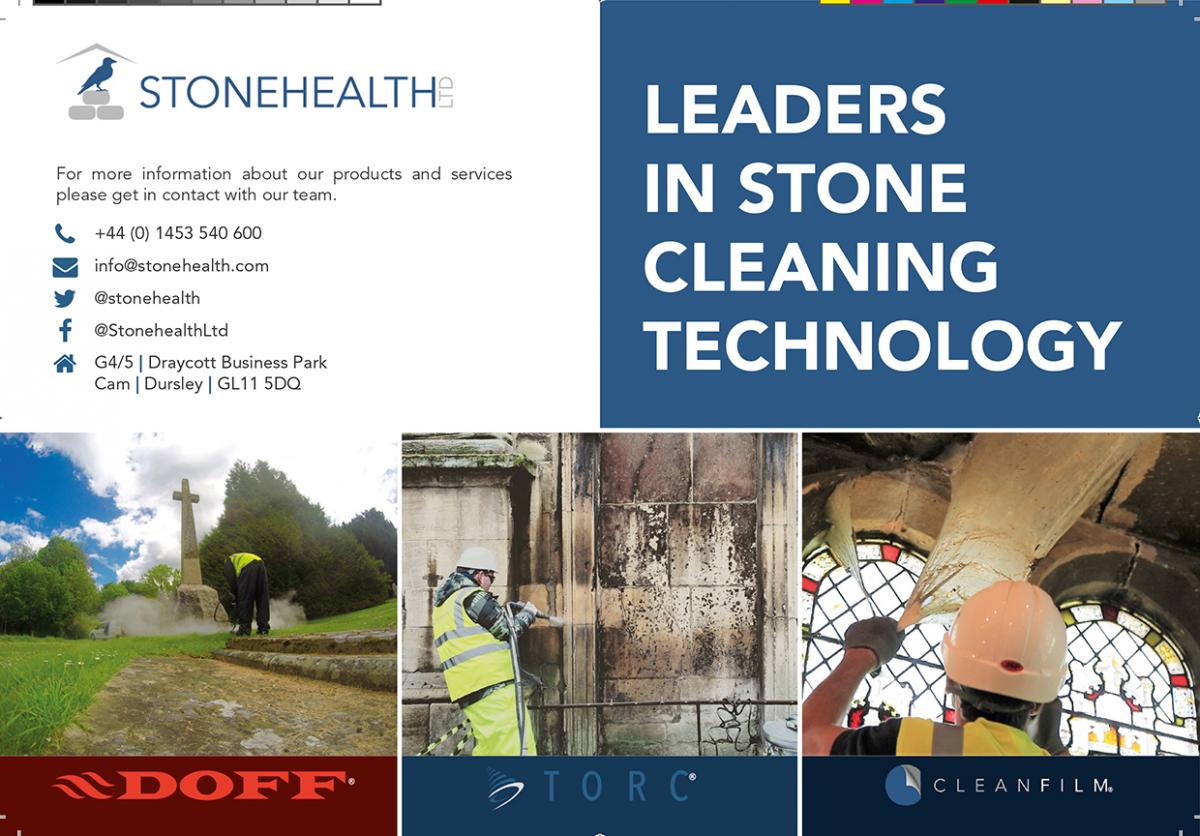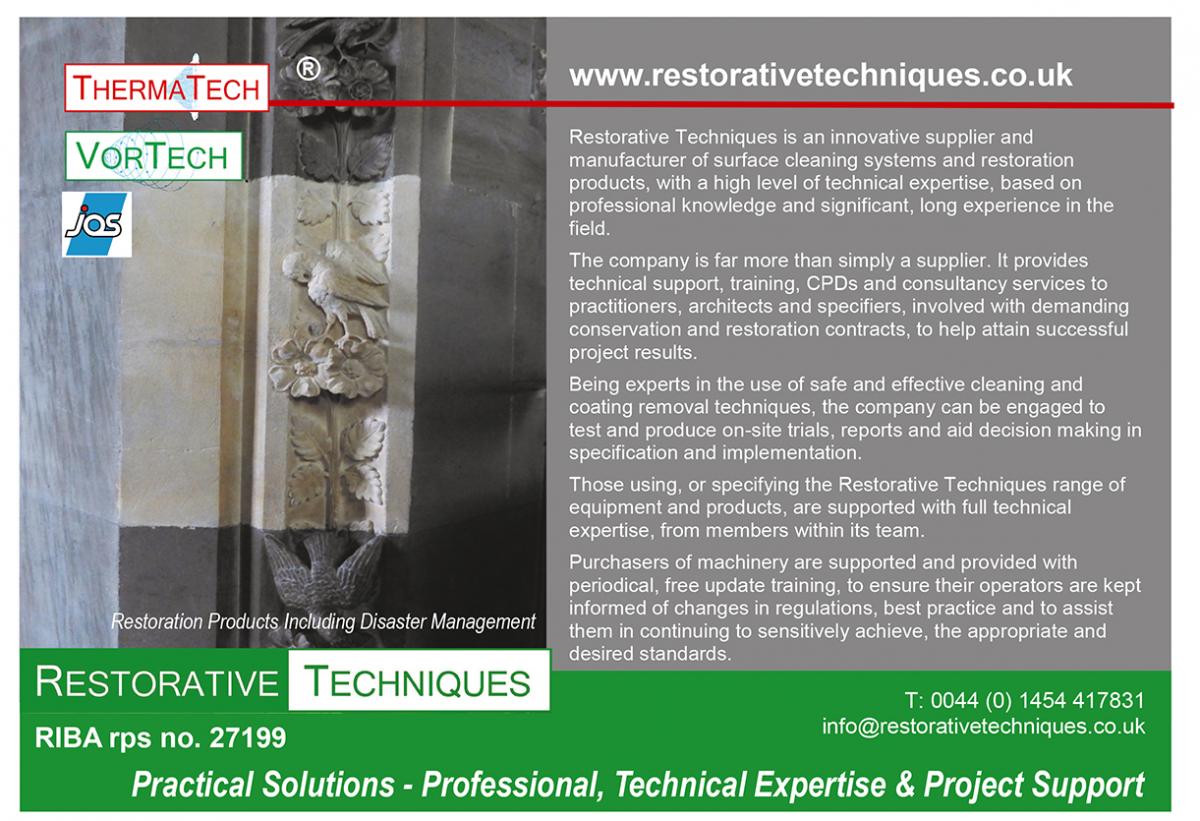 Below. The ThermaTech Inox is powerful enough to be used by two operatives at once.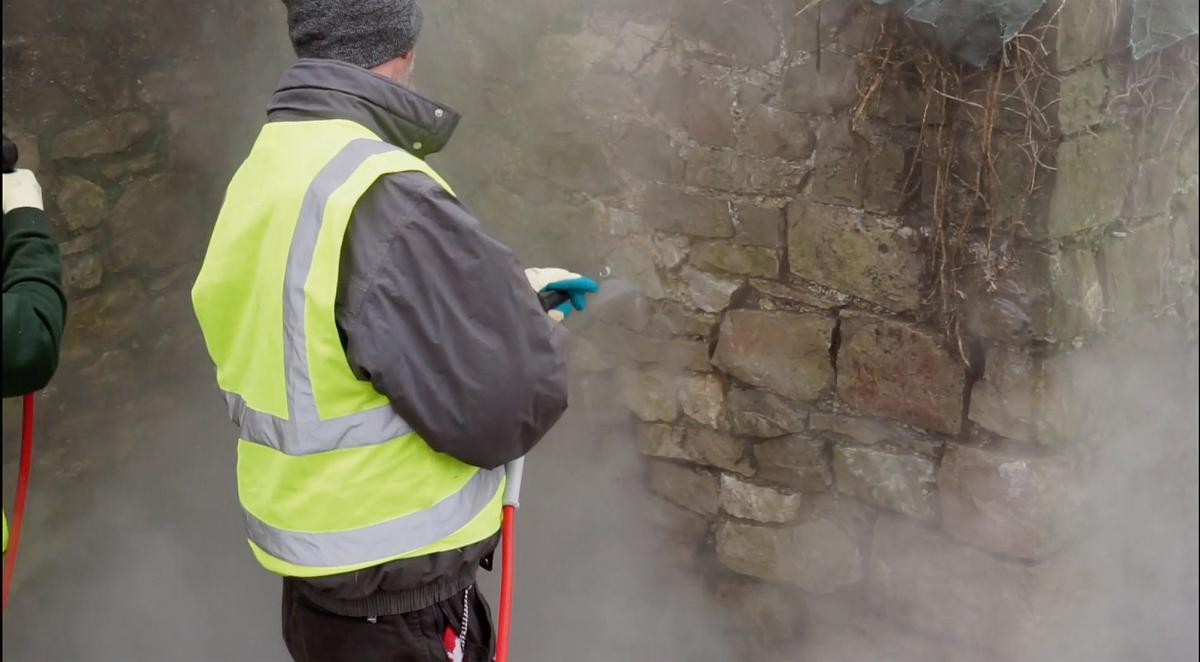 Earlier this year, Historic England published a new technical advice note called Graffiti on Historic Build-ings – Removal and Prevention. Clara Willett, Senior Architectural Conservator with the Building Conservation & Research Team at Historic England, oversaw the production of it and it was written by Catherine Woolfitt, an archaeologist and architectural conservator who is Subject Leader of Historic Building Conservation & Repair at West Dean College, and Jamie Fairchild, a Director of cleaning products company Re-storative Techniques, who often presents courses on stone cleaning at West Dean College and is frequent-ly consulted when graffiti needs removing from buildings and monuments.
The publication was reviewed in the May issue of NSS and can be downloaded free from the Historic Eng-land website at bit.ly/TAgraffiti.
Although the publication deals specifically with the problem of graffiti – which, for whatever reason, be-came more of a problem during the Covid lockdowns – much of the information it contains applies in gen-eral to stone cleaning.
Perhaps the overriding message of the publication is to find out what you are dealing with, both in terms of the composition of the soiling and the substrate that has been soiled. Those same considerations should form the basis of cleaning just about anything if you want a successful result.
Providing that analysis has always formed an important part of the service offered by Restorative Techniques.
Jamie Fairchild continues his technical consultancy roles and has been involved with a number of advisory groups, including tasks for Historic England that include site trials, and also assisting with content for ad-visory videos, webinars and technical publications. And as well as contributing to  the Building Conservation Masterclasses at West Dean College he also presents CPDs for architects and surveyors. Because of the pandemic, latterly these have often been conducted with online video conferences.
He has now made the job of analysis for projects a little easier by creating a new laboratory at the Restorative Techniques headquarters in Bristol.
The new laboratory is fitted out with a range of laboratory equipment, including fume cupboard, laborato-ry ovens, a variety of microscopes, and the like. Much of the equipment was already in use before the lab was built by Jamie, his son (whose name is also Jamie) and Chris Miller, who has worked at Restorative Techniques for six years. But putting it all together in a dedicated building designed for the purpose makes it easier to use and provides the facilities for longer term experiments and trials.
Analysis of specific issues means products can be developed to tackle them, some of which have then been added to the standard product ranges of Restorative Techniques.
For example, at the Palace of Westminster (the Houses of Parliament) a special ammonium carbonate poultice was developed to clean the stonework. It proved so effective it was sold to other users as well. At first it was known as the Palace of Westminster Poultice, but has now become a standard part of the company's product range sold as Restorative 'Clay-Free' Ammonium Carbonate Poultice.
At its headquarters, Restorative Techniques has installed a portable toilet for visitors to use to separate them from the staff facilities and reduce the risk of spreading Covid-19. It was one of the measures taken that enabled Restorative Techniques to continue working last year, albeit with most of the 15 staff fur-loughed at least for a short while.
They were only furloughed for a few weeks because contractors quickly discovered the lockdown gave them an opportunity to work without having to worry about keeping the premises they were working on open.
For ecclesiastical and historic buildings normally open to the public, the lockdown meant work could pro-gress a lot quicker than would otherwise have been the case, which meant the Restorative Techniques hire service for its headline ThermaTech superheated water / steam cleaner and VorTech gentle abrasive vortex cleaner was much in demand by qualified operators.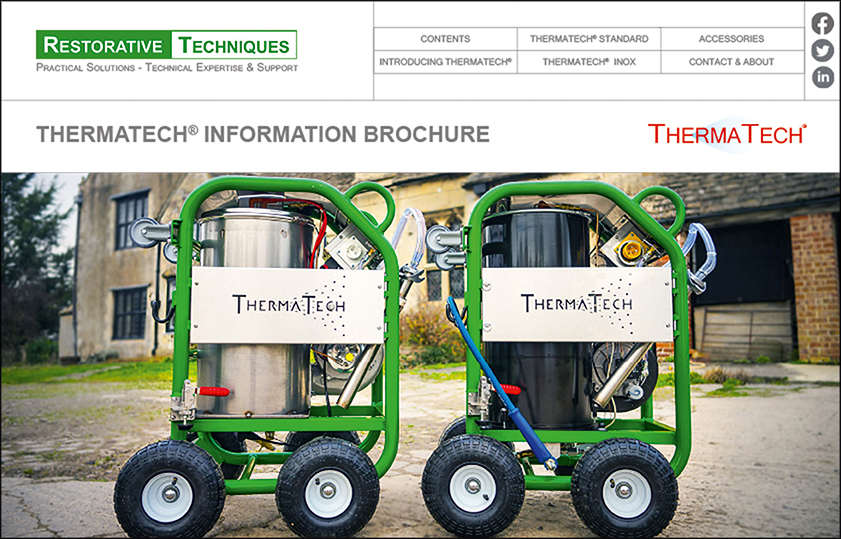 Over the years there have been various developments of the machines Restorative Techniques makes, especially to the ThermaTech, which is now available with a vacuum attachment to collect the waste mate-rial as it is removed from the surface and an attachment to add an abrasive to the steam for particularly tough cleaning jobs.
One of the developments of ThermaTech is the ThermaTech Inox, which has features including a stainless steel boiler and a higher heat output, which is particularly useful when two people are using it at the same time or a high temperature is needed for paint stripping, for example.
The standard diesel-driven pump unit achieves a flow rate of 9.5 litres per minute at up to 170 Bar pressure. An alternative electric pump option is available in 110V and 230V variants.
The increased performance allows a 65° spray nozzle to be used for an even faster rate of work than with the 40º nozzle of the standard ThermaTech, which is itself better than the 25º nozzle of many steam cleaners.
An unexpected issue lately was the difficulty of getting diesel to run the machines as a result of the short-age of lorry drivers and everyone buying up whatever fuel was available. Julia Fairchild, a Director of Re-storative Techniques with her husband, says customers were calling her asking where they could buy die-sel for their ThermaTechs. Her answer was that they didn't have to because the machines run perfectly well on recycled cooking oil.
That is likely to become more commonly used as a fuel from 1 April next year when it will become illegal to use 'red' diesel on building sites. Red diesel is currently taxed at 11.14p per litre compared with 57.95p per litre for the diesel that goes into cars. The fuel is the same, apart from a red dye added to make it easy to identify the lower taxed diesel. Red diesel has been available for uses that do not involve road transport, but from next April the higher rate of tax goes on most uses.
The water / steam from a ThermaTech is 150ºC at the nozzle. Maintaining that requires a fuel with a high calorific value, and while recycled cooking oil has a calorific value about 15% less than diesel (it varies a little with which plant the oil came from), it is fine for use in a ThermaTech. Julia says most people will find a local supplier of recycled cooking oil by searching the internet.
Using it does mean the fuel tank needs cleaning out from time to time but the ThermaTech is designed so the fuel tank is a jerrycan that can easily be removed, which makes refuelling during a project easier – you just replace the empty jerrycan with a full one. It also means cleaning the can is easy.
"Re-using cooking oil is a very good way of getting rid of what would otherwise be a waste product," says Julia.
Among the projects Restorative Techniques have been involved with lately is Bristol Beacon (previously Colston Hall but the name was changed after the toppling of the Edward Colston statue). It is a famous music centre, where bands including The Beatles have played.
The transformation of the building into an exceptional new music venue is well under way. It will have new performance spaces, bars and restaurants, with the Victorian cellars being opened up for the first time to create a new music education centre.
 Restorative Techniques has also been involved with stone cleaning at Lincoln's Inn, London, The Home Office, Wells Cathedral and projects at the Palace of Westminster, supplying companies such as Sally Strachy Historic Conservation, Stonewest, Capital Stone Renovations and Rosewood Projects.