Stone industry faces the challenge of addressing modern slavery
The implications the Modern Slavery Act, which came into force in April, could have for stone importers is starting to be appreciated as the Stone Federation begins work on creating an 'ethical stone register'.
The Modern Slavery Act that came into force in April represents a challenge for the stone industry in the UK, both for importers and contractors, even though most stone companies are too small to be caught by its reporting requirement directly.
The Act requires companies to report on what they are doing to identify and eradicate slavery from their supply chains. But it kicks in at an annual turnover threshold of £36million, beyond the income of most stone companies. However, many of the developers and contractors the industry works for will be above the threshold and will want to know what their sub-contractors and those supplying those sub-contractors are doing to ensure slavery is not involved in the stone they use.
Hopefully, companies extracting stone from the British Isles are not using slave labour and would not find it particularly hard to demonstrate that. However, The Human Trafficking Centre last year put the number of slavery victims in the UK at 2,744. Some are run by unscrupulous gangmasters who require their gangs to work long hours and deprive them of basic amenities as well as the money paid for their labour. Construction sites in this country have been known to use labour supplied by gangmasters. No doubt they are all licensed and perfectly legitimate. But not all gangmasters are and in June, in a landmark judgement, a British gangmaster company was found liable for the first time for victims of modern slavery.
It was a civil case, rather than a criminal case, brought by six Lithuanians who said wages had been kept from them and they had been forced to work back-to-back shifts, depriving them of sleep. They had not been allowed toilet or refreshment breaks and had been threatened with violence. The English firm they worked for blamed a Lithuanian who managed them for the abuses and said he had left the UK. However, the judge determined that the British firm was responsible. It is likely it will have to pay hundreds of thousands of pounds in compensation. The men were employed in farming, not construction.
This sort of abuse is part of what the Modern Slavery Act is trying to combat. Because of the nature of the work in mines and quarries it is probably not happening in the minerals extraction industry in the UK. Let's presume that is the case.
For stone importers it is a different matter, especially with so much stone coming from the Far East, even if some of it arrives in the UK via a distributor on mainland Europe, which further complicates the supply chain.
But there is every chance that companies buying stone slabs or tiles originating from the Far East do have modern slavery in their supply chains – or, at least, they cannot be certain they do not.
The most highlighted form of slavery is in India, where it takes the form of bonded labour. That quite often involves children, either because a mother has taken her children along to work with her or because children have been put to work to pay off family debts.
The people are 'bonded' because they cannot leave the job until a debt is repaid, which it might never be because the interest rates are so high the person can be deemed to be paying off the interest only.
These debts can be passed down through the generations, effectively causing children to be born into slavery. Adults and children are treated as slaves, working long hours, eating what they are fed, sleeping in crammed dormitories or on the floor at the place of work and beaten if they dissent. Of course, it keeps down the price of the goods they are producing.
Bonded labour has been illegal in India since 1976 but even official figures accept there are still 250,000 people in bonded labour there, many of them working in quarries. Unofficially the figure is put as high as 5% of the sub-continent's 1,300million population. That's 65million people – the population of the UK.
It has to be said that that is more than the number usually quoted for world-wide slavery, which is 30million, a figure produced in the Global Slavery Index published by the Walk Free Foundation in 2013. But any number is a stab in the dark. Nobody knows.
A Unicef report, Children's lives cast in stone says: "Across India, an estimated 200,000 children are employed in the sandstone industry." It quotes a 2010 report by the Mine Labour Protection Campaign based on research it carried out in the sandstone regions of Kota and Bundi in Rajasthan. It found 38% of children in these areas worked in stone quarries. Unicef says: "These quarries are no place for children; working conditions are hazardous and lead to many adverse health effects."
The adverse health effects of working in a sandstone quarry for these children can be accidents that maim and kill, as well as unprotected exposure to respirable crystalline silica (RCS), which can lead to silicosis. In the UK, exposure limits to RCS are now 0.1mg in a cubic metre of air. If you want first hand accounts of what Silicosis is like, take a look at a report and video at bit.ly/RCS-silicosis.
It is said that in many areas of India the police are compliant in maintaining slavery, chasing people down and returning them if they try to escape.
But it is not only in India that slavery exists. Other countries also maintain a slave labour force through terror and subversion. China is estimated to have 3million slaves, as well as prisoners set to work. How many (if any) work in the stone sector could only be another guess. But even if they are not working in quarries and stone processing factories, they will, no doubt, be involved in some of the goods and services keeping the stone industry going. Chinese practices have received less attention because The West likes to trade with China and does not wish to risk upsetting its rather sensitive hierarchy.
It is not realistic to assume two men in a van working in this country templating and fitting Chinese or Indian granite kitchen worktops or putting tiles on floors and walls can trace the supply chain of the materials they are using. But it should not be beyond the ability of those importing and wholesaling the stone to trace its provenance.
Indeed, some importers have been engaged in improving the lot of workers in their supply chains for some time, notably (but not exclusively) on the hard landscaping side of the industry, where a lot of Indian sandstone from Rajasthan is used. The sandstone quarries of Rajasthan are remote – too remote to drop in on unannounced (or even find without a guide).
It is there particularly that families from the caste that used to be known as 'untouchable' but has lately renamed itself 'Dalit' (oppressed) can be seen working in quarries, with even toddlers wielding heavy hammers helping their mothers to break up lumps of stone.
One of the leaders in the UK campaigning to remove slavery from the stone supply sector is hard landscaping specialist Marshalls, based in Halifax, West Yorkshire. It operates its own quarries but most of its considerable revenue does not come from natural stone paving produced from those quarries, it comes from imported natural stone and man-made products. Its turnover is about 10 times the £36million Modern Slavery reporting threshold but it has been reporting on its efforts to remove slavery from its supply chain and build schools in India for children to attend for years.
In the 1990s, when the lower priced Indian sandstone started winning paving projects from the UK's own natural stone, including Yorkstone, British stone companies at first cried 'foul' then quickly started importing Indian sandstone and Chinese granite for themselves in order to protect their market positions. Marshalls was one of the leaders in that move.
It was a move the country has reason to be grateful for. It put natural stone into price contention with concrete and clay and was instrumental in moving the hard landscaping market – domestic, commercial and public sector – comprehensively into natural stone, significantly improving the aesthetics of the spaces between and around buildings.
But there was growing concern about slavery in the Far East. It tended to focus on the textile industry but turned occasionally to stone, with reports in the press and on television of bonded labour, including children. Because people buy stone less frequently than they buy clothes, it did not resonate a strongly as the concern about the textile sector but there was always a danger it could blow up in the face of the stone industry.
It was partly because of that – but also because most people would like to bring slavery to an end if they could – that Marshalls and others have made efforts to ensure their suppliers know they will tackle such practices in their supply chains.
The Modern Slavery Act that received Royal Assent in March last year (although it did not come into force until April this year) put the onus on all larger companies to take as much care as Marshalls about their supply chain, with the intention that their efforts would trickle down to smaller companies, although the government did not want to add directly to the burden of red tape facing those smaller companies by requiring them to report on slavery directly in their annual returns.
Contrary to what some believe, the legislation was not inspired by Europe. Theresa May, Home Secretary at the time, was proud to have introduced the first legislation of its kind in Europe, and among the first in the world, addressing slavery and people trafficking specifically the way it applies in the 21st century.
She said when the Bill received the Royal Assent: "The presence of modern slavery in today's society is an affront to the dignity and humanity of every one of us. The Modern Slavery Act 2015 is an historic milestone."
In the stone industry, too, it is the UK leading the way. The matter was discussed at a recent meeting of EuroRoc, the confederation of trade associations in Europe that includes representation by Stone Federation Great Britain, the Minerals Products Association's Dimensional Stone Group and the National Association of Memorial Masons (NAMM). At the latest meeting it was clear that the drive to raise awareness of modern slavery comes from the UK.
Judging by the comments of some of the companies NSS has spoken to, the Modern Slavery Act has gone unnoticed by many parts of the stone industry, including some of the importers. Whether or not it can remain ignored will depend how seriously larger companies take the responsibility of tackling slavery. If the statement in the annual report required by the Act becomes no more than a standard form of words repeated in every annual report in order to comply with the law it can be largely ignored.
If companies take the responsibility seriously (and, perhaps, see a competitive advantage in being seen to take it seriously), especially if they can pass much of the actual work of doing anything on to their suppliers, stone importers might be expected to be able to provide information about their supply chains that their customers demand. That will give UK importers who have a serious response to the questions being asked a competitive advantage.
How importers react will depend largely on whether they see the Act as a threat or an opportunity. If they try to ignore it they can expect a fairly robust response from the manufacturers of concrete products.
The trade associations in stone are looking at ways to help their members respond to the modern slavery issue.
On the memorial side of the industry, NAMM passed a resolution several years ago to publish the anti-slavery credentials of memorial wholesalers. It now has a page on its website listing wholesalers who have provided a statement on slavery. The names link through to the statements. There are only six wholesalers who have produced statements so far, but they are six of the main importers and wholesalers: A & J Robertson (Granite), Frank England & Co, George Willcox (Granite), Odlings, R Pascoe & Sons, and Strongs Memorials. To read what they say go to bit.ly/NAMM-slaves.
A&J Robertson Managing Director Graeme Robertson told NSS: "We buy from one Indian supplier, generally. We visit them once a year and try as best we can to reassure ourselves that there is no slavery in our supply chain. We do tend to have a good relationship with them – we know the family and the business and as far as we can tell we are dealing with someone who doesn't have slave labour and bonded labour materials.
"But I don't know how rigorous they are going through the supply chain. By visiting, we are looking for evidence of slave labour with our own eyes and asking for assurances from our supplier. But its difficult to pop up unannounced. You have to have a degree of taking some things on face value."
Nearly all memorials these days are imported. The new law will require a statement on slavery from private cemetery companies such as Dignity, with annual sales of around £300million. Councils and churches, who own most cemeteries, might decide to make a stand on the issue.
NAMM says that in response to the "very real problem" of slavery its General Council has agreed this "positive action initiative and invited all NAMM wholesalers to contribute".
Stone Federation Great Britain, meanwhile, had a meeting in June at which it decided to establish an 'ethical stone register' (although it might be given a different name by the time it is launched) and it intends to make ethical trading one of the criteria for membership.
BRE published a new standard in July – the Ethical Labour Standard – to give organisations a framework to verify their systems and processes in relation to the Modern Slavery Act and continuously improve their ethical labour sourcing practices. It was given a 'soft launch' with some companies to try it out before it goes public after verification visits to the first companies in September and October.
That might be an ideal solution for enterprises that are over the £36million reporting threshold but the standard might be further than a lot of Stone Federation members have the capacity to extend to, so Stone Federation is aiming to produce an 'ethical stone register' as an alternative specifically for stone companies that is practicable while also gradually delivering real results in terms of improving the conditions of workers in the supply chain.
Consultant and Past-President of Stone Federation David Richardson is preparing a proposal for the register. It will be a sector specific scheme answering questions specific to stone, says David. "We have decided the best value will be achieved by focusing on the sector."
One way of addressing slavery could be to buy British from Britannicus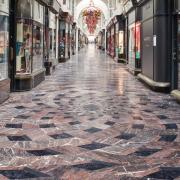 Britannicus Stone was set up in 2010 specifically to sell stones from the British Isles to a discerning market in London. Many of the stones it sells are polished or, as in the picture on the left, honed. Britannicus displays them at its premises in up-market Chelsea Wharf.
But Orlando Boyne, a director of Britannicus with an established reputation for supplying British stones from his time with Stanleys Quarry in Gloucestershire, knew the danger of supplying British stone would be competition from the quarries producing it. So Britannicus does not sell the stones that are easy enough to source directly from quarries in the UK – stones such as Portland and Cotswold limestone. In fact, it will only supply stone on which it can secure exclusivity of distribution – and it currently has 18 of them.
It even has a quarry of its own, from which it extracts the Swaledale Fossil that was used to make the new tomb of Richard III in Leicester Cathedral last year.
As you can see from the picture (which is Burlington Arcade where Britannicus supplied the 64,000-piece jigsaw of exquisite British stone), the British Isles offer stones every bit as attractive as any from abroad – they just cost a bit more because the geology of Britain does not lend itself to mass production.
The 220m-long Burlington Arcade is a Grade II listed building in the Mayfair Conservation Area surrounded by other listed buildings, including the Royal Academy immediately to the east.
Most of the stone in Burlington Arcade is carboniferous limestone from three quarries: 1,000m2 of Moorcroft stone from Plymouth, Devon; 100m2 from Ashburton, also in Devon; 60m2 from the Mendips. "It's truly a remarkable floor and one which could last a thousand years or more," says Orlando.
The Ethical Stone Company discusses slavery at Carrara stone show conference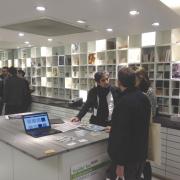 Although the UK is a leader in tackling modern slavery, it is not the only country that takes slavery in the stone supply chain seriously. There was a conference called Stone Change during the stone exhibition in Carrara, Italy, in June that included discussion of this issue.
One of the English contributions was from natural stone specialist The Ethical Stone Company, which buys its stone from Europe to minimise its potential exposure to slavery in its supply chain. Director Simon Goude gave a presentation entitled 'Maintaining ethical sourcing principles in a profit driven context'.
The Ethical Stone Company opened The Stone Library at the Business Design Centre in Islington, London, in February last year where it has samples of about 1,000 stones for clients, architects and the trade to select from.
Like a lot of discussion about ethical trading, the conference in Carrara wrapped up ethical trading with environmental issues about sustainability.
The conference involved two days of seminars covering topics from sustainable development in quarrying and mining through governance and policy making to new technologies. Overarching themes were environmental impact and ethical conduct – particularly the need for improved traceability of materials.
The aim is ultimately to lead to better policy and a certification scheme for stone (like the Forest Stewardship Council [FSC] certificate for timber).
The timber supply side of the construction industry has had its problems with ecological opposition to large areas of rainforest being felled. Another initiative from that side of the industry has been established by The Forest Trust (TFT). It has moved into the stone side by establishing its Responsible Stone Programme (RSP), which now has 12 members, including Beltrami and its Stoneasy direct importing arm, stone landscaping product wholesaler London Stone, and Brett, the landscape and building products supplier.
Lately, RSP members Beltrami / Stoneasy, Everfine from China, Aggregate Industries and Dekker Natuursteen from the Netherlands have worked with TFT to support three stone factories (two in China and one in India) and a quarry in China, so they could achieve RSP Level One status this year.
Achieving Level One means these sites have new measures in place to improve standards for employees that include health & safety and first aid training, safe electrical wiring, safe machinery, decent toilets, proper personal protective clothing and equipment, minimum age requirements for workers and contracts of employment that encompass workers' rights including consistent and regular pay.
Natural Paving Products aims to keep Indian children in school until they reach the age of 14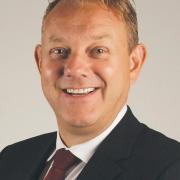 Natural Paving Products (UK) Ltd is one of the stone importers and wholesalers that is addressing ethical trading issues. Malcolm Gough, Group Sales & Marketing Director, explains the company's position.
***************************************************
Natural stone is a wonderful material and the market for imported Indian stone remains strong. However, with it comes a number of challenges that any responsible supplier must overcome to ensure the highest level of ethical trading standards.
The first challenge is regulation. The Indian stone industry has erratic regulation at best, with child labour, illegal quarries and corruption presenting major problems – issues that cannot be ignored by those using the stone in the UK. Staff in illegal quarries often face appalling conditions, working for extremely poor wages and lacking even the most basic safety protection and sanitation facilities.
The unstable Indian market also has a knock-on effect on quality control. Goods from unregulated quarries are inconsistent and it is often impossible to track materials back to their original source, making it hard to rectify any quality or performance issues at a later date.
At Natural Paving Products, we've dealt with this challenge by investing in our own quarries. We now own seven Indian quarries and are a partner in two others, meaning we have full control over the products we supply from the point of extraction to end delivery. In addition, we have recently invested in a third factory in India, which, along with our other facilities, is a vital source of new jobs in its locality.
Recently the company has partnered with Kailash Satyarthi, Nobel Peace Prize winner 2014 and founder of New Delhi-based NGO Bachpan Bachao Andolan (BBA) to improve the lives of Indian children near its quarries and new factories. By funding the creation of 10 new child-friendly villages over the next three years as part of the BBA's 'Bal Mitra Gram' programme, Natural Paving Products is working to ensure every child up to the age of 14 gets a quality education and there is a community ban on all child labour and child marriage.
Natural Paving Products is also a member of the Ethical Trading Initiative (ETI) and we ensure our quarrying, manufacturing and sourcing of stone exceeds the ETI nine-point base code of conduct. Our company ethos is that we invest in our people, both in the UK and overseas, and give our staff a good work-life balance, enjoying the best possible working and living conditions.
We have found that ethical trading is not only worthwhile from a responsibility point of view but it makes good business sense too. Our customers value that all of our products are ethically sourced – and it is becoming a key condition of many commercial projects.
The challenges faced by the Indian stone market are not insignificant but the demand for natural stone from the West is such that the market will continue to grow, delivering a major boost to the country's developing economy. Choosing to source materials from responsible suppliers that adhere to ethical trading principles, however, is the only way to ensure these benefits are felt right across the supply chain – filtering all the way to the quarry workers and their communities.
So what's the latest news from Natural Paving Products? The company has been going from strength to strength and is firmly established as a leading independent supplier of natural stone landscaping materials in the UK.
The company has introduced new products for 2016, including a range of new smooth sandstone colourways in its Premiastone collection: Storm, a dark and striking option, and Rydal, with a mix of modern and calm tones. All the new smooth sandstones choices are available in linear project packs and single sizes.
Responding to the growing consumer demand for weathered flagstones, we've also introduced our Old York stone to the Cragstone range, with a distinctive 'York Stone' look and charming 'olde worlde' finish, available in a calibrated project pack.
There is Vitripiazza, an exclusive range of Italian vitrified porcelain paving, which is highly durable, resistant to attack from moss, mould, salt and pesticides, frost-proof, easy to clean and virtually non-absorbent (<0.1%). The range is made of high quality Italian porcelain that is available in indoor and outdoor specifications as, well as project packs, circle kits and with various accessories.
In conjunction with the Vitripiazza we have launched our Pavetuf Priming Slurry, specifically formulated to provide an exceptional bond between a new mortar base and all types of stone and porcelain paving. What's more, we've invested in expanding our distribution network with a new dedicated distribution centre for the Vitripiazza range and associated products.
Located near to our head office in South Yorkshire, the new facility is already up and running and having a positive effect on order response times and customer service.
All of the products can be found in the new 2016 brochure, which is available to download at www.naturalpaving.co.uk or can be picked up from any Natural Paving Products' stockists throughout the UK.
The Vitripiazza and Pavetuf range are also available to view in their own dedicated brochures. Both are available to download from their respective websites, which you will find under the product names.