Stone online: The public face of stone is getting better all the time
The Mystery Surfer revisits the websites of the stone industry and is generally impressed, but has some advice on getting noticed. 
Back in the day I was this magazine's Mystery Surfer. The aim was to highlight to companies some of what other companies were achieving on their websites and to explain some of the vagaries of the internet. Some of the most frustrating of those vagaries, then and now, are Google's never ending updates to its algorithm. While its aim to improve search results and cut out scammers and charlatans is admirable, the fact that it can decimate traffic on legitimate sites is not.
My column reached the end of its useful life when just about every company had launched a website and most had relaunched them at least once. 
Since the Mystery Surfer came to an end I have lost a lot of hair and the internet has developed significantly. And the development is not over yet. Superfast fibre optics being rolled out across the country (or most of it) should continue the momentum and enable it to keep up with computers that abide by Moore's Law and become ever quicker and more powerful. Computing has also become a lot more mobile with tablets and smartphones now ruling.
When I was writing the Mystery Surfer column it was clear (to me at least) that websites were going to become essential shop windows for businesses, whether they were trading with other businesses or consumers. When I started the column most companies did not get much (if any) of their business from their websites and many of the websites did little more than announce the company's existence.
That is no longer the case. People use the internet as their first port of call when looking for just about anything and I am told that websites have for many in the stone industry become the most significant source of enquiries.
I spoke to a conference of business people in 1993 to introduce the internet to them. One of the other speakers was a retail expert. He predicted... well, he predicted quite a lot, a fair bit of which has come true. Part of what he predicted was that one day companies would have the prices of their products on public display on websites and people would buy those products directly from computers in their own homes.
The audience of business people, including some major international enterprises, did not believe their companies would ever make their prices so easy to compare with the prices competitors were charging and thought it highly unlikely people would have computers in their own homes. These days, not many companies try to hide their prices and they cannot do so if they sell directly from their website.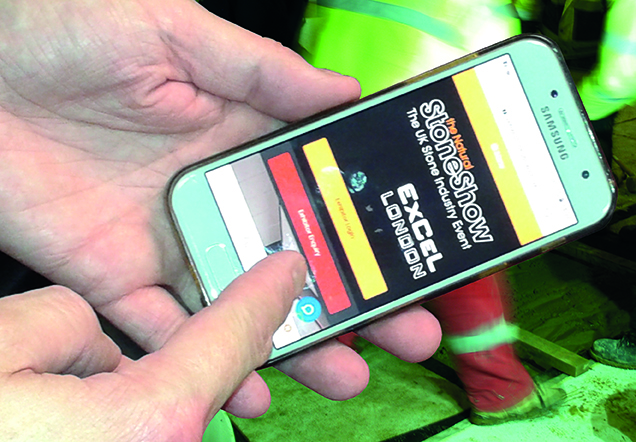 The conference speaker did not predict those purchases would be made on smartphones and tablets because they did not exist, but it is generally accepted that in 2015 mobile devices became responsible for more than 50% of web traffic. Some say it is now as much as 70%.
That's why all websites should be responsive – that is, they should change shape and size to fit on the device being used to view them. If they are not responsive, they will be heavily downgraded by Google and other search engines. But there are still plenty of sites that are not responsive.
It is also pretty much essential these days to have a secure website. Not being secure is another black mark in Google's (and others) algorithm. The URL (the address that identifies the site) of a secure website starts with https:// rather than just http://.
I must say, my return to the websites of the stone industry has left me generally impressed. Some are outstanding, like Marshalls on hard landscaping – but Marshalls has sales exceeding £400million a year and shares that are publicly traded, so its public face is important.
Still, it is by no means alone - although I might add that while the primary extraction companies have some of the best websites in the industry, showing stone as a modern, desirable product range, they also have some of the worst.
As a whole, though, the websites of stone companies have come a long way and are well focussed on the audiences they are intended for, whether they are business-to-business sites or catering for the end user. Even some of the sites created by companies themselves using proprietory web publishing tools such as WordPress (see www.wp101.com/tutorial/what-is-wordpress/) are pretty impressive.
There are now some good e-commerce sites by equipment suppliers selling to stonemasons, enabling the trade to log in to order their products and receive the particular quantity or other discounts they get from the supplier. Some require purchases by credit or debit card, some will send invoices for payment after whatever term agreement has been negotiated.
Search Engine Optimisation (SEO)
There are all sorts of checks you can perform on your website but as you are most concerned about Google, because about 75% of internet searches are carried out using Google, a handy tool is Google's own Search Console (search.google.com/search-console/about/).
Those of you who keep an eye on the performance of your websites through tools such as Google Analytics might well notice some significant variations in the number of visitors you get in the course of a year.
One of the explanations of those fluctuations is the changes made to the algorithms used to search the internet. Google says it makes incremental amendments to its algorithm every day, and core changes two or three times a year. Artificial intelligence is also coming into play, analysing millions of searches to try to ascertain what algorithms need to produce the most successful search results for users.
Since 2017 Google has had a policy of transparent communication for core updates, which it continues. It launched the Google SearchLiaison Twitter account (https://twitter.com/searchliaison) in November 2017. It uses it to provide information on its updates. This is where the announcement was published about the broad core update on 13 January this year. Shortly afterwards, another tweet stated the update was live.
Algorithmic impacts
Most of Google's algorithm changes will not make much difference to the vast majority of websites. But some do.
If most don't make any difference you might wonder why they bother making the changes. They do it because they are trying to improve search results all the time and to keep ahead of scammers who try to exploit the algorithm to earn a place on the Google search results they don't deserve.
One core change in June last year had a particular impact, elevating some sites and demoting others. The Mail newspaper was particularly badly hit, or so it reported on the Google support web page.
The core change in June last year has been dubbed 'Medic', or 'Medic2' (Medic1 being in 2018).
It has been given the soubriquet because it is said it was aimed at reducing the number of vitamin pill and magic charm peddlers resulting from searches about medical conditions.
Search intent is what search engines aim to capture. For example, if someone searches for 'kitchen worktops' a search engine will tend to assume you want to buy a kitchen worktop and will tend to prioritise sites that sell them rather than sites that merely mention them. It is because of 'intent' that a search using a phrase or number of words is likely to elicit a better response than a single word.
Most people have no hope of keeping up with all the changes Google makes, whatever any number of SEO companies might tell you to the contrary.
Google's advice is simply to maintain the quality of your site.
Its webmaster guidelines (https://webmasters.googleblog.com/) on quality advise: "Webmasters who spend their energies upholding the spirit of the basic principles will provide a much better user experience and subsequently enjoy better ranking than those who spend their time looking for loopholes they can exploit."
Nevertheless, there are some generally accepted routes to helping search engines find and categorise your website and often they will also help people use your website.
The law
First, the law. If your website places  cookies, under the General Data Protection Regulation (GDPR) you are required to tell people you have them and get their permission to put them on to their computers.
Apart from that, you should use key words that you expect people to use in searches when they are looking for your site near the beginning of headlines and text.
Users tend not to like pop-ups, so Google doesn't like them. However, they seem to be successful in getting site visitors to respond to them. If you are going to have them, time them so they do not appear too quickly after someone has arrived on your site, so they have time to appreciate your site before the pop-up appears.
Videos are good, but the sound should be off until the user turns it on. The normal way of turning on sound is either by putting the cursor on to the video or by clicking on a speaker symbol on the video.
Links to external sites should open in a new tab so your site remains open even though the viewer has gone elsewhere. This will increase the length of time visitors spend on your site and will probably reduce your bounce rate.
About breadcrumbs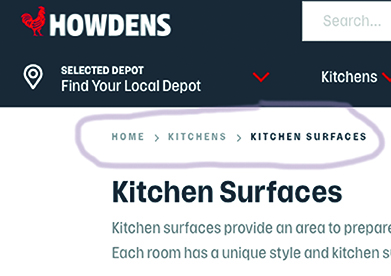 Another issue with out-going links is whether or not they should be coded as "nofollow". Google rates out-going links as a kind of recommendation of the external site and/or its owners, and passes what is known as 'Page Rank Juice' to the recipient of links.
If you are providing that link for editorial purposes – to provide additional information to your site's visitors – that's fine. But if there's a commercial connection between your business and that of the recipient site owners, no Page Rank Juice should pass down the line, hence the need for a "nofollow" attribute.
Google also likes to see detailed 'About' pages. This is a fairly new focus for the search engine giant, and one that is expected to grow as the company's artificial intelligence (AI) learns to use them to detect the status, expertise and authority of the site's owners.
Another of Google's latest obsessions  is 'Breadcrumbs'. These are the words at the top of a webpage which show you the navigation route to the page you are viewing.
Breadcrumbs help visitors move around the site and they help Google to understand your site's hierarchy. This enables the search engine's 'spidering' (searching) of the content of your site. If done well, breadcrumbs should ensure Google crawls and then indexes more of your webpages.
Questions Google suggests you should ask yourself
(https://webmasters.googleblog.com/2019/08/core-updates.html)
Google has updated the set of questions it suggests you ask yourself about your website if you want it to rate well on the search engine.
Content and quality
Does the content provide original information, reporting, research or analysis?
Does the content provide a substantial, complete or comprehensive description of the topic?
Does the content provide insightful analysis or interesting information that is beyond obvious?
If the content draws on other sources, does it avoid simply copying or rewriting those sources and instead provide substantial additional value and originality?
Does the headline and/or page title provide a descriptive, helpful summary of the content?
Does the headline and/or page title avoid being exaggerating or shocking in nature?
Is this the sort of page you'd want to bookmark, share with a friend, or recommend?
Would you expect to see this content in or referenced by a printed magazine, encyclopedia or book?
Expertise
Does the content present information in a way that makes you want to trust it, such as clear sourcing, evidence of the expertise involved, background about the author or the site that publishes it (such as links to an author page or a site's 'About' page)?
If you researched the site producing the content, would you come away with an impression that it is well-trusted or widely-recognized as an authority on its topic?
Is this content written by an expert or enthusiast who demonstrably knows the topic well?
Is the content free from easily-verified factual errors?
Would you feel comfortable trusting this content for issues relating to your money or your life?
Presentation and production
Is the content free from spelling or stylistic issues?
Was the content produced well, or does it appear sloppy or hastily produced?
Is the content mass-produced by or outsourced to a large number of creators, or spread across a large network of sites, so that individual pages or sites don't get as much attention or care?
Does the content have an excessive amount of ads that distract from or interfere with the main content?
Does content display well for mobile devices when viewed on them?
Comparisons
Does the content provide substantial value compared with other pages in search results?
Does the content seem to be serving the genuine interests of visitors to the site or does it seem to exist solely by someone attempting to guess what might rank well in search engines?
Beyond asking yourself these questions, ask someone unaffiliated to your site to answer them as well and see how those answers compare with yours.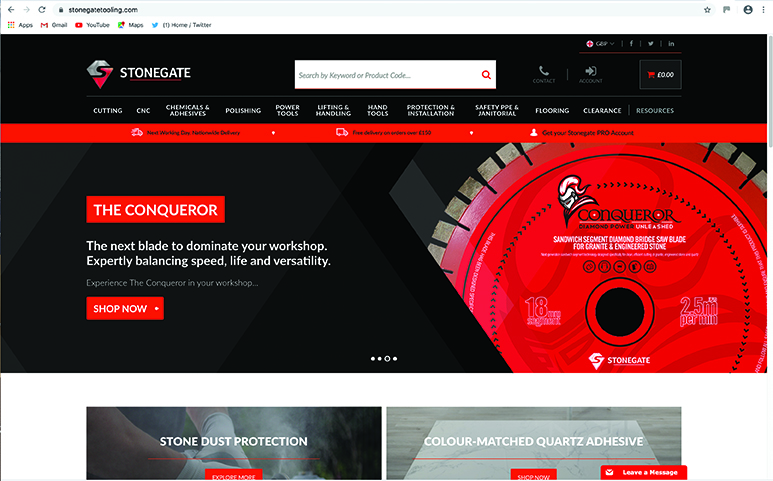 Tools and equipment company Stonegate Precision Tooling says its website and operational automation led to record results for order despatch times and deliveries in 2019.
Stonegate puts 'delivering an impeccable customer experience' at the heart of its operations and to that end undertook ISO 9001 quality management accreditation, which saw its operational processes reviewed, streamlined and improved, with excellent results.
The company's website shows all its product lines with live stock lists. Ordering can be carried out on the web or by telephone. Either way, the order process is kept simple. Customers can see their previous order history, re-order regularly purchased items with ease and track delivery of their goods. If an order is placed before 4pm Monday to Thursday (3pm on Fridays) it will be despatched the same day for standard next day delivery.
Once an order is placed, Stonegate's operational automation kicks in and normally within 20 minutes the order is picked and ready for despatch. This response and despatch time has reduced considerably thanks to the ISO 9001 process and resulted in 99.5% of all orders delivered on time and in full in 2019. Getting goods on to the website once they are in stock is no less impressive. The average time from delivery to be available to purchase on the live stock list last year was one-and-a-half hours. That's an hour's reduction from 2018.
Stonegate is not resting on its laurels. Taking on board feedback from its customers, the customer account aspect of the website is now being further developed and will be available in the coming months with advanced capabilities and reporting possibilities.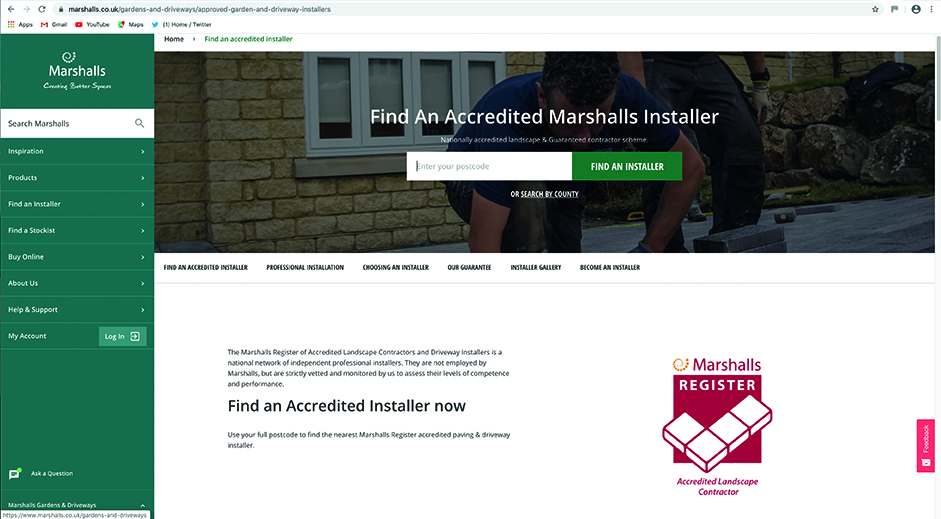 The new Marshalls domestic website is now live, offering more inspiration, greater product detail and improved navigation for consumers.
The new site has been developed in-house alongside a rigorous process of user testing to ensure that the detail included is relevant and easy to find.
For those seeking initial ideas and advice, the new 'Inspire Me' section provides a wealth of photographs, articles and case studies, as well as 'How To' videos that will help installers as well as DIY enthusiasts.
Product information is now more detailed, so customers can filter the information to find exactly what they want and compare the benefits of their selection against others they might be considering.
It is also now much easier to find Marshalls' stockists and view typical prices on products to help with decision-making. Take a look: www.marshalls.co.uk/gardens-and-driveways.
Me now and then. I have less hair now.