Restorative Techniques helps Birmingham come clean about its erratic boulders
Birmingham is dotted with what are known as 'erratic boulders', which are large boulders of stone deposited there by glaciers during the ice age. They were dropped there because Birmingham was at the southern end of the ice sheets that covered the north of Britain.
Lately, the Herefordshire & Worcestershire Earth Heritage Trust, based at the University of Worcester, has decided to map these stones through the Heritage Lottery-funded Erratic Boulders Project and make a feature of them to create trails for people to walk and explore.
Chairing the Herefordshire & Worcestershire Earth Heritage Trust is geologist Professor Ian Fairchild, Emeritus Professor and former head of department of Earth & Environmental Sciences at the University of Birmingham.
Professor Fairchild is the brother of Jamie Fairchild, a founding Director of Restorative Techniques, which makes and supplies stone cleaning products including ThermaTech superheated water cleaners and VorTech abrasive cleaners.
The association proved helpful to the Erratic Boulders Project when it wanted to clean the boulders on two of the trails it created, with Jamie stepping in to help his older brother free of charge.
A hundred years ago, the public were excited to learn about the erratic boulder relics of the Ice Age, but lately these geological oddities have been disappearing.
Now, thanks to the National Lottery, the Herefordshire & Worcestershire Earth Heritage Trust, and a partnership of local organisations that includes the Black Country Geological Society, Birmingham Open Spaces Forum and the Lapworth Museum of Geology, seven geological cycle and walking trails around the Bromsgrove and South Birmingham area are being created to highlight the boulders. There is also a geological timeline in Frankley being created. The first trail opened on 23 April. The next is 14 May. The others will follow.
The project has identified some previously unidentified erratic boulders and all the boulders are being given the greater prominence they deserve as relics of Birmingham's ancient history.
Restorative Techniques' cleaning of the boulders was carried out in Woodgate Valley Country Park (identified as Trail 4a on the website) and Balaams Wood (Trail 5a). Both trails are now ready to go, but will not be formally launched until August and September (respectively) this year.
Cleaning the stones was generally a matter of removing accumulated dirt, although in one case a boulder had been painted to make it more visible and act as a bollard.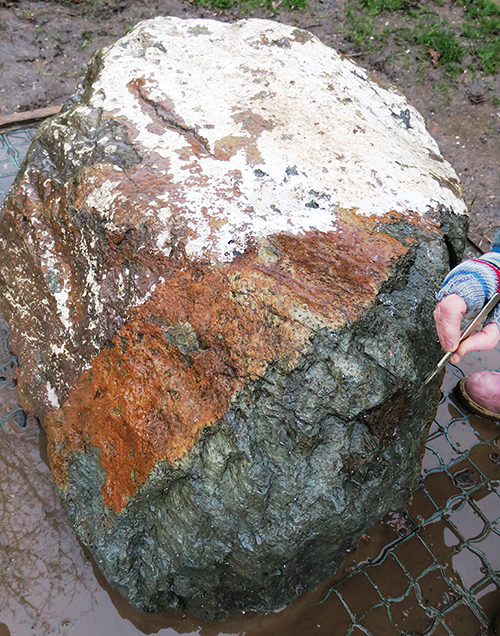 earthheritagetrust.org/birminghams-erratic-boulders-project