Stone Wholesalers: Nile Trading is ready to take a lead
With a move to smart new premises in Hemel Hempstead, stone wholesaler Nile Trading is ready to become a trend setter rather than a trend follower, says Director Neel Shah.
Nile Trading UK Ltd has already become an established name in natural stone and quartz distribution and now it is continuing its expansion from new premises it has moved into in Hemel Hemstead. The company was started 12 years ago by three young entrepreneurs – Neel Shah, Sanjay Shah and Amit Shah, who branched out on their own with 25 years of stone industry experience behind them.
Nile Trading's new premises are close to the M1 just north of the M25 – a perfect location for quick access to all main motorways and London. This allows a quick turnaround time for deliveries as well as easy access for customer visits. The company has its own fleet of trucks that enables it to respond quickly to orders, typically giving next day delivery, says Sanjay Shah.
The company moved into its new premises at the end of January, having had a 6.3tonne gantry installed in December to handle the stock in the new warehouse. The new 1,500m2 premises have given the company an extra 40% of warehouse space for the stock, allowing it to offer an even wider range of stone. 
Nile Trading also now has a bright new showroom with a glass panel wall overlooking the stock in the warehouse. Displays of granite, marble, quartz, porcelain and slate adorn the other three walls, giving customer's a substantial range to choose from all under one roof.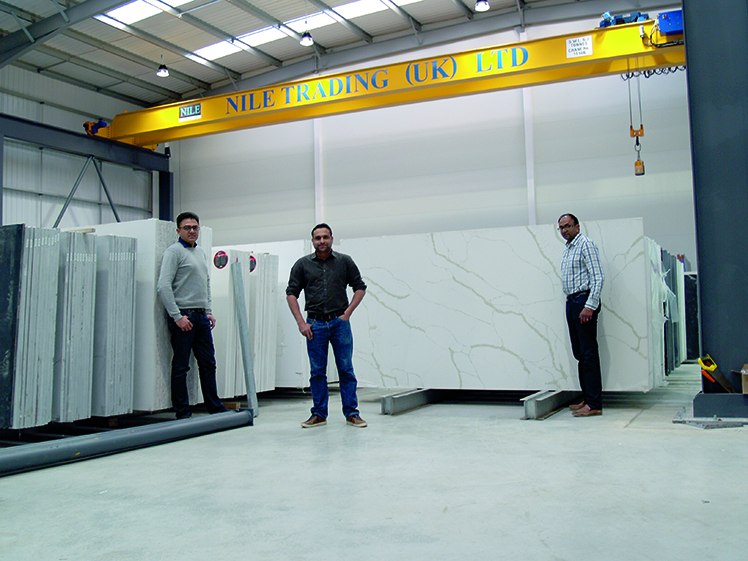 Pictured in the new warehouse are Directors Neel Shah (left), Sanjay Shah, and Amit Shah on the right.
The showroom and warehouse are designed to help consumers, architects, developers and fabricators to choose their material with ease. And the showroom is open to the public from Monday to Saturday, making it convenient for the fabricators Nile Trading supplies to direct their customers to so that they can choose their stone at their own convenience. 
The Industrial park where Nile Trading is now situated gives the stone company some impressive neighbours. Opposite is Vitabiotics, one of the country's biggest vitamin manufacturers, and in the same road is Hermes, one of the country's largest parcel distribution services. 
As well as its impressive range of natural stone, Nile Trading also stocks quartz, being the sole UK distributor of the premium brand of Kalinga Stone quartz from India as well as its own Nile Quartz brand range.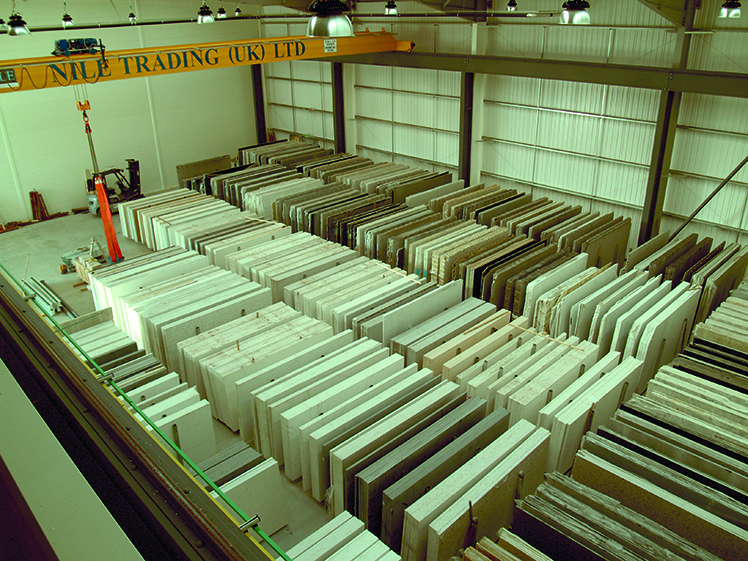 With twice the space, there's more stock than ever at Nile Trading now, including a new range of ceramics.
Quartz continues to grow in popularity, of course, and has become Nile's best seller, accounting for about 70% of its business. Nile Quartz surfaces account for the largest part of those sales these days, with Nilestone Carrara a hot favourite. 
The latest version of the Carrara has a satin finish and an advanced nano-protection treatment that is the latest innovation of ceramic coating on quartz. It creates a dense, impregnable barrier on the surface, offering complete protection against staining. 
Nile is also introducing an industrial chic concrete range of colours in the Nile Quartz brand with the same nano-protection. 
All Nile Trading's quartz – own brand and Kalinga – comes with a 10-year warranty and a host of quality certifications, giving customers complete confidence in choosing Nile Quartz and Kalinga Stone surfaces.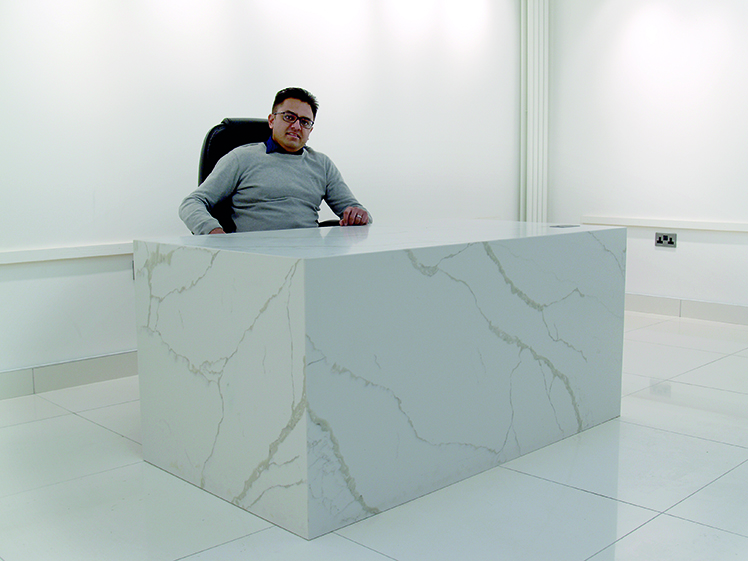 Neel Shah in the new showroom at Nile Trading's bright new warehouse and offices.
With marble and quartz becoming increasingly popular, Nile trading has also introduced a range of exotic marbles from all over the world, putting Nile on a par with other leading wholesalers in the market and making the distributor a one stop for natural stone requirements.
The company is continuously looking to increase its range to accommodate the fast changing and evolving market requirements and trends and in May introduced porcelain slabs made in Italy by a leading Italian brand. Neel says the brand was chosen because of its long-standing reputation, earned through the superior quality of the product. 
Nile Trading is starting with six designs, four in marble and two in a rustic finish. They are in 12mm thick slabs, 3.25m x 1.65m in size.
The product range in stock at Nile Trading now consists of 80 different kinds of granite, 15 marbles, 28 quartz colours (up to 35 by the end of this year) and the new porcelains. 
Sanjay says: "Going forward we want to deal more with architects and developers. We want to supply to projects. Being here in our new premises will make a massive difference in the sense that we have more stocking capacity, more range to offer and, of course, an inviting set up."
The market has changed a lot since Nile Trading was formed. The three men behind it had worked in stone wholesale before deciding to branch out on their own. They knew about selling stone but, as Amit Shah says: "With the ever changing and dynamic market environment we had to adapt to new strategies and innovations to give us an extra edge in this competitive environment." 
The three of them started their business in 2007 just ahead of the UK entering its worst recession in decades. Still, they trusted their business acumen and stuck to basic values and integrity, which delivered steady growth and has left them with an enviable reputation 12 years down the line.
Neel says: "The success behind Nile Trading's growth has been our uncompromising stand on the quality of the material we supply and the best service to customers, which makes us a preferred choice for return and continuous business."
Nile Trading developed its sales in London and on the South Coast of England, especially in Brighton and Southampton. Now, with easier access to the M1, it wants to move north. "We feel there's a lot of potential there we haven't yet got into," says Sanjay. "We believe we can do as much in the North as we do in the South. Our aim is to open another warehouse eventually between Birmingham and Manchester, on that stretch of the M6. Our focus this year and next is to expand that market. We already have customers in Leeds and Manchester."
The company has recruited two sales people, for the North and the South, to help with the expansion. Until now the Directors have dealt with all enquiries themselves, but Neel says the business has gone beyond that, hence he feels the need to grow the team and expand the company's horizons. 
The move by Nile into its new premises follows its best ever year in 2018 – and by a long way. Sales were up 20%. This year got off to a good start as well, says Neel. "We've had a lot of fabricators tell us their sales are up four to five percent." 
The Directors do not spend too much time worrying about Brexit and say they will deal with whatever it produces as it comes along, like everyone else. They believe they have the right product at the right price backed by a rapid delivery service that will keep the customer base growing.
And they believe Nile Trading is now well enough known and respected to move on from being a follower of trends created by others to being a leader, as is demonstrated by the company's ever evolving range of granite, marble, quartz and now porcelain.