Stone wholesaling: between a rock and a hard place
Stone wholesalers in the worktops and interiors sector are used to selling quartz and now they are getting used to selling ceramics. But the market is changing and wholesalers are having to find new ways of reaching customers with their evolving product ranges.
Stone wholesalers are caught between a rock and a hard place. Or several hard places. Some of the overseas producers of natural and manufactured stone have set up their own distribution operations in the UK, cutting out the wholesalers. Others are targeting UK projects directly to supply finished materials manufactured overseas. At the same time larger stone fabricators find it ever easier to import stone, quartz and ceramics directly from any number of overseas sources. The space left for stone wholesalers in the UK is shrinking.
Last year a Neolith / Granith warehouse was opened in Harlow by The Size, which makes Neolith and Granith. By the end of the year it also had a showroom at the Business Design Centre in Islington squarely aimed at the Clerkenwell design community.
Caesarstone, which opened its own warehouse in Enfield, London, in 2017 has opened a second depot this year. It is in Trafford Park, Manchester. Amir Reske, Managing Director of the UK operation, says more depots will quickly follow as Caesarstone tries to overtake Silestone as the market leader in quartz.
The company that previously sold Caesarstone, CRL Stone, now has its own ranges of Ceralsio ceramics and CRL Quartz made up of products sourced from various suppliers. It has around 75 different designs and so far this year has added 12 more, six each to the ceramic and quartz ranges.
Cosentino, which makes Silestone quartz and also Dekton sintered stone, as well as selling natural stone ranges that it brands, has opened its ninth depot this year. It is in Newmarket.
The Managing Director of Cosentino in the UK is Paul Gidley, who once worked for Pisani. For many years Pisani dominated stone and stone machinery wholesaling in the UK. Paul left years before adminstrators were appointed at Pisani in 2017.
Pisani has left London following the closure of its Feltham headquarters in 2017 but the name lives on. It is now Pisani Wholesale, based at its predecessor's premises in Matlock in Derbyshire. Like some of the other traditional stone wholesalers it has decided to use its contacts and knowledge of the market to source higher end, rarer products that stone processors are unlikely to import directly. It does also sell the most popular granites and some quartz, and says the range helps smaller processors establish a niche for themselves as well as enabling larger processors to offer a broader range.
The nth degree of the specialist approach is taken by McMarmilloyd in Great Bedwyn, Wiltshire, which specialises in historic and rare stone from around the world, and Britannicus Stone in Chelsea Wharf, London, which sells British stone, mostly polished limestones.
This year has seen another of the wholesalers, Nile Trading, move to smart new premises that take it a step up from its previous yard as well as increasing the amount of space it has in line with its growth. It has incorporated a showrooom where customers can sit comfortably looking through a glass wall into the warehouse to be inspired by the materials they see. A range of ceramics has jsut been added to the natural stones and quartz the company stocks.
Quartz is such a large part of the worktop market now that wholesalers supplying that sector have to stock it. Ceramics (or porcelain) and sintered stone are growing rapidly and are also proving irresistable to the wholesalers. The Marble & Granite Centre in Rickmansworth has done particularly well with its Lapitec sintered stone, which has the pattern as an integral part of the material rather than printed on to it like ceramics.
Most dimensional stone used in the UK is imported and the single largest source of it is India, followed by China. Some Indian producers have established bases in the UK. One of them, Stone Age Private Ltd with a UK arm called Strata (although it supplies traditional distribution routes) has this year called on all importers to follow its lead and register on the Stone Federation GB Ethical Stone Register. The Register gives third party verification that there is no modern slavery in the supply chain and that the environment is considered in the winning and processing of the stone. 
Another of the big Indian quarry companies that supplies the UK market is TAB India. It ships 4,000 containers a year all over the world, some of it to the UK. It has been supplying the British market for more than 20 years and it still uses traditional distribution routes, supplying British distributors.
The snapshot above illustrates some of the changes taking place in the stone supply chain in the UK. There is more elsewhere on the StoneSpecialist.com website.
For a focussed picture, Natural Stone Specialist magazine visited the respected London wholesaler MGLW for the views of Director Rogerio Moutinho. Read what he said here.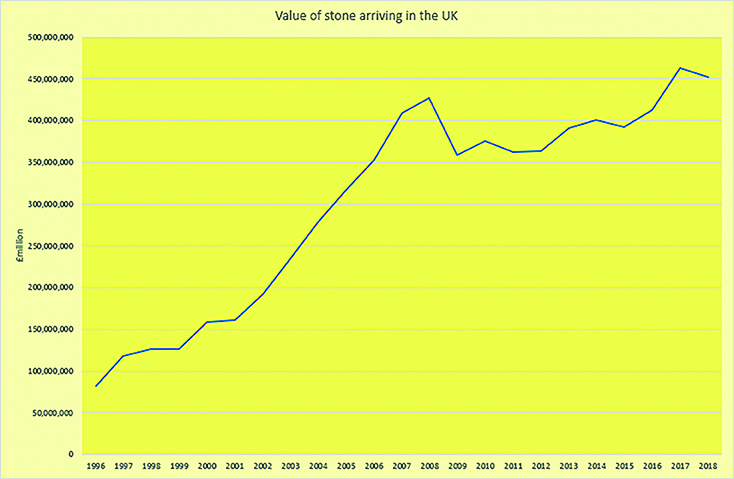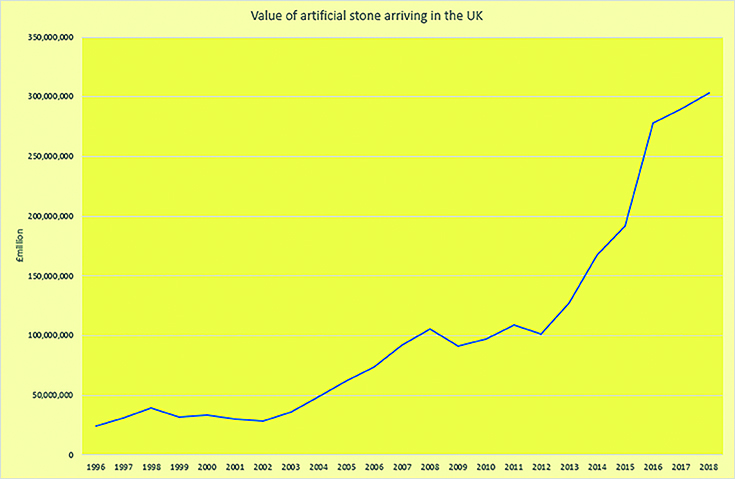 Source: HMRC