Stonemason faces £18,000 bill for dust as HSE targets construction firms again
Just as the Health & Safety Executive has announced it is intending to crack down on workplace dust in the coming weeks, a stonemasonry company has been fined £8,000 with £10,000 costs for failing to control employees' exposure to respirable silica dust adequately, resulting in an employee developing silicosis.
Burnley Magistrates' Court heard how, prior to 2017, employees of GO Stonemasonry in Accrington, Lancashire, carried out work that resulted in exposure to respirable crystalline silica (RCS) dust.
An investigation by the Health & Safety Executive (HSE) found that GO Stonemasonry had been cutting and working stone for years without any suitable or sufficient dust extraction.
The company failed to ensure that respiratory protective equipment (RPE) was adequately controlling the inhalation exposure to RCS. The company did not have appropriate work processes, systems or control measures in place and had no health surveillance to identify any early signs of effects on workers' health.
GO Stonemasonry Ltd, of Turkey Red Industrial Estate, Baxenden, Accrington, pleaded guilty to breaching section 2(1) of the Health & Safety at Work etc Act 1974. 
HSE inspector Sharon Butler said after the hearing: "Silica is found in most rocks, sand and clay and in products such as bricks and concrete. In the workplace these materials create dust when they are cut, sanded or carved. Some of this dust may be fine enough to breathe deeply into your lungs and is known as respirable crystalline silica. Exposure to this dust can cause silicosis, leading to impaired lung function, breathing problems and is life threatening.
"Simple steps to stop workers breathing in the dust must be taken and companies should know HSE will not hesitate to take action against those failing to protect their workers' health."
If you want to read a first hand account of what it is like to suffer from silicosis from a stonemason who has since died of it, click here.
If you have clicked on the link above, you will understand why HSE is once again targeting firms in construction across Great Britain in a new series of inspections focusing on dust control.
Over the next few weeks, HSE is concentrating on industries including construction where occupational lung diseases, including in some cases occupational cancers, are more common.
Inspectors are visiting businesses across the country to see what measures have been put in place to protect workers' lungs from dangerous dusts such as RCS. HSE warns that, where necessary, it will use enforcement to make sure people are protected.
HSE's chief medical officer, Professor David Fishwick, says exposure to silica and other dangerous dust can have life-changing consequences. "Each year work-related lung diseases linked to past exposures are estimated to kill 12,000 workers across Great Britain. In many cases these diseases take a long time to develop after exposure, so the damage done may not be immediately obvious. Others, such as occupational asthma and acute silicosis, can occur more quickly.
"These conditions can and do have a significant impact on both the individuals affected and those closest to them, so it is imperative that workers take the necessary precautions to protect their lungs."
Sarah Jardine, HSE's chief inspector of construction, adds: "The bottom line is we want everyone - workers and their employers - to be protected from harm and ill health so they can go home healthy to their families."
Download a Dustbuster Selfie Card here.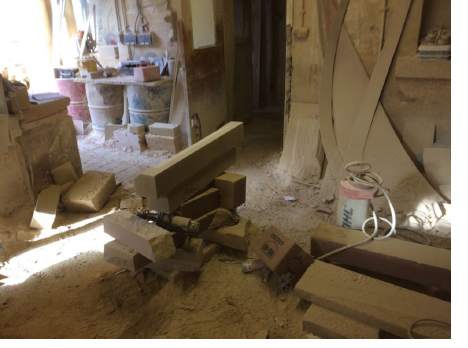 Another photograph taken by an HSE Inspector at GO Stonemasonry's premises. The dust on the floor can easily be kicked up as people walk over it.