Go quarrying online with Stoneasy
Stoneasy.com describes itself as the world's largest online quarry. It enables you to buy direct from source without all the worry and effort that usually involves. NSS talks to Stoneasy Director Bram Callewier about what his business can do for yours.
It takes a while for an idea to catch on and it was only a year ago, at the Natural Stone Show at ExCeL London, that Stoneasy.com was given its first public showing in the UK. Nevertheless, it is an idea which has clearly stuck in the minds of those who could benefit from it so that when it included an advertising flyer in the March issue of Natural Stone Specialist magazine it doubled the number of visits to its website.
The offer of a free Nespresso coffee machine with the first order you place will have helped prompt people to take a look (the offer ended on 31 May). But visitors to the website clearly like what they see because 140 have registered with Stoneasy.com this year, increasing activity on the site in the first quarter of 2016 by 250% compared with the previous quarter.
Stoneasy expects the UK and Ireland to account for about 15% of its turnover this year, the rest coming from mainland Europe, half from Belgium, where it is based.
Stoneasy is headed by Bram Callewier, the son of Herwig Callewier of the Belgian stone company Beltrami, which has an impressive UK depot in Halesowen in the West Midlands managed by Martin Dolby.
Most initiatives that involve computers are expected to come from a younger generation, but Bram says it was his father who came up with the Stoneasy.com concept.
The idea is that some companies – probably those importing between one and 30 containers of stone a year – could benefit from Beltrami's contacts with stone producers around the world and its skills in the logistics of moving material.
The growth Stoneasy.com has seen would suggest that is the case and it is now adding significantly to the stone group's buying power that comes from the 3,000 or so containers of stone it imports each year. Last year Stoneasy added 800 containers to that and expects that to increase by 25% this year.
Stoneasy only delivers full containers, although the container can be filled with different materials from the same region. So from India and China, for example, the choice is wide. On the mercifully straightforward Stoneasy website, once you have chosen one stone, the other stones that can be included in that delivery are automatically shown and all others excluded, so it is perfectly clear what can go into any particular container.
The whole transaction can be carried out online, although if you do want to talk to someone there is your contact name and telephone number on the top of each page. In the UK and Ireland it will be Charlotte.
Bram says most people do not need to use the phone because the website is so transparent. But if you do need to call you will be pleased to discover the 'phone is answered straight away and you are not subjected to the frustration of patronising recorded lies while you hang on.
Bram finds the move away from 'phones interesting. "People want to make decisions independently. You don't want a pushy sales person on the 'phone. Hard selling is not always the way to go any more, especially with B2B. Smartphones and tablets have made the internet very accessible."
Once an order is placed, you can track it online as it makes its way to you. In most cases (89%) the containers are delivered without incident on time, and if a shipment is delayed for whatever reason, you can see where and why, and in any case will be warned by email as soon as a problem arises.
Most stone companies importing directly only discover there is a problem when the product does not arrive. Knowing in advance at least means provision can be made to accommodate the change in delivery date.
On the odd occasion when stone from Stoneasy has been damaged at the docks or in transit, or if there is some other problem with what arrives, a photograph sent to the company will usually be sufficient to obtain a credit.
Bram says Stoneasy works on such small margins that its priority is to get it right first time and have no problems to solve. It is why it does not supply second or 'commercial' quality stone and does not have reps to send round to deal with issues relating to quality or damage.
Stoneasy does not supply stone from Europe because most people find it easy enough to source. It is offering material that is harder to source directly and with confidence from places such as the Far East and South America.
It aims to offer a wider range of materials than most wholesalers could afford to stock, in various finishes (polished, honed, flamed, leather, etc), although since the stone is sourced directly from the original producers, any thicknesses, finishes or special requirements (within the limits of the product itself) can be supplied.
Bram believes the UK has a lot of potential but says: "It's always difficult to get that first order." That hurdle has been overcome, as you can see from the comments on these pages from those who are using this service. And 95% of customers who have tried Stoneasy.com once are so impressed that they go on to use it again… and again.
Because of the nature of the UK and its specific arrangements on matters such as VAT, a separate Stoneasy company has been registered in the UK sharing the address of the Beltrami depot. Charlotte's telephone also has an English number. But Stoneasy is not trying to hide the fact it is based in Belgium. "It doesn't really matter where we are," says Bram. "It just matters that you get the products you want at the right price and you can track them so you know when they are going to arrive."
Once products have arrived at their destination port, the entry on Stoneasy.com turns green to indicate their arrival. They will be delivered to your door, either in the container or, if you cannot unload a container, on a flatbed.
If they arrive on a flatbed they will take a day or two longer to reach you because the containers will have to go to a depot to be unloaded and the stone transferred. Nevertheless, as the delivery time is normally two or three months, an extra day or two is probably not going to make much difference.
"The most important thing is not how long it takes but how informed you are about when it will arrive," says Bram.
Of course, Stoneasy is intending to make a profit and at a certain size it is worth a stone company that wants to buy directly from quarries overseas making its own logistic arrangements.
Even some smaller traditional companies believe it is worth buying direct rather than paying Stoneasy to organise the shipment for them. But that exposes them to currency and price fluctuations, not just for the stone but also for the shipping, the difficulty of ensuring the right quality of stone is sent, dealing with problems if they do arise, especially of obtaining a credit if stone is damaged in transit. There is the headache of trying to track the shipment and predict its arrival date, and all the paperwork involved in importing. If you have tried it, you will not need reminding of the management time all this consumes, especially for the owner-manager who could probably make more money by focussing on their core business than they can save by importing directly.
And if there is a problem with one container when you are only importing three, say, it could end up costing a lot more than it saved. "There are quite a lot of businesses looking for the peace of mind solution that is offered by Stoneasy.com," says Bram.
And if cash flow is tight, there is another benefit. Normally when you buy from abroad you will have to pay for goods when they are loaded on to a ship – and don't forget that could be two or three months before they arrive in the UK. With Stoneasy you have options. You can pay when you place the order, in which case you will be given a 2% discount. Or you can choose the cash against documents option, which means you pay when the stone is at the port of arrival – which would normally be a day or two before it is delivered to your premises.
You can see the full range of benefits of this way of importing stone directly from the source by visiting Stoneasy.com. And if you want to meet Bram and his team, they will be at Marmomacc, the Verona stone exhibition in Italy, this year (28 September – 1 October), as well as being back at the Natural Stone Show at ExCeL in London 25-27 April 2017.
Why I choose Stoneasy… Kevin Roche, Director, Cardiff Marble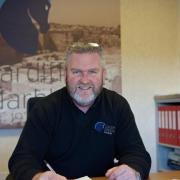 We import from all over the world, four or five containers a month. I'm away every six weeks buying long haul. We decided to give Stoneasy.com a whirl to cut down our travelling and time away. We have been with them over a year and in all fairness they have been excellent.
I would only recommend someone I would rely on and use myself. And I would recommend Stoneasy.
There have not been many problems, although the stone in one container had become dislodged in transit. We have an overhead crane and couldn't unload it. I emailed Bram images then telephoned. You ring the number and someone answers straight away, not like other websites. Bram was already looking at my photos. The container was taken away and the stone was back on a flatbed within 24 hours.
The only reason deliveries get delayed is because of bad weather at sea. On the couple of occasions we have had issues like that we haven't had to chase Stoneasy; they have been on the 'phone to us. We have always been kept aware of the situation.
We have 700 slabs of granite in stock and two floors of showroom displays. Our market is mostly kitchen worktops and we are the biggest supplier in Wales. Our service element has to be spot on. We still do our own importing but take about a container a month of stone from various parts of the world from Stoneasy. It's not as cheap as if we were buying direct, but when you factor in everything that's involved in buying internationally it is worth it.
Why I choose Stoneasy… Steve Allen, Director, Norbury Fencing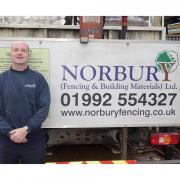 It was the H&B buying group that introduced me to Stoneasy. They asked me if I would do a trial order and I gave it a go. We are merchants selling mostly to landscapers and I ordered natural sandstone paving from India.
I went on to the website and chose what I wanted. It was easy.
We do not buy direct from overseas. We have done in the past but there is a lot of form filling and it takes up a lot of time. We normally prefer to let other people deal with that and buy from those who have material on the ground in the UK.
I wouldn't say we have used Stoneasy a lot but we have gone back to them a few times and we have never had any problems with deliveries.
We have the stone delivered on flatbeds and we use the cash against documents option of paying when the goods are unloaded in the UK, which is good for cash flow.
I would say convenience is the main benefit of Stoneasy. We are very busy and time is at a premium, so it is helpful to be able to go on to the website whenever it is convenient for me. You can also tweak your order to choose just what you need. You can then track where it is and know when it will arrive.