Guiting quarry marks another stepping stone in the growth of Johnston Quarry Group
Last year the Johnston Quarry Group brought the major Cotswold quarry of Guiting back into production. NSS visited the quarry to take a look and talk to Operations Director Paul Keyte about the development... and those still to come in 2020.
The golden and light-coloured limestones of the Cotswolds play a major part in defining the character of the towns and villages of the region and making it one of the most desirable places in the UK to live.
But while everyone loves the character the stone gives the area and councils insist on the stone being used for many new builds, renovation work and extensions in order to maintain that character, there is less sympathy for the quarries from which the stone has to come.
That resistance to quarrying is only likely to increase if moves to make the Cotswolds a National Park are successful – and they look as if they could be following the publication of the Glover Report in September describing the Cotswolds, combined with Dorset and East Devon, as "leading candidates" for the status.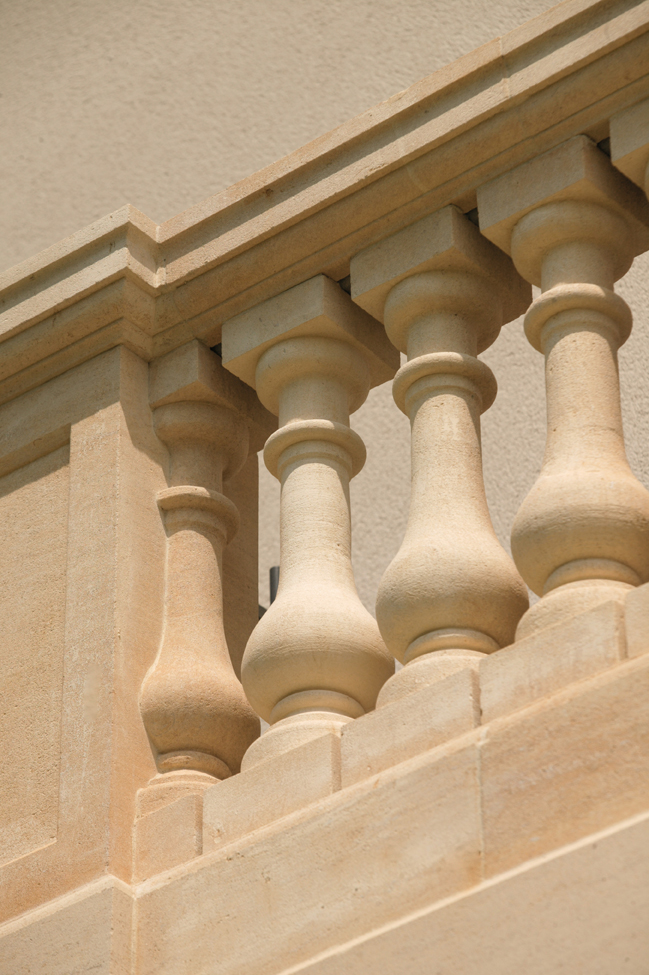 The report proposes that the existing long-standing Areas of Outstanding Natural Beauty (AONBs, or National Landscapes as they are now being called) should be combined into one National Park, although Stroud MP David Drew thinks the combination would be too large. The Cotswolds Hills alone cover an area of about 800 square miles (more than 2,000 square kilometres) across six counties (Gloucestershire, Oxfordshire, Wiltshire, Somerset, Worcestershire and Warwickshire).
Nevertheless, it looks as if the area is going to become a National Park when discussions about the size of it are concluded, so seven quarries in the Cotswolds have decided to join forces to present a united front to defend their legitimate business interests.
Johnstion Quarry Group
One of those closely involved in the co-operation is Paul Keyte, Director of Operations of the Cotswold limestone quarries of the Johnston Quarry Group.
The owner of the Group, Nicholas Johnston, brought Guiting Quarry back into production earlier this year with a bit of help from Bill Bolsover, a former Chairman of Aggregate Industries, who has simultaneously been appointed a non-executive director of the Johnstone Quarry Group.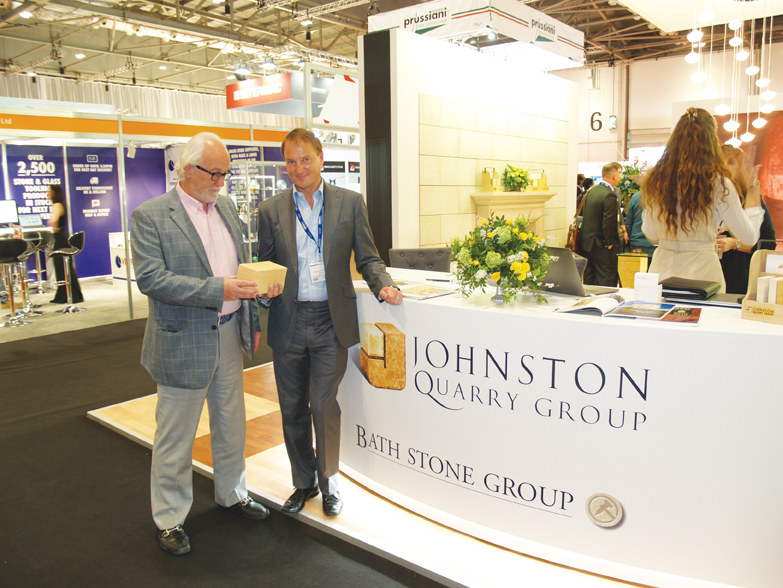 Bill Bolsover (left), who was instrumental in the re-opening of Guiting Quarry and is now a non-executive director, and Nicholas Johnston, the owner of Johnston Quarry Group, look at a piece of Guiting limestone on the Group's stand at the Natural Stone Show in London this year.
Guiting is one of the best known of the Cotswold quarries. Covering more than 40 acres, it has a deserved reputation for being the source of particularly large blocks of attractive golden-coloured, medium grain limestone (bed heights are up to 2m and blocks can weigh as much as 14 tonnes each). And it has plenty of it. It was surveyed in May and found to have over 2.5million tonnes of reserves still in the ground.
The other quarries in the quarry liaison group that has been formed are all within three or four miles of Guiting and include Oathill, already owned by Johnston Quarry Group when it took over Guiting.
Nicholas Johnston had had an eye on Guiting since taking over the Bath & Portland business from Hanson in 2017. Paul Keyte says: "We always recognised Guiting as a prominent stone in the region and a crucial Cotswold quarry asset that we wanted to develop."
Guiting was last operated by Hanson in 2008 when the landowner, Lord Wemyss, wanted to increase royalties on the minerals to a degree greater than Hanson wanted to pay. Hanson, however, owned the access to the quarry and would not allow its use by anyone else. The quarry became sterilised.
A decade later, Nicholas Johnston called on the quarrying expertise, local knowledge and contacts of Bill Bolsover to end the impasse, which he has successfully done.
At the Natural Stone Show
The Group subsequently announced at the Natural Stone Show in London at the end of April that it had obtained the necessary agreements to resume production at Guiting Quarry and Bill Bolsover was there to share the moment.
The plan is to have open days when people living in the Cotswolds are invited to come and have a look at the quarries and the products that come from them – the public being generally impressed by stone and the fine masonry and stone carvings produced from it. The liaison group is having its first meeting in January, when it will talk about planning issues and how it will attempt to paint a friendlier picture of quarrying.
As Paul Keyte says, all the quarries employ local people, supply local building companies and enable local buildings, from the vernacular to the grandiose, to be constructed and maintained.
"There's a big issue of sustainability in construction," says Paul. "And there's nothing more sustainable than using local natural stone. We want people to come and see what we do and be proud to use our materials. Once people have an understanding of what we're doing and why we are doing it, the quarry is not so threatening. At Guiting, for instance, we have a palaeontologist from the Natural History Museum visiting this month with some students."
The Cotswolds Hills have a population of just 139,000 (fewer by some measures) but attract 38 million visitors a year to their 3,000 miles of public footpaths, including two national trail walks. Part of what attracts people are properties such as Snowshill and Hidcote Manors, as well as all the dry stone walls, all of which owe their existence to the stones of the region.
Paul Keyte: "Oathill has thrived in the past 12 years as part of the Group and continues to do so. We haven't lost any sales from there – indeed, we have grown our overall share of the Cotswold market considerably. Guiting has had a hugely encouraging opening six months. Local businesses have been excited that the quarry is open again."
Among the current projects the quarry is supplying are 37 houses being built in Chipping Campden, where the stone is even being used for affordable housing. "We can always try to meet the criteria to build in natural stone," says Paul. "It's up to us to make it possible for them to use stone. People think it's going to be expensive but it really doesn't have to be."
When Paul Keyte moved into Guiting Quarry there was a lot of old static crushing and screening plant that had been left by Hanson. It has been removed to provide access to the stone that was under it. Most of it had been installed in the 1970s and it had been vandalised in the years that the quarry was abandoned, with anything salvageable (like copper electrical wires) having been removed.
Plenty of stone
There was plenty of stock already on the quarry floor that was immediately available and production of fresh blocks has now resumed.
It is relatively easily won using a Doosan DX420 excavator and DX450 loading shovel. All the additional mobile plant was supplied by Blue Group, which also maintains it on a contract that Paul says is "worth every penny". No drilling or blasting is currently required.
Another local person, Nicola Croft, has just been employed to manage the office and address all business enquiries, bringing the number of people already employed at Guiting up to six. And more may follow in 2020 as demand and supply grows further.
Paul says it has been exciting working for a company that has grown as quickly and impressively as the Johnston Quarry Group over the past 12 years.
From its beginnings with the ironstone quarry at Nicholas Johnston's Great Tew Estate in Oxfordshire, apart from Guiting the Group now includes Oathill, Rollright, and Sarsden in the Cotswolds, Creeton and Ropsley (which Paul says the Group is excited to be re-opening in 2020), and the mines of the Bath Stone Group headed by Matthew Hawker.
Matthew was with Bath Stone Group when it was bought as part of two simultaneous and significant Bath Stone purchases by Nicholas Johnston in 2017. Hanson's Bath Stone interests was the other.
The mines are at Stoke Hill, Hartham Park and Monks Park, with Hartham due to open next year and Monks Park temporarily mothballed.
Bath Stone Group employs 15 of the 55 people working for the various businesses of the Johnston Quarry Group.
There is also a major processing operation at Hornton Grounds run by Maurice O'Donoghue, previously with APS Masonry, and a new high capacity ironstone sawn and cropped building stone facility at Great Tew.
Any further processing capability in the group will be focused towards assisting existing block processing and masonry companies to meet their clients' requirements.
Paul: "We have no desire to frustrate or step on the toes of our existing client base in any way, as we are proud to have good relationships with everyone in the processing and masonry industry.
"If you like, we are here to wholesale and not retail. Our first goal is always to sell our block from as close to the quarry or mine face as possible, leaving all the processing and direct client relationship to others." 
Working smartly
As well as Paul Keyte and Matthew Hawker, there is Steve Johnson in charge of the Lincolnshire quarries.
"We work smartly and safely," says Paul, "and you have a real good feeling among the staff when you walk into our quarries. Decisions are made as a team, so everyone knows what is going on and which way the Group is moving.
"Sharing information and business transparency across the quarries and mines is a big thing with us. Nicholas has always valued the diversity that comes from a small team of people with contrasting and complementary skill sets working together for the overall benefit of the Group."
Minimising waste is also a big thing with Johnston Quarry Group. As much finished product as possible is created from the quarried stone. As well as block for stone companies, there is walling stone, a wide range of screened construction and decorative aggregates sold to local merchants and builders and, during the season, agricultural lime to farmers.
Plans are also in hand to use a mobile Fantini saw to square the blocks in the quarry so even less waste ever leaves.
At present, Guiting produces around 6,000 tonnes of Gold Block each year and more than 10,000 tonnes of fine masonry quality Cotswold Cream Block, which is a warm cream stone with a medium grain texture and some small clusters of interesting shell and fossil in beds of up to 1.5m and block sizes of as much as 12 tonnes.
The size and highly consistent nature of this block means it has a wide variety of interior and exterior uses, including window cills, chimneys, coping, walling, flooring and fireplaces.
Between them, the two beds go to projects in Warwickshire, Gloucestershire, Worcestershire and Oxfordshire, and sometimes even further afield.
2019 has not been the easiest of trading years for anyone with the political distraction of Brexit and currently the election. However, says Paul: "As a group we've had a strong financial year under difficult macro-Political circumstances. We've met all our targets. And we had an excellent response to our stand at the Natural Stone Show in London – I'm still getting calls now from people who visited saying how impressive it was.
"By the next Show in 2021 we would like to think we will be talking about significant fresh quantities of Bath Stone from Hartham Park, including the premium quality Box Ground Bed that was last available through Hanson in 2015, and new block beds from Ropsley in Lincolnshire.  Nothing ever stops moving forward within the Group." 
And with that Paul disappears out the door to meet the next masonry block customer wanting the Guiting stone.
Below. Guiting limestone is once again helping to define the built heritage of the Cotswolds.