StoneSafe memorial fixing system boss says there is an error in the new British Standard for memorials
The British Standard for lawn memorials, BS 8415, was reviewed and amended last year. Among the changes were the requirements for testing memorial safety systems that stop headstones from falling over.
The new conditions require the digging of a pit at least 1m x 1m x 1m, but allowing clearance all round the memorial and foundation being used in the test, that should be filled with sand and gravel tamped down to make it firm. These are not the conditions used by NAMM (the National Association of Memorial Masons) for testing memorial fixing systems to the previous version of the standard. So NAMM offered to re-test systems it had already approved at no extra charge. A list of the ground anchors now approved by NAMM is on the NAMM website.
Anton Matthews, the maker of the StoneSafe memorial fixing system that has consistently satisfied the testing criteria in sandy media, has always questioned the ability of what is basically a steel rod to hold a headstone safely in position in poor soil conditions. Such systems have failed in tests he has carried out.
In April, The Blast Shop, which supplies machinery, tools and equipment, including fixing pins, to memorial masons, carried a picture in its newsletter of its products being tested and stating they had all passed the NAMM test. However, the photograph was of The Blast Shop's own tests, which it carried out before submitting its products to NAMM to make sure they would comply. At the NAMM Tradex exhibition at the Warwickshire Event Centre 20-21 June The Blast Shop demonstrated how difficult it is to exert a force of 100kg or 150kg, as required in the standard, by inviting visitors to try to pull that much. Nobody could pull 150kg and even two people together could not hold 100kg for anything like a minute, as required in the Standard.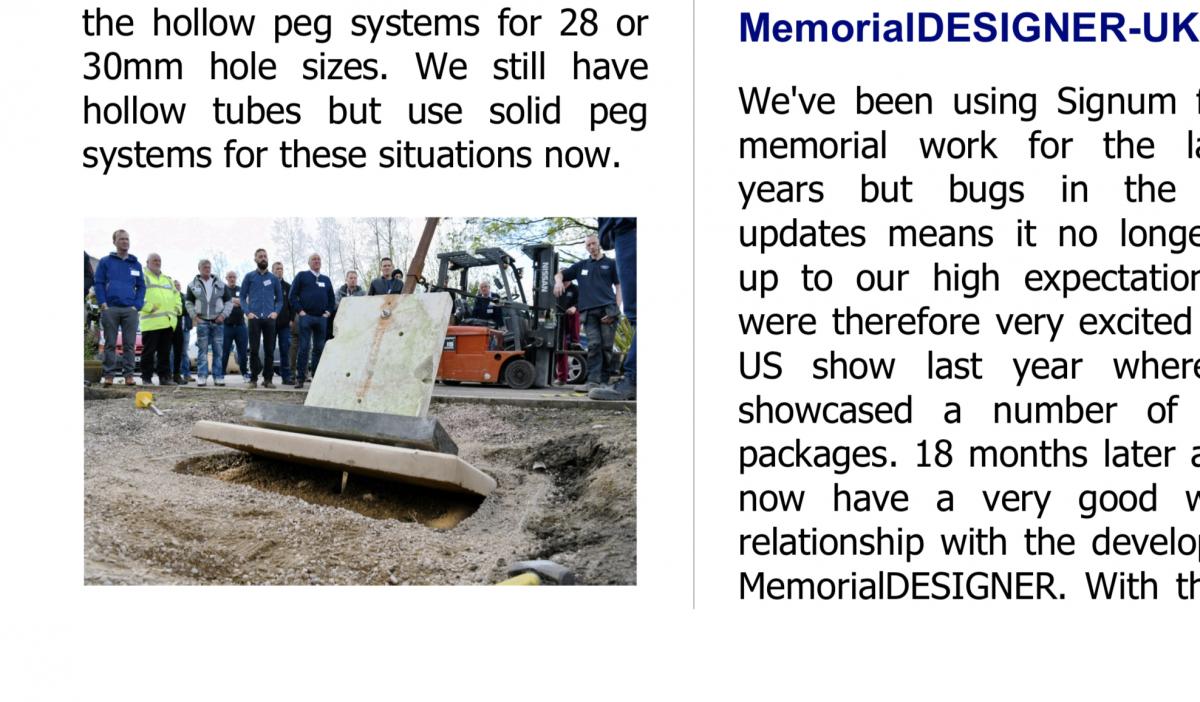 The Blast Shop newsletter that contained the picture Anton Matthews says highlights an error in BS 8415 as published. NAMM denies the standard as published contains an error.
The picture in The Blast Shop newsletter clearly showed the medium the test had been carried out in contained some fairly coarse aggregate. Anton Matthews says he understood the standard as agreed required the medium should contain particles no larger than 0.6mm. Both he and NAMM (among others) sit on the committee that reviewed and amended the standard. He checked the standard as published and discovered it states the particles should be no larger than 6mm, not 0.6mm.
A proof of the standard had been sent to committee members before it was published, but Anton says he failed to notice what he considers to be the error of 0.6mm appearing as 6mm in regard to the soil conditions to be used in the test. Nobody else identified this as an error, either, and NAMM says it is not an error but is what was agreed by the committee, including Anton Matthews.
However, Anton has now gone back to British Standards and pointed out that he believes it should be 0.6mm rather than the 6mm as published. British Standards Institution, which administers British Standards, is looking into it. 
The Standard requires the pins to resist a force of 100kg for a minute. The pressure is then increased to 150kg and the stone should not deviate more than 45deg from vertical. The headstone does not have to remain rigid, but should not fail catastrophically. Anton says the NAMM-approved system he has tested failed at less than 85kg, although NAMM has used its own filming of one of the Stone-Safe demonstrations (in the sandy soil of Redhill Cemetery), plus the filming of one of its own tests to show just how secure a pin fixing system is. Yes it moves, but progressively and in a controlled manner so it does not not crash to the ground. You can watch the NAMM video below. 
Anton's system has withstood a force of more than 150kg for more than a minute (as required by the standard for a rigid system like his StoneSafe) in the sandy medium he used, which he says complies with the revised standard as he believes it should be (ie with particle sizes of less than 0.6mm). You can watch a video of one of his tests in dug pits here.
He has demonstrated how easy it is to push over a headstone fixed with a NAMM-approved pin in his test pit in a video he has taken. It indicates that a force of 150kg is not required. He asked his son to behave like a vandal and try to push over the stone, which he did without too much trouble in seconds. You can watch the video below.
Peter Hayman at NAMM disputes that BS 8415 should require a test medium with particles of no more than 0.6mm. He told Natural Stone Specialist magazine: "Based on his argument then the tests he has done on his own foundation (not a ground anchor according to BS 8415-2018), which was done in a 1m x 1m x 1m pit of sharp sand (coarse sand max particle 2mm), are also invalid. Also his test pit was 1m x 1m x 1m and his foundation is 1m wide. This, too, does not conform to the current test procedure.
"In the August 2017 draft [of BS 8415] the pit medium was to be a max of 5mm, again agreed by Anton. However, 5mm is not a standard size in any table of soil definition and so the 5mm was changed to 6mm to conform with the national soil specification table and BS 5930 (which actually says 6.3mm). Anton was present at every meeting and was fully aware and in agreement when this was done and he lodged no complaint then.
"The aim of every BSI standard is to provide trusted expert guidance and improve standards of production and workmanship. Every member of every committee should have no ulterior motive other than to uphold and support BSI in those aims." Peter says NAMM's sole aim is "trying to promote our trade and its skills, and to improve standards and provide impartial trusted guidance for all".
NAMM has always pointed out that since ground anchors were introduced for memorial fixing, following the deaths of two people as the result of unrestrained gravestones being pulled over in the 1990s, there has not been a single injury resulting from the failure of a memorial correctly fixed with such anchors.