There's a lot of stone at Chelsea
There is plenty of natural stone in the show gardens of the Royal Horticultural Society's Chelsea Flower Show these days and when the show opened at Chelsea Hospital on 21 May this year quite a lot of it had been supplied by leading stone hard landscape supplier CED.
The gardens CED helped with with this year are: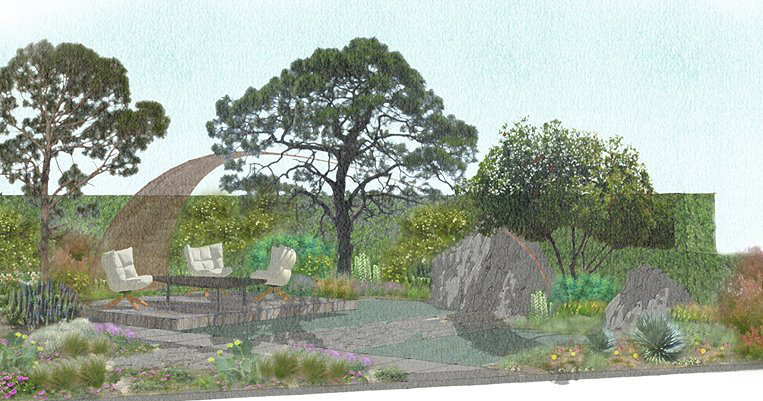 The Facebook Garden: Beyond The Screen
Designer: Joe Perkins
Contractor: The Outdoor Room
Materials Supplied - Caithness Stone (very large)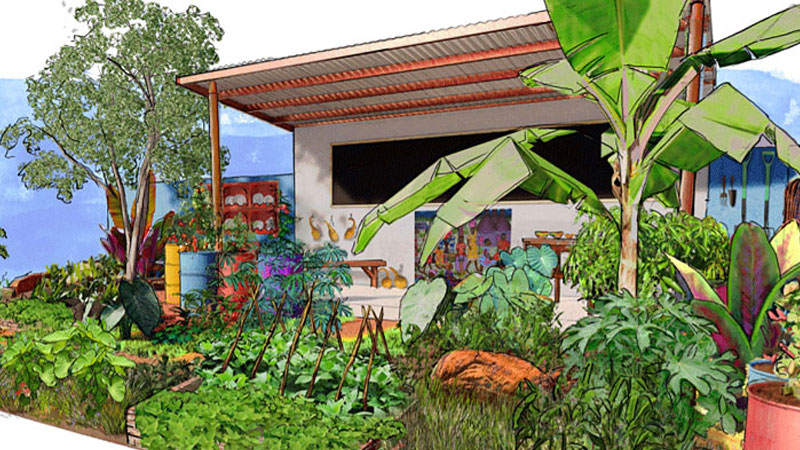 The CAMFED Garden: Giving Girls In Africa A Space To Grow
Designer: Jilayne Rickards
Contractor: Conway Landscapes
Materials Supplied: Red Sandstone Rockery, Sandstone Boulders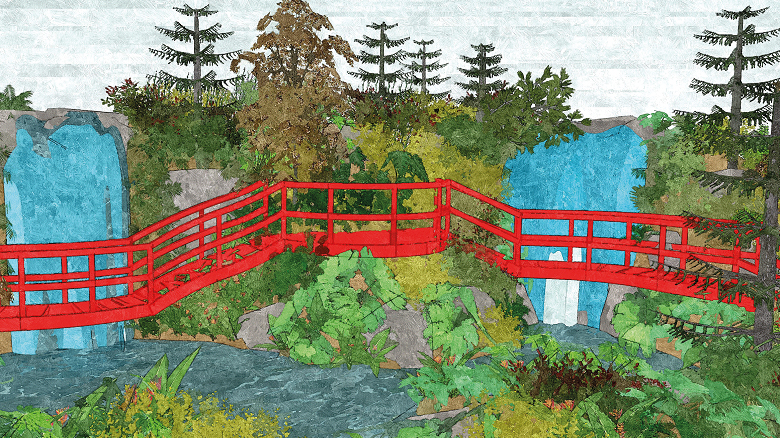 Trailfinders 'Undiscovered Latin America'
Designer: Jonathan Snow
Contractor: Stewarts Landscapes
Sponsor - Trailfinders
Materials Supplied: Brinscall Sandstone Boulders
Family Monsters
Designer: Alistair Bayford
Contractor: ID Verde
Sponsor - Family Action
Materials Supplied: Gabbro, Celtic, and Caledonian Boulders, Scottish Beach Cobbles and CEDEC Gold footpath Gravel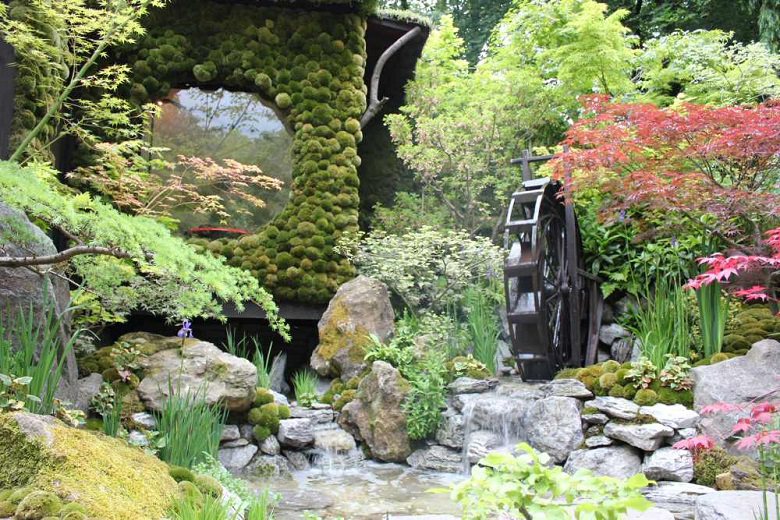 Green Switch
Designer: Kazuyuki Ishihara
Contractor: Ishihara Kazuyuki Design Laboratory
Materials Supplied: Grey Paddlestones, Reclaimed Yorkstone Flags, Purbeck Rockery, Pearly Quartz
The Roots of Finland Garden
Designer: Taina Suonio
Contractor: Conquest Creative Spaces
Sponsor: Kyro Distillery Company Ltd
Materials Supplied: Scottish Beach Cobbles, Aegean Black Pebbles
Perennial Lifeline Garden
Designers: Colm Jospeh & Duncan Cargill
Materials Supplied: CEDApath, White Limestone 
Hardy's Plants Trade Stand - CEDApath, Rosemary Quartz 
Hartley's Botanic Trade Stand (Stewarts Landscapes also building this) - Sovereign Grey Sawn & Textured Setts and Bullnosed Steps, Blue Grey Granite Plank Paving, Nordic Tier Panel System
John O'Connor Sculpture Stand - Black Pink Granite Aggregate
You might imagine The Facebook Garden would have been hi-tech, but Joe's design is coastal themed and CED has supplied Caithness stone to represent flysch formations created during mountain building episodes where tectonic plates collide. Caithness stone can be easily split into large slabs to create the look required.
The Undiscovered Latin America garden was built on a steep slope and boasted dramatic waterfalls. There was a prominent, elevated red walkway winding across it. Last year CED worked with Jonathon on his Chelsea debut 'Moving Mountains' garden for Trailfinders, which was awarded Silver Gilt. This time Brinscall sandstone has been chosen as a pretty good match for the dark volcanic rocks of Chile.
The Family Monsters garden is helping Family Action celebrate its 150th anniversary and, coincidentally, was also the 100th anniversary of Idverde, whose designer Alistair Bayford conceived the garden. CED's contribution is 'monsters' in Celtic, Gabbro and Caledonian boulders and Scottish beach cobbles leading up the pathway towards a water feature and bench. The boulders, with their mixed textures, shapes and colours, represent how 'no one monster can be defined and a monster for one person isn't necessarily the same for another'. The boulders in the path go from harsh and jagged to more even and flat, as the 'monsters' are tamed.
For the CAMFED garden, boulders of red sandstone from Scotland were chosen to replicate the red landscape of Zimbabwe.
Other gardens supplied by stone specialists included the silver award-winning Manchester At RHS garden, where Hardscape had supplied its Whitworth paving in various patterns, and Landform Consultants' Dubai Majlis Garden, where Albion Stone had supplied its Portland limestone. Elks-Smith Garden Design and Bowles & Wyer won a silver gilt medal for their Warner's Distillery's show garden featuring Clipsham limestone from Stamford Stone.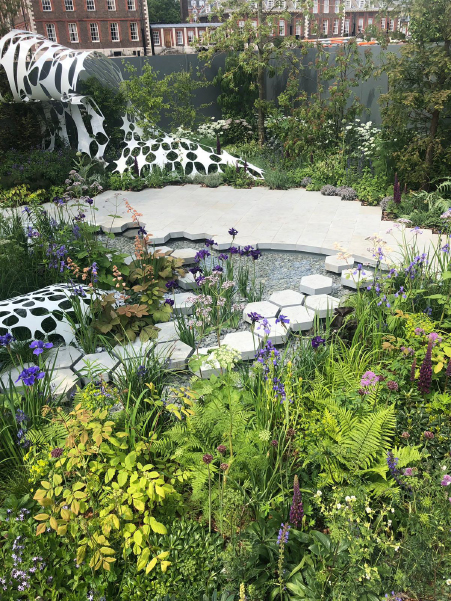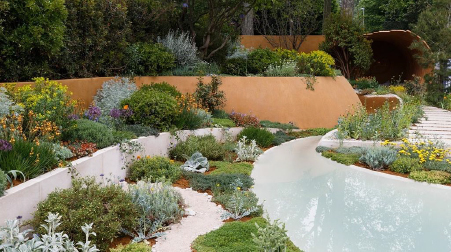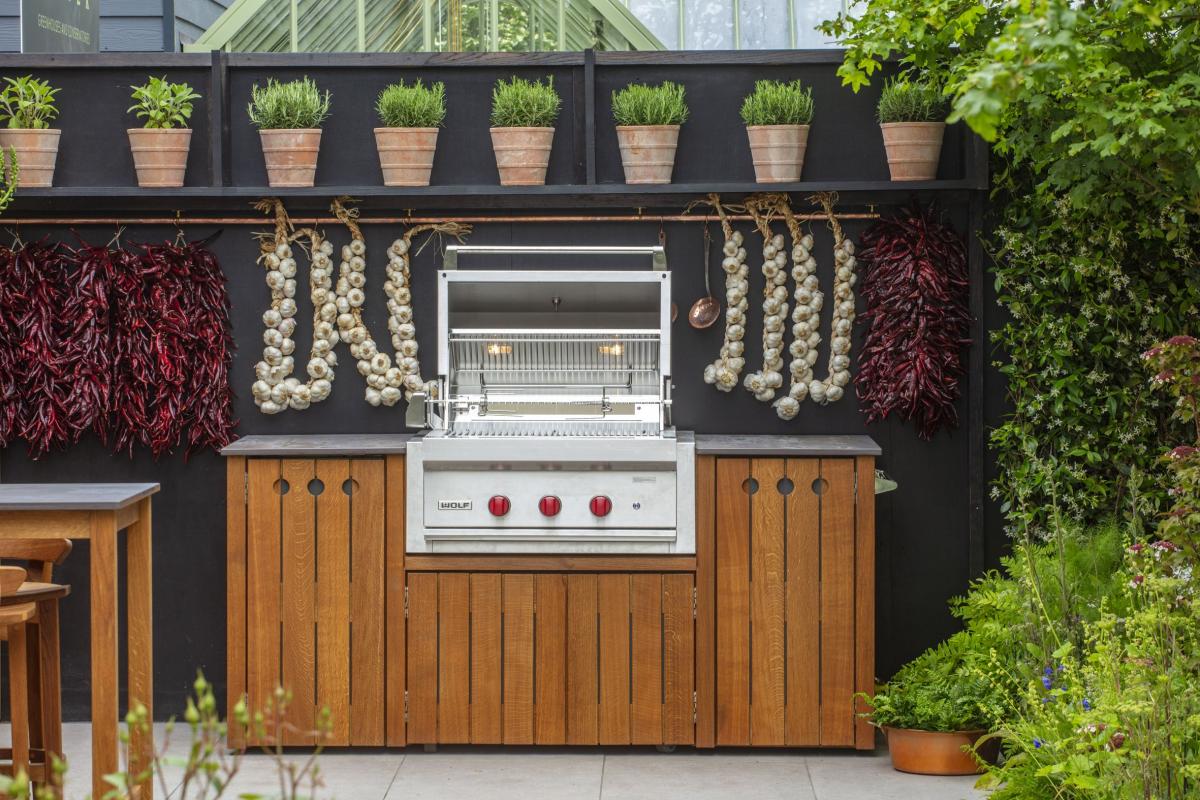 ​Cosentino was also at Chelsea with its ultra-compact Dakton surfaces featuring on the stand of outdoor kitchen and furniture company Gaze Burvill. Various designs and finishes were on the stand in the Main Avenue at the heart of the show gardens.