Tottenham Hotspur 2 : Caesarstone 9
Tottenham Hotspur has finally moved into its new £1billion stadium and last night (3 April) won its first game there 2-0. It was against Crystal Palace. Caesarstone was also a winner, with nine of its quartz products being used in the new stadium, including Rugged Concrete from its new Metropolitan Collection for the front and top of what is said to be the longest bar in the UK at 65m.
It is called the Goal Line Bar and runs the full width of the stadium.
Caesarstone surfaces also feature in food service units, VIP boxes and other key hospitality areas around the stadium. As well as the award-winning Rugged Concrete, there's Sleek Concrete, also from the Metropolitan Collection of industrial-style finishes, Nordic Loft, Woodlands, Jet Black, Symphony Grey, Misty Carrera, Piatra Grey and Pebble. Each was selected to complement the themes and décor of different areas of the stadium.
Steve Gibbs, Commercial Manager A&D of Caesarstone UK in Enfield, within striking distance of Spurs' new stadium, says: "The architects wanted to achieve an industrial look but needed a material that would be durable and hardwearing enough to withstand the rigorous demands of an exceptionally busy football stadium, with food and beverage outlets in use seven days a week.
"Easy maintenance and cleaning are decisive factors when it comes to the service sector, especially when designing high-traffic areas. Caesarstone surfaces ticked all the boxes, with aesthetics that fit the designer's vision for the new benchmark stadium."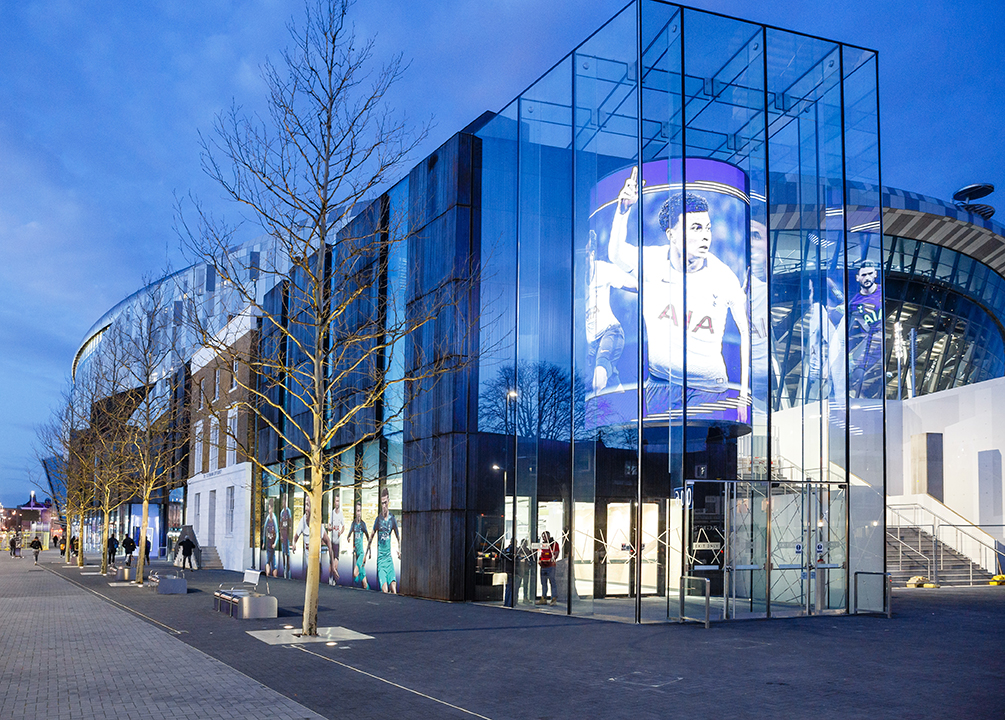 The new Tottenham Hotspur stadium - photo: Tottenham Hotspur FC
The new Tottenham Hotspur stadium has a capacity of over 62,000, including a single tier stand for 17,500 home fans that will provide a 'wall of noise' within the ground. There's a whole market place of food and beverage units, including various restaurants and bars, as well as private hospitality areas.
The stadium forms part of a major regeneration of the area, offering an exceptional sports, entertainment and leisure destination called the Tottenham Experience. The full scale of the project includes an integrated retail and museum facility; hotel; visitor attractions; a community health centre; commercial space and residential units.
Amir Reske, Managing Director of Caesarstone UK, is delighted Caesarstone was chosen for this extraordinarily high profile project that he describes as "probably one of the most exciting new stadiums anywhere in the world right now".
He adds: "It is very much a local project for us as the stadium is just a very short distance from our own UK headquarters in Enfield. The stadium is part of a major redevelopment of the Tottenham area and will help transform this part of North London, which is fantastic news for the wider community."
Jon Stanley, Caesarstone UK's Vice-president Marketing, said: "Since Ceasarstone UK launched in 2017 we have made significant progress within the UK commercial arena, winning numerous projects across a diverse range of sectors, from high-end luxury developments, through retail premises, to a number of major hospitality projects. The new Tottenham Hotspur stadium is one of the largest and most prestigious. Given its proximity to our own facility as well as the number of Tottenham Hotspur fans in our own local workforce, it is one that strikes a special note with the team."
You can see Caesarstone's quartz ranges and meet the company at the new Hard Surfaces exhibition co-locating with the Natural Stone Show at ExCeL in London 30 April-2 May. Click here for your free ticket to Hard Surfaces.