Training : Stone industry pushes on with plans for Trailblazer apprenticeships
The stone industry offers good careers but the Government's proposals to turn all apprenticeships into Trailblazers seem to be in danger of unravelling in the face of uncertainty and opposition.
Against the background of the Stone Federation's Skills Challenge taking place in the masonry workshops at Weymouth College on 12 May, the Natural Stone Industry Training Group (NSITG) met again to consider the future of training.
As reported previously by Natural Stone Specialist (most recently in last month's issue), the Government has set in place proposals to claim a monopoly on apprenticeships that will see them in future be known as Trailblazers.
The change takes place in April next year – or is supposed to – when a new apprenticeship levy is introduced at 0.5% of a firm's wages bill, as long as the wages bill is more than £3million a year.
But there are all sorts of questions left unanswered. Even how the £3million-a-year wages bill is to be worked out is not exactly clear. As it is being collected through PAYE it is being assumed that PAYE wages only are involved and that payments made in other ways (to labour-only contractors through the CIS, for example) are excluded. But it is only an assumption because the matter has not been clarified.
Neither can we be entirely sure the levy will start to be imposed with the start of the next financial year because some of the largest construction companies are lobbying hard to have it postponed for two more years, by which time some are firmly convinced the whole Trailblazer idea will have been dropped.
Representatives of those involved in training in the specialist contractor sector of construction met with CITB in April. There was not much enthusiasm for the changes.
CITB currently funds many of the apprenticeships in the sector, although the future of the CITB is also in doubt under the proposed changes. It has had a programme of voluntary redundancies to cut its staff but that has proved so successful it is now in the odd position of having to recruit new people. A couple of them attended the meeting of the NSITG at Weymouth.
The Government says the aim of Trailblazer apprenticeships is to make the criteria for KSBs (knowledge, skills and behaviour requirements) simple to understand, straightforward to learn and adaptable. They should provide a sound basis for a career and be transferable.
But the stone industry (and other specialist contractor sectors) has been doing precisely this with its Specialist Apprentice Programmes (SAPs) and Specialist Upskilling Programmes (SUPs), which it is now reluctant to lose.
It does not help that the Government wants firms to make a contribution of a third of the cost of training under the Trailblazer scheme as well as paying the levy, whereas with SAPs and SUPs CITB more than covers the cost for levy payers.
And Trailblazer apprentices will be required to continue to strive towards a grade 'A' in their GCSEs while they remain trainees, even though the reason some people choose a career in construction is because they have no interest in academic qualifications and will not achieve them.
It is the same with the Trailblazer's requirement for a 'rigorous end point assessment by testing' (otherwise known as an exam) at a test centre.
"The upshot is that the natives are restless in any number of ways," said Ian Major after the meeting with CITB.
Ian manages Stone Federation's training brand, StoneTrain. He says it is not clear who will provide the teaching for the GCSEs. "We have no facilties for getting them through GCSEs." Nor is it clear who will provide the test centres and invigilators for the final exam. Whoever does it is likely to want to be paid for it.
StoneTrain currently offers grant-assisted two-year SAPs, (for more information about them you can email Ian Major on  [email protected]).
At a meeting organised by NSITG and supported by Stone Federation Great Britain in April it was reluctantly decided that the industry had better go ahead with making its proposals for Trailblazer apprenticeships because if it didn't, someone else might, which was not necessarily going to be good for the industry.
At Weymouth on 13 May, the mood was a little more positive and the NSITG once again agreed that it had better move towards submitting proposals for Trailblazer apprenticeships to BIS, the Government Department for Business, Innovation & Skills, in order to put a scheme in place on the assumption that Trailblazers will go ahead.
The stone Specialist Apprenticeship Programmes are in façade preservation, stone fixing and stone paving. They are CITB-branded and administered through StoneTrain. The programmes teach industry agreed standards with the learner being  assessed for a level 2 vocational qualification (NVQs), which are understood and accepted by the construction industry. When achieved, they give the qualified person access to the blue CSCS Skilled Worker card. CSCS cards are often a prerequisite for site access these days, especially in London. And, of course, a properly carded workforce looks great on tenders and PQQs.
Employers are briefed to provide onsite mentoring for their learners, which is supplemented by approximately 20 days offsite training over a two-year period with the StoneTrain instructors (who include Mark Priestman, the author of the Training column in each issue of this magazine).
Assessment for the NVQs takes place while the learner is working with a company. It is deliberately designed this way so that the business is not unduly impacted and so the learner gets the fullest amount of onsite vocational experience.
In most specialist sectors of construction the number of people enrolled on SAPs has been growing, although that has not been the case in stonemasonry, where employers complain about the quality of British youngsters and the costs involved in employing them compared with taking on skilled, or at least willing, workers from eastern Europe, especially when it is difficult for companies to keep up with the current level of demand for their skills. The names of those enrolled for NVQ training in order to obtain their CSCS cards indicates the eastern European origins of many of those being successfully recruited.
Some of the colleges offering stonemasonry training have also been concerned lately about a falling number of students wanting to learn the skills.
UCATT, the construction union, wanted to know exactly how many people who take construction courses end up in apprenticeships. It used Freedom of Information rights to discover from the Government's Skills Funding that while 167,000 people started college courses for jobs in construction in 2014/15 only 18,000 went on to an apprenticeship in the industry.
UCATT is calling on major constructors to make contact with the colleges and start giving the students jobs in an industry crying out for skilled labour.
The position is perhaps not quite as bad in stonemasonry, at least not according to the colleges, which boast about the numbers of their masonry students who secure jobs in the sector. But then stonemasonry trainees are typically older than most students and have sometimes already worked in construction or elsewhere before deciding they want to specialise in stone.
If Trailblazer apprenticeships go ahead, the current requirement is that they must be more than a year long and in order for a sector's proposals to be approved by BIS, as they have to be, there must be 10 companies willing to take on apprentices under the scheme.
There are not currently 10 stone companies that have committed to taking on Trailblazer apprentices, although Ian Ma BRE Academy launches online learning platformjor continues to be optimistic that they will be found. If you would like to be among them, Ian would be happy to hear from you. Once again, his email address is [email protected]. 
BRE Academy launches online learning platform
BRE's training and education arm, the BRE Academy, has launched a new online learning platform for construction operatives, professionals and leaders.
It has 25 digitally-delivered courses ranging from BIM Essentials and BREEAM Associate to Managing Change – Risk in Construction. You can see the full range of courses on the home page at bre.ac. The aim is to make quality education and training more accessible to time-poor people and organisations needing to upskill.
Courses carry qualifications from providers including City & Guilds and ABBE (Awarding Body of the Built Environment) and CPD certification and have been developed by leading experts in the subjects covered.
There is clearly a demand as there were 250 modules of the new portal's BIM Essentials course sold during the live beta testing stage.
BRE Academy Director Pauline Traetto says: "One of the key issues we identified in our recent skills gap survey was the need for accessible learning via the web and mobiles that fits around the people rather than the training providers – bre.ac represents the positive action we decided to take in response to this.
"With the global online training market predicted to grow by 18% by 2020, for us this is the future of learning."
Toby Brook to represent UK stonemasonry at the Euros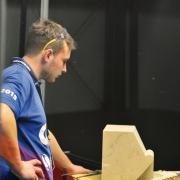 Stonemason Toby Brook is to represent the UK sector at this year's EuroSkills competition in Gothenburg 1-3 December. Toby works for Wells Cathedral Stonemasons and studied stonemasonry at Bath College. There will be more than 30 European countries taking part in the Europe-only version of WorldSkills. They will compete in 35 skills ranging from engineering and construction to creative and hospitality.
The competitors all have one aim – to win a Gold Medal in their chosen skill and prove they are the best in Europe. Like footballers taking part in the Euros this summer, Toby and the other members of Team UK will now complete an intensive training programme with a EuroSkills specialist, who for Toby will be Kevin Calpin, also the UK expert for Architectural Stonemasonry at WorldSkills.
The competitors who take part in EuroSkills this year will go on to compete for a place in the team that will represent the UK at WorldSkills, which takes place every two years. The next WorldSkills competition will be in Abu Dhabi 14-19 October next year (2017).