If you want skilled people you will have to train them
The government is trying to raise the status of vocational training. Now, it says, it's up to firms to play their part. 
Until the end of September the government is offering cash incentives of £3,000 to employers for each new apprentice they take on. To apply click here.
In The Queen's Speech that started the new session of Parliament in May the government promised legislation to support what it calls a lifetime skills guarantee to enable flexible access to high quality education and training throughout people's lives.
It is part of the government's efforts to raise the status of vocational education so university is not seen as the only way to a worthwhile career, as well as ensuring the workforce does not end up with redundant skills as technology moves inexorably on.
One step the government has already taken is to claim exclusivity of apprenticeships, which will in future have to be Trailblazers.
The stone industry has been working on its Trailblazer since 2016. When Trailblazers were first proposed the government said it wanted industry to decide what it needed. But that is not quite what it meant. The stone industry decided it wanted an apprenticeship that could be at levels two and three, but was told by the Institute for Apprenticeships (IfA), a quango established to work with industry to establish the apprenticeships, that the training had to be to a single level only. Level two was chosen to make the training accessible to as many people as possible.
But the industry is still looking at the possibility of developing a level three apprenticeship, although the Trailblazer rules say it would have to be a different apprenticeship, not a higher level of an existing apprenticeship
As this is written, Michelle Turner, a Director of Essex-based company Stone Restoration Services who has chaired the stone industry's Trailblazer development group since the beginning, was still waiting for the funding of the stone Trailblazer to be signed off by the Minister for Apprenticeships, Gillian Keegan.
This funding will be paid to colleges for delivering training and a final exam, which the government has insisted upon, for the Trailblazer. It is paid for from the Apprenticeship Levy, which is an amount paid at a rate of 0.5% of an employer's annual pay bill if that bill is more than £3million a year. In other words, larger firms will be covering the cost of apprenticeship training so smaller firms don't have to.
The original sum the colleges said they would need in order to participate in the stone Trailblazer was rejected. The Colleges said because of the particular nature of training in stonemasonry it cost more than some other trades and put in a bid for £26,000 a year. The government offered £11,000, the same as it is allowing for training bricklayers. There was an  appeal but it was rejected. To date, only Bath and York have committed to delivering the stone apprenticeship, while other colleges, including the Building Crafts College in London and Moulton in Northamptonshire, are still deciding.
Boris Johnson, Prime Minister: "I'm revolutionising the system so we can move past the outdated notion that there is only one route up the career ladder and ensure that everyone has the opportunity to retrain or upskill at any point in their lives."
The apprenticeships cannot actually begin until the Minister has approved the funding, but Claire Wallbridge, the Administrator of the Natural Stone Industry Training Group (NSITG) and Training Officer for Stone Federation Great Britain's training arm, StoneTrain, says there are companies waiting to start employees on the Trailblazer as soon as it is available.
Anyone part-way through an apprenticeship before the Trailblazer is available will be able to finish it, but once it is available all new apprenticeships should be Trailblazers.
CITB, which pays for Training Groups like NSITG, carried out a review of the efficacy of the groups last year and asked for comments from industry. Claire Wallbridge says: "I think CITB were blown away by the response." There were more comments supporting the Groups than the Training Board had ever received in any previous consultation.
While there is inevitably a cost to companies of employing people who need training, those registered with the Construction Industry Training Board (CITB) get £2,500 a year attendance fee from the CITB to cover the cost of an apprentice attending college plus £3,500 on the successful completion of the apprenticeship. If your total PAYE and CIS bill is below a threshold (£120,000 for 2019-20) you do not even have to pay a levy to CITB.
The CITB has also now (from 1 April) introduced a Travel to Train scheme, which covers some of the costs of travel and accommodation. That is helpful for stone companies as there is a limited number of colleges offering stonemasonry training.
Travel to Train funding covers 80% of the accommodation cost (although the accommodation has to be approved by CITB, so no five star hotels) plus travel costs above £30 a week.
The government is even currently offering cash incentives to employers of £3,000 for each new apprentice they take on until the end of September (find out how to claim here www.gov.uk/guidance/incentive-payments-for-hiring-a-new-apprentice) 
But the new legislation in the Skills & Post-16 Education Bill that was heralded in The Queen's Speech and has already been introduced to Parliament is intended to make it easier for people to increase their skills (and, as a result, their pay level) as they progress through their working life.
Those without a level three qualification or an 'A' Level will be entitled to more training to reach that standard without having to pay for it. For others, from 2025 there will be a lifelong loan entitlement equivalent of four years of post-18 education, with a promised transformation of the funding system so it is as easy to get a loan for a higher technical course as it is for a full-length university degree.
The Bill proposes a new student finance system to replace the current student loans system, giving adults access to a flexible loan for higher-level education and training at university or college at any point in their lives.
Employers will not be able to ignore the planning needs of employees because the Bill gives them a statutory role in planning publicly-funded training programmes with education providers through a 'Skills Accelerator' programme.
This further develops moves already underway to create a more dynamic training environment and culture, including the new T-Level courses and access to free, job-relevant bootcamps.
T Levels were introduced last year. They are said to be equivalent to three A-levels, giving students the skills and experience that businesses specifically need.
The 12-16-week intensive 'bootcamps' offer training in areas such as energy saving retrofitting in construction, as well as qualification-based courses in areas including construction, engineering and accountancy. Bootcamps have already trained 3,000 people and 14,000 more are signed up to attend such courses this year.
The Prime Minister outlined his vision for a change in skills provision in a speech in September last year.
He said the 50% of young people who do not go to university have been historically deprived of chances to find their vocation and develop a fulfilling, well-paid career. He intended to change that.
Boris Johnson now says of the Skills & Post-16 Education Bill: "These new laws are the rocket fuel that we need to level up this country and ensure equal opportunities for all. We know that having the right skills and training is the route to better, well-paid jobs.
"I'm revolutionising the system so we can move past the outdated notion that there is only one route up the career ladder and ensure that everyone has the opportunity to retrain or upskill at any point in their lives."
The Bill forms the legislative underpinning for reforms set out in the White Paper Skills for Jobs: Lifelong Learning for Opportunity and Jobs, published in January.
In the introduction to the White Paper, Gavin Williamson, Secretary of State for Education, says: "This White Paper aims to strengthen links between employers and further education providers. We will place employers at the heart of defining local skills needs and explore a new role for Chambers of Commerce and other business representative organisations working with local colleges and employers.
"The courses offered by providers will be tailored to meet the skill needs of businesses. We will support their delivery through £1.5billion of capital funding to improve the condition of further education colleges, a further £291million to support 16-19-year-olds and £375million to deliver our contribution to the Plan for Jobs in 2021-22 and start delivering our Lifetime Skills Guarantee.
"And we need all our further education providers to be well managed, governed and have the best quality teachers and lecturers."
The Lifetime Skills Guarantee could be good for those colleges offering stonemasonry courses because often people decide to train in stonemasonry at a later stage in life, after they have had other jobs.
The government is not alone in addressing training issues. The Construction Leadership Council (CLC), which includes Stone Federation Great Britain, has produced its own Industry Skills Plan for ensuring the skills the construction industry needs are available. (PDFs of it can be downloaded from bit.ly/CLCskillsplan.)
 It says the construction industry employs 2,745,550 people and in 2018 its gross value added contribution to the UK economy was £200billion. 
In a foreword to the Industry Skills Plan, Sarah Beale, Chair of CLC Skills Network and Chief Executive of CITB, and Mark Reynolds, Group Chief Executive of Mace who is on the CLC Steering Co-ordination Group, say the industry needs to focus on retaining talent and building a solid foundation for the future.
They write: "In order to deliver what industry needs now and into the future we need skilled individuals. The built environment has a wide reach of sectors, so how can we ensure we have a skilled and competent workforce across such a breadth of occupations? This is the considerable challenge we need to break down into smaller pieces and tackle, as it is the key to unlocking improved productivity and enabling construction to thrive and to maintain and deliver the UK's build pipeline.
"This Industry Skills Plan is developed by industry, for industry. It complements our existing CLC Industry Recovery Plan and moves us towards addressing the ever-growing skills gap. How our industry has adapted to the challenges of the Covid-19 pandemic shows what we can achieve when working together.
"The plan also highlights how skills  challenges play out across our very wide and varied industry. For example, the net zero agenda challenges us to change the game in how we build new buildings, but also offers a significant opportunity to the smaller firms that power the Repair, Maintenance & Improvement (RMI) sector as we gear up to retrofit millions of homes to meet higher environmental standards.
"Similarly, the digital skill needs will create totally new ways of doing things, as well as the potential for collectively massive efficiency gains through small improvements. One example of this is equipping hundreds of thousands of small and micro firms in our industry with the knowledge and skills required to adopt digitalised processes and management tools. For SMEs, cloud and mobile-based Enterprise Resource Planning (ERP) software streamlines the control of workers, materials, logistics, tools and equipment – in turn driving efficiency, quality and productivity."
The Industry Skills Plan is intended to be developed into a co-ordinated group of activities delivered through CLC workstreams and working groups.
The immediate focus is on the culture and careers within the industry, particularly how the industry can improve access routes to it and develop the individual competences and skills required for the construction industry today. However, Sarah Beale and Mark Reynolds say in their foreword that "major uncertainty still remains over the period covered by this plan, so it will need to adapt as it is delivered. The pandemic crisis is playing out in an industry already cast into uncertainty with Britain's departure from the European Union".
It was certainly not the easiest of years for the few colleges and training centres delivering courses associated with stonemasonry last year as they negotiated their way through lockdowns and tiered restrictions, substituting classrooms for video conferencing and catching up with practical work either at home or when the colleges were able to allow students back in.
These days most students already have the technology that allows them to participate in Teams and Zoom meetings and those that didn't were generally supplied with tablets by the colleges, which managed to find funding to obtain them.
And having got used to video conferencing, more training centres are considering continuing to use it, especially for elements such as contributions from guest speakers, as it saves them from having to travel to the training centre, which can often mean a presentation that might be no more than an hour or so can take up a whole day of the visitor's time, or even more if they need to stay overnight.
Claire Wallbridge says the NSITG meetings online have had the benefit of attracting more of the industry to participate than ever before and the plan now is to continue with video conferencing for them.
With workshops closed or socially distanced, practical work was harder for some students to complete. Nevertheless, most of the courses are ending on schedule, even if students are in some cases being judged on 'adaptive' results based on what they have been able to study. As Paul Maggs, who runs the stonemasonry courses at Bath College, says: "Fingers crossed we will get them all through on time."
Next year Bath is hoping to introduce week-long stays at Woodchester Mansion, the Victorian Gothic stone-built country house in South Gloucestershire that was mysteriously abandoned mid-construction, allowing current generations of students an opportunity to see a genuine 19th century building under construction and to work on its conservation. Bath has regularly sent students there for a day at a time, but hopes to extend that so it is more like a real work experience.
Last year one of Bath's students was 19-year-old Charlie Revill, who completed his apprenticeship with Forest of Dean Stone Firms (FoD) in September, gaining his level three NVQ. He says he enjoyed his apprenticeship even though he admits last year was challenging. He says: "I learnt more than I expected to".
His year at Bath followed two years at Weymouth. He went on to Bath because he wanted to achieve his level three NVQ. He had also previously been selected for training for WorldSkills, took a Lettering Arts Trust course to develop his lettering skills and attended an NSITG / Historic England course on stone conservation, restoration and repair.
Kirk Imm, the Commercial and H&S Manager at FoD, says of Charlie: "He's an exceptional student. He's always had a 'thing' for stone."
Emma Dexter at Moulton College in Northamptonshire even used the coronavirus as a subject for students' carvings. One produced a masked self-portrait, another a figure lying down, almost giving up.
She says some students could have done with more consistency last year "but it's amazing how people adjust. Somehow we managed to get through this."
Conservation courses resume at West Dean as College joins with KLC
West Dean College of Arts & Conservation is resuming its site-based Historic Building Conservation courses this month (June) after the Covid lockdown. The first four-day course on Structural Repair of Historic Buildings is 7-10 June.
The course leader is Ian Hume, a former Chief Engineer of the Conservation Engineering Team of English Heritage and a structural engineer who has had an influential role in the conservation of historic buildings across the UK for the past 40 years. He is an active member of the UK Conservation Accreditation Register for Engineers (CARE).
This course can stand alone or be taken as one of West Dean's seven core Building Conservation Masterclasses of the Professional Development Diploma in Historic Building Conservation & Repair.
The course covers monitoring equipment and methods, load testing, scaffolding and temporary works, repair works to masonry, metal and timber structures, ranging from pointing and grouting to tying and underpinning.
Site visits include a trip to the nearby Weald & Downland Living Museum, home to TV's Repair Shop.
West Dean College of Arts & Conservation is highly regarded in conservation and fine arts, and it has now amalgamated with another renowned specialist education facility, the KLC School of Design, famous for interior and garden design.
The move is described by the two schools as "an exciting new era for specialist creative education".
West Dean College of Arts & Conservation is based in Chichester, West Sussex, while the studios of the KLC School of Design are in Chelsea Harbour Design Centre in London.
KLC Ltd will join The Edward James Foundation, which operates West Dean College, in July this year, allowing West Dean College of Arts & Conservation and KLC School of Design to combine operations from August, ready for the new academic year starting in September.
Under the management of West Dean College, the combined institution will aim to position itself as the UK's pre-eminent College of art, design and conservation, says Alexander Barron, Chief Executive of West Dean College.
Both institutions already are internationally recognised for excellence and creative innovation.
KLC's portfolio of interior and garden design courses will form a new School of Design as part of West Dean College, which currently has a School of Conservation and a School of Arts.
West Dean College's conservation courses famously include practical experience on 'ruinettes', walls of stone and masonry constructed in authentic historical styles by the late Colin Burns, a craftsman and trainer whose teaching inspired buildings conservation professionals, conservators and contractors throughout the UK and abroad.
The West Dean / KLC premises on the South Downs in Sussex and in London will both continue to operate for the foreseeable future, the two campuses offering staff and students opportunities for exchange and crossover, allowing them to enjoy the best of both a vibrant city setting and an inspirational countryside retreat. They will allow students to be offered a greater choice in their studies with a wider range of courses in complementary subjects.
CWF degrees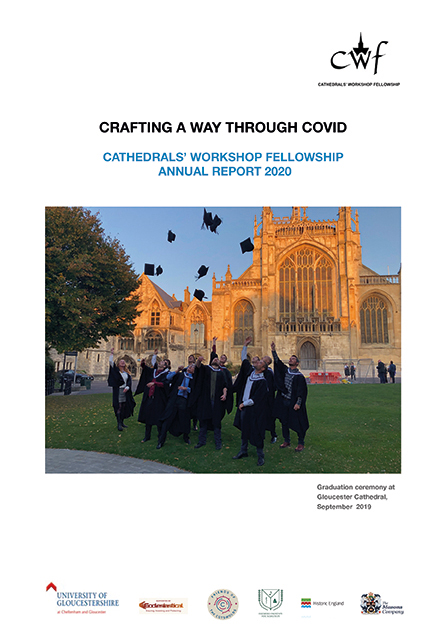 The Cathedral Workshops Fellowship (CWF) was established by nine cathedrals with their own works departments (there are 10 involved now as Chester has joined CWF following its establishment of a stonemasonry workshop). Its training is to Foundation Degree level (although there are plans to add an Honours level) and for the first time in 2019 students were accepted from private firms as well as from the cathedrals, a policy that will continue, although in limited numbers.
Because of the Covid disruptions and the suspension of the courses during the first lockdown last year, the students who would normally complete their degrees in the summer this year will now finish in December.
Lectures were given by video conferencing last year. Administrator Frances Cambrook says: "It's become normal. Students are completely used to it." But it is hoped to return to something like pre-Covid normali-ty from September.
City & Guilds of London Art School
The City & Guilds of London Art School introduced an architectural stone carving pathway to a BA honours degree in Historic Carving in 2019.
The City & Guilds of London Art School is internationally recognised for the high quality of its historical carving courses and its diplomas have always been highly regarded in the worlds of architectural stonemasonry, conservation and statuary. The introduction of the BA (Hons) expanded the acceptance of the quality of the School's teaching to an even wider audience.
The study that leads to the degree is a comprehensive, three-year stone carving course that prepares students for a fulfilling career in architectural heritage as a professional stone carver, with aesthetic and historical knowledge of carving matching manual carving skills.
The School still offers a two-year Diploma in Higher Education in Historic Carving: Architectural Stone.
It covers the same specialist syllabus as the first two years of the BA (Hons) programme and is an option sometimes taken by students who want to enhance existing skills and knowledge, perhaps learnt during a stonemasonry course elsewhere.